Seattle Mariners 2013 Mock Draft: Projecting Their Top 5 1st-Round Targets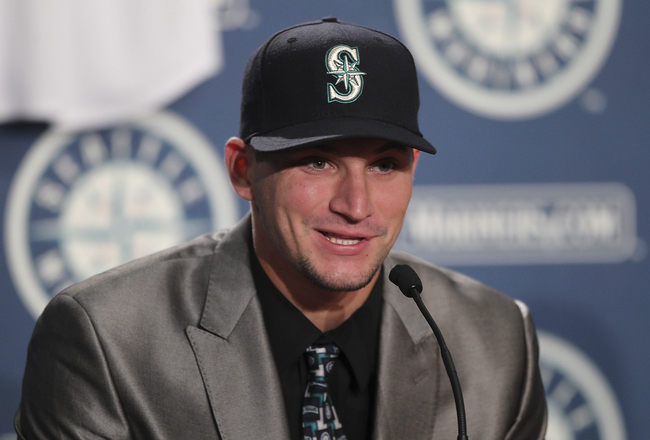 Otto Greule Jr/Getty Images
The Major League Baseball First-Year Player Draft will take place (via MLB.com) from June 6-8, 2013, and the Seattle Mariners have the 12th pick in the first round. Seattle has drafted well in the last few years, and the franchise is regarded as having some real talent in the farm system.
A year ago the Mariners selected catch Mike Zunino (pictured), and the organization has high hopes that he will be an impact player in the near future. Will the Mariners find another gem in this draft?
Since the Mariners have the 12th pick, they are arguably looking at guys who are projected behind the top few players on the board. Still, there are times when team needs do not match up with the available prospects, and a better player can slip down a few spots.
For Seattle, the tough part of drafting is deciding on the top priority. Do you draft based on certain positions, or is it wiser to just get the best player available? It seems reasonable to assume that every team has a particular philosophy on talent evaluation.
Unfortunately, some highly-touted players do not pan out. Such is the nature of the business.
Taking into consideration the needs and potential strategy of the Mariners, here are their top five first-round targets.
D.J. Peterson, University of New Mexico
Position: 1B/3B
Height: 6'1" Weight: 190
The Mariners have a number of pitching prospects in the system, so how about a nice power-hitting first baseman that can also play third? D.J. Peterson may fit the bill.
Peterson is regarded as having "plus" power, but he is also a patient hitter. During his sophomore season with the Lobos in 2012, Peterson hit .419 with 17 home runs and 78 RBI in 60 games (via golobos.com). He also had a 22-game hitting streak that season.
Seattle actually drafted Peterson in 2010, so perhaps this time he will actually sign with the Mariners if they decide to pick him again. MLB.com ranks Peterson as the 11th-best prospect, so he may or may not be there when the Mariners pick.
Based on how the offense has performed over the last couple of years, it might be a good idea to start drafting more bats.
Dominic Smith, Serra HS (California)
Position: 1B/LHP/OF
Height: 6'0" Weight: 195
Sticking with a theme of hitters, the Mariners might consider Dominic Smith out of Serra High School in Gardena, Calif. MLB.com suggests that some people see Smith as "the best pure high school hitter in the class."
This is obviously high praise, but it does come with the qualifier that he is a high school hitter.
The challenge with high school players is that they may or may not adjust to the professional ranks as they will quickly be facing college graduates who are a lot bigger and stronger. Still, if the Mariners want to develop another bat, Smith may be a good solution.
Smith is still playing, but through May 16 he was hitting .482 with a .625 on-base percentage (via maxpreps.com). He is not necessarily regarded as a guy who has a lot of power, but he is still very young.
If the Mariners want a "pure" hitter, Smith may be on their radar.
Chris Anderson, Jacksonville University
Position: RHP
Height: 6'4" Weight: 215
Just because the Mariners have a lot of top prospects in the farm system who are pitchers doesn't mean that the organization can't draft a few more. In baseball, you could argue that there are never enough talented arms.
If the Mariners are interested in a big, strong, polished pitcher, Chris Anderson from Jacksonville University could be the right pick in the first round. Power pitchers who have an amount of control can be hard to find, and Anderson is regarded as an athlete who can be a top-flight hurler.
Anderson has an excellent fastball, but he also throws a very effective slider. He also has the potential to develop a very good changeup.
Pitchers can be tough to scout, just because injuries can have an impact on a pitcher's ability to survive long enough for effective scouting. In addition, adjustments to the professional level do not always go well. However, Anderson looks like a player who may have the arsenal to succeed in the big leagues.
Braden Shipley, University of Nevada
Position: RHP
Height: 6'3" Weight: 190
Another quality arm to look at is Braden Shipley, who is the ace of the University of Nevada staff. Shipley is another guy who can throw a fastball in the high 90s and mix in a curveball and changeup.
Shipley is not necessarily a guy who is going to be at the top of the list of hyped prospects, but sometimes the best players are those that are just behind the athletes that generate all the buzz. Overall, Shipley is an experienced pitcher who could be a solid addition to the farm system.
As a sophomore in 2012, Shipley went 9-4 with a 2.20 ERA (via nevadawolfpack.com). He struck out 88 batters in 98.1 innings and was the WAC Pitcher of the Year.
This is another player that might be part of a future rotation in Seattle.
Aaron Judge, Fresno State University
Position: OF
Height: 6'7" Weight: 240
Could the Mariners think about drafting a big, power-hitting prospect? If so, Aaron Judge would fit that profile.
When people see the size they are going to think about a guy like Richie Sexson, who had a couple of good years in Seattle before declining rapidly. Judge is a similar player in terms of power potential, though he is regarded as someone who has solid patience at the plate.
The difficulty with a player this size is that they can have a large strike zone. This, coupled with a swing that is sometimes very long, can be a recipe for a lot of strikeouts. Still, the Bulldog is a .346 career hitter (via gobulldogs.com) at Fresno State through May 17, and this may translate into a first-round selection.
Keep Reading

Seattle Mariners: Like this team?