UFC 160 Preview: Fun Facts and Stats on Velasquez vs. Bigfoot Silva 2 Fight Card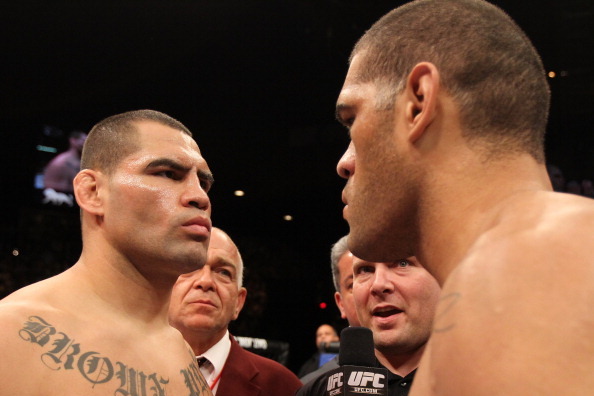 Josh Hedges/Zuffa LLC/Zuffa LLC via Getty Images
The UFC will return to Las Vegas for Memorial Day weekend, presenting UFC 160 from the MGM Grand Garden Arena on Saturday, May 25. Headlining the fight card will be a heavyweight title bout. Cain Velasquez will look to defend his crown against a fighter that is making a habit of defying the odds, Antonio "Bigfoot" Silva.
The winner of the co-main event will most likely be the next fighter to compete for the heavyweight crown as former UFC heavyweight champion Junior dos Santos squares off against Mark Hunt.
But wait, there's more. Two of the top lightweights will also square off at UFC 160, as Gray Maynard faces T.J. Grant. The winner of that bout will earn a fight date with UFC lightweight champion Benson Henderson.
UFC 160 will feature 12 contests in total. Read on for some background stats and facts as fight night nears.
**All stats via Fightmetric.com
Begin Slideshow

»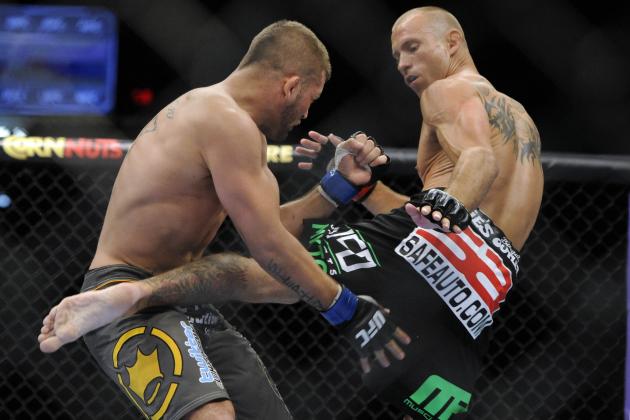 Rafael Suanes-USA TODAY Sports

Donald Cerrone has been fighting in the WEC / UFC since September 2007. In that time he has become known as one of the more exciting fighters on the UFC roster. Cerrone is one of those fighters that no matter who his opponent is or where on the card he is fighting you don't want to miss that contest. Why?

Cerrone is always going in there to end the fight. His rate of 5.6 significant strikes landed per minute put him at No. 3 all-time in the UFC, while his 50.7 percent significant strikes landed rank him fourth in UFC lightweight history. Cerrone is not afraid to throw hands, but opponents should also be wary of his leg kicks. Cerrone landed 49 leg kicks in his victory over Vagner Rocha at UFC 131, the most leg kicks ever landed in a three-round UFC contest.

Oh, and if the fight hits the ground? There's no time to rest there. Cerrone has 13 submission wins in his career, with six of those coming in the WEC / UFC. That number puts him third all-time in UFC lightweight history. As for how often Cerrone attempts submissions; his 27 career attempts rank him second in the lightweight division, two behind all-time leader Jim Miller.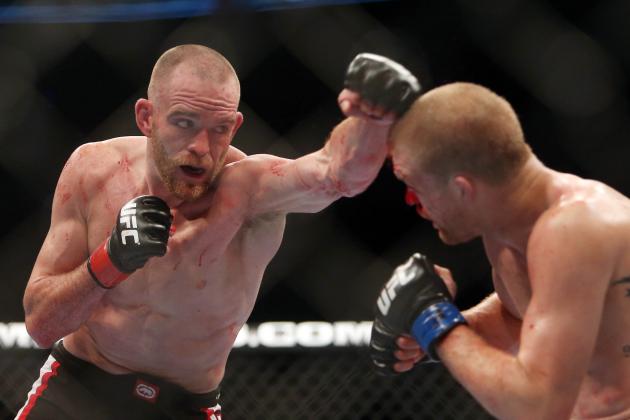 Tom Szczerbowski-USA TODAY Sports

T.J. Grant joined the UFC as a welterweight in April 2009. After six fights he had gone 3-3 at the 170-pound limit, alternating wins and losses over the course of those contests. After his third loss, Grant decided to drop to lightweight. He has gone unbeaten since then, racking up four straight victories and earning a fight against Gray Maynard at UFC 160, a fight that will decide the next opponent for lightweight champion Benson Henderson.
One of the main reasons Grant has seen so much success at lightweight is that his striking rate has increased. As a welterweight Grant averaged 2.18 significant strikes per minute. Since dropping to lightweight that number has increased to an astounding 6.59 significant strikes per minute.
When looking at total output, Grant went from landing 174 significant strikes as a welterweight to landing 310 as a lightweight.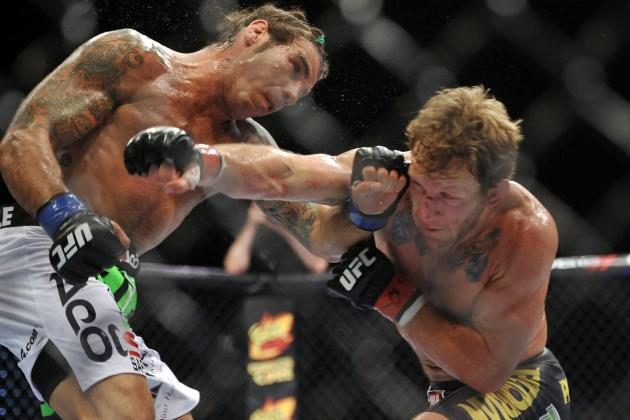 Joe Camporeale-USA TODAY Sports

We know that T.J. Grant is going to be slinging leather when he steps into the Octagon to face Gray Maynard at UFC 160; what we don't know is just how much success he is going to have in actually landing those strikes.
The reason Grant should be concerned is the fact that Maynard ranks first all-time in striking defense in the UFC's lightweight division. Maynard's 72.7 percent defense rate also lands him in the top five all-time in UFC history.
In his last fight, a split decision win over Clay Guida in June of last year, Maynard avoided 276 of Guida's 321 attempted significant strikes.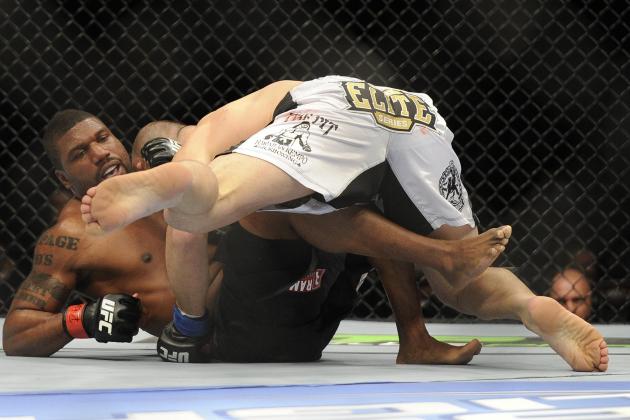 David Banks-USA TODAY Sports

Glover Teixeira came to the UFC with a reputation as a feared striker. His record at that time was 17-2. His 11 knockout victories in those 17 wins justified those fears, but a fighter usually doesn't rise to the top of the fight game on the strength of a single skill.
Teixeira's striking skills have allowed him to land 100 percent of his takedown attempts in the UFC. In his three UFC bouts, all wins, Teixeira has attempted eight takedowns and found success with each attempt. Five of those takedowns came against Quinton "Rampage" Jackson, a fighter who has a career takedown defense rate of 74 percent. In his 43-fight career Jackson had never hit the canvas as many times as he did in his loss to Teixeira.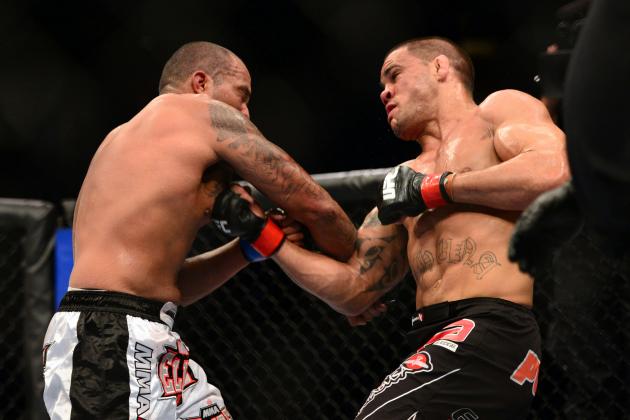 Kyle Terada-USA TODAY Sports

James Te-Huna landed his UFC 160 fight against Glover Teixeira when Teixeira's original opponent, Ryan Bader was forced to withdraw from the fight due to injury.
If Teixeira plans on going for the knockout against Te-Huna, he'll have his work cut out for him as Te-Huna has never been knocked out in his career.
If Teixeira wants to get in a striking war with Te-Huna, it's likely that Te-Huna would not mind that style of fight one bit. Te-Huna's 4.45 significant strikes per minute rank him third all-time in the light heavyweight division.
Te-Huna has also proven to be an active striker. The 122 significant strikes he landed in defeating Joey Beltran at UFC on Fuel 4 rank second all-time in the light heavyweight division for a single fight.
As for taking the fight to the ground, Te-Huna is no slouch in that department either, landing 3.25 takedowns per 15 minutes. That rate puts Te-Huna third all-time in light heavyweight history.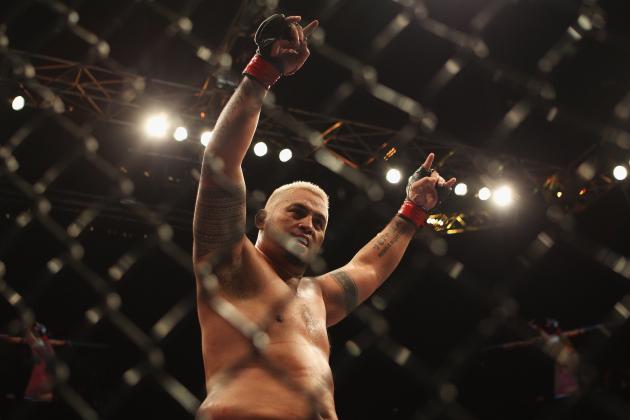 Mark Kolbe/Getty Images

The first thing people think about when the name Mark Hunt is mentioned is power. With six of his nine career wins coming by way of knockout, it's easy to see why that's the image that pops into the mind, but Hunt is no one-trick pony.
Yes, Hunt can land power strikes with the best of them, but he's just as capable of avoiding strikes. Hunt absorbs 1.56 significant strikes per minute, the lowest number of strikes absorbed on the UFC's active heavyweight roster.
Hunt is also difficult to take to the mat. Twenty takedowns have been attempted by Hunt's opponents, he has thwarted 17 of those attempts, the second-best takedown defense rate in UFC heavyweight history.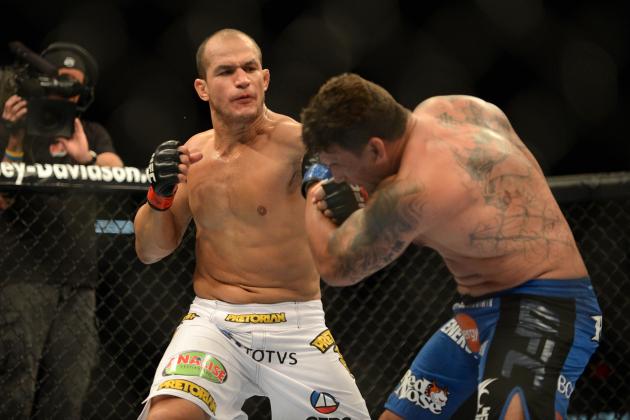 Ron Chenoy-USA TODAY Sports

Junior dos Santos has 10 UFC fights under his belt (9-1); during those 10 contests he has accumulated nine knockdowns, the most in UFC heavyweight history. Six of those knockdowns were fight-ending knockdowns, giving him the second-most knockouts in promotional heavyweight history.
Power is not the only thing that Dos Santos brings to the table; he is an active striker as well. His 5.51 significant strikes per minute rank him fifth in UFC history and second in the heavyweight division.
Dos Santos' most active striking contest was his UFC 117 drubbing of Roy Nelson. In that fight Dos Santos landed 130 significant strikes, the second-most significant strikes landed in a UFC heavyweight contest.
Over the course of his career, Dos Santos has landed 465 significant strikes, a number that ranks him third all-time in the UFC heavyweight division.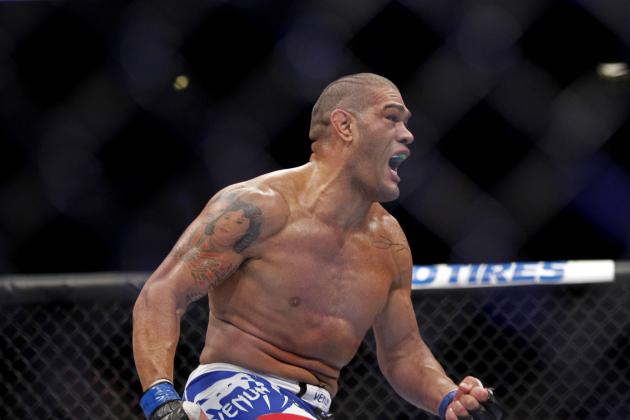 Bruce Kluckhohn-USA TODAY Sports

Alistair Overeem looked like he was going to cruise to a victory over Antonio Silva at UFC 156. Through two rounds, Overeem landed 49 significant strikes, while Silva's number of significant strikes stood at seven. In the third round Overeem landed just two strikes, while Silva landed 14 on his way to the upset knockout win.
The 30 significant strikes separating the victor and the vanquished was the third largest differential in UFC heavyweight comeback history in a knockout upset.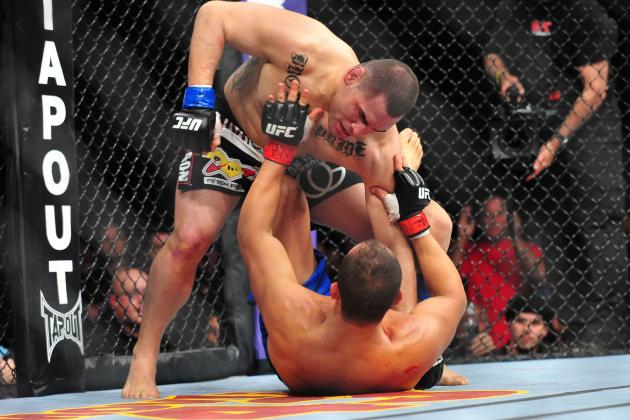 Gary A. Vasquez-USA TODAY Sports

Cain Velasquez has 10 fights in the UFC (9-1); during that run he has shown that he loves to stand and bang. No fighter in UFC history has landed more significant strikes per minute than the two-time heavyweight champion. Velasquez averages 6.37 significant strikes per minute, second-ranked Court McGee averages 5.95 strikes per minute.
Bonus fact on Velasquez: His UFC 155 beating of Junior dos Santos made him the first fighter in UFC history to ever record more than 100 strikes and more than 10 takedowns in a single contest. Over the course of the five-round bout, Velasquez landed 111 significant strikes and 11 takedowns, an impressive feat.