Analyzing the Point Spreads in Week 1 SEC Football Games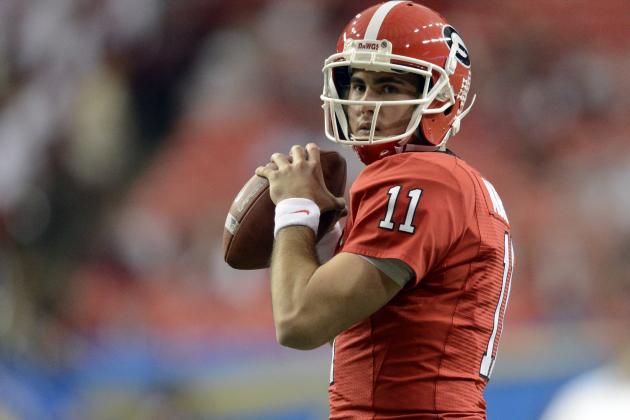 USA TODAY Sports
Georgia QB Aaron Murray
It's never too early to start picking Week 1 games, and luckily for us, the good folks at Beyond The Bets pointed out over the weekend that BetOnline.com has point spreads for 44 Week 1 games.
With a lineup filled with stellar out-of-conference matchups and one SEC game, there's plenty of intrigue in these point spreads for fans of SEC schools.
Who's overvalued, who's undervalued and what games could move between now and the time toe meets leather? Let's take a look at each of the games listed in this slideshow.
Begin Slideshow

»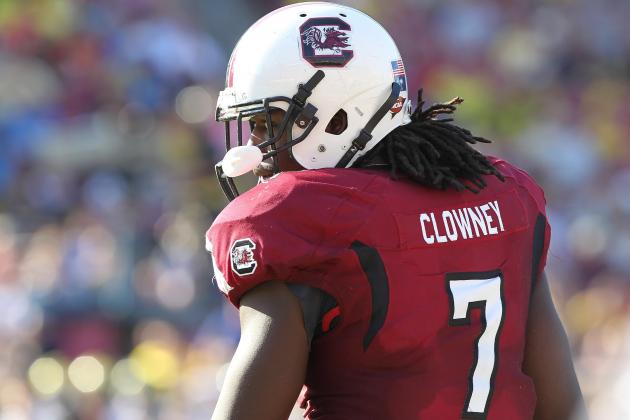 Kim Klement-USA TODAY Sports
South Carolina DE Jadeveon Clowney
The 2013 season will kick off in style on Thursday, Aug. 29, when the North Carolina Tar Heels cross the border and visit the South Carolina Gamecocks in a prime-time kickoff at 6 p.m. ET on ESPN.
Should the Gamecocks be favored by more than a touchdown?
Absolutely.
Defensive end Jadeveon Clowney will be in the Heisman Trophy race, but the entire Gamecock defense is remarkably talented and set to have a fine season, despite losing seven seniors from last season's squad.
Offensively, quarterbacks Connor Shaw and Dylan Thompson are talented enough to be stars in the SEC, but different enough to allow head coach Steve Spurrier flexibility in play-calling. Mike Davis proved this spring that he can step in for Marcus Lattimore, and the return of Bruce Ellington at wide receiver should give the offense plenty of pop.
Williams-Brice Stadium is a tough place to play anyway, and the fact that this game will be on the mothership with most of the nation watching will make the crowd even more hostile than normal.
North Carolina is a solid team, but it's still working on the transition to the new staff under Larry Fedora. Bryn Renner is a capable quarterback, but replacing running back Gio Bernard will be tough.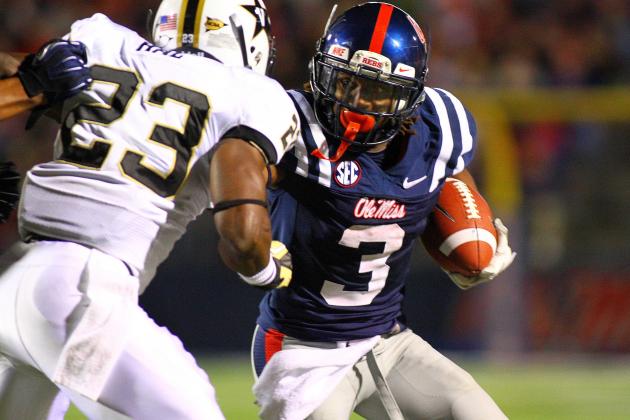 Spruce Derden-USA TODAY Sports
Ole Miss RB Jeff Scott
This is one of those games that I can't wait to see. It doesn't have to be a top-notch conference game. Just having an SEC game on opening night creates a different dynamic. Not only does this game matter on a national scale, but it matters in the chase for division championships.
Ole Miss will enter the season as the "new kid at school." The Rebels could be great, but the mystery is what has us intrigued. Will Bo Wallace and Donte Moncrief ride the momentum generated from the end of last season and keep the Rebel offense wide open, or will Wallace's offseason surgery hinder the offense?
Those questions will be answered under the lights in Nashville.
Meanwhile, Vanderbilt head coach James Franklin will lead his talented Commodores into this one with the goal of elevating his program through that glass ceiling and into division title-contender status.
Austyn Carta-Samuels is a talented dual-threat quarterback who will be able to step in for Jordan Rodgers and thrive in an offense that features wide receivers Jordan Matthews and Chris Boyd, as well as running backs Wesley Tate, Brian Kimbrow and Jerron Seymour.
I think the Commodores are set to have a fine season, but I don't like this line. Ole Miss got better as the 2012 season went on, and the majority of that cast is back in 2013. Add in a talent injection stemming from a stellar recruiting class, and you have the recipe for an upset.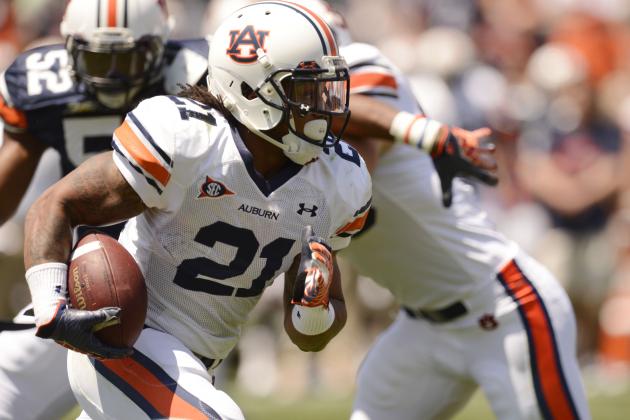 John David Mercer-USA TODAY Spor
Auburn RB Tre Mason
Auburn will host Washington State in Week 1 in one of the more underrated out-of-conference matchups of the year.
After a one-year hiatus, new Tiger head coach Gus Malzahn will bring back his run-based hurry-up, no-huddle attack to the Plains against the air-raid offense of the Cougars and head coach Mike Leach.
Translation: Take the "over."
Since that's not out yet, we are relegated to picking against the spread—a tricky proposition in this case.
The talent is there for Auburn. The reason Gene Chizik no longer has a job is because he didn't develop that talent. Most of the offensive players in the program were recruited for Malzahn's system, and the Tigers' defensive personnel are better suited for new defensive coordinator Ellis Johnson's 4-2-5 scheme.
The Tigers are going to be competitive again in 2013; but until we actually see it, it's hard to get past last season's debacle.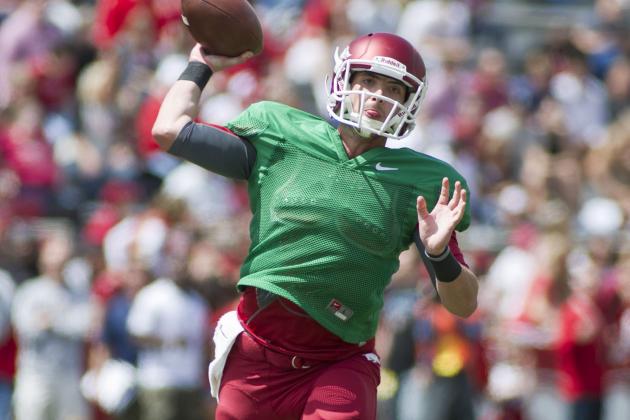 Beth Hall-USA TODAY Sports
Arkansas QB Brandon Allen
Much like the Washington State versus Auburn game, this one is tricky.
First-year head coach Bret Bielema solved one of his major issues this spring when quarterback Brandon Allen all but secured the starting quarterback spot.
We know Arkansas' wide receivers are talented and that it has a solid foundation up front on defense with Chris Smith and Trey Flowers. The questions for Bielema to answer have dwindled dramatically in just a few short months.
But have they dwindled enough to lay two touchdowns? That's a lot of points for a team that inspired little confidence in 2012.
Arkansas is going to be competitive again, and this game could well end in a big Hog win. But it also wouldn't be terribly surprising to see it go the other way.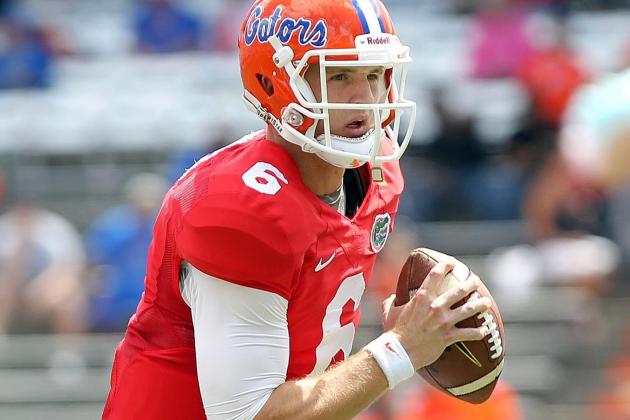 Kim Klement-USA TODAY Sports
Florida QB Jeff Driskel
Florida as a three-touchdown favorite?
That's a lot of trust in the Gators—particularly Florida's ability to turn things around on offense and establish a downfield passing game.
I know it's Toledo, but in two games last season against Football Bowl Subdivision (FBS) non-AQ teams (Bowling Green and Louisiana-Lafayette), Florida won by 20 combined points.
Are we prepared to give Toledo—a 9-4 team from last year—more than three touchdowns?
That tells me that Florida plays up and down to its competition, which is a trait that might be hard to break given the pro-style scheme that offensive coordinator Brent Pease employs.
Florida has the running game behind Matt Jones and a solid core on defense to get back into contention, but until the the team stretches the field consistently with quarterback Jeff Driskel and whoever steps up at wide receiver, I have a hard time buying Florida this season.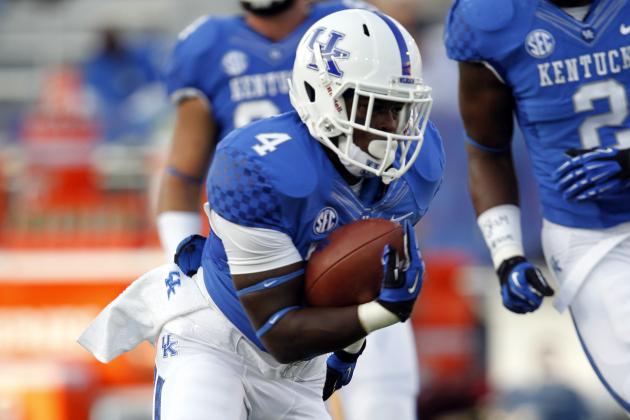 John Sommers II/Getty Images
Kentucky RB Raymond Sanders
Talk about under-the-radar matchups.
Mark Stoops' first game with the Kentucky Wildcats will be against Western Kentucky—a team that not only toppled the Wildcats in Lexington last season, but is now coached by former Arkansas and Louisville head coach Bobby Petrino.
No pressure.
Hiring offensive coordinator Neal Brown to bring his air raid offense to Kentucky was a stroke of genius for Stoops, and sophomore quarterback Jalen Whitlow looked fully capable of running that offense in the spring game. Toss in running back Raymond Sanders and a defensive line that should get a boost from junior college transfer Za'Darius Smith, and Kentucky's in good shape to contend for a bowl.
Don't fall into the Petrino hype. Western Kentucky has a solid foundation with linebacker Andrew Jackson and running back Antonio Andrews, but since both teams are going through a transition period, I favor the more battle-tested squad in Kentucky.
The Wildcats are better than they're getting credit for.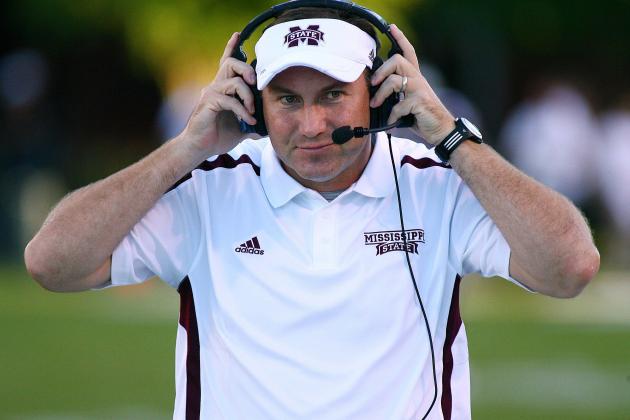 Spruce Derden-USA TODAY Sports
Mississippi State head coach Dan Mullen
Mississippi State is 5-21 against Football Bowl Subdivision (FBS) teams that finish the season with eight or more wins since Dan Mullen took control of the program before the 2009 season.
While he has done a great job raising the floor of the program, he hasn't done much to impact the ceiling. That needs to change this season with at least one signature win, which could come in Houston when the Bulldogs face off against Oklahoma State at Reliant Stadium.
Mississippi State's offense is in good hands with running back LaDarius Perkins sticking around for his senior season, but quarterback Tyler Russell was inconsistent down the stretch last season and has to become acquainted with a total overhaul at the wide receiver position.
Oklahoma State went through a rebuilding year last season and will continue that process this season without Wes Lunt—last season's No. 1 quarterback—on the roster. Josh Stewart is a talented wide receiver who will be going up against a Bulldog defense that will be without Johnthan Banks and Darius Slay.
Don't buy into the Bulldogs' hype. The downward trend at the end of last season that saw Mississippi State lose five of six games was an indication that it wasn't ready for prime time. Until they prove otherwise, I'm selling.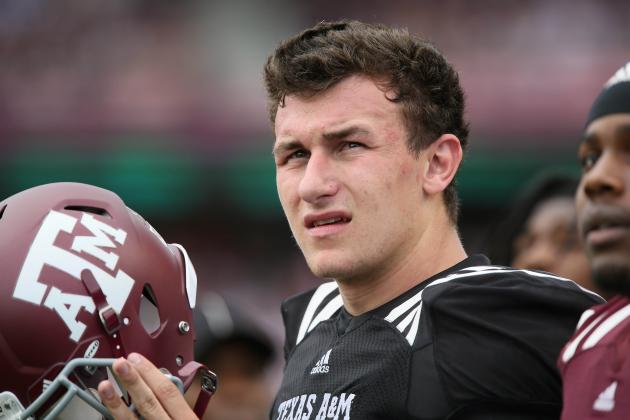 USA TODAY Sports
Texas A&M QB Johnny Manziel
Our first dial-a-score game of opening weekend features—who else—the Texas A&M Aggies.
The Aggie offense is going to look a little different, with holes along the offensive line, but that doesn't mean it will be less effective.
Manziel will have a four-headed running back attack led by Ben Malena and a talented wide receiving corps that, aside from Mike Evans, is largely inexperienced.
This is the kind of game you dread if you're Rice. Manziel is a modern-day college football superstar who routinely puts up video-game numbers, and now he will probably have to put up even more ridiculous video-game numbers to even be considered for the Heisman Trophy for a second straight season.
Fair or unfair, that's the bar Manziel set for himself.
Expect the Aggies to rotate plenty of bodies in that front seven to get the new faces some experience, which may mean they give up some points. But A&M can pick a score. Since college football is a beauty contest and the Aggies are in the title hunt, expect them to pick a big one.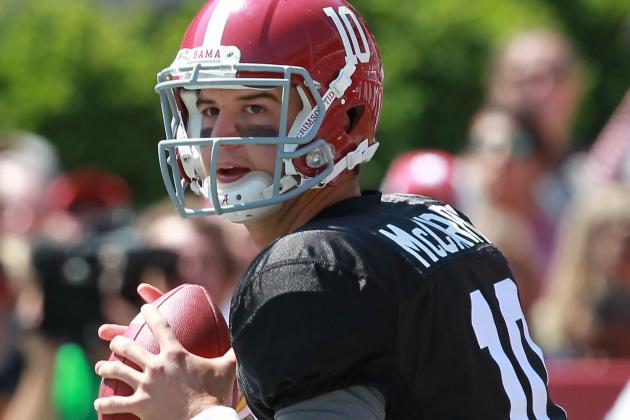 Marvin Gentry-USA TODAY Sports
Alabama QB AJ McCarron
This game is quite interesting. The oddsmakers seem to be at odds on this game. As my colleague Adam Kramer points out, this is a 23.5-point game at some places.
Whether it's two touchdowns, three touchdowns or even four touchdowns, Alabama has earned the benefit of the doubt when replacing holes on defense.
Is Virginia Tech quarterback Logan Thomas capable of posing a challenge to the two-time defending BCS national champion?
Nope.
Thomas' inconsistencies, coupled with the fact that Nick Saban is 15-4 when given more than a week to prepare for an opponent since taking over as Alabama's head coach in 2007, create a recipe for success for the Crimson Tide.
Quarterback AJ McCarron may be on the outside looking in of the Heisman Trophy campaign in some of the preseason prognostications, but that may change after 60 minutes with the Hokies in the Georgia Dome.
Kevin C. Cox/Getty Images
LSU QB Zach Mettenberger
Nearly 70 percent of TCU's roster was comprised of freshmen and sophomores last season. Despite the youth, the Horned Frogs managed a 7-6 record and a berth in the Buffalo Wild Wings Bowl.
They'll face off against the LSU Tigers in the opener in the Cowboys Classic in a game that will tell us a lot about the 2013 edition of Les Miles' Tigers.
LSU quarterback Zach Mettenberger played well down the stretch last season, passing for 215 or more yards in his final four regular-season games. He will catch a break with the news that Big 12 Defensive Player of the Year Devonte Fields will be suspended for the contest.
It will take some time for defensive coordinator John Chavis to plug the holes left by the small village that departed from last season's Tiger defense, which means Mettenberger and new offensive coordinator Cam Cameron may need to carry more of the load—especially early on.
This will be an old-fashioned slugfest that will be fun to watch, but I'm glad the oddsmakers aren't putting too much stock in LSU being in "rebuilding mode." If we've learned anything over the last few years, it's that LSU "reloads."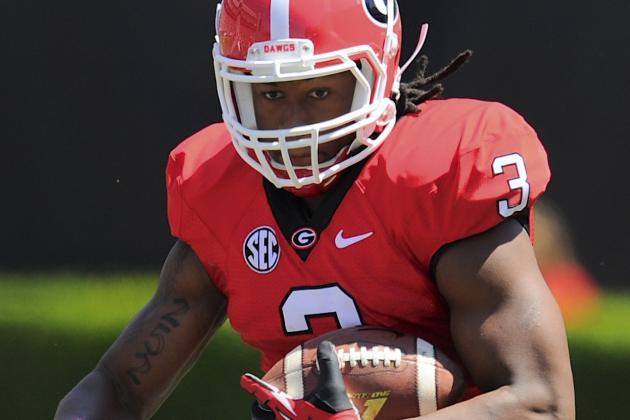 Dale Zanine-USA TODAY Sports
Georgia RB Todd Gurley
With so many great games on Week 1, Georgia vs. Clemson in Death Valley tops them all.
Both of these teams will likely land in the preseason Top 10, which means that national championship hopes may be on the line under the lights in Clemson.
Georgia's offense is ultra-reliable with running backs Todd Gurley and Keith Marshall, a veteran offensive line, a talented and deep wide receiving corps and—oh yeah—some guy named Aaron Murray taking the snaps.
The big question for the Bulldogs is on defense where head coach Mark Richt and defensive coordinator Todd Grantham are forced to replace a laundry list of stars from last year's squad. Despite the roster turnover, the Bulldog defense is loaded with talent, with linebacker Jordan Jenkins leading fresh crop of talented defenders, including safeties Josh Harvey-Clemons and Tray Matthews.
Good for Georgia long term, but those players better mature in a hurry, because the talented Tiger offense, led by quarterback Tajh Boyd and wide receiver Sammy Watkins, will have something for them.
This game is going to be a lot of fun, and it should come as no surprise that oddsmakers think it will be a close one.