10 NFL Players Who Will See the Most Dramatic Stat Increases from 2012 to 2013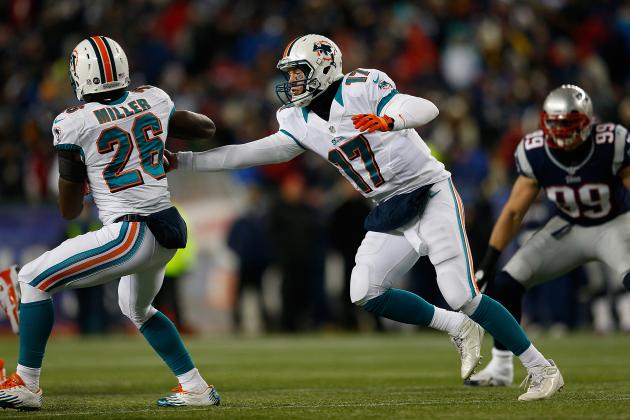 Jim Rogash/Getty Images

Every season, we see a smattering of NFL players dramatically increase their production.

Here are 10 players set to see big increases in their statistical output next season. A few might surprise you, given they were pretty good last year. Others are simply logical progressions given new situations.
Statistics courtesy of Pro-Football-Reference.com.
Begin Slideshow

»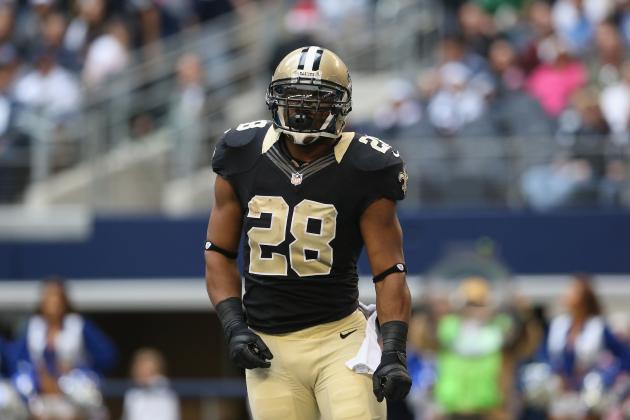 Ronald Martinez/Getty Images

2012 Statistics: 156 carries, 602 yards, 5 touchdowns; 6 receptions, 29 yards
One of the more underrated draft disappointments in recent memory hails from hallowed Alabama.
The New Orleans Saints traded a future first-round pick for the privilege of drafting Mark Ingram in 2011, a questionable move at the time and it certainly looks like a failure today.
Ingram has rewarded the Saints by totaling 1,076 yards and 10 touchdowns in his first two seasons—not entirely awful, but certainly not what they expected given their investment. His average of 3.9 yards per carry (YPC) rivals some of the best plodders in the game today.
This is the year to start cashing those checks for Ingram and the Saints.
The third-year running back still has Pierre Thomas and Darren Sproles in the way, however, so the increase will not be as dramatic as it could be if he was the clear-cut lead back. He technically has just nine starts under his belt because of the competition in his own backfield.
Ingram figures to see an increase in workload and continue getting the goal-line looks, however. If not, it might be time to apply the "bust" label with some adhesive.
2013 Projection: 220 carries, 950 yards, 7 touchdowns; 15 receptions, 150 yards, 1 touchdown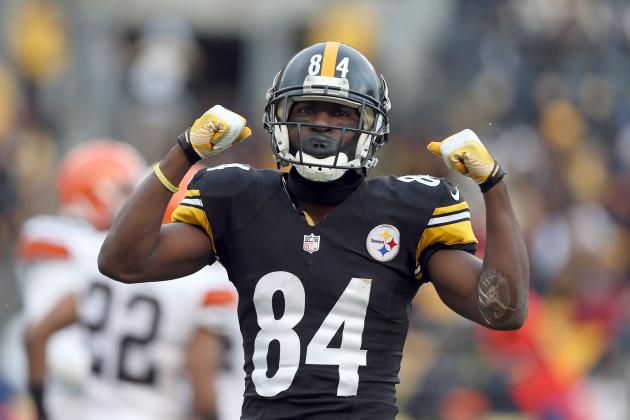 Karl Walter/Getty Images

2012 Statistics: 66 receptions, 787 yards, 5 touchdowns; 7 carries, 24 yards
Antonio Brown burst onto the scene in his second season, racking up over 1,100 yards receiving alongside Mike Wallace. Last season was a bit of a step back for Brown, thanks to injuries and an ineffective offense under Todd Haley.
Well, at least Wallace is gone.
Brown is now the man at wide receiver with Wallace's departure for greener pastures—or at least a lot more green—and he is due for a big bounce-back season as a result.
2013 Projection: 90 receptions, 1,150 yards, 8 touchdowns; 10 carries, 40 yards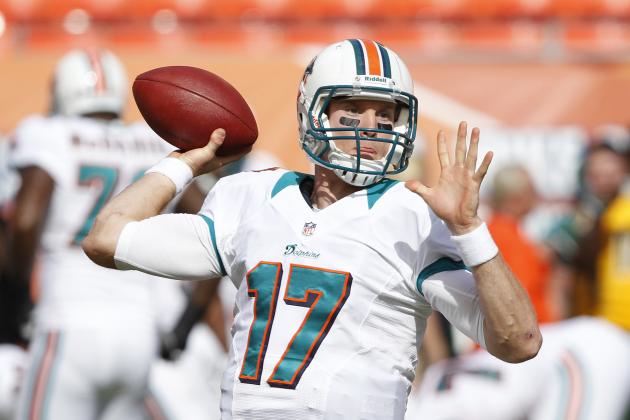 Joel Auerbach/Getty Images

2012 Statistics: 58.3% passing, 3,294 yards, 12 touchdowns, 13 interceptions; 49 carries, 211 yards, 2 touchdowns
Last season was the "Year of the Rookie Quarterback" as Robert Griffin III, Russell Wilson and Andrew Luck blew the doors off the league. Ryan Tannehill quietly had a solid rookie year, but his production was nowhere near the top three.
Part of the reason was his rookie status—he performed about as well as you would normally expect for a rookie quarterback. The other part was a poor supporting cast.
Brian Hartline was his best receiver, and he managed to score one measly touchdown. Anthony Fasano is a good all-around tight end, but he is not the pass-catching threat other teams employ.
Things have dramatically improved for Tannehill this season. Mike Wallace and Dustin Keller are in town, dramatically improving the second-year quarterback's arsenal.
Then there is the natural development we should see from Tannehill after one year in the league.
2013 Projection: 62.5% passing, 3,850 yards, 22 touchdowns, 12 interceptions; 45 carries, 200 yards, 3 touchdowns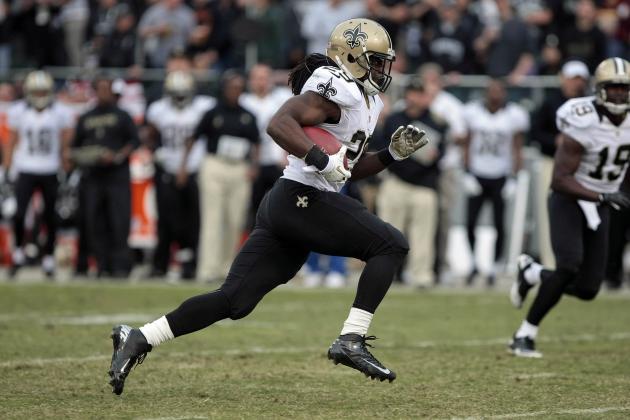 Kelley L Cox-USA TODAY Sports

2012 Statistics: 40 carries, 217 yards, 2 touchdowns; 2 receptions, 15 yards
No player got a bigger boost from a change of scenery than Chris Ivory this past offseason.
The newly minted Jet was fourth on the depth chart of a New Orleans backfield that has resembled a hydra. This was despite a marked superiority over the others, at least when he was given the opportunity to shine.
Ivory sports a career 5.1 YPC, higher than every other Saints player. He has made some fantastic runs. It is a wonder the Saints let him go, let alone traded him for a mere fourth-round pick.
Their loss is New York's gain, and Ivory's, too.
The bruising running back figures to pick up the workhorse role Shonn Greene kept lukewarm over the years, and he could have a big year after finally getting the reins.
With little real competition on the roster—especially if Mike Goodson winds up missing time or getting cut for his extracurricular exploits—look for Ivory to explode.
2013 Projection: 275 carries, 1,200 yards, 10 touchdowns; 25 receptions, 225 yards, 1 touchdown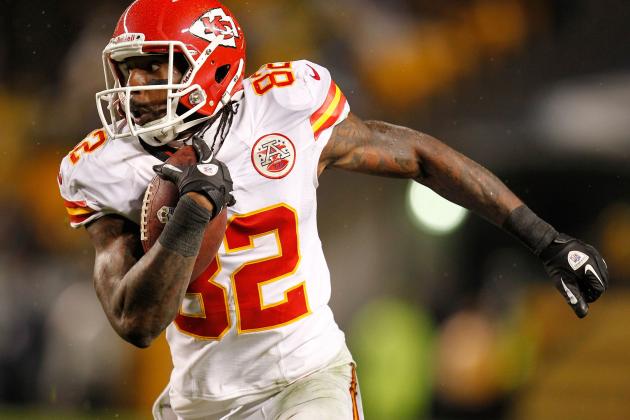 Gregory Shamus/Getty Images

2012 Statistics: 59 receptions, 801 yards, 3 touchdowns
It looked like Dwayne Bowe was on the precipice of something great back in 2010 when he hauled in 15 touchdown catches.
Matt Cassel was his quarterback then, too, so there was hope he would be able to continue to realize his potential. Alas, Cassel's star flamed out rather quickly.
Bowe has had to deal with regression, both on his part and his quarterback's, over the past two seasons. Injuries have also taken their toll, taking a bite out of Bowe's 2012 season and forcing the likes of Tyler Palko and Brady Quinn on him.
The Chiefs appear to have righted the ship in Kansas City, however, bringing in Andy Reid to stabilize the coaching and Alex Smith to improve the quarterback position.
While Smith isn't exactly Aaron Rodgers, he has improved in recent years.
Bowe sees the difference, even going so far as to predict he would lead the league in catches and touchdowns. We won't got that far here, but a dramatic improvement on last year's lost season is in store.
2013 Projection: 90 receptions, 1,250 yards, 9 touchdowns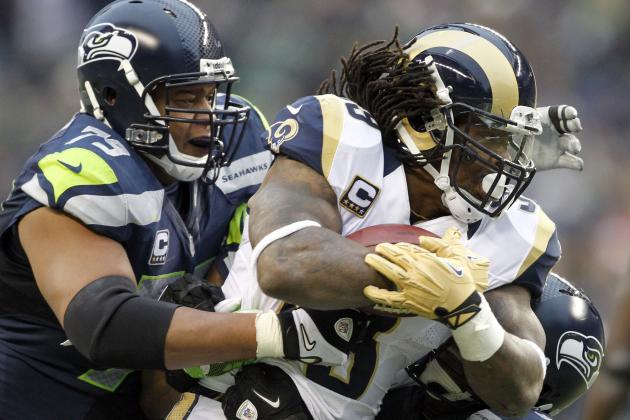 Joe Nicholson-USA TODAY Sports

2012 Statistics: 257 carries, 1,042 yards, 4 touchdowns; 38 receptions, 321 yards
It's rare you would predict a dramatic increase in statistics from a guy with over 2,800 career touches under his belt, but Steven Jackson has been afforded a rare opportunity with the Atlanta Falcons.
St. Louis has not exactly been an offensive powerhouse over the years. Jackson arrived at the tail end of the "Greatest Show on Turf," never able to take full advantage of his skills because his supporting cast was simply not up to snuff.
Jackson has landed in Atlanta this offseason, where opposing defenses will have to contend with the likes of Julio Jones, Roddy White and Tony Gonzalez with a pretty good quarterback in Matt Ryan to throw them the ball.
It is going to feel like Moses parted the Red Sea for the veteran running back, who figures to have a resurgent year or two before riding off into the sunset.
The biggest increase we will likely see is in scoring. It is doubtful the Falcons will tax Jackson too much, to the point where he should receive fewer touches than he did last season. But the numbers will still be better.
2013 Projection: 255 carries, 1,200 yards, 9 touchdowns; 35 receptions, 255 yards, 2 touchdowns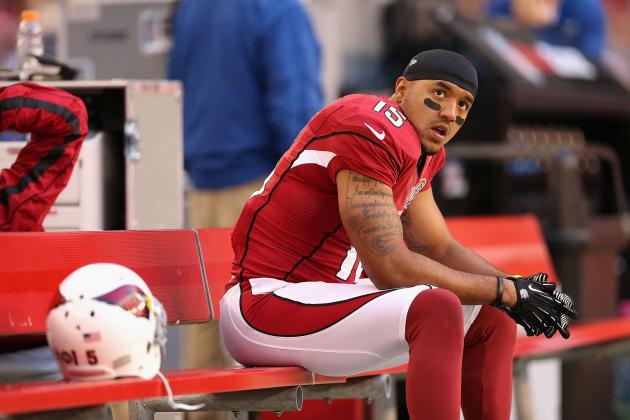 Christian Petersen/Getty Images

2012 Statistics: 45 receptions, 562 yards, 2 touchdowns
It's hard enough being a rookie wide receiver in the NFL without having to deal with a black hole at quarterback.
Michael Floyd was brought along slowly, to be sure, but he also had the ever-tantalizing group of quarterbacks named Kevin Kolb, John Skelton, Ryan Lindley and Brian Hoyer throwing the ball to him—or trying to throw the ball, at any rate.
It should be a nice sophomore season for Floyd, who should start from the get-go opposite Larry Fitzgerald. That pesky quarterback situation appears to have been resolved for the time being after the Cardinals traded for Carson Palmer.
The veteran quarterback might not be Tom Brady or Peyton Manning, but he's no decrepit hydra.
2013 Projection: 75 receptions, 950 yards, 6 touchdowns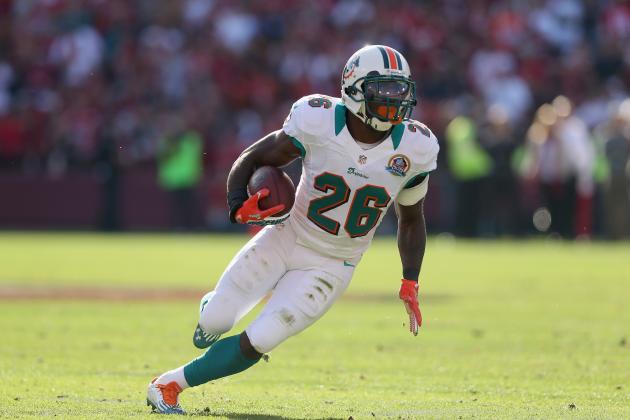 Ezra Shaw/Getty Images

2012 Statistics: 51 carries, 250 yards, 1 touchdown; 6 receptions, 45 yards
The Miami Dolphins got themselves a steal of a draft pick when Lamar Miller fell all the way into the fourth round of the 2012 draft. Of course, there is a reason he fell that far—rumors of failed whiteboard tests and a lingering shoulder injury were a drag to Miller's draft stock.
Indeed, he was unable to push Daniel Thomas for serious playing time last season because of poor pass protection and a slow uptake on the playbook.
Those things should be improved heading into his second season, but the biggest impediment to his production is simply off the roster.
Reggie Bush has fled to the fast track in Detroit, leaving Miller to do battle with Thomas and rookie Mike Gillislee. Miller might not be the best blocker, but he absolutely possesses the most upside in that backfield.
He should be the starter come Week 1, and his home run ability should provide plenty of big plays.
2013 Projection: 220 carries, 1,000 yards, 8 touchdowns; 40 receptions, 350 yards, 2 touchdowns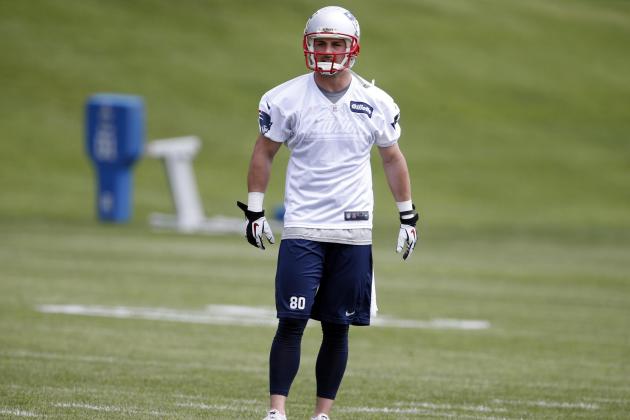 David Butler II-USA TODAY Sports

2012 Statistics: 63 receptions, 666 yards, 3 touchdowns; 2 carries, 8 yards
Danny Amendola has had a painful career thus far.
The former Ram was seemingly injured every other week in St. Louis, which hampered his development and production. He has shown flashes of greatness when healthy, however, and that was with Sam Bradford at quarterback.
Now he gets to play with Tom Brady in Bill Belichick's offense, a combustive combination that produced massive seasons from Wes Welker, whom Amendola is replacing in the lineup.
Amendola is set to receive the baton from Welker, and he could be even better if healthy.
2013 Projection: 105 receptions, 1,200 yards, 9 touchdowns; 8 carries, 35 yards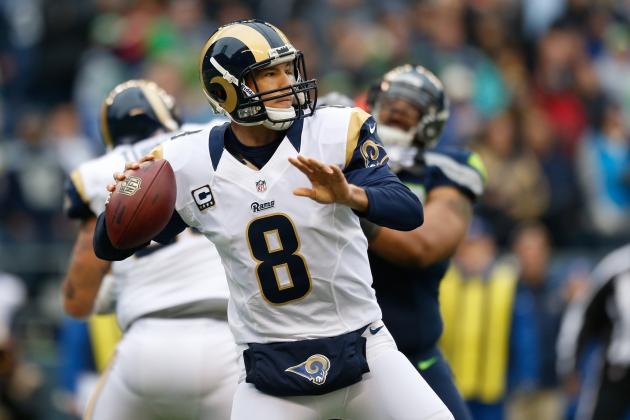 Otto Greule Jr/Getty Images

2012 Statistics: 59.5% passing, 3,702 yards, 21 touchdowns, 13 interceptions; 37 carries, 127 yards, 1 touchdown
He might be losing his best receiver, but Danny Amendola spent so much time on the injured list that Sam Bradford will barely miss him.
Bradford has finally found some stability and a good supporting cast, despite the loss of Amendola and Brandon Gibson. In their place he finds Tavon Austin and Jared Cook, not to mention second-year receivers Chris Givens and Brian Quick.
Now is the time for Bradford to prove he earned that hefty rookie contract form a CBA ago.
2013 Projection: 61% passing, 3,950 yards, 26 touchdowns, 10 interceptions; 35 carries, 110 yards, 1 touchdown