NBA Playoff Schedule 2013: When to Catch Remaining Conference Finals Games
Steve Mitchell-USA TODAY Sports
At this point in the NBA playoffs, every possession of every game is important, so make sure you do not miss a second of the action.
Any one of the four teams remaining—Memphis Grizzlies, San Antonio Spurs, Miami Heat and Indiana Pacers—is capable of winning a championship. Of course, two of those teams have a better chance than the others.
The Heat are certainly the team to beat after winning eight of their first nine playoff games and finishing with the best record during the regular season. Still, anything can happen in a seven-game series.
Here is a look at the conference finals on each side of the bracket with complete predictions.
Note: Schedule information courtesy of ESPN.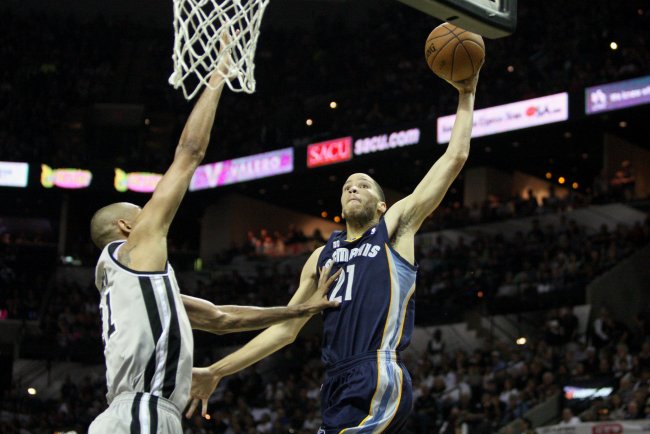 Troy Taormina-USA TODAY Sports
Miami Heat vs. Indiana Pacers
| | | | | |
| --- | --- | --- | --- | --- |
| Game | Date | Time (ET) | Home Team | TV |
| 1 | May 22 | 8:30 p.m. | Heat | TNT |
| 2 | May 24 | 8:30 p.m. | Heat | TNT |
| 3 | May 26 | 8:30 p.m. | Pacers | TNT |
| 4 | May 28 | 8:30 p.m. | Pacers | TNT |
| 5 | May 30 | 8:30 p.m. | Heat | TNT |
| 6 | June 1 | 8:30 p.m. | Pacers | TNT |
| 7 | June 3 | 8:30 p.m. | Heat | TNT |
The Chicago Bulls appeared to play the Miami Heat as tough as anyone has all year. Unfortunately, they were only able to win one game before being eliminated in the conference semifinals.
This is not a good sign for the Indiana Pacers.
The defending champs are playing as well as ever, especially on defense after holding the Bulls to 84.2 points per game last series. On offense, LeBron James has been incredibly efficient, and his play makes the team that much tougher to defend.
How many games will the Pacers win this series?
If Dwyane Wade is healthy after struggling with knee injuries in the playoffs, this will be a very one-sided series.
However, the Pacers have not received nearly as much credit as they deserve this season. They did a great job of shutting down the New York Knicks offensively in the last series and have shown the ability to do the same against the Heat during the year.
Indiana won both home games against Miami in the regular season, holding the opponent to an average of 83 points. If they can do the same in this series, the Pacers should be able to come away with some wins.
Unfortunately, the Pacers struggled on the road this season and are unlikely to get a win in Miami. With one home loss, this could be a very short series for the young team.
Prediction: Heat win 4-1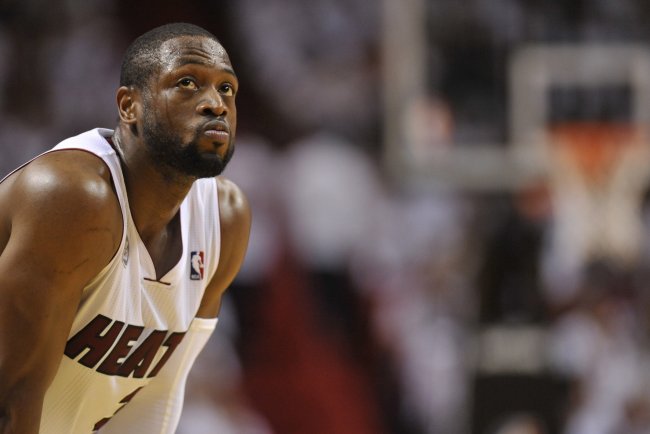 Steve Mitchell-USA TODAY Sports
San Antonio Spurs vs. Memphis Grizzlies
| | | | | |
| --- | --- | --- | --- | --- |
| Game | Date | Time (ET) | Home Team | TV |
| 2 | May 21 | 9 p.m. | Spurs | ESPN |
| 3 | May 25 | 9 p.m. | Grizzlies | ESPN |
| 4 | May 27 | 9 p.m. | Grizzlies | ESPN |
| 5 | May 29 | 9 p.m. | Spurs | ESPN |
| 6 | May 31 | 9 p.m. | Grizzlies | ESPN |
| 7 | June 2 | 9 p.m. | Spurs | ESPN |
The Spurs came out strong in Game 1 and dominated their competition by a score of 105-83. However, it is highly unlikely the rest of the series is that easy.
Memphis now has four losses in this postseason, three of them coming in the first game of the series. After that point, the Grizzlies seem to figure out their opponent and improve on both ends of the court.
Primarily, it is hard to imagine San Antonio being able to hit 14 three-point shots every game like it did last time out. Memphis actually ranked second in the league at defending the outside shot, allowing only 33.8 percent of shots to fall.
You can be certain that coach Lionel Hollins will make sure the perimeter defense improves before Game 2.
That being said, the Spurs have something that Memphis has not seen yet in this postseason: playoff experience. The Los Angeles Clippers are still new to the postseason scene, while the Oklahoma City Thunder became a different team when Russell Westbrook went down.
Even the Grizzlies themselves have never advanced to this point. Meanwhile, the Spurs have won four titles since Tim Duncan and Gregg Popovich joined the squad.
This confidence to go out and succeed will go a long way in this series, especially late in close games. As long as Tony Parker continues to play at a high level, San Antonio has what it takes to win this competitive series.
Prediction: Spurs win 4-2
This article is
What is the duplicate article?
Why is this article offensive?
Where is this article plagiarized from?
Why is this article poorly edited?