WWE Extreme Rules 2013 Results: Grading Each Competitor's Performance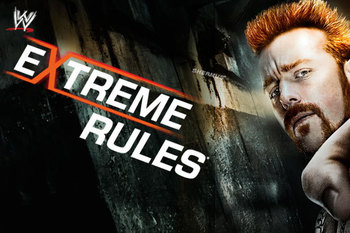 Photo courtesy of WWE.com
Extreme Rules 2013 is over with and in the bag, meaning that we already know who the winners and the losers are.
The pay-per-view itself was not something I was particularly fond of and when the time comes down to picking a potential choice for the worst event of the year, this has a shot at winning that award.
However, just because the pay-per-view might not have been the most entertaining does not mean that each wrestler is to blame for it. Just the same, if a wrestler found themselves dropping a title or walking away with a loss, that doesn't necessarily mean that they should receive a poor performance criticism.
Let's take a look at each wrestler that participated in this pay-per-view and give them an old-school test grade.
The Miz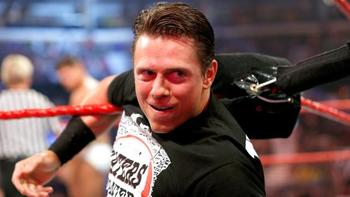 Photo courtesy of WWE.com
This is the second pay-per-view in a row that the Miz was relegated to the YouTube Pre-Show.
At WrestleMania XXIX, Miz was at least going into the match with a legitimate feud that featured a possible title change. He walked away with the Intercontinental Championship and in the process, helped make his Pre-Show victory seem validated.
At Extreme Rules, on the other hand, Miz was shoehorned into a random match with Cody Rhodes. The two haven't had many interactions to set up this match and as a result, it suffered.
The match felt as though it was there to fill time and unless the competitors are able to go above and beyond a normal match, there's no way anyone can walk out of it looking like gold.
Miz did his job admirably, which was to simply have a match with someone else who could have a match with him. Because of that, we have to award him something that a lot of people will be getting in this review: the average baseline score.
Grade: C
Cody Rhodes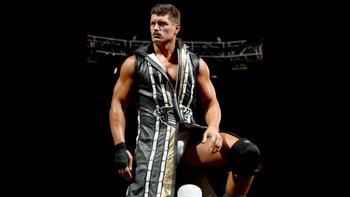 Photo courtesy of WWE.com
Should the person who loses the match that means absolutely nothing be given a lower grade than his competitor just because of the outcome? I don't think so.
Cody Rhodes did the best that he could do in this kind of a situation.
Nobody will remember this match even by the time Monday Night Raw is on television, let alone as something that will go down in history.
Rhodes is a reliable hand that WWE could trust to have an average match with Miz to fill up some time on the Pre-Show and he did just that.
It is just a shame that both Miz and Rhodes aren't allowed to showcase their full potential that we've seen before.
Grade: C
Chris Jericho
Photo courtesy of WWE.com
Chris Jericho's job at this pay-per-view was to continue to work with Fandango in a way that makes him appear as a legitimate wrestler instead of just a silly gimmick attached to a loser.
Although the match was not perfect, few ever are. In the grand scheme of things, it would appear that the veteran Jericho led Fandango in a good enough dance to justify a third encounter between the two.
Jericho came into this match saying that he was done playing games and would teach Fandango a lesson and he did just that. I don't think it would be unfair to say that outside of the storyline as well, Fandango walked out of the match learning a thing or two.
Grade: B+
Fandango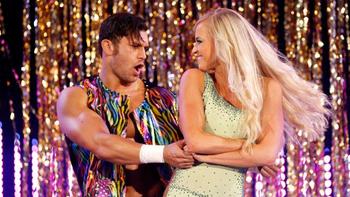 Photo courtesy of WWE.com
Fandango is at a critical juncture in his WWE career that will determine whether he is a success or a failure.
The theme song is no longer as popular as it was for that quick minute, so he must prove himself a worthwhile performer that WWE can depend upon to hold up his roster spot.
His match with Chris Jericho at WrestleMania was received rather well and from what I have heard so far from others about this match, most people seem to agree that Fandango did not look as awkward as his gimmick would suggest.
He is far away from being a threat to the WWE Championship or carving a niche on the roster as a respected entity such as Shawn Michaels, but Fandango is continuing to stay on the right track and not go into a downward spiral.
Grade: B+
Kofi Kingston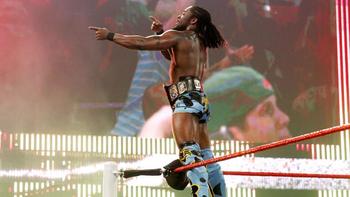 Photo courtesy of WWE.com
If there is one person on this card that I can commend for his performance despite being on the losing end of his match, it is Kofi Kingston.
The entirety of his United States Championship defense felt to me as though the match was structured to make Dean Ambrose look like a star.
This became the responsibility of Kofi Kingston's to not only help pull this off but to also use his talents in a way that makes him look like the less talented of the two.
It is a shame that Kingston has been relegated to being a transitional champion rather than someone that WWE seems to have legitimate faith in pushing, but at the very least, he has proven himself more than capable of going out there and doing what needs to be done.
Grade: A
Dean Ambrose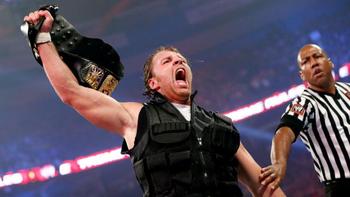 Photo courtesy of WWE.com
For quite some time now, Dean Ambrose has had a big following of people singing his praises.
To many, he is not only the next big thing on the WWE roster but also someone that is being underutilized, despite only being featured on screen for less than a year.
If anyone appears to be the breakout star of The Shield, Ambrose is the wrestler that people are placing their bets on.
Although I am nowhere near as convinced as many others that Ambrose is a godsend to the roster that can do no wrong, I do think that he is a very talented superstar with a bright future.
This match with Kofi Kingston helped showcase in my mind just exactly the level that Ambrose is at the moment: someone who needs more work but will sooner than later live up to the hype.
Grade: A
Sheamus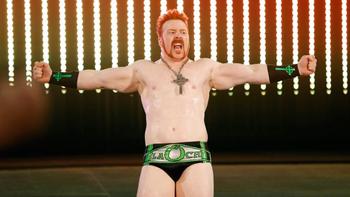 Photo courtesy of WWE.com
Sheamus has an interesting situation in terms of being graded for his performance on this pay-per-view. He can just as easily benefit from the match that he was booked for as he could be handicapped because of it.
Strap matches are difficult to navigate. Since many of the rules are thrown out the window, it must be challenging to work a completely different style from what you're used to.
The match itself is something that I hope I don't have to sit through again as I wasn't entertained.
That being said, Sheamus did about as good of a job as I expected him to do given the circumstances.
Grade: B-
Mark Henry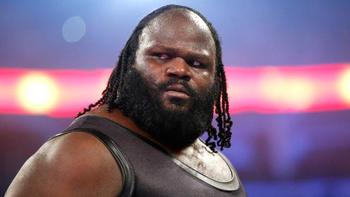 Photo courtesy of WWE.com
Mark Henry is a wrestler that I consistently argue is not given the credit that he deserves.
Given his personal limitations, I feel as though Henry is a much better performer than a lot of people are willing to admit.
When you factor in the limitations of this gimmick match on top of this, Henry doesn't have much room to play with and is starting at the bottom of my expectations.
Henry's job was to act as an immobile brick wall and although it hurt the match's entertainment value by doing so, Henry pulled that off extremely well.
Grade: B
Alberto Del Rio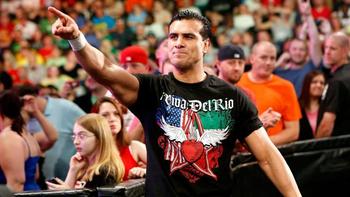 Photo courtesy of WWE.com
I still am not the biggest fan of Alberto Del Rio as a babyface.
He seems like a much more natural heel to me and although there are times where I believe it, for the most part I feel as though he is struggling with the character change.
This match is a perfect example of how Del Rio can go back and forth over the line of believability.
I never once felt as though the person saying that he wouldn't quit was a hero with a lot of heart, so points must be deducted from his score.
At the same time, Del Rio did a fine job in his attacks on Jack Swagger to convince me that he was involved in a personal feud with the Real American.
Del Rio needs to amp up his game if WWE wants me to invest anything in him, but for now, he passes.
Grade: B-
Jack Swagger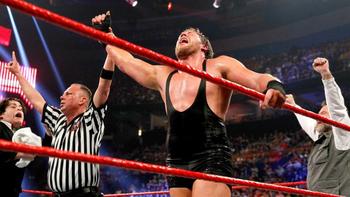 Photo courtesy of WWE.com
In many ways, Jack Swagger deserves zero credit for whatever positives there are in this feud he has with Alberto Del Rio.
The entirety of the storyline revolves around Zeb Colter's promos while Swagger stands off to the side and prepares himself to merely say the line "We the people" and then wrestle.
Is he a good wrestler? I believe so. Is he a good sports entertainer? That is a different question.
Swagger is in a similar boat to Del Rio in that I would give him more points for the athletic nature of this match than anything in regards to its story.
How do you grade someone who is almost used as a blunt instrument more so than a focal point on his own accord? Does the pencil receive a high performance evaluation because it helped transfer the ideas of a good essay down on paper?
Swagger filled a slot that almost anybody could have filled and brought nothing extra to it that would have been missing without him. It was a performance that won't earn him any brownie points in exchange for the problems he's caused, but most importantly, it didn't do anything to help usher along a potential pink slip.
Grade: B
Seth Rollins and Roman Reigns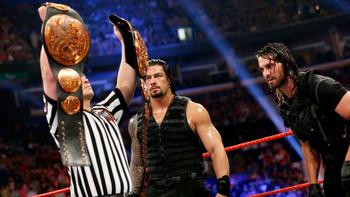 Photo courtesy of WWE.com
Roman Reigns and Seth Rollins had perhaps the easiest night ahead of them amongst everyone on the card.
Their job was to continue doing what they've been doing for months now and win a tag team match which had a style suited directly to how they've been spending most of their time.
There was no need for a specifically timed out hot tag. Rollins and Reigns didn't have to wrestle in a strange environment that they have currently had no practice in such as an Elimination Chamber match.
All they had to do was what they are used to doing.
Rollins and Reigns needed to go out to the ring and beat Team Hell No in a match that wouldn't be looked at as a squash. Mission accomplished.
Grade: A
Team Hell No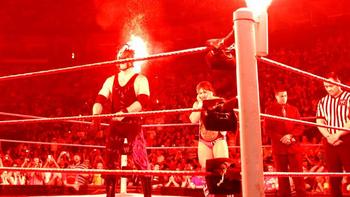 Photo courtesy of WWE.com
Daniel Bryan and Kane were in a very similar position to Kofi Kingston for Extreme Rules in that the style of the match they had to wrestle was dependent upon them making their opponents look good.
Team Hell No has held the WWE Tag Team Championship for quite some time and although many people (myself included) expected them to drop the titles at various other points, it seemed like it was inevitable at this event.
To go into this pay-per-view thinking that there was no possible outcome other than for The Shield to walk away with the titles makes it more difficult to believe in any offense that Kane or Daniel Bryan puts out there. However, there were a few times in this match that made me think there might be a slight possibility that I was wrong.
Because of that, along with the match quality itself and the idea that they put over Seth Rollins and Roman Reigns, Team Hell No gets a good score from me, even if Dr. Shelby would disagree.
Grade: A
Big Show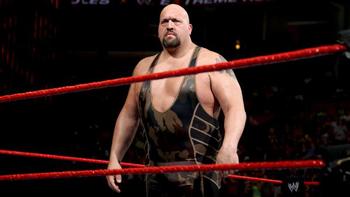 Photo courtesy of WWE.com
Any time Big Show is in a match and does not look like a gargantuan threat, it's a failure in my eyes no matter what stipulations are attached to it.
For someone the size of Big Show to stand next to someone like Randy Orton, despite Orton not being on par with the likes of Rey Mysterio and Hornswoggle, and flip around the ring as though he's a rag doll is ridiculous.
Every clothesline that Orton delivered to Big Show that wasn't brushed off made me dislike this match even more.
By the time it was over with, I didn't believe that Orton had overcome the odds and defeated a giant. I felt bored enough that I wish I could have changed the channel and I felt embarrassed that Big Show seems to be in yet another rut.
Grade: D
Randy Orton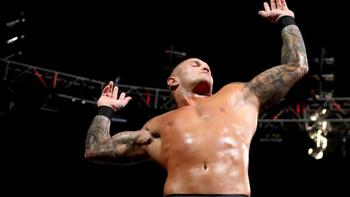 Photo courtesy of WWE.com
Randy Orton's position on this card was the underdog in terms of strength and the favorite in terms of being the hometown hero.
He played up the reactions from the crowd well enough that he received one of the best responses of the night.
Although I personally think that the match was doomed to begin with and that the end result was boring, I don't think the majority of that failure rests on Orton's shoulders.
This is by no means his best performance in his career, but I've seen much worse from Orton in the past.
Grade: C
Ryback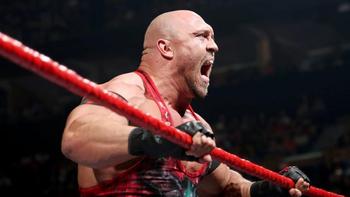 Photo courtesy of WWE.com
Someone in WWE Creative must have it out for Ryback, who has been booked without a pay-per-view win in months even when some of those matches had nothing at stake to force them to make that decision.
Ryback was in a no-win situation as well for this event. The only two outcomes that were remotely possible were to simply lose to John Cena or to somehow end up with a draw.
WWE chose to go with the latter, meaning that this match had no outcome worth paying to see and would have to rest on the laurels of the performances that these two men brought to the table during the match itself.
Instead of putting on a great match that I would want to see again due to the draw finish, I felt as though I sat through a 20-minute infomercial. You can yell to me all you want that what I'm seeing is amazing, but I'm not believing it.
Ryback has lost so much and the audience is still being told that he is a major threat to the WWE Championship, yet the majority of this laborious match was spent making Ryback look like another generic tough guy.
At no point did I believe that Ryback was stronger than Cena. At no point did I believe Ryback had a chance to win the title. At no point did I believe Ryback was anything more than a filler challenger to eat up time and give Cena another obstacle to easily overcome.
WWE is responsible for booking the matches in a way to protect their investments and Ryback might have been in a position that was too difficult to pull that off, but he's shown more poise in losing than he did tonight.
Grade: D
John Cena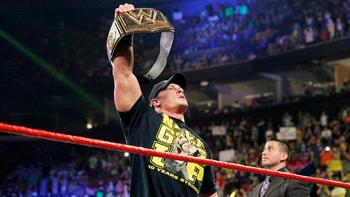 Photo courtesy of WWE.com
If John Cena was instructed to do the same exact thing he has been criticized for doing for years now, then by all means, John Cena deserves to get an A on his performance because it was exactly that.
In comparison, if Cena was instructed to go out there and put on a match that everyone could enjoy, then every person who had their reservations about watching this because they dislike the normal Cena operation ended up being able to say "I told you so" in the end.
Did Cena win the match? No. Did Cena lose? No. A draw does not change the fact that this was yet another repeat of the stereotypical match style that has been under scrutiny for a long enough time that it doesn't even need an explanation.
For someone like myself who tries to give Cena the benefit of the doubt and was singing his praises at last year's Extreme Rules, this match was a bore and I wasn't the slightest bit entertained throughout the entirety of it.
Most of that responsibility is on John Cena for being the veteran and the face of the company.
Grade: D-
Triple H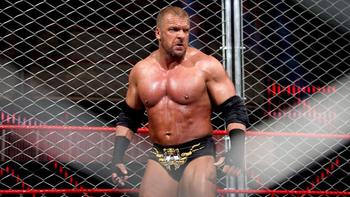 Photo courtesy of WWE.com
Many people may disagree with me that the WWE Championship match was boring and that this match had the burden of needing to be that much better in order to help save the pay-per-view. For those that enjoyed it, you may also disagree with my assessment of how Triple H and Brock Lesnar performed. To each his own, but please hear me out rather than writing me off immediately.
Triple H was in a position on this card that meant he was responsible for putting on such a good performance that everyone left feeling as though they got their money's worth.
After sitting through several matches that rubbed me the wrong way, I was hoping that this steel cage match would up the ante, pick up the pace and end on a high note. When a match is supposed to be the last one of a series between two people, you would expect it to be better than the previous matches.
I don't think this match was anything special to say the least, nor do I think it was even as good as what they've already shown us. It certainly wasn't good enough to not only main event the pay-per-view but also finish this feud.
The sad part is that I saw the potential at the beginning for a Triple H and Brock Lesnar feud back at SummerSlam and ever since they've continued it, it has meant less and less to me.
Triple H did nothing in this match that I haven't already seen him do better. He also did nothing in this match to make me think it was worth my time.
The only reason I won't give him an even lower grade than what I will is because it was still better than the WWE Championship match, particularly for someone his age.
Grade: C+
Brock Lesnar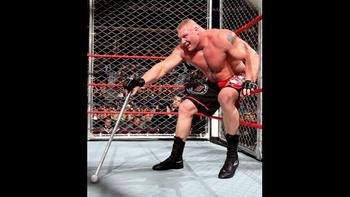 Photo courtesy of WWE.com
Most of Extreme Rules felt like it was filler to me and served no real purpose other than to continue feuds for the sake of not planning something else.
This match between Brock Lesnar and Triple H fit that bill entirely. As it didn't entertain me anywhere near what it was supposed to do, the entire point of the match has to be boiled down to simply having Brock Lesnar get his victory back.
Lesnar did walk away with the win, making his return to WWE an even 2-2 score. This was a necessity that I pointed out in a previous article I wrote and I would give them an A grade for going through with the right winner.
In terms of his performance itself, though, Lesnar has been much more exciting in his other matches to me. I was disappointed that for the majority of the match, it seemed like Lesnar was just going through the motions.
Grade: C+
It's important to remember that many of these men who I've given low scores to were burdened by factors outside of their control. When you're given what I consider to be bad booking and match stipulations that hinder your success, the mountains you must climb are that much higher.
For those that enjoyed this pay-per-view, I'm curious to hear which people you felt helped make it a success. For those that agree with me and did not enjoy it, I'd like to know if you place any blame on people that I didn't touch upon.
As always, leave us your thoughts in the comments below!
You can follow me on Twitter @ToeKneeManGo, at my own wrestling website Smark Out Moment and on my YouTube show Smack Talk.
Keep Reading