Seattle Seahawks: What to Watch for at OTAs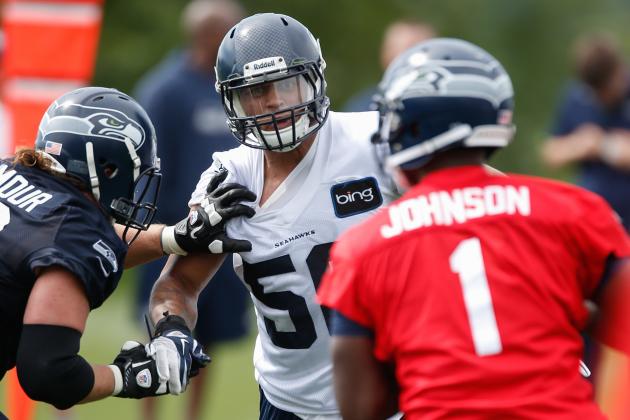 Otto Greule Jr/Getty Images

The Seattle Seahawks have reached that crucial part of the season when commitment is truly measured. That's right, it's time for OTAs (Organized Team Activities).
This is where you start to find out some things about players, particularly rookies. Obviously these activities have a role in the entire process, but that doesn't stop some players from skipping out on these "optional" events.
For the Seahawks, OTAs are scheduled (via NFL.com) May 20, 21, 23, 28, 29 and 31. Workouts are also scheduled from June 3 through 6.
Will this be the year that the Seahawks finally win the Super Bowl? If so, the road to a championship may start with these workouts. After all, the team that is dedicated to winning is willing to put in the work from start to finish.
With that in mind, here are some things to watch for at the Seattle Seahawks' OTAs.
Begin Slideshow

»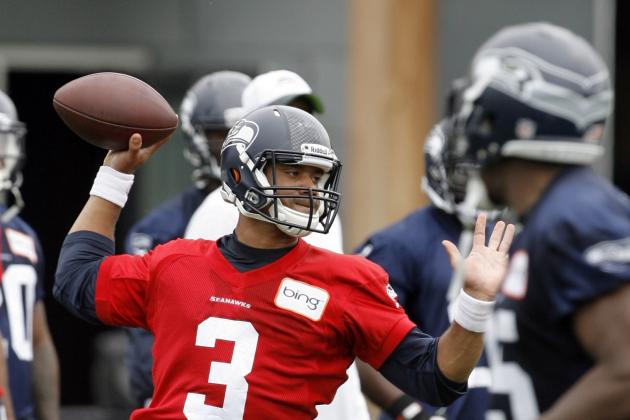 Joe Nicholson-USA TODAY Sports

A year ago, Russell Wilson was an unproven rookie with no guarantee of even making the roster.
What a difference a year makes.
Now that Wilson has been firmly established as the starter at quarterback, will he take control of the offseason workouts and start to shape this team? He has already gotten together with his receivers prior to the official start of workouts (via Seahawks.com), so what role will he play during official activities?

Obviously Pete Carroll is still the coach, but don't be surprised if Wilson continues to behave like a veteran quarterback and helps guide what happens on the field. Wilson has a tremendous amount of potential, and he may enter these OTAs with a great deal of confidence.
If the Seahawks are going to do well in 2013, it starts with Wilson's leadership well before the season begins.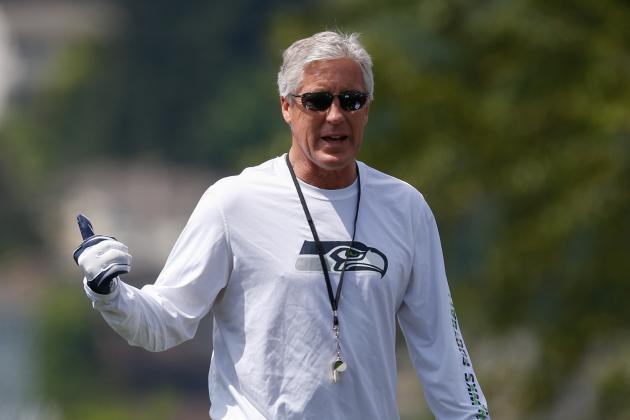 Otto Greule Jr/Getty Images

The interesting aspect of OTAs is that in many cases they are technically optional. However, many teams have everyone show up anyway. The workouts arguably fall into the "strongly recommended" category.
Or, the "you better have a really good excuse" category.
Obviously injuries, unsigned rookies, family issues and personal events may be reasons for an excused absence. In the past, players have also used skipping OTAs as a way to make a statement about their desire for a new contract.
In theory, the Seahawks should be in a place where they have reasonably happy campers. No one is up for a big deal and has been ignored by the team. Therefore, it seems reasonable to assume that most, if not all, of the 'Hawks will be at OTAs.
Then again, professional sports can be unpredictable.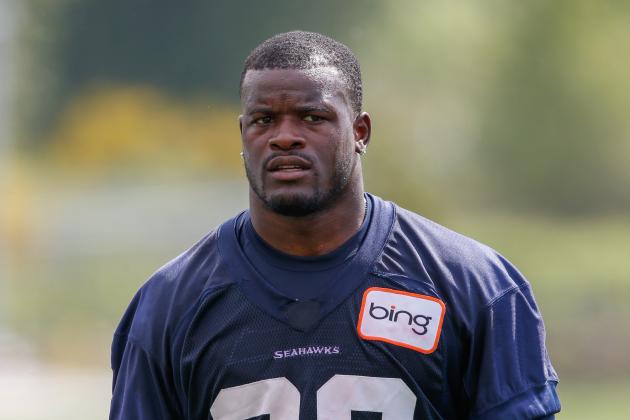 Otto Greule Jr/Getty Images

In the second round of the NFL draft, the Seattle Seahawks did one of the things that they do best. They surprised people with their pick.
That pick was running back Christine Michael from Texas A&M. On paper, running back was not the top priority for the Seahawks, but they liked him and he was available.
So, they went ahead and grabbed him.
The question will be one of role. Will Michael be a backup to Marshawn Lynch? Will he compete for touches with Robert Turbin, who was drafted just one year ago?

Or, will the Seahawks have a sort of three-headed monster running game? Certainly there are intriguing options, but sometimes too many options can create a bit of chaos and hamper the ability of players to get into a flow.
This may be one of the more intriguing storylines at OTAs, as the Seahawks try out their new players and see where they might fit.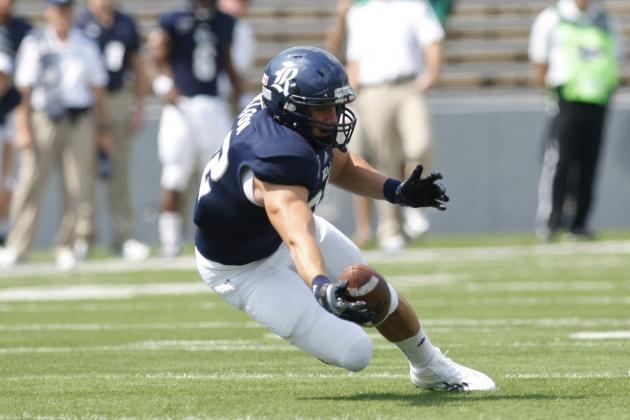 Brett Davis-USA TODAY Sports

Should we be getting excited about a tight end that was selected in the fifth round? Since we are talking about Pete Carroll and John Schneider, there is always the possibility that they have uncovered another gem.
This time it is Luke Willson, a tight end out of Rice. He is getting some early hype after a solid rookie minicamp according to NBC Sports, and there is some speculation that he could push Anthony McCoy and make this team.
Obviously some of this may just be a nice story attached to his last name, since NBC Sports notes that the "one-L" Wilson was the biggest surprise of last year's draft. Name comparisons aside, there is the possibility that two-L Willson could pair nicely with Zach Miller and create another target for one-L Wilson.
Can you imagine the play-by-play? "Wilson rolls right, he has Willson out in the flat...looking...looking...Wilson still scrambling...Wilson pumps, fires to Willson who breaks a tackle and rumbles for the touchdown! Wilson and Willson have done it again!"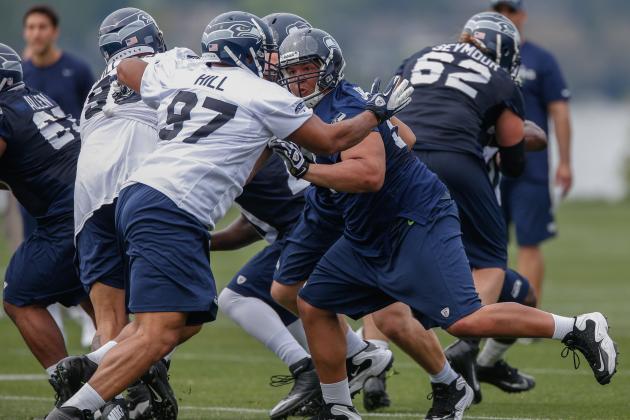 Otto Greule Jr/Getty Images

Jordan Hill and Jesse Williams. Or is it Jesse Williams and Jordan Hill?
Regardless of the order, it will be interesting to see how defensive tackles Jordan Hill and Jesse Williams fit into this team.
Hill may be the more polished of the two, and his third-round status may raise the expectations for his performance on the field. However, there is a lot to like about Williams, and some might argue that he could have been drafted higher.
The OTAs may start to reveal how much these guys will play and where they might land in the defensive scheme. There are veterans to fill most roles, but it would certainly be nice to have a fresh young rookie make an impact on a defense that is already very talented.
Remember those names: Hill and Williams. Will they shortly be partnering on sacks?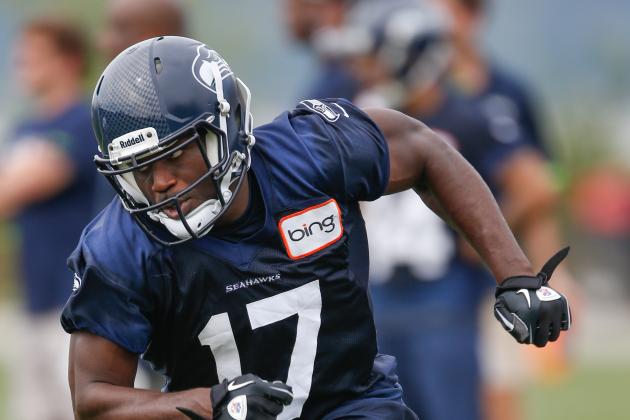 Otto Greule Jr/Getty Images

There is a lot to like about the receiving corps of the Seattle Seahawks. Obviously injuries and poor performances could quickly hurt this team, but there is much to be excited about going into the season.
You start with Percy Harvin, who will quickly add electricity to the offense. Fans hope that the chemistry and rapport with Russell Wilson will develop quickly. The same could be said about the relationship between Harvin and Sidney Rice.
Hopefully the two "No. 1" receivers will be on the same page, starting in OTAs...or at least in the same book.
Then there is intriguing rookie Chris Harper. Since Harper is a fourth-round pick, he will have to fight for playing time on this team. However, the Seahawks did like him enough to select him.
Harper is a big, strong receiver. He may fit very well into the scheme of the Seahawks (via Seahawks.com). Granted, Harper is just a rookie, so he may experience some growing pains.
Still, if Harper and Harvin can integrate well into this team, the Seahawks could have a very, very dangerous offense.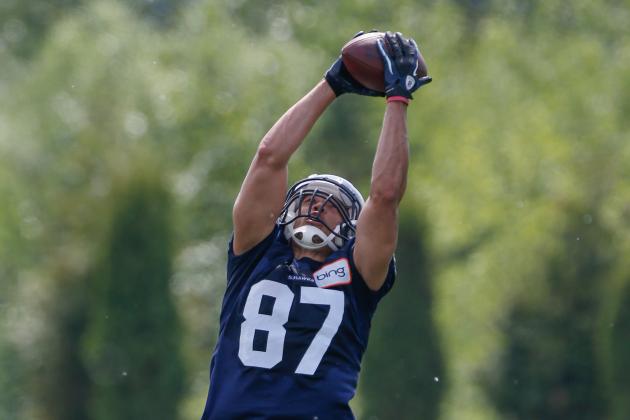 Otto Greule Jr/Getty Images

If you look at the NFL process, OTAs are really an extended tryout for rookies, free agents and veterans that are trying to show that they can still make a contribution. This is where coaches start to see extra effort and a willingness to be coached.
Every team probably has a player or two that is allowed an opportunity. Some turn into nice stories, while others disappear as quickly as they came.
The Seahawks recently signed two players from the Pacific Northwest, including tight end Victor Marshall, who played locally at Juanita High School, and Benson Mayowa, who was previously at the University of Idaho (via the Seattle Post-Intelligencer).
Do these two players have any shot on this team? Or do they represent warm bodies to fill out a workout squad?

This is a deep team, and even some of the drafted players may have a hard time winning a spot on the roster. We will see how long Marshall and Mayowa last.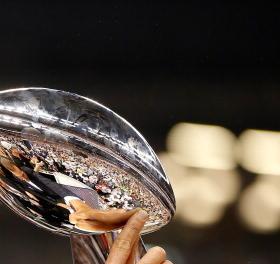 Chris Graythen/Getty Images

This team will have very high expectations going into the 2013 season. Will these OTAs be the start of something great for the Seattle Seahawks?
The NFL season is a long, grueling journey that starts the moment the previous Super Bowl is over. Injuries, poor performances and bad breaks can very quickly derail a talented team that is theoretically destined for greatness.
If the Seahawks win Super Bowl XLVIII, the commemorative DVD may start with footage from OTAs and the narrator might point to key battles that began with these introductory workouts.
Seattle could have a very special season. Success this year could begin with key outcomes in OTAs.