Fantasy Baseball: Week 8 Start 'Em or Sit 'Em Breakdown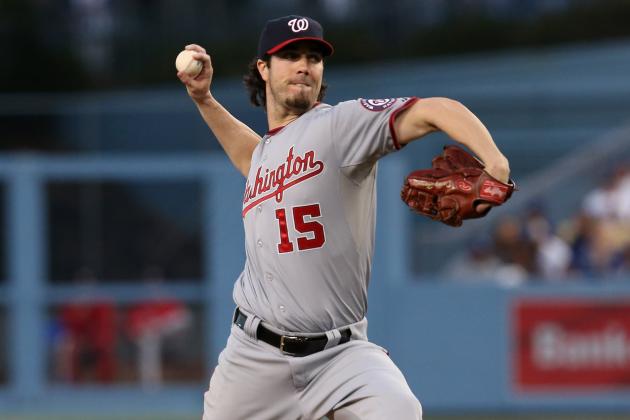 Stephen Dunn/Getty Images
What should fantasy baseball managers do with the struggling Dan Haren?
Another week, another set of choices to make with your fantasy baseball lineup.
If you listened to my advice last week, you took a shot on Scott Kazmir, only to see him give up four runs, and steered clear of Francisco Liriano as he shined.
You also finally caved in and sat (or dropped) Jonathon Niese before he delivered a quality start against the St. Louis Cardinals. But at least you got a complete-game shutout from Brandon McCarthy.
This week presents a completely new batch of dilemmas for fantasy owners. Is it time to stray away from Dan Haren and Marco Estrada? Is it safe to believe in Ubaldo Jimenez and Rick Porcello? Should you give up on that Justin Verlander bum? (If you're in one of my leagues, then absolutely).
Let's take a look at some starting pitchers whom fantasy gamers may be on the fence with playing or benching this week.
Note: Statistics, unless otherwise noted, courtesy of FanGraphs.com
Begin Slideshow

»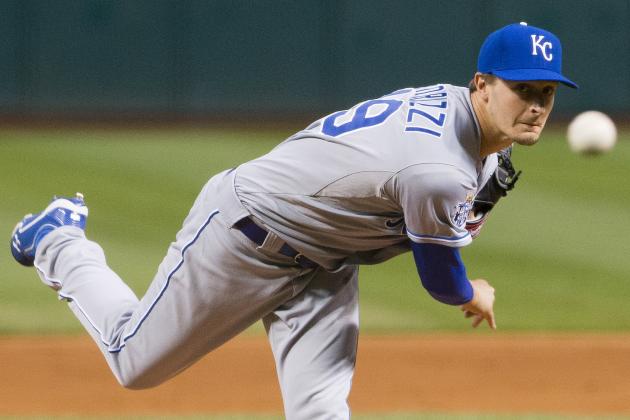 Jason Miller/Getty Images
The Kansas City Royals shipped Jake Odorizzi and Wil Myers to Tampa Bay.
Scheduled Start: Monday at Toronto Blue Jays
Jake Odorizzi, the lesser known of the two top prospects received by the Tampa Bay Rays for James Shields, will make his team debut on Monday.
After a rough start, ace David Price was placed on the disabled list with a triceps injury. The Rays had other intriguing options, particularly Chris Archer, but they gave Odorizzi the nod to take Price's spot in the rotation.
The 23-year-old posted a 3.83 ERA, 1.10 WHIP and 47 strikeouts through 44.2 innings pitched in Triple-A. Baseball America ranked him as baseball's 92nd-best prospect before the season commenced, so is it time to toss him into your starting lineup?
While the Blue Jays have underwhelmed this season, their offense is beginning to ignite. The club has compiled double-digit runs four times in May, including a three-game stretch where they scored 33 runs.
With seven homers allowed this season, Odorizzi is no stranger to surrendering a long ball. Jose Bautista and Edwin Encarnacion could turn his arrival into a sour occasion.
Verdict: Sit (but worth a speculative add in deeper leagues)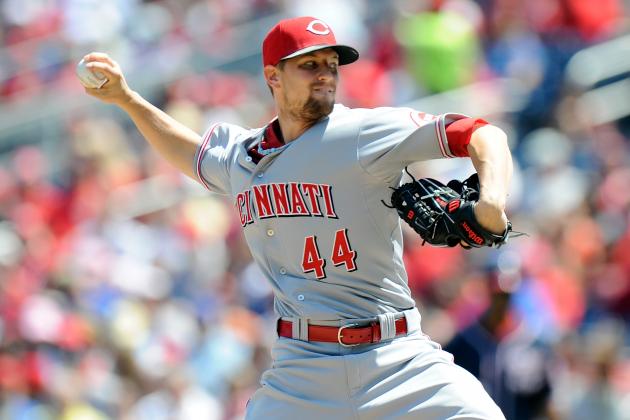 Greg Fiume/Getty Images
The Reds are sticking with Mike Leake over Tony Cingrani for some odd reason.
Scheduled Start: Tuesday at New York Mets
This is the guy keeping a rotation spot over Tony Cingrani.
When Johnny Cueto went on the disabled list, Cingrani stepped up masterfully, recording a 3.27 ERA and 1.03 WHIP in six starts. The lefty neophyte racked up 41 strikeouts in 33 innings while issuing only nine walks.
The Cincinnati Reds are still sending him down to Triple-A so Mike Leake can keep starting.
Most teams would gladly take Leake as their No. 5 starter. The 25-year-old is sporting a 3.72 ERA and has allowed two walks and six earned runs during three May starts.
He also has a cringe-worthy 1.49 WHIP and an unappetizing 6.33 K/9 ratio. Cingrani was a fantasy stalwart; Leake is a mere NL-only play.
Although Leake just tossed 6.2 shutout innings against Miami, the Marlins make the mediocre Mets look like Murderer's Row.
The Reds are foolishly playing Leake. Don't make the same mistake.
Verdict: Sit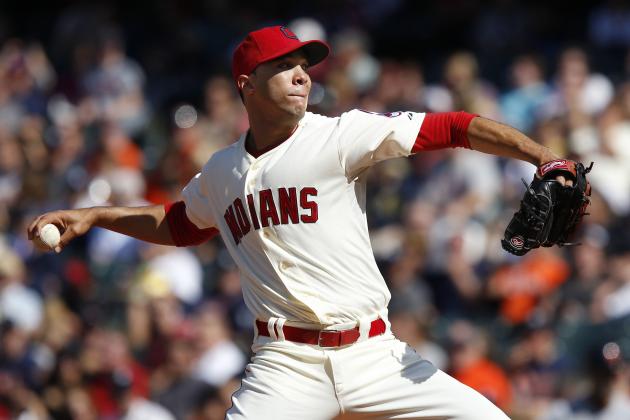 David Maxwell/Getty Images
Is vintage Ubaldo Jimenez back?
Scheduled Start: Wednesday vs. Detroit Tigers
Last week I wondered what tantalizing pitchers from yesteryear could follow in the footsteps of Scott Kazmir and Francisco Liriano and come back to life.
Don't look now, but Ubaldo Jimenez has been pitching incredibly well lately.
Actually, you probably should look, because Jimenez has notched 25 strikeouts through 16.2 innings this month. With six walks in those three starts, his control has remained intact as well.
Jimenez was virtually untouchable to start 2010 and pitched well even though his luck evened out the following season. So unlike Kazmir and Liriano, Jimenez only unraveled for a year.
He has made heavy use of his changeup this season, throwing it 30.4 percent of the time. That's amplified his ground-ball rate, which plummeted to 38.4 percent last season, up to 49.5 percent.
All this is well and good, but he's facing the Detroit Tigers, who lead the MLB in on-base percentage and runs scored. While Jimenez defeated them on May 11, it's too soon in this awakening to trust him in his second go-around against an elite offense.
If he passes this test, make sure he's not available in any leagues.
Verdict: Sit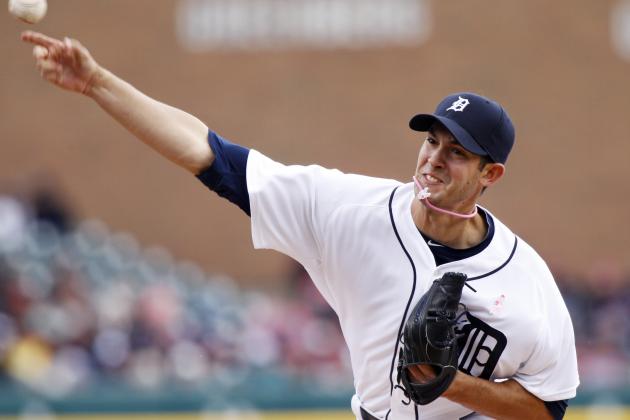 Duane Burleson/Getty Images
Rick Porcello has bounced back beautifully from a rough start.
Scheduled Start: Thursday vs. Minnesota Twins
On April 20, Rick Porcello suffered a brutal beating against the Angels, allowing nine runs before being mercifully removed during the first inning.
That onslaught could have brought the end to his tenure in the starting rotation, but Porcello has instead responded resoundingly.
Since getting destroyed by Los Angeles, Porcello has posted a 3.24 ERA, striking out 24 batters with five walks in 25 innings. This is the guy who garnered sleeper appeal with a phenomenal spring training.
Should fantasy owners jump back on the 24-year-old's bandwagon? He needs a long stretch of usefulness to prove his worth in standard leagues, but how about a spot start against the Twins?
Minnesota is hitting .247 as a team, and only three squads have amassed fewer home runs. Currently producing a 20.7 percent HR/FB rate, Porcello could use an opponent devoid of power.
A hot pitcher against a weak opponent is exactly what streamers are looking for, and Porcello is available in 96 percent of Yahoo! leagues.
Verdict: Start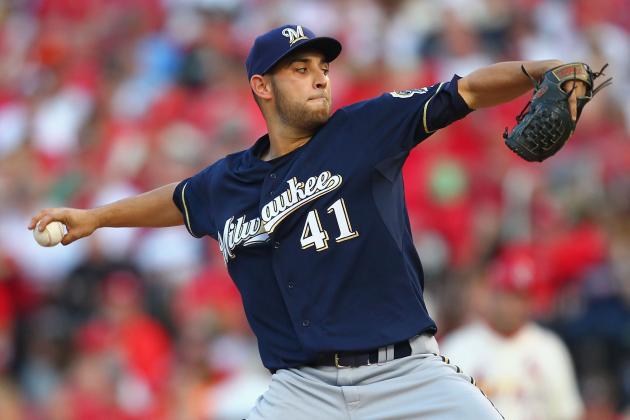 Dilip Vishwanat/Getty Images
I'm staying by Marco Estrada's side just a bit longer.
Scheduled Start: Friday vs. Pittsburgh Pirates
I loved Marco Estrada before the season began, telling anybody who would listen (which is probably nobody anyway) to grab him in the middle rounds and reap the rewards of an ace in waiting.
Whoops.
Estrada's 9.30 K/9 ratio, 1.89 walk rate and 3.35 FIP had me swooning like a teenage girl at a Justin Bieber concert, but that love has quickly faded.
While the strikeout (8.06 K/9) and walk (2.98 BB/9) rates are still solid, he's now posting a 5.44 ERA and 1.42 WHIP after nine starts. The letdown was highlighted by an eight-run shellacking against the St. Louis Cardinals on Cinco de Mayo.
Some players have already kicked Estrada to the curb. Other owners who are hesitant to drop him no longer trust him with a spot in the starting lineup. So what should they do when he faces the Pirates?
He surrendered five runs to the Buccos to conclude April, but fared much better on May 13, yielding one run through seven stellar innings.
There's not data to excuse his poor start, but the long ball has certainly hampered Estrada's attempt at producing a breakout season. He's already doled out 11 home runs, which ties him for second most behind the incredibly unfortunate Matt Cain.
Since he's also generated the most ground balls of his career, Estrada should see some enhanced success come his direction.
Verdict: Start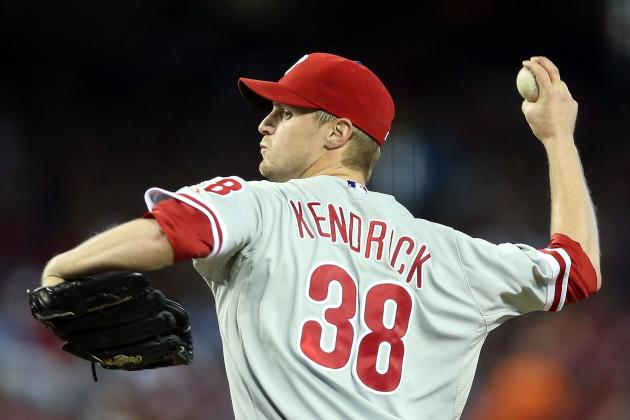 Christian Petersen/Getty Images
Kyle Kendrick won't pitch this well throughout the year.
Scheduled Start: Friday at Washington Nationals
This is still the same Kyle Kendrick, right?
The soft-tosser with a career 4.19 ERA currently holds a 2.82 ERA and 1.15 WHIP to start the season. Maybe it's time to take Kendrick seriously in fantasy leagues.
But probably not. Even the improved Kendrick throwing with higher velocity is still only mustering a 6.08 K/9 ratio. Throw in a 3.71 FIP, a .263 BABIP and an 83.1 percent strand rate and regression is imminent.
It started in his last outing against the Reds, who earned 12 baserunners and scored four runs off Kendrick through six innings.
Despite all that, owners could get one more useful start out of him this weekend against the Nationals, whose lineup has drastically disappointed.
Washington figured to wreak havoc as a premier offense, but the squad ranks 28th in runs scored and slugging percentage. The Nationals have ridden their pitching staff and a bit of luck to a solid start, but all that matters for this discussion is their dull run production.
Give Kendrick another start, but have an exit strategy in sight.
Verdict: Start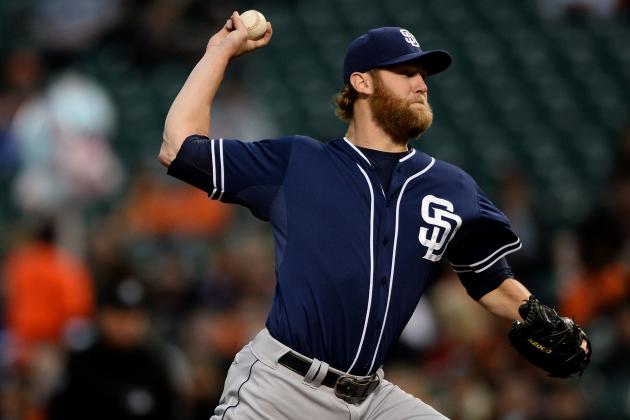 Patrick Smith/Getty Images
Andrew Cashner has a tough task ahead this week.
Scheduled Start: Saturday at Arizona Diamondbacks
Andrew Cashner has pitched exceptionally. With a 3.02 ERA and 1.19 WHIP, the 26-year-old is finally starting to harness some of that untapped potential.
Now here comes the part where I express my skepticism.
Prior to the 2013 season, Cashner tallied 110 strikeouts in 110.1 innings. That strikeout-per-inning trend has not carried over into this season, where he has caused 33 whiffs through 44.2 innings.
He's employed Petco Park to his advantage, recording a 1.96 ERA at home. Away from the spacious park he has a 4.22 ERA and 1.31 WHIP.
Chase Field provides a smaller venue for Cashner, and the Diamondbacks are a tougher adversary than the other squads he's seen this season.
Cashner holds some long-term value this season (especially when pitching in San Diego) but should stay on the bench for his next start.
Verdict: Sit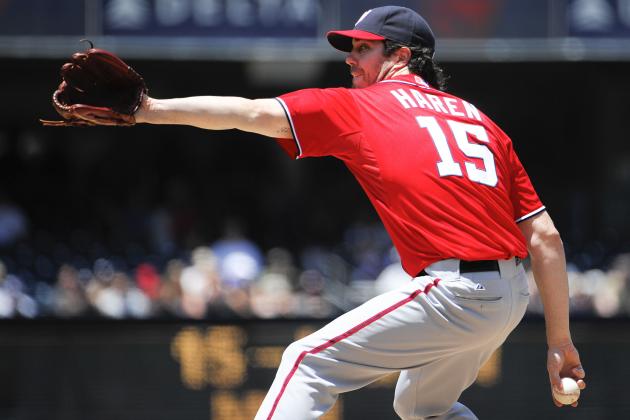 Denis Poroy/Getty Images
Is this the beginning of the end for Haren?
Scheduled Start: Saturday vs. Philadelphia Phillies
When the Padres light you up at Petco, you've hit rock bottom.
Dan Haren finally seemed to have recovered from a rough opening to the year. After relinquishing 12 earned runs during his first three starts, he gave up the same amount in his next five outings, recording a 3.38 ERA during that improved stretch of play.
That was before San Diego touched him up for seven runs on Sunday.
His ERA now sits at 5.54 for the season, and his 4.90 FIP can't bail him out there. His impeccable control is now making him a human piñata, as his opposition has piled up 64 hits against him in 50.1 innings. A 8.3 swinging strike percentage represents the worst mark since his rookie season.
At this rate, Haren resembles Carl Pavano more than the ace he once was.
If Haren were facing a potent offense, it would be warranted to put him in the timeout chair until he delivers a better performance. But these are not your older brother's Phillies.
No longer an offensive powerhouse, Philadelphia holds a .244/.303/.379 slash line while ranking 26th in runs. San Diego's lineup is actually slightly better right now.
Give Haren one more chance at your risk, but it could soon be time to pull the plug if he keeps getting lit up.
Verdict: Start