2013 MLB Rankings: Top 10 Fastest Players in Baseball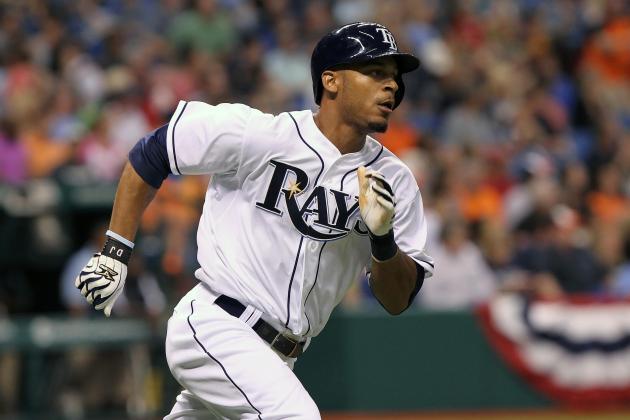 Kim Klement-USA TODAY Sports
Tampa Bay Rays OF Desmond Jennings is one tough guy to catch.
Speed is one of the core values in baseball that cannot be taught. Players either are or aren't born with the ability to run around the bases quickly.
So who is the fastest player in Major League Baseball?
I've taken a look at several different ways of measuring how fast players currently in the league are, but nothing was more useful than FanGraphs' speed score.
FanGraphs averages stolen-base percentage, frequency of stolen-base attempts, percentage of triples and runs-scored percentage to come up with a speed score. The site notes that 4.5 is average, 5.5 is above average, 6.0 is great and anything 7.0 or higher is excellent.
Other statistics that I took into consideration include weighted stolen base runs (wSB), which measures how many runs a player contributes by stealing bases, as well as ultimate base running (UBR), which measures how much value a player adds via baserunning, both provided by FanGraphs.
Now that I've explained how the following players were judged, let's take a look at who made the top 10.
*All statistics in this article were obtained via FanGraphs unless otherwise noted. All injury information was obtained via Baseball Prospectus. All contract information was obtained via Cot's Contracts.
Begin Slideshow

»
Michael Chang/Getty Images

This wouldn't be a fair list if Cincinnati Reds' minor leaguer Billy Hamilton wasn't mentioned at least once. I decided to give him his own slide, but couldn't include him in the actual rankings since he's not currently in the big leagues. Once he does make his debut, though, he'll likely top this list.
Last summer, Jeff Passan of Yahoo! Sports wrote about Hamilton, concluding that he might be the fastest player of all time.
To watch Hamilton run is to see a finely tuned machine churning in beautiful synchronicity. Each of his pieces and parts flexes and tenses harmoniously, unleashing a torrent of fast-twitch fury. Hamilton drove a ball to center field, which Jae-Hoon Ha misplayed, and off he went, third base a birthright. He slid mostly for show. Sometimes it's as if God couldn't throw out Hamilton.
In 132 games last season between Single-A Bakersfield and Double-A Pensacola, Hamilton was caught stealing 37 times. That may seem high, but what's really incredible is that he was successful on 155 occasions. Yes, he managed to steal 155 bases in 132 games. That's remarkable and it should be a blast watching him test major-league catchers in the near future.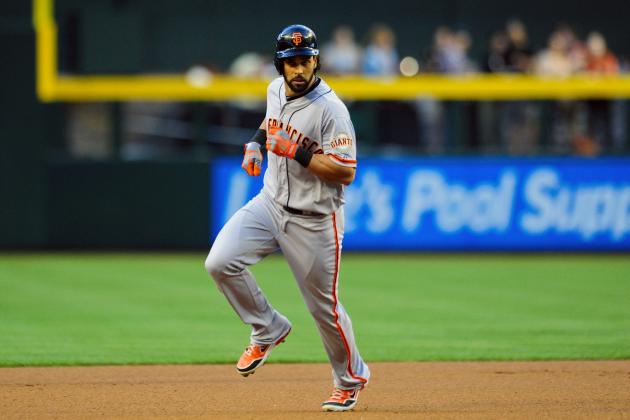 Matt Kartozian-USA TODAY Sports

When thinking of who the fastest players in baseball are, Angel Pagan's name was nowhere close to the front of my mind. But after doing some research, it started to come to me. He's one of the quicker players that people outside of San Francisco might not realize.
Last season, Pagan led the Giants in steals with 29, three ahead of Gregor Blanco. The two seasons prior, he stole more than 30 each time, setting a career high of 37 back in 2010 while with the New York Mets. Pagan only has six steals through the first quarter-plus of this season, but has still shown great range in the outfield.
Dave Schoenfield of ESPN wrote after Pagan re-signed with the Giants this winter that while the first two years of his contract may be worth it, he may not have the speed or range to play center field in the final two. That doesn't seem to be an issue just yet, but it is something to watch for in the next handful of seasons.
| G | SB | CS | Spd | wSB | UBR | WAR |
| --- | --- | --- | --- | --- | --- | --- |
| 43 | 6 | 4 | 5.7 | -0.5 | 2.6 | 0.5 |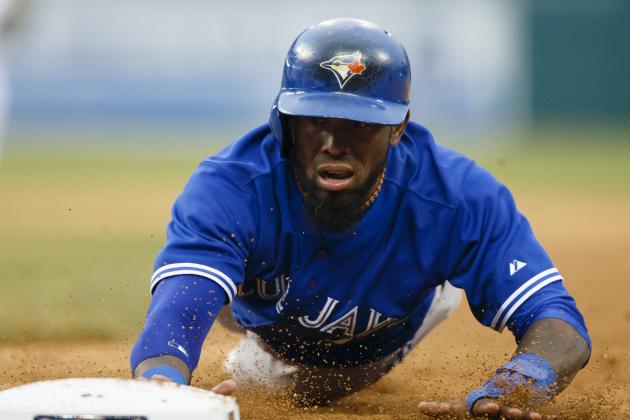 Rick Osentoski-USA TODAY Sports

Unlike Angel Pagan, Jose Reyes is widely known for his speed on the basepaths. In his first couple of seasons in the big leagues with the New York Mets, Reyes was nearly unstoppable. In 2005, he stole 60 bags. The next season, he stole four more than that. Then, in 2007, he stole 78 bases. He led the league in each of those three seasons.
While Reyes can swipe a bag starting at first or second base, he's also very good at getting out of the box quickly when extra bases are on the line. He's led the league in triples on four occasions, setting a career high with 19 back in 2008. Last season, with the Miami Marlins, Reyes hit 12 triples and was 40-for-51 in steals.
The Marlins dealt Reyes over the winter to the Blue Jays, with Toronto hoping that he could provide a spark to their revamped team atop the lineup. Unfortunately, Reyes hasn't played much after he severely sprained his ankle when trying to steal second base. We'll have to wait and see if it affects how he runs once he returns.
| G | SB | CS | Spd | wSB | UBR | WAR |
| --- | --- | --- | --- | --- | --- | --- |
| 10 | 5 | 0 | 5.1 | 0.9 | 0.2 | 0.6 |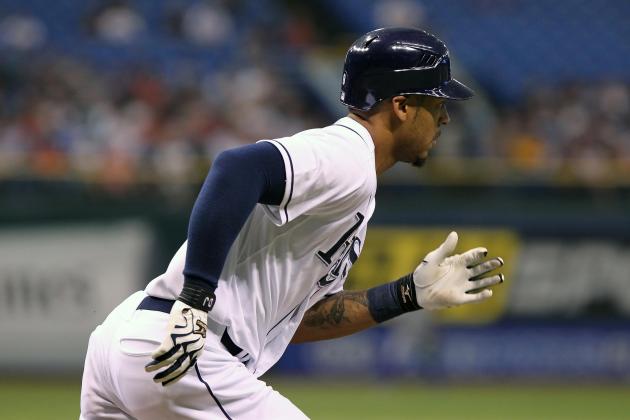 Kim Klement-USA TODAY Sports

Desmond Jennings is still getting himself acclimated to the big leagues, but is already emerging as one of the biggest threats on the basepaths. He made his debut back in 2010, but only appeared in 17 games. The next season, he played 63 games and managed to swipe 20 bases.
Then last season, Jennings got his first real shot at a full season. He played in 132 games and stole 31 bases, which was tied for the team lead with B.J. Upton. Now that Upton is gone, after having signed with the Atlanta Braves over the winter, Jennings shouldn't have much competition going forward.
Through 42 games this season, Jennings has six steals, which isn't very many but is still the most of any Tampa Bay Rays player. The Rays haven't been very aggressive on the bases this season, though, managing just total 21 steals on the year, tied for the 19th most in the league. If Tampa Bay gives Jennings the green light, he could easily hit 40 for the year.
| G | SB | CS | Spd | wSB | UBR | WAR |
| --- | --- | --- | --- | --- | --- | --- |
| 42 | 6 | 3 | 7.2 | -0.1 | 1.9 | 1.2 |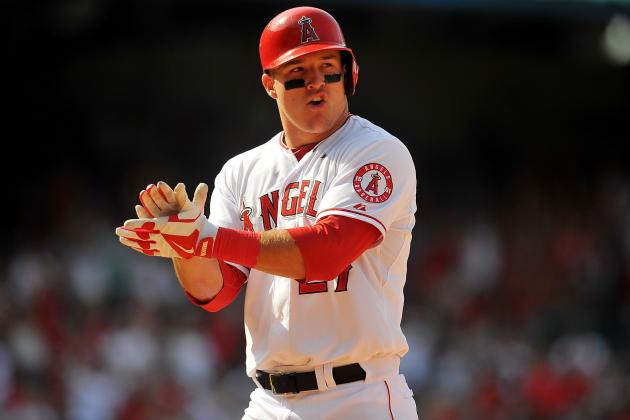 Gary A. Vasquez-USA TODAY Sports

Major League Baseball found a new star last season when the Los Angeles Angels called up Mike Trout. Although he had played a little bit in 2011, no one knew what he was going to be capable of accomplishing. Not only was Trout a major threat on the basepaths, but he also was a remarkable hitter and defensive outfielder.
Trout finished second in the AL MVP voting after finishing the season with 30 home runs and 49 stolen bases. He was only caught five times on the year. He also went from home to third—also known as a triple—eight times. In center field, he showed spectacular range, making plays that were well out of his general area.
The big story this season, though, is whether Trout will be able to repeat what he was able to last season in terms of speed. He gained a considerable amount of weight over the winter and we now have to wait and see if it truly affects his base-stealing ability. He's already been caught stealing three times this season, so one would assume the weight is restricting him.
| G | SB | CS | Spd | wSB | UBR | WAR |
| --- | --- | --- | --- | --- | --- | --- |
| 45 | 9 | 3 | 7.2 | 0.5 | 2.2 | 2.3 |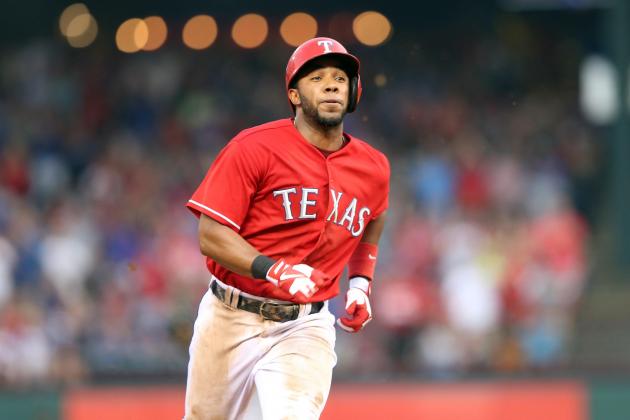 Kevin Jairaj-USA TODAY Sports

Elvis Andrus is a very good all-around player and his speed is somewhat underrated. In his first three seasons in the big leagues, he stole in excess of 30 bases each year. Last season, he only managed to swipe 21 bases, getting caught 10 times. He does, however, put a lot of pressure on the defense.
Andrus has reached safely on a bunt attempt 37 times over the last five years and also has had his fair share of infield hits as well. He's surpassed the 20 mark in each of the last three seasons, setting a career high with 26 last year. If an infielder thinks about a play for just a split second too long, Andrus will likely beat the throw.
While it could be argued that Andrus wasn't very effective on the basepaths last season, he's certainly trying to turn things around in 2013. He already has 13 attempts on the year, 18 away from his total from a year ago. He's also been much more successful, which could have something to do with being more aggressive.
| G | SB | CS | Spd | wSB | UBR | WAR |
| --- | --- | --- | --- | --- | --- | --- |
| 45 | 12 | 1 | 8.1 | 1.8 | 0.2 | 1.1 |
USA TODAY Sports

Injuries over the last few seasons have plagued Jacoby Ellsbury and haven't allowed him to run as often or as successfully as he did earlier in his career. In Ellsbury's first full season with the Boston Red Sox, he stole 50 bases. The following season, he stole 70 bases. Both marks led the league.
The last three seasons, though, Ellsbury only totaled 60 swiped bases. That's mainly because he only played in 18 games in 2010 and 74 games last season. This season, he's already off to a good start, leading the league with 13 steals, getting caught just twice. If he keeps it up, he could easily hit 35 for the year.
But because Ellsbury has been struggling at the plate this season (.242/.307/.335), he might not be in the leadoff spot much longer. Boston manager John Farrell told Scott Lauber of the Boston Herald that he's sticking with him for now. Lauber notes that the Red Sox don't really have another player with "game-changing speed."
| G | SB | CS | Spd | wSB | UBR | WAR |
| --- | --- | --- | --- | --- | --- | --- |
| 45 | 13 | 2 | 8.1 | 1.6 | 1.2 | 0.8 |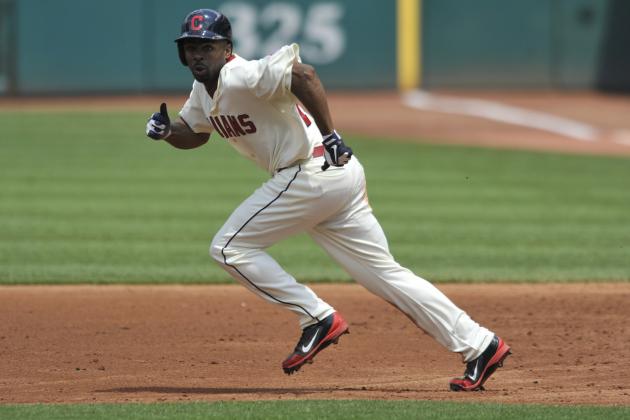 David Richard-USA TODAY Sports

If you blink, you might just miss Michael Bourn stealing a base or two. That is, of course, what the new Cleveland Indians outfielder does best. Ever since Bourn was called up to the majors back in 2006, he's been a headache for opponents trying to keep him close at first base—and even sometimes at second.
Since 2008, Bourn has stolen at least 41 bases in each season. He led the league in steals from 2009 through 2011 with 61, 52 and 61 swipes, respectively. But because Bourn is usually so aggressive on the basepaths, he isn't always successful. He led the league in getting caught in each of the last two seasons.
Bourn is off to a solid start, going 6-for-7 to this point in the season. He missed a couple of weeks with a lacerated finger and has only played in 21 games. In order to continue his streak of consecutive seasons with more than 40 stolen bases, he's going to need to get on his horse. Despite the missed time, I'm still confident the streak will continue.
| G | SB | CS | Spd | wSB | UBR | WAR |
| --- | --- | --- | --- | --- | --- | --- |
| 21 | 6 | 1 | 7.6 | 0.7 | 0.1 | 0.9 |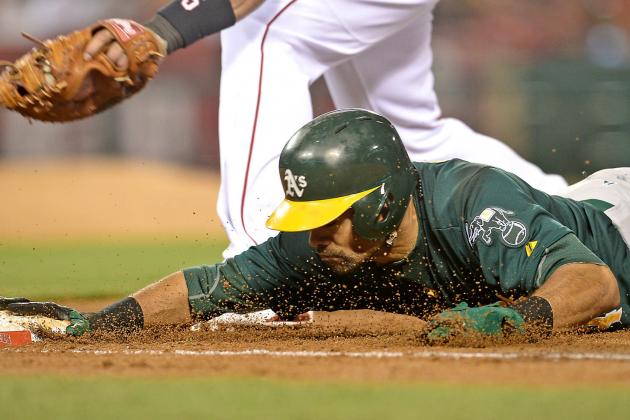 Jayne Kamin-Oncea-USA TODAY Sports

Coco Crisp has never really been known for what he has done with the bat. Instead, he's considered to be one of the quickest players in the game for what he can do with his feet. Through the ups and downs of his now 12-year career in Major League Baseball, Crisp has stolen 266 bases and has been caught 65 times.
In 2011, Crisp led the league with 49 steals, which was 17 more than he'd ever stolen prior to that season. Last season, he swiped 39 bases. And if you want to read something really interesting, Jonah Keri of Grantland sat down with Crisp to talk about what was going through his mind on the basepaths at times last season.
Crisp is off to another good start in 2013, but his season has already been plagued by injury. He found himself on the disabled list with a strained hamstring, but has since returned. He's 9-for-10 in terms of steals already, and it seems very likely that he'll once again have a large total by season's end.
| G | SB | CS | Spd | wSB | UBR | WAR |
| --- | --- | --- | --- | --- | --- | --- |
| 29 | 9 | 1 | 7.7 | 1.3 | 1.2 | 1.0 |
Charles LeClaire-USA TODAY Sport

Not every player has the abilities that Starling Marte does. Marte has a rare combination of speed and power, which he's flaunted already this season, just his second in the big leagues. In 47 games last season, Marte stole 12 bases. He's played in three fewer games and sits a pair of steals away from his 2012 total this year.
While Marte is still very young—just 24 years old—he's already emerging as one of the better base-stealers and overall great players in the game.
"You watch him, and you go, 'Wow!'" a scout told Danny Knobler of CBS Sports recently. "He can run. He can hit. We talk about all these young star players on the rise. He's got to be mentioned with them. He might even be at the top."
Marte does already have 10 steals on the season, but he needs to be smarter. He's already gotten caught five times. A 66.7-percent success rate isn't really that eye-appealing no matter how many steals he finishes the season with. If he can improve that rate and steal close to 40 bases this season, his name could easily be atop that list of rising stars, just like that scout said.
| G | SB | CS | Spd | wSB | UBR | WAR |
| --- | --- | --- | --- | --- | --- | --- |
| 44 | 10 | 5 | 7.3 | -0.2 | 3.1 | 1.9 |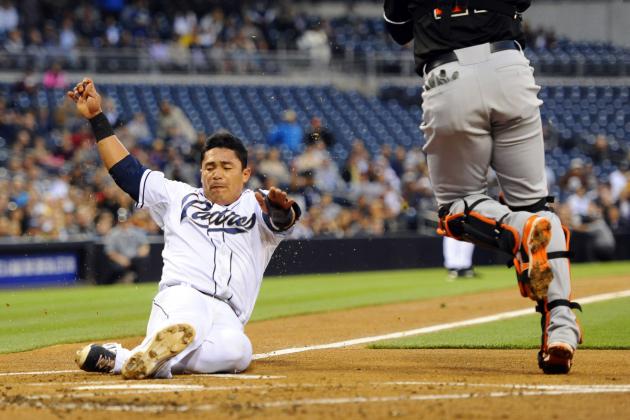 Christopher Hanewinckel-USA TODA

If I asked you who had the most steals in the National League last season, I bet that you wouldn't have known it was Everth Cabrera, shortstop for the San Diego Padres. Cabrera stole 44 bases in 2012, two behind Rajai Davis and five behind Mike Trout. You should be impressed at this point, especially if you haven't heard much about him.
Juan Pierre, one of the better base-stealers of this era, recently told Chris Jenkins of the San Diego Union-Tribune his thoughts on San Diego's biggest threat on the basepaths.
"He's a burner," said Pierre, "and there ain't that many of them."
Cabrera was thrown out at third base after overrunning the bag and third base coach Glenn Hoffman told Jenkins, "Stuff like that only happens with guys who have real speed."
I'd certainly agree.
Cabrera isn't the most flashy or well-known base-stealer in the game, but he is one of the best and most successful. He already has 18 steals on the season, which leads the league. Don't be surprised at year's end if he has more than 60 or 70. He's that fast.
| G | SB | CS | Spd | wSB | UBR | WAR |
| --- | --- | --- | --- | --- | --- | --- |
| 45 | 18 | 4 | 8.2 | 1.8 | 1.1 | 1.5 |