Tuesday's draft lottery will give a much clearer indication of what to expect when the 2013 NBA draft takes place on June 27. As it stands, much of the selection process is still very much up in the air.
In posting a 20-62 record, the Orlando Magic have put themselves in position to secure the No. 1 selection in this year's draft. While they hold 25 percent odds of doing just that, recent history suggests we could see another surprise team take the stage for the first selection, though.
Which team do you think will win the 2013 draft lottery?
Only four times in the 28 years of the lottery has the team with the worst regular-season record secured the first pick in the draft, the last of which was in 2004. The team to do so? The Orlando Magic.
Maybe this will be the year we finally see things shake out according to the odds.
The Charlotte Bobcats and Cleveland Cavaliers are also in good position to win the first pick, however. With 19.9 and 15.6 percent odds, respectively, it wouldn't be surprising to see one of the two teams jump the magic in draft positioning to acquire some of this draft's class' elite talent.
Let's take a look at the lottery odds and draft order and break down which players could be in line to be the first selected in the June 27 entry draft.
Lottery Odds
| | |
| --- | --- |
| Team | Lottery Odds |
| Orlando Magic | 25 percent |
| Charlotte Bobcats | 19.9 percent |
| Cleveland Cavaliers | 15.6 percent |
| Phoenix Suns | 11.9 percent |
| New Orleans Pelicans | 8.8 percent |
| Sacramento Kings | 6.3 percent |
| Detroit Pistons | 3.6 percent |
| Washington Wizards | 3.5 percent |
| Minnesota Timberwolves | 1.7 percent |
| Portland Trail Blazers | 1.1 percent |
| Philadelphia 76ers | 0.8 percent |
| Toronto Raptors | 0.7 percent |
| Dallas Mavericks | 0.6 percent |
| Utah Jazz | 0.5 percent |
Remaining First-Round Order
| | |
| --- | --- |
| Pick | Team |
| 15 | Milwaukee Bucks |
| 16 | Boston Celtics |
| 17 | Atlanta Hawks |
| 18 | Atlanta Hawks (via Brooklyn and Houston) |
| 19 | Cleveland (via Los Angeles Lakers) |
| 20 | Chicago Bulls |
| 21 | Utah Jazz (via Brooklyn and Golden State) |
| 22 | Brooklyn Nets |
| 23 | Indiana Pacers |
| 24 | New York Knicks |
| 25 | Los Angeles Clippers |
| 26 | Minnesota Timberwolves (via Houston and Memphis) |
| 27 | Denver Nuggets |
| 28 | San Antonio Spurs |
| 29 | Oklahoma City |
| 30 | Phoenix Suns (via Los Angeles Lakers, Cleveland and Miami) |
*Odds and order acquired from Pro Basketball Talk.
Nerlens Noel: C, Kentucky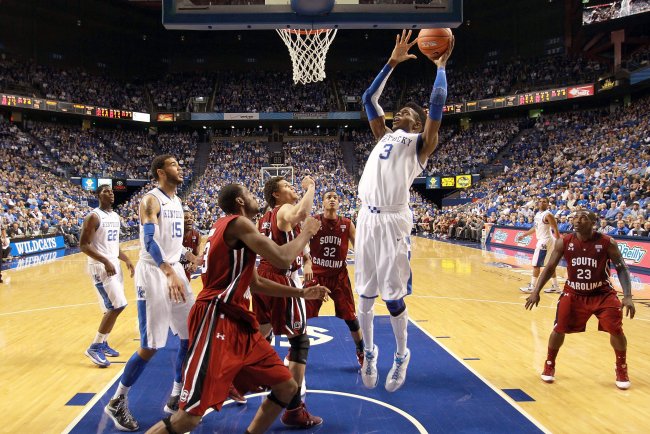 Andy Lyons/Getty Images
Despite suffering a devastating ACL tear during the 2012-13 season, Nerlens Noel should be in line to be one of the first players selected in the NBA draft. He has the talent and tremendous potential to be the first overall pick, but teams will be especially interested in how far along the center is in recovering from that injury.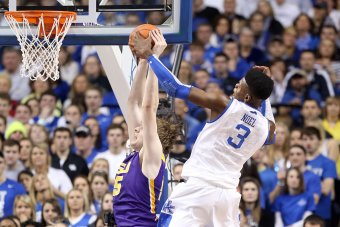 Andy Lyons/Getty Images
At 6'11" and 216 pounds, Noel has the length and athleticism to be a nightmare for opposing frontcourts. In 31.9 minutes per game with the Wildcats, the big man recorded 10.5 points, 9.5 rebounds and 4.4 blocks per contest, drawing comparisons to the likes of Bill Russell.
It remains to be seen how he will perform at the NBA level, but hopefully we won't have to wait too long to find out. Regardless of his timetable for return to the court, Noel will be one of the first players to find a home in the draft.
Ben McLemore: SG, Kansas
Noel's knee injury may open the door for Kansas shooting guard Ben McLemore to assume the role as No. 1 overall pick this year. As good as the Kentucky center could be, there's much less risk in selecting the purest shooter in college basketball.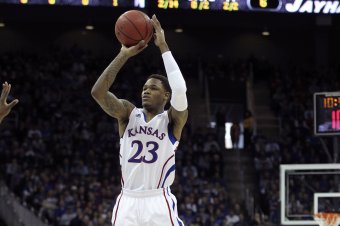 Ed Zurga/Getty Images
At 6'5" and 185 pounds, McLemore has the ideal frame for the 2-guard position in the NBA. Paired with an extremely quick release and a three-point stroke often compared to that of Ray Allen, McLemore is practically unguardable.
The freshman didn't play all that well in the NCAA tournament, but his regular-season statistics (15.9 points per game, 42 percent from behind the arc) suggest a small drop in postseason production should be nothing to worry about.
The first selection will likely depend on which team manages to secure the No. 1 pick, however. No team is without the need for a tremendous perimeter scorer like McLemore, but positional need could play a big part in where he is ultimately selected.