Indiana Basketball: Setting Expectations for Each Projected Starter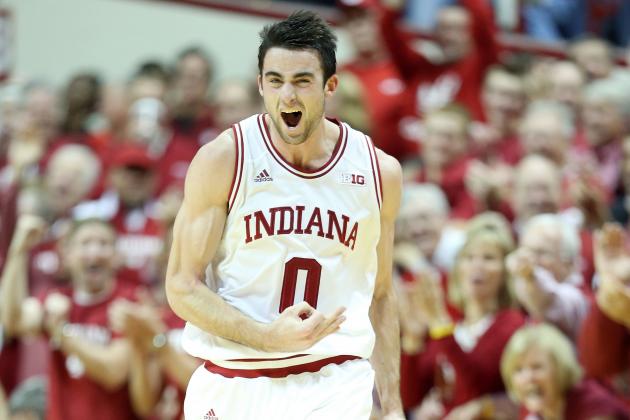 Andy Lyons/Getty Images

The starting five for Indiana basketball next season is going to look very different. Point guard Yogi Ferrell is the only returning starter, meaning four new Hoosiers will be joining him.
Rounding out the starting lineup will likely be senior Will Sheehey, sophomore Jeremy Hollowell and freshmen Noah Vonleh and Luke Fischer.
For the above predicted starting lineup, this slideshow will set expectations for each player.
Begin Slideshow

»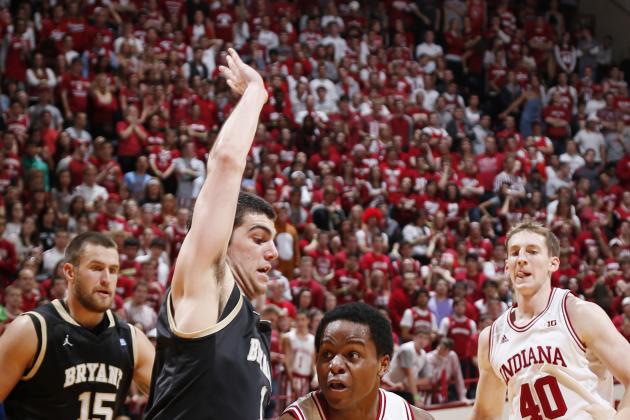 Joe Robbins/Getty Images

As point guard, Yogi Ferrell is in charge of Indiana's attack. In his freshman season, he played well and showed he deserved to be a starter (7.6 PPG, 4.1 APG, 2.8 RPG, 40.3 percent shooting).
Because of the presence of Victor Oladipo and Cody Zeller, Ferrell wasn't counted on to produce a chunk of the offense. Next season, he will be required to do more, mainly acting as a distributor.
Oladipo and Zeller were great at creating their own shots. The offense didn't depend on Ferrell to set other players up like a traditional point guard would.
This year will be different.
The Hoosiers lack dynamic players like Oladipo and Zeller. Ferrell will be expected to raise his assists per game to around six or seven. He must become a prolific creator.
If Ferrell can also improve his shooting percentage, becoming an All-Big Ten first- or second-team selection is a reasonable expectation to have for him in 2013-14.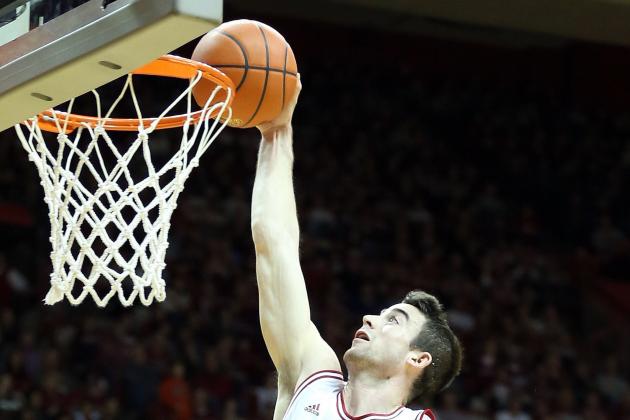 Andy Lyons/Getty Images

For Indiana to be as successful as it has been the past two seasons, Will Sheehey must have a monster year. The expectation will be that he leads the team on both ends of the floor.
As far as defense is concerned, Sheehey has the trust of Tom Crean. Crean has tasked him with guarding the opposing team's best player before. Last season, Sheehey went up against Michigan's Trey Burke and Temple's Khalif Wyatt. He won't be a lockdown defender like Victor Oladipo but is solid enough to get the job done.
On offense, it is reasonable to think that Sheehey can carry the load. Last season, he averaged 9.5 points per game while playing an average of 22.3 minutes. Once that number jumps to around 27-28, Sheehey's production will increase as well.
Last season, the bulk of the offense flowed through Cody Zeller and Oladipo. With them gone, those shots will have to go somewhere. Expect Sheehey to take advantage.
Sheehey should score 12.5 to 13 points per game. Anything less and the Hoosiers will be in trouble.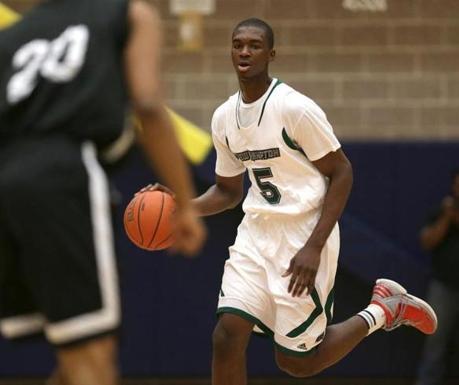 Credit: bostonglobe.com
Noah Vonleh headlines IU's freshman class. He is the No. 13-ranked recruit in ESPN's 100. Because of this, he will be expected to not just be a starter, but a leader.
On a team that just lost the bulk of its offensive firepower, Vonleh will be counted on to put up points. He will be the most athletic player for the Hoosiers. He is a natural scorer who can beat opposing defenses in a variety of ways. Based on his ability, he is more than capable of leading the team in scoring.
Rebounding is the other way he should be expected to contribute. Standing at 6'8" with a 7'4" wingspan, rebounding will come natural to him.
The Hoosiers will be without an experienced post presence. This means a wing player like Vonleh will have to make an impact on the glass. He should easily be one of Indiana's top two rebounders.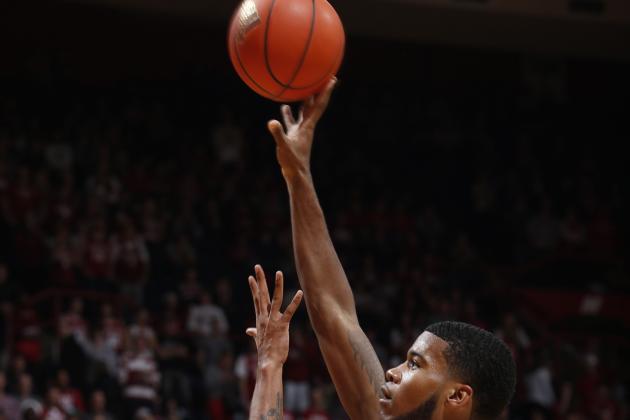 Joe Robbins/Getty Images

Jeremy Hollowell will most likely have to battle for a spot in the starting lineup, but his size will be the reason Tom Crean selects him.
Next season, the Hoosiers will lack a dominant post player. Cody Zeller was 7'0" and controlled the paint on both ends of the floor. Crean knows he will need bigger players in his lineup to replace Zeller's presence.
Standing at 6'8", Hollowell gives the Hoosiers a much bigger lineup. Assuming Hollowell plays power forward, 6'8" Noah Vonleh is the small forward and 6'7" Will Sheehey is the shooting guard, suddenly Indiana is rather imposing.
Being in the post, expect Hollowell to pull down three or four rebounds per game. He won't score in double digits but should be effective because he isn't a run-of-the-mill power forward. Hollowell can handle the ball like a guard and should be able to exploit slower, traditional power forwards who will have to guard him.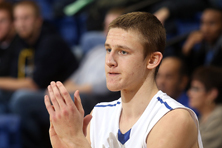 Credit: insidethehall.com
Freshman Luke Fischer should start because IU has little else to offer. Indiana's only other options at center are Hanner Mosquera-Perea or Peter Jurkin. Unless one of them makes ridiculous strides during the offseason, Fischer will be the go-to guy.
The expectations for him will be relatively low. He is trying to replace Cody Zeller. In his freshman year, that is likely an impossible task.
As far as scoring is concerned, little should be expected from Fischer. Between Will Sheehey and Noah Vonleh, the scoring should be accounted for. Those two will be the best offensive players and will get the majority of the shots. Tom Crean should be happy if Fischer can average around seven points per game.
Fischer's main concentration needs to be defense and rebounding. He definitely needs to add some muscle, but because he is 6'9", he should be able to grab around five rebounds per game.
Depending on how he transitions to college basketball, it could be a rough year for Fischer. Playing in the post is not an easy task in the Big Ten. If he can play solid defense and replace some of the rebounding lost with the departure of Zeller, he should live up to his freshman-year expectations.