Updated Stanley Cup Playoff Power Rankings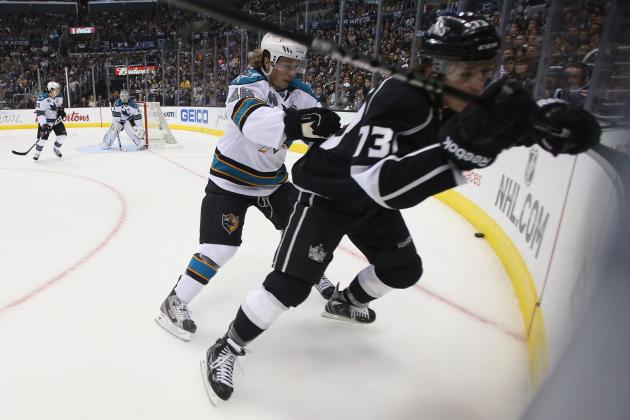 Jeff Gross/Getty Images

The second round of the 2013 NHL playoffs have been a treat so far, with several overtime games, some rough-and-tumble stuff and plenty of goal scoring to go around. Some teams have still been better than others, which naturally leads to NHL playoff power rankings.
This round is loaded with divisional and geographical rivalries, from the Detroit Red Wings and Chicago Blackhawks out West to the Boston Bruins and New York Rangers back East. It's been a blast to watch every team so far, but sadly, there must be a No. 8 and there must be a No. 1.
If you think we got 'em wrong—which happens occasionally—feel free to make your case in the comments below. Extra points for keeping things civil.
Begin Slideshow

»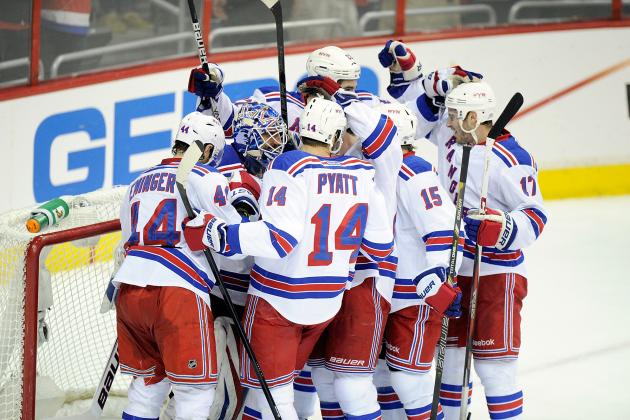 Greg Fiume/Getty Images

Series Status: The New York Rangers are on the ropes and find themselves down 0-2 in their series against the Boston Bruins. They haven't been able to take advantage of Boston's banged-up blue line—to this point, newcomers Torey Krug, Dougie Hamilton and Matt Bartkowski have outplayed Ryan McDonagh and Dan Girardi.
Why They're Here: The Rangers are ranked low because they are relying too much on Henrik Lundqvist. He's not going to be able to steal this series, and New York's top two lines have been outplayed by Boston's bottom six so far.
Stanley Cup Outlook: Unless the wheels fall off the Boston Bruins, New York may have hit a wall here. They aren't getting enough from Rick Nash and Brad Richards right now to compete with the deep and talented Bruins. The awful power play isn't helping matters, either.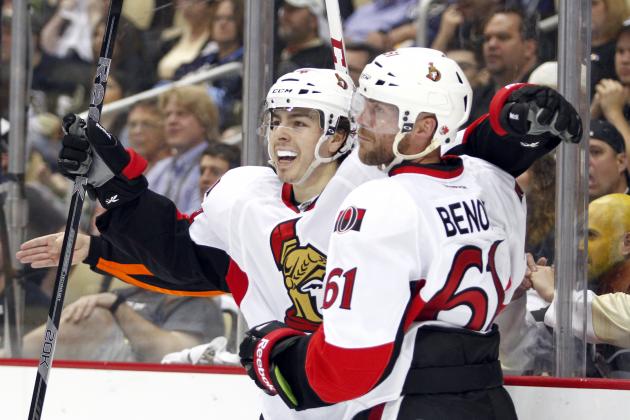 Justin K. Aller/Getty Images

Series Status: The Pittsburgh Penguins looked like they were going to go up on the Ottawa Senators in Game 3. They carried a lead on the Sens all the way to the 29-second mark of the third period, when captain Daniel Alfredsson scored a shorthanded goal to send the game to overtime.
Colin Greening ends up as the hero, and the Senators have a 1-2 series on their hands now, instead of finding themselves down 3-0.
Why They're Here: Guts. All guts and heart from the Senators through the first three games of the series, as well as through the first round and regular season. This team will never roll over, and it's tempting to rank it higher over some teams that have shown a lack of killer instinct.
Stanley Cup Outlook: No one is predicting that the Sens will down the Pens in the second round, but with efforts like they showed in Game 3, anything is possible. Still, beating Pittsburgh three times in the next four games is a daunting task. Yet with Jason Spezza back in the lineup and Craig Anderson looking invincible, this one could get interesting.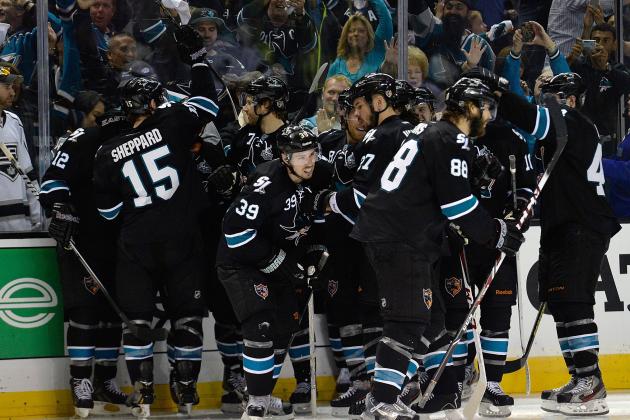 Thearon W. Henderson/Getty Images

Series Status: Future team captain Logan Couture scored one of the biggest goals of his young career in overtime of Game 3, pushing the series deficit to 1-2. The San Jose Sharks badly out-shot the Los Angeles Kings, and dropping another one to the outstanding goaltending of Jonathan Quick would have been disastrous.
Why They're Here: This is definitely a survival-of-the-fittest series that the Sharks have found themselves in. There's just as much hitting as when the Kings faced against the St. Louis Blues, and it could start to wear down on San Jose. Plus L.A. still hasn't lost that "team of destiny" luster.
Stanley Cup Outlook: They have as much of a chance to beat Los Angeles as anyone else. Finding a way to defeat Quick in three out of the next four games is just too much to count on, though. This isn't an issue of San Jose playing poorly—it's about how well the Kings are playing again.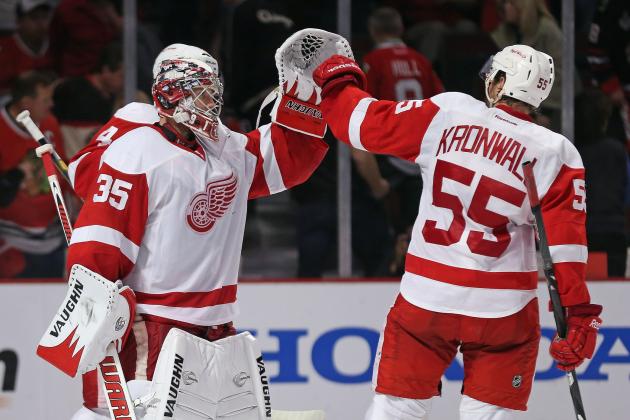 Jonathan Daniel/Getty Images

Series Status: For all the "pupil has surpassed teacher" talk that took place after the Chicago Blackhawks handily downed the Detroit Red Wings in Game 1, the boys in red and white sure made Game 2 look easy. The Wings have knotted their series 1-1 and have stolen home-ice advantage heading back to Detroit.
Why They're Here: The play of Henrik Zetterberg has been nothing short of Steve Yzerman-like, as he's left everything out on the ice both physically and emotionally. Jimmy Howard has some serious confidence right now, and Detroit might have the best third line in the playoffs.
Stanley Cup Outlook: No one gave the Wings a hope or prayer against the Anaheim Ducks—yet Detroit put up a number of gutsy performances to advance. The heart and the will to beat the 'Hawks is there, as is the talent, and if they can do that, then who knows how high they'll fly.
Why start counting Detroit out now?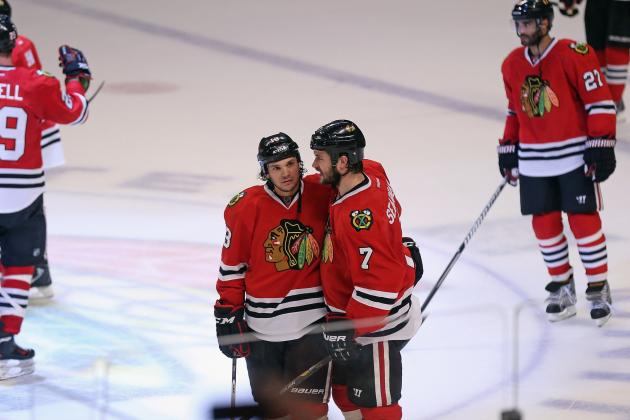 Jonathan Daniel/Getty Images

Series Status: The Chicago Blackhawks looked legendary and dominant in Game 1, and then followed that up in Game 2 by playing a lackluster hockey game that cost them home-ice advantage against the Detroit Red Wings. The series is tied at one game apiece as the series moves to Detroit.
Why They're Here: One stinker of a game after a ridiculous regular season and a thrashing of the Minnesota Wild in Round 1 isn't enough to sink them too far. The 'Hawks are chock full of guys who have been here and handled this—they'll be much better in Game 3. They'll have to be if they want to wrestle home-ice advantage back and put the Wings in a must-win situation in Game 4.
Stanley Cup Outlook: The Game 1 version of the Blackhawks can win the Stanley Cup. The Game 2 edition loses the next three games and is on the golf course by this time next weekend.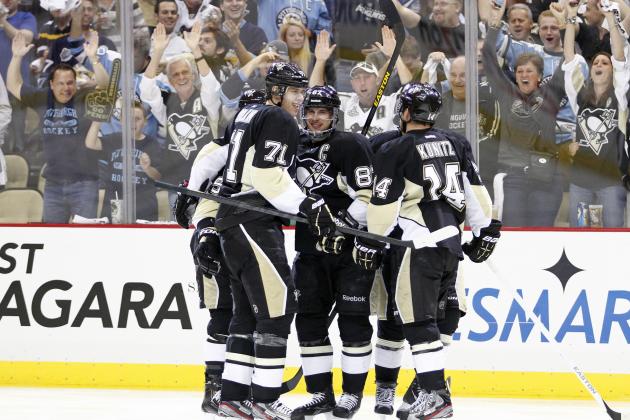 Justin K. Aller/Getty Images

Series Status: The Pittsburgh Penguins lost in the second overtime of Game 3, cutting their series lead to 2-1. So far, the home team has won each game. The Pens will be looking to change that fact by going for a choke hold come Game 4 after having Game 3 snatched away from them.
Why They're Here: Sidney Crosby, Evgeni Malkin, Jarome Iginla, Chris Kunitz, Pascal Dupuis, Paul Martin and Kris Letang all have at least eight points. The power play has been lethal, hovering around the 30 percent mark all postseason long. Tomas Vokoun, the backup who replaced a struggling Marc-Andre Fleury, just lost his first game of the playoffs. And if the Pens decide to go back to Fleury, well, he has won a Cup before.
Stanley Cup Outlook: It's Stanley Cup or bust for the Penguins this year. They obviously have championship aspirations after making deals for Iginla, Douglas Murray, Brenden Morrow and Jussi Jokinen at the deadline.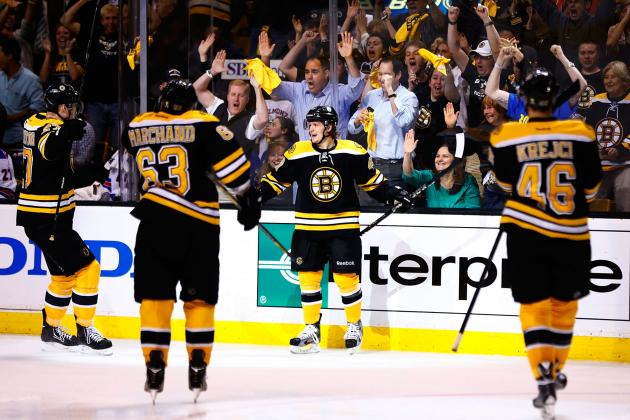 Jared Wickerham/Getty Images

Series Status: The Boston Bruins took it to the New York Rangers in Game 2 to secure a 2-0 series lead as the series shifts to New York. Game 1 was an emotional overtime thriller, with heart-and-soul guy Patrice Bergeron netting the winner after Torey Krug scored the game-tying marker three minutes into the third period.
Why They're Here: While the line of Milan Lucic, David Krejci and Nathan Horton carried the load in Round 1 against the Toronto Maple Leafs, there are finally other Boston players stepping up and doing some work. Bergeron, Tyler Seguin and Brad Marchand have been outstanding against the Rangers, but Jaromir Jagr has yet to find his game.
Read: They are already deep and scary, and are becoming more so as games go by.
Stanley Cup Outlook: If Krug can continue to play like he has, and if Boston's bottom six plays as good in the offensive zone as New York's top six, this is going to be a short series. In fact, if the Bruins keep playing like this, they could very well have a date with the top-ranked team in the Stanley Cup Final.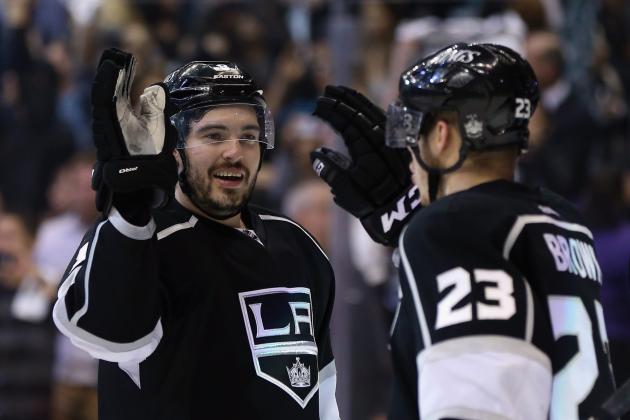 Jeff Gross/Getty Images

Series Status: The L.A. Kings couldn't make a 38-save effort by Jonathan Quick stand up in Game 3, as the San Jose Sharks narrowed their grip on the series to 2-1.Still, the Kings had won six straight games before that loss and will look to take a 3-1 series lead back to L.A. for Game 5.
Why They're Here: Since Game 2 against the St. Louis Blues in Round 1, there hasn't been a more consistent or dominant team in the postseason. Quick has stolen some games for them, sure. Yet there's a lot more going on here than Vezina-level goaltending. They are deep, they can play a variety of styles and they have the "we can't lose" attitude.
Stanley Cup Outlook: Would anyone be surprised to see the Kings back in the Final, defending their Stanley Cup championship? The road won't be easy, but it isn't supposed to be. L.A. has had a dangerous level of consistency and has mastered the control of highs and lows. It's the most dangerous team remaining, if not by a nose.