After a three week break, the UFC returned to action on Saturday, May 18 to deliver UFC on FX 8. The card had a fired up crowd, good refereeing, bad refereeing, controversial endings, a brutal low blow, an impressive UFC debut and a devastating knockout win.
I'd say that, for the most part, it was a successful return for the promotion.
Here's a look back at some talking points that developed over the 13 fights on the card.
Tuck Your Chin...or not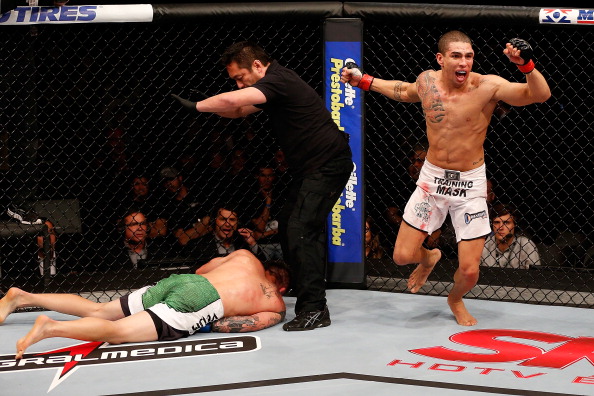 If you slept on the UFC on FX 8 Facebook stream, you missed the "Fight of the Night" between Lucas Martins and Jeremy Larsen. In some ways Martins' performance was reminiscent of Wanderlei Silva. Martins stood toe-to-toe with Larsen and refused to tuck his chin, even when Larsen's punches repeatedly found their target. At several points it looked like his fighting style was going to leave Martins on his back looking at the ceiling, but it didn't and he eventually got the best of Larsen with a perfectly timed punch of his own.
It was a gutsy performance, one that Martins should try not to replicate in the future if he cares at all about his future health. An extra $50,000 is nice, but if you can't remember what you did to earn it, well, that's no good.
-----
If the UFC Acts Like the Flyweights Don't Matter, Why Should the Fans Care?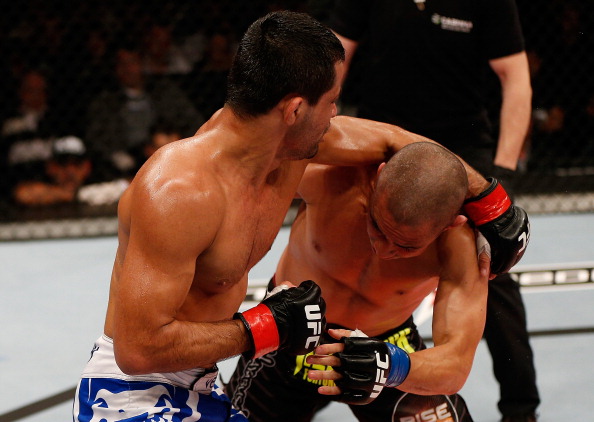 If the UFC wants fans to care about the flyweight division, they should at least pretend that they themselves care about it. When a fight between the fifth-ranked flyweight (Jussier Formiga) and the seventh-ranked flyweight (Chris Cariaso) is buried on the Facebook portion of the preliminary card the message being sent is one of indifference.
Yes, I understand that there are only 13 flyweights currently on the UFC roster so being in the Top 10 of that division is almost awarded by default, but c'mon UFC, you need to build interest in the division. Don't hide these fighters or treat them as an afterthought.
If top-10 125-pounders are getting this treatment, when and where are the 115-pounders going to fight if the UFC adds that weight division?
Out in the parking lot before the Facebook prelims?
-----
Fabio Maldonado: ZFG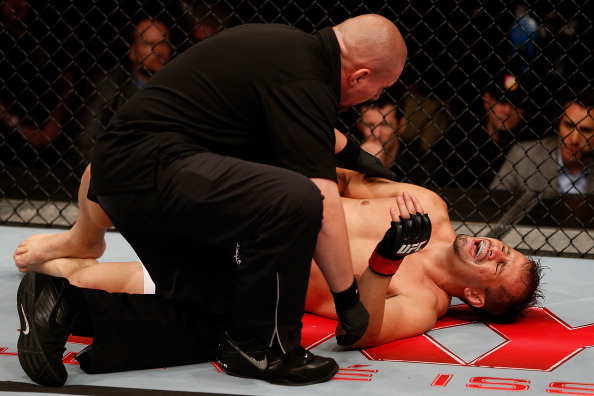 Fabio Maldonado, or if you're Bruce Buffer, Fabiano Maldonado, took one of the worst (or is that best?) kicks to the groin in recent memory on Saturday night. Maldonado was backed into the fence when Roger Hollett landed a spinning back kick directly to the privates of Maldonado. Maldonado reacted as you would expect, falling to the ground and writhing in pain.
Maldonado took his time, recovered and came back to earn the win. It wasn't pretty, but it did save Maldonado's job. After all, he did enter the fight on a three-fight losing streak.
One thing that this fight cemented, in case you missed it during his past performances, is that Maldonado doesn't really care. As Sherdog.com's Jordan Breen noted during the fight:
How long before UFC commentary fact file on Maldonado devolves into the simplicity of "This is a guy who gives zero fucks"? Can't be long.

— Jordan Breen (@jordanbreen) May 18, 2013
-----
Nik Lentz vs. Hacran Dias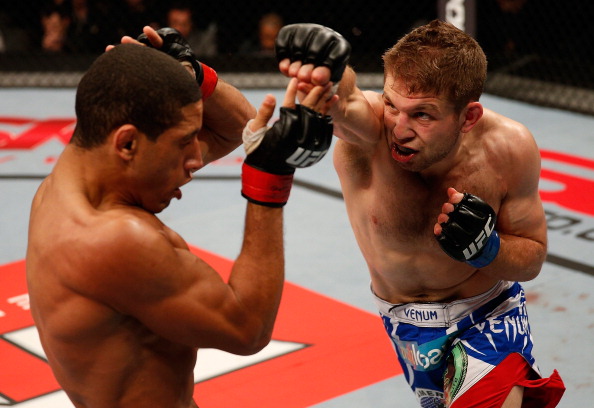 For the first two rounds of his fight against Hacran Dias, Nik Lentz did his thing, using his grinding style to put himself in prime position to earn the victory. When Dias went to his corner between rounds two and three, he was told, "It's all or nothing now, knock him out. All or nothing, go with everything, you have to knock him out."
Dias obviously took that advice to heart. Dias came out on fire, backing Lentz up with heavy strikes much to the delight of the Brazil crowd. Dias held nothing back looking for the knockout and then the submission.
Great performance from both fighters in this one.
-----
Evan Dunham "Robbed"?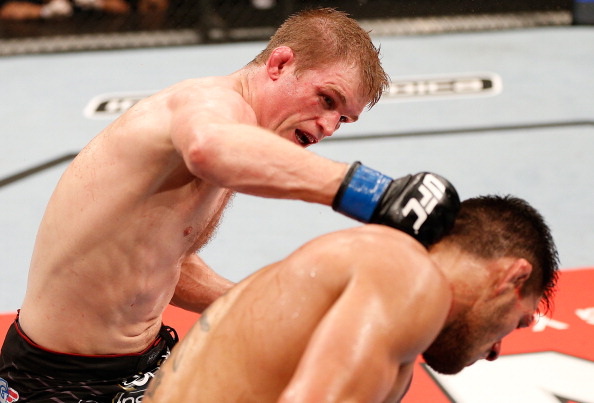 Following the Evan Dunham versus Rafeal dos Anjos bout UFC president Dana White offered the following tweet:
Dunham got ROBBED!!!!

— Dana White (@danawhite) May 19, 2013
Somewhat confused by the tweet I went back and watched the fight. While the scoring could have gone to either fighter, to call the result a robbery is a huge stretch.
Strikes landed were almost even throughout the fight. Dunham landed 90 of 295 strikes with 68 of those being significant strikes. Dos Anjos landed 86 of 204 strikes with 66 of those being deemed significant strikes. Dunham did have a clear advantage in takedowns, landing three while Dos Anjos did not secure a single takedown.
The difference in the scoring may have been based on style, Dos Anjos was the more technical striker, his footwork and movement may have tilted the judges to his side. Perhaps the Brazil crowd, obviously in support of Dos Anjos, influenced the decision of the judges.
It's hard to tell what made all three of the judges score the fight 29-28 for Dos Anjos, but was it a robbery? Not even close.
-----
Jacare Did What We Expected He Would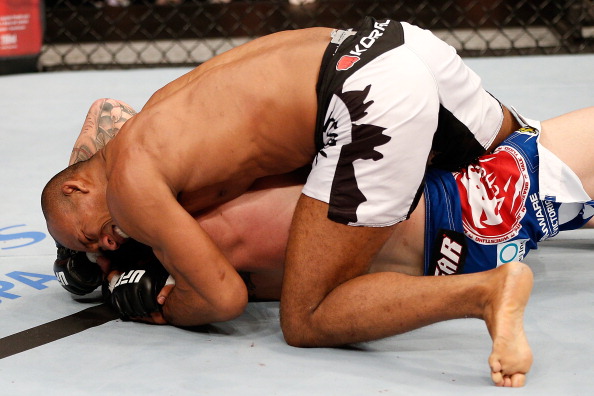 Ronaldo "Jacare" Souza entered his UFC on FX 8 middleweight contest ranked eighth in the division. When the new rankings are released early next week expect him to leap over at least the three fighters ahead of him in those rankings.
Souza, who holds black belts in Brazilian jiu-jitsu and judo and has multiple world championships in jiu-jitsu, easily handled Chris Camozzi on Saturday, earning a first round submission via arm triangle choke.
He made the win look effortless and when he slapped on the choke it was lights out for Camozzi in seconds. It appeared that the choke cut off the blood flow to Camozzi's brain so quickly he didn't even have time to react.
Yes, Souza was supposed to defeat Camozzi, but there was no way that his "Submission of the Night" performance was supposed to look that easy.
Souza, a former Strikeforce champion, earned a shot at a top-flight middleweight in his next bout.
-----
Vitor Belfort Ruined a Spectacular In-Cage Performance With a Childish Post-Fight Press Conference Display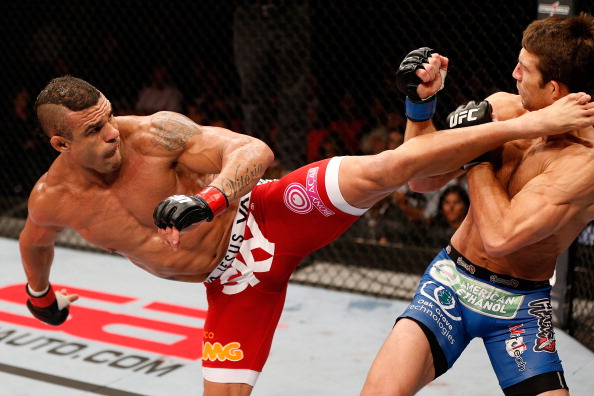 Vitor Belfort blasted Luke Rockhold with a picture perfect spinning heel kick, ending their UFC on FX 8 main event bout in the first round. The win gave Belfort his second consecutive "Knockout of the Night" victory.
There's no denying the knockout was spectacular, but Belfort's performance at the post-fight presser pretty much ended any good feelings that carried over for the UFC veteran.
Belfort, a user of testosterone replacement therapy, was questioned by MMAJunkie.com's John Morgan. "How frustrating is it that every time you do something good people just want to ask you about testosterone," asked Morgan, "and how much that's playing in your life and can you just address that?"
Belfort's answer was surprising and a bit off-putting. "Can somebody beat him up for me please? Can somebody beat him up? You're boring, get out of here," responded Belfort. Belfort then said he didn't want to answer any more questions from Morgan. "Talk to my hand."
Later, another media member asked if his statements about being better than ever were linked to his TRT usage. Belfort responded, "Are you joking? You're joking aren't you? C'mon stop that."
No Vitor, we are not joking and if you think the questions are going to stop due to your insolent and childish behavior, you're very wrong.
-----
Referees
It wouldn't be an MMA fight card without some discussion of the referees, right?
Early in the evening Mario Yamasaki seemed to set the tone for the night when he quickly deducted a point from Azamat Gashimov for grabbing the fence during his bout against John Lineker. Twitter was alive with congratulations for Yamasaki's move and hopes were launched that we would see the endless toothless warnings end from referees.
Those hopes were dashed later by Yamasaki himself when he repeatedly warned Hacran Dias for fence grabs, but never pulled the trigger on the deduction.
It should also be noted that Kevin Mulhall was awful quick on his stand ups on Saturday.
-----
Title Shot for Belfort?
I'll make this one simple. Belfort does not deserve a shot at the UFC title. He's a fighter that is competing in Brazil because, according to Nevada State Athletic Commission executive director Keith Kizer who spoke to BR MMA, Belfort most likely would not be approved to compete in a location that has an athletic commission.
If the UFC awards Belfort a title shot in any location that does not require a therapeutic use exemption for TRT use, it makes a further mockery of an already silly loophole that allows fighters to legally cheat.