Cincinnati Bengals: What to Watch for at OTAs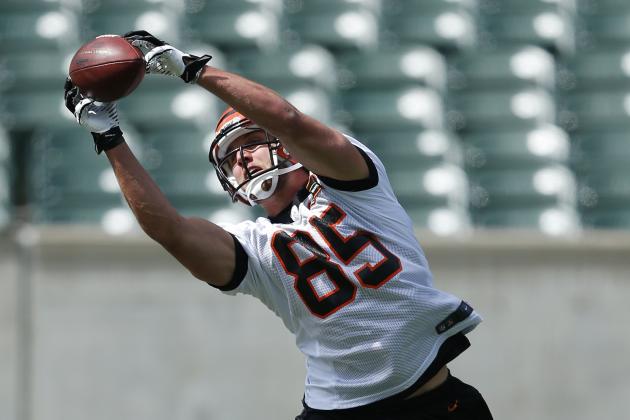 Joe Robbins/Getty Images

With rookie minicamp out of the way, it's time for the entire Cincinnati Bengals roster to come together for OTAs in the summer heat.
OTAs are merely practice sessions where contact is prohibited, but it's an important talking point in the world of the NFL because you get to see where new pieces such as free agents and rookies fit into the grand scheme of things. It's also a great time to see how injuries from last season have healed.
For Cincinnati, it's the first time we'll see the 10 draft selections and countless undrafted free agents practice with the entire roster. It's also the first time we should see a man named James Harrison in Bengals stripes.
Let's take a look at a few things worth paying attention to in the Bengals OTA sessions this month and next.
Official OTA Dates: May 21-23, May 28-30, June 3-6 (per Ryan Wilson, CBS)
Begin Slideshow

»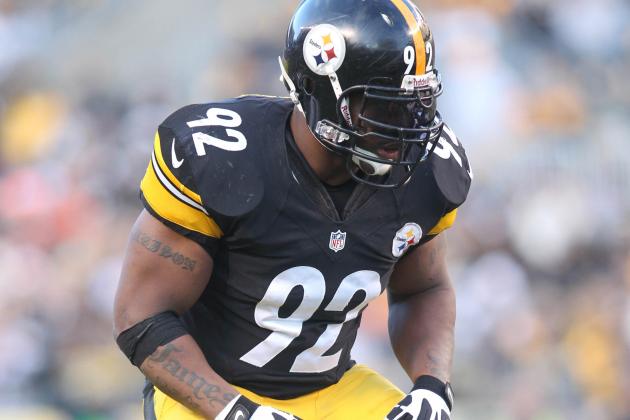 USA TODAY Sports

The Cincinnati Bengals brought on former Pittsburgh Steelers linebacker James Harrison this offseason after his old team set him free thanks to his hefty contract.
To this point, we have not been able to do much but guess as to how Harrison fits with the Bengals.
That will change at OTAs.
Harrison has never played in a 4-3 defense like the one defensive coordinator Mike Zimmer deploys in Cincinnati, so we'll get our first taste of how the defensive guru truly wants to use Harrison this summer.
Right now, Harrison projects as a strong-side linebacker. He has minimal competition for the starting role, but expect him to have to battle and show a knowledge of the scheme in OTAs for him to be an every-down player next season.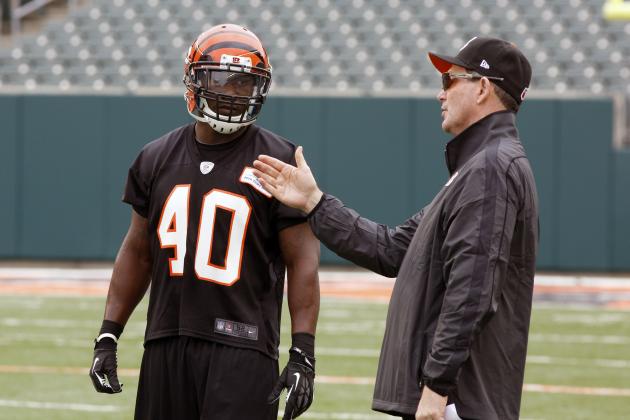 David Kohl-USA TODAY Sports

Cincinnati entered the 2013 draft with an obvious need at strong safety next to Reggie Nelson. The Bengal front office came away with their guy in Georgia's Shawn Williams at No. 84 overall.
During practices, Williams will do battle with the vastly disappointing Taylor Mays and a host of others such as Jeromy Miles and George Iloka.
Williams is stout in run support, which should make him an obvious candidate for the starting job next season. Mays had his shot to prove he could handle the starting role a year ago, but the front office went out of its way to re-sign veteran Chris Crocker midseason just to get Mays off the field.
Watch for Mays and Williams to do battle in camp. Williams will have to show he knows the playbook and has improved on his technique in pass coverage after being coached up in rookie minicamp.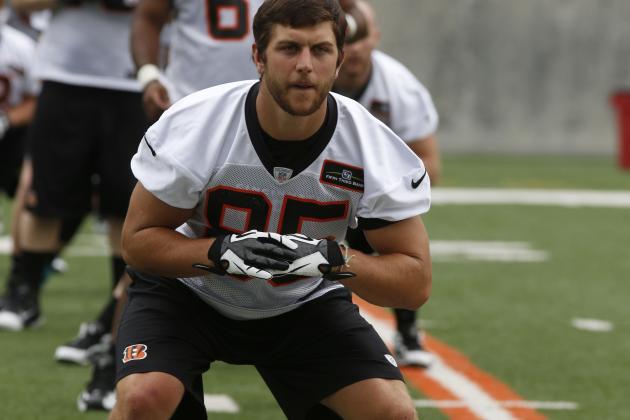 David Kohl-USA TODAY Sports

The Bengals made a luxury pick in the first round of the 2013 draft by taking Notre Dame tight end Tyler Eifert, and it's a pick that could make all the difference for the team next season.
Eifert has already impressed at rookie minicamp. According to Joe Reedy of The Cincinnati Enquirer, Eifert made some spectacular catches that wowed all in attendance and also flashed versatility by lining up at multiple wide receiver spots.
It's been interesting to watch how offensive coordinator Jay Gruden deploys Eifert. He has shown the ability to line up not only at tight end also in the slot or split outside. Fellow tight end and Pro Bowler Jermaine Gresham has the same versatility.
Practices won't reveal much concerning strategy for the upcoming season. But how the coaching staff uses Eifert and how he performs this summer should offer a good idea of just how much he will be utilized in his rookie season.
It will also hint at the fate of Gresham in terms of playing time in 2013.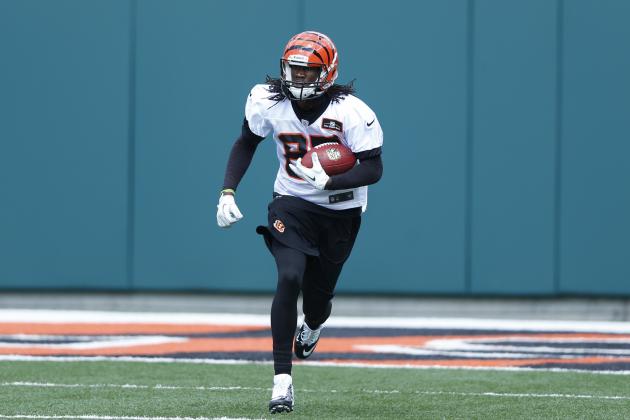 Joe Robbins/Getty Images

Most Cincinnati fans were not surprised when the Bengals elected to wait until the sixth round of the draft to address the wide receiver position.
Even with the selection of Arkansas receiver Cobi Hamilton, most figured he was nothing but a training camp body who possibly had a shot at the practice squad.
That simply is not the case.
According to Geoff Hobson of Bengals.com, Hamilton left some important members of the coaching staff very impressed after rookie minicamp, including offensive coordinator Jay Gruden:
He'll challenge to make the squad and become a player...Cobi's an exciting guy. He's bigger than I thought he was. He's taller. He's got good stride to him, he's got good hands, he's tough. In Arkansas he ran a lot of crossing routes so we knew he wasn't afraid to go across the middle. We like Cobi. We're impressed with what he's done so far.
From the mouth of the man who runs the Cincinnati offense himself—Hamilton has a legit shot to not only make the roster, but to have an impact next season.
It will be interesting to follow Hamilton through camp and see how much action he gets compared to other wideouts. How much he progresses will determine whether he has a shot of backing up Mohamed Sanu and Marvin Jones.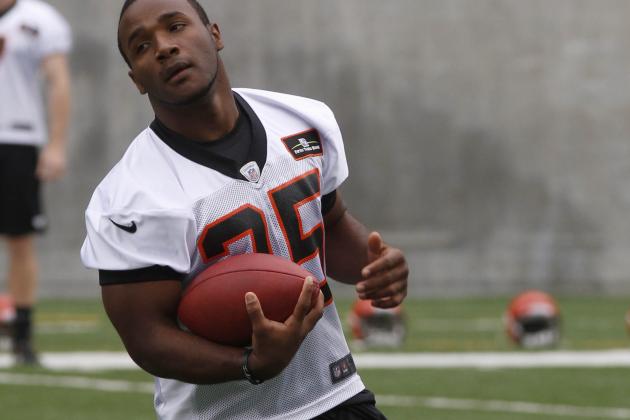 David Kohl-USA TODAY Sports

Every NFL fan knew the Bengals were going to address the running back position in the draft, but not many could figure out when or whom they would pick.
They ended up selecting North Carolina's Giovani Bernard in the second round, and now the question becomes how much the Cincinnati coaching staff actually plans on using him in 2013.
Is Bernard going to be the feature back, or play second fiddle to incumbent starter BenJarvus Green-Ellis? According to Bernard himself, he thinks he'll have more of a complementary role (per Kevin Patra of NFL.com):
I think it's more so a complementary kind of thing...I think we are both going to help each other out. I definitely had a chance to talk to him, and he's the leader of that pack, he's the leader of the guys. I'm going to be following his footsteps, so I'm going to do whatever I can to help him. He's going to help me.
Bernard may be correct about his rookie campaign. He's the perfect complement to Green-Ellis, who excels running between the tackles in short-yardage situations.
Watch how the coaching staff uses Bernard, especially creatively in the passing game.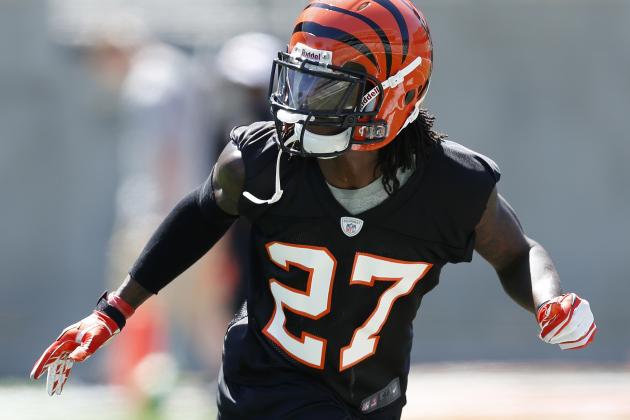 Joe Robbins/Getty Images

The man most fans seem to be forgetting about is last year's first-round pick, cornerback Dre Kirkpatrick, who had his rookie year cut short thanks to injury.
Now on the comeback trail, Kirkpatrick has a lot of ground to make up, and the Cincinnati defense needs him to do so in a hurry.
Kirkpatrick has been participating in positional drills this offseason after having an operation on his knee. He's also been taking time to learn from veteran corner Leon Hall, as he told Geoff Hobson of Bengals.com:
I'm a year into the game now so I feel like I'm a year better now...I'll be ready. Going out there sometimes on Friday, me and Leon (Hall are) getting extra reps. He's teaching me, I'm learning from him. Just learning fundamentals right now.
It will be interesting to see how the coaching staff uses Kirkpatrick, if at all in practices. He projects as the starter across from Hall next season, but he has a lot of ground to make up before he earns that spot, even as a player selected in the first round.
Kirkpatrick's recovery may be the most underrated storyline of all coming out of Bengals camp.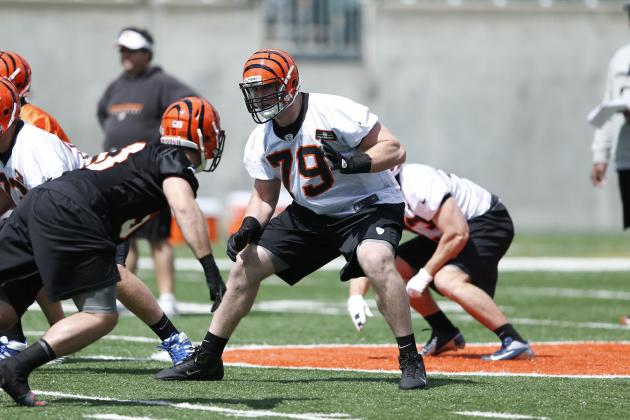 Joe Robbins/Getty Images

The Bengals entered the draft with needing depth along the offensive line and came away with Kansas tackle Tanner Hawkinson in the fifth round and Ohio State offensive tackle Reid Fragel in the seventh.
Both figure to make a serious push for roster spots by the time the season rolls around. Fragel is an intriguing prospect who, as a converted tight end, has a chance to give the Bengals more versatility on offense.
Hawkinson practiced at all five line spots in rookie minicamp, according to Geoff Hobson of Bengals.com, so that versatility could allow him to sneak onto the roster.
Outside of the rookies, guard/tackle Dennis Roland will look to secure his role on the line as he is the one threatened by the aforementioned newcomers.
There's also a battle at left guard to watch. Clint Boling was mediocre last year and will have to fight off Travelle Wharton, who lost most of last year to a knee injury and is attempting to make a comeback.
Camp will give most of the aforementioned guys plenty of opportunities, but who excels under the pressure and who folds will make for some compelling storylines.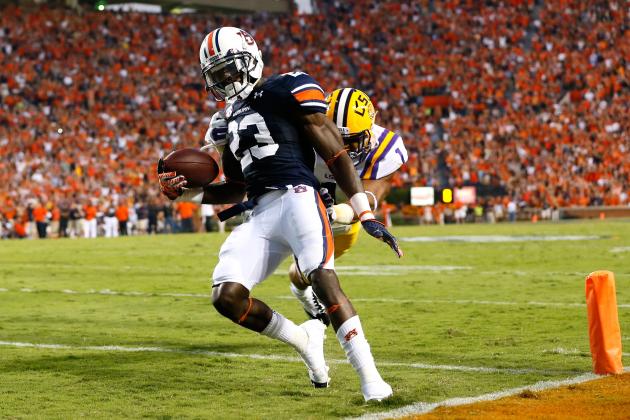 Kevin C. Cox/Getty Images

Vontaze Burfict taught us all a lesson: keep an eye on some of the undrafted free agents in camp this year for the Bengals. Last year, Burfict shined early, and we know how the rest of that story played out.
Perhaps the biggest name for Bengal fans to monitor is Onterio McCalebb, a small running back from Auburn whom the coaching staff is switching over to corner, a position he hasn't played in four or five years.
McCalebb has enough talent to make the roster as a kick and punt returner alone, but it's a mystery how he'll do at corner. If he can flash enough ability, he's a lock because the Bengals lack proper depth at the position.
Linebacker Jordan Campbell may be the feel-good story for fans, but Jayson DiManche is the player to watch. Cincinnati gave DiManche the second-highest signing bonus of any undrafted free agent this year, according to Joe Reedy of The Cincinnati Enquirer.
The staff did that for a reason. DiManche has all the tools to be an elite pass-rusher and is likely the replacement for the failed Dontay Moch experiment, who hasn't seen the field much thanks to migraines.
There are other undrafted free agents to keep tabs on, but McCalebb and DiManche rise above the rest.
Follow me on Twitter for more NFL news and analysis @Chris_Roling