Italian Serie A Final Day: Live Scores, Comment, and Updates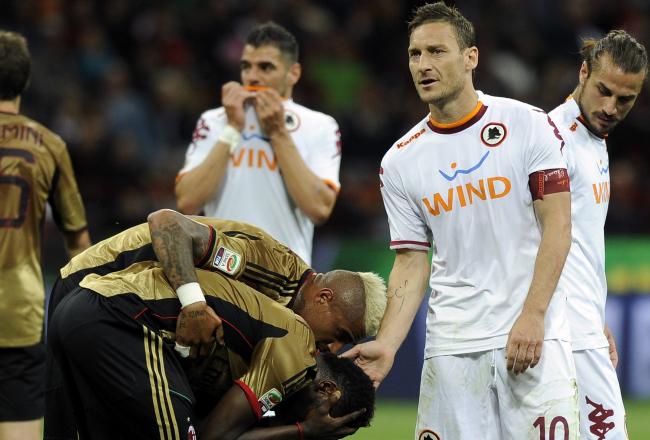 Claudio Villa/Getty Images
Sadly, the final weekend of 2012-2013 Italian Serie A is finally upon us.
I'm here to bring you the latest commentary, updates and musings on a day that will tell us who will grab the third and final Champions League spot in Italy.
Every significant match will kick off this Sunday at 2:45 p.m. ET, so join me two hours before for a live marathon of updates.
The main focus will be on the two most important matches of the day: Siena vs. Milan, and Pescara vs. Fiorentina.
Keep it here for the latest updates, lineups and everything else you'll need to know!
Absolutely incredible finish to Siena Milan, what a game to commentate

— Owen Neilson (@OwenNeilson) May 19, 2013
Now that the season is over, let's take a look at a few others things we know:
Siena, Pescara, and Palermo will be relegated to the Serie B.

Juventus, Napoli, and Milan will play in the Champions League.

Fiorentina and Udinese will play in the Europa League.
As always, the final match-day of the Serie A season provided all of the emotions expected in such heated situations.
It's all over!
Milan players are going crazy after beating Siena 2-1 in the strangest of circumstances.
They will now participate in the Champions League qualifiers while Fiorentina will have to settle for Europa League.
Incredible drama in Siena as Philippe Mexes scores in the final minutes to bring Milan 2-1 over Siena!
Milan are now in the Champions League and Fiorentina are out!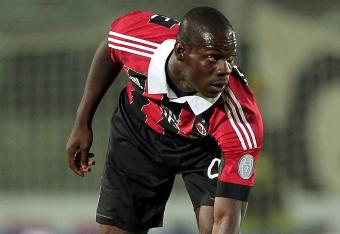 GOAL: Mario Balotelli slots in the penalty and Milan have now tied 1-1 against Siena.
It's Super Mario's 12th goal of the season.
The Rossoneri now have six minutes to score another which would take them to the Champions League next season.
AC Milan can do with a slice of humble pie. Miss the #UCL, keep building. There's always tomorrow.

— Andrew Orsatti (@AndrewOrsatti) May 19, 2013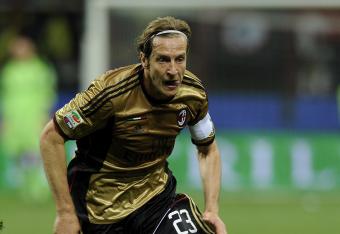 Making matters even harder for Milan, Massimo Ambrosini has received a red card (second yellow) and they'll now have to play in 10 men.
Literally a minute later, Terlizzi from Siena received a red as well.
The last 20 minutes of the match will only have 20 players on the field.
Adding insult to injury, Udinese have scored yet ANOTHER against Inter.
The lead is now 5-2, absolutely embarrassing for the Nerazzurri, who are ninth on the Serie A Table.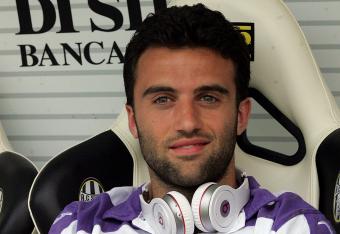 Congratulations to Giuseppe Rossi, who is making his entrance to Fiorentina!
It's a blowout for Fiorentina...
They've now taken a 5-0 lead against hapless Pescara
Pescara 0-4 Fiorentina: Jovetic!

— footballitalia (@footballitalia) May 19, 2013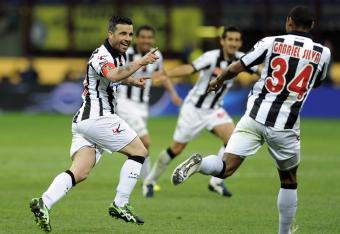 Great goal by Gabriel Silva and Udinese now have an astonishing 4-1 lead against Inter at the San Siro.
Unless a dramatic comeback is in the cards, Inter will finish ninth in Serie A this season.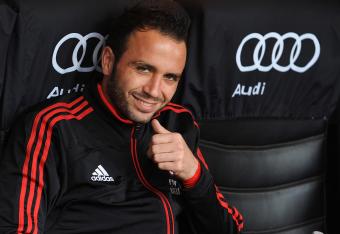 Massimiliano Allegri has put in Giampaolo Pazzini in place of 18-year-old M'Baye Niang for a bigger goal threat.
Pazzini has 15-goals this season for Milan.
30 million euros on the line for Milan. Allegri is in the dugout. Hold on to your hats Milanisti

— Owen Neilson (@OwenNeilson) May 19, 2013
14 - Before today AC Milan had a record of 3W 3D 8L from trailing situations in this Serie A campaign. Comeback? #SienaMilan

— OptaPaolo (@OptaPaolo) May 19, 2013
Perspective, a Fiorentina squad with a far less expensive squad and year removed from a relegation threat is beating #CountMax to the #UCL

— BTP Anto 2.0 (@rossoAnto) May 19, 2013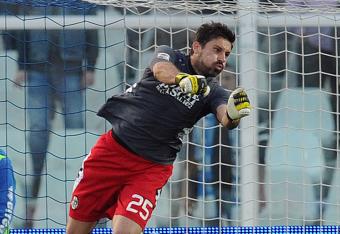 Another Gianluca Pegolo miracle save keeps Mario Balotelli off the scoresheet.
It's halftime in Serie A.
Fiorentina has a 3-0 lead over Pescara.
Milan is losing 1-0 against Siena. What an incredible 45 minutes we have coming up.
After a good start from #Milan, it's #Siena who look like they're trying to qualify for #UCL since the goal- Ogo

— AC Milan Club NY/NJ (@ACMilanNYC) May 19, 2013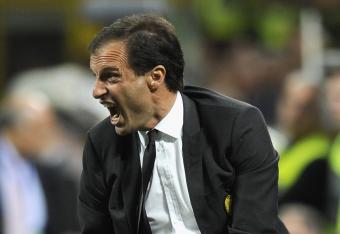 Very disheartening performance so far from Milan. Other than Mario Balotelli hitting the cross bar with a header, Siena has done a lot better.
It's incredible that the team that's already relegated seems to want it more than a side fighting for the Champions League.
It's already over in Pescara. Mati Fernandez just gave Fiorentina a 3-0 lead and it's all on Milan's shoulders now.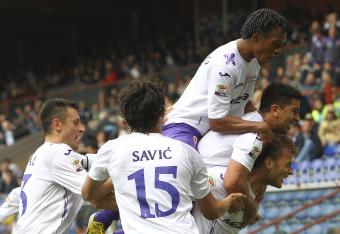 GOAL: Adem Ljajic brace!
2-0 lead for Fiorentina over Pescara. The Viola now need to hope Milan doesn't make a comeback.
GOAL: Siena takes the shock 1-0 lead over Milan on another set piece.
Smashing header by Claudio Terzi and the Rossoneri now need two goals to get into the Champions League. Huge drama in Serie A
31' What a shot from Robinho, saved/Grandissimo tiro di Robinho, Pegolo para #SienaMilan 0-0

— AC Milan (@acmilan) May 19, 2013
As things stand Fiorentina have Italy's last Champs Lg berth. Of course, the chances of nothing else happening in the next 75 mins are low..

— Paolo Bandini (@Paolo_Bandini) May 19, 2013
This article is
What is the duplicate article?
Why is this article offensive?
Where is this article plagiarized from?
Why is this article poorly edited?