Los Angeles Dodgers vs. Atlanta Braves: Live Score, Analysis and Reaction
Final Score: Dodgers 2, Braves 5
WP: L. Avilan (2-0)
LP: K. Jansen (1-3)
SV: C. Kimbrel (14)
Hard to ask for a better appearance from Kimbrel. One inning, 19 pitches, three strikeouts and a save for the Braves in a come-from-behind victory over the Los Angeles Dodgers.
Kimbrel walks Ellis who proceeds to take second on a fielder's indifference. Dodgers have him on second and Andre Ethier at the plate with two away.
Kimbrel is blowing straight fastballs past batters here. Back to back strikeouts of Matt Kemp and Adrian Gonzalez.
Two away.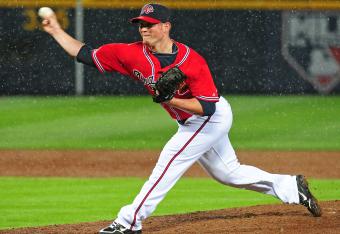 Craig Kimbrel is in for the Braves. He'll face Matt Kemp, Adrian Gonzalez and A.J. Ellis are slated to face him for the Dodgers.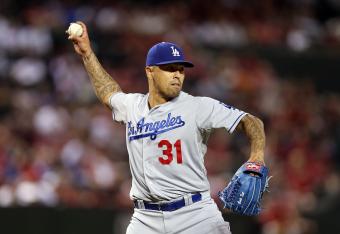 Justin Upton trikes out swinging to bring an end to the eighth inning.
The Dodgers bullpen was absolutely atrocious that inning. To date, they have one of the worst bullpens in baseball.
Stat line: 124 IP, 4.57 ERA, 1.44 WHIP, 8.20 K/9, 61 SV%
Heyward walks bringing up Justin Upton, runners are now on first and second, still two away.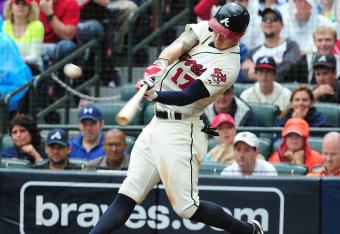 Jordan Schafer just laid down a perfect bunt to give the Braves a 5-2 lead. Runner on second with two away for Jason Heyward.
Ramiro Pena's SAC fly, followed by Chris Johnson's single makes it 4-2 Braves.
Jansen follows up that single with a walk of McCann. Then, Brandon League proceeds to let up back-to-back singles. The second one, to Gerald Laird, scored a run.
We're all knotted up at 2-2. Bases still loaded for Ramiro Pena.
Freeman strokes a single to right-center field. One on and nobody out for McCann.
Side-note, Freeman has such a sweet swing.
Jansen's staying in for the eighth, he'll face Freeman, McCann and Simmons this inning.
It's been a struggle for both teams offensively.
#Dodgers offense bordering on deplorable. 17 in a row retired. Yet still winning 2-1. #Clinging

— Todd Graffagnini (@NTGraff) May 19, 2013
The Braves have four hits, the Dodgers have three.
Ellis pops up for the final out of the inning. We move to the bottom of the eighth with the Dodgers still ahead, 2-1.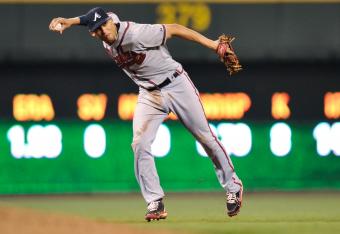 Nice play by Simmons gets Carl Crawford by a half-a-step. He hadn't made an error in 173 chances coming into today. He's an incredible talent in the field and is still just 23 years old.
Avilan throws heat. Consistently around 95 mph with the fastball. The Braves have a wealth of quality bullpen arms.
Avilan just blew Dee Gordon away. That's good for the Braves, Dee Gordon on base is a problem for any team in the league.
One away, and Carl Crawford comes to the plate.
That about sums up Upton's at-bat.
What a crippling strikeout by Justin Upton. #braves #dodgers

— Brett Rossi (@BreettR4763) May 19, 2013
Luis Avilan is in for the Braves. The Dodgers will send Dee Gordon, Carl Crawford and Mark Ellis to the plate to face him.
Jansen comes through in the clutch and blows away Upton. Heading to the top of the 8th.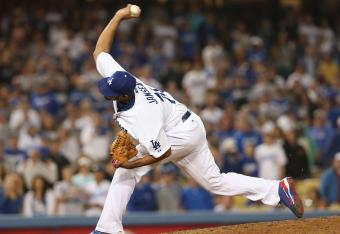 Paco rewards Mattingly's faith by plunking Heyward. Justin Upton come to bat now against the hard-throwing Kenley Jansen.
By the way, Van Slyke was replaced by Andre Ethier after that brutal at-bat where he fouled two-straight pitches off his left leg.
Paco Rodriguez is now looking to get the final out of the inning for the Dodgers, he'll face Jason Heyward.
Another pitching change.. This will be the Dodgers fourth pitcher used today.
This article is
What is the duplicate article?
Why is this article offensive?
Where is this article plagiarized from?
Why is this article poorly edited?