UFC on FX 8: What's Next for the Winners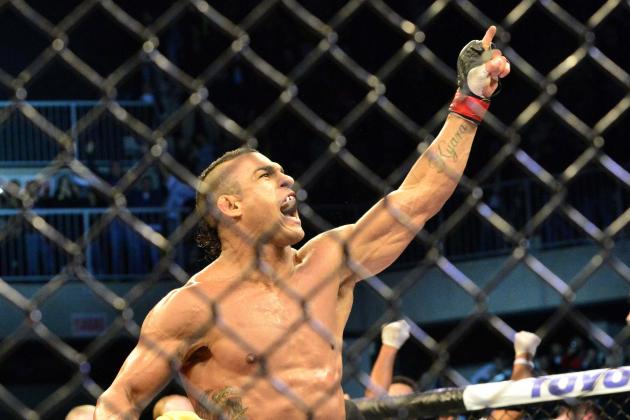 Jason da Silva-USA TODAY Sports

UFC on FX 8 ended the brief hiatus of the UFC from our lives, and it delivered.
The UFC brought 13 bouts to Brazil, and many were exciting affairs. The main event featured one of the best knockouts in UFC history. Vitor Belfort landed a spinning back kick on Luke Rockhold. Belfort followed it up with big ground and pound that shut off the lights.
In the co-main event, Ronaldo "Jacare" Souza submitted Chris Camozzi without much difficulty.
There were 11 other victors at UFC on FX 8, and all are looking toward the future.
This is what is next for the winners of UFC on FX 8.
Begin Slideshow

»
Jason da Silva-USA TODAY Sports

Lucas Martins started the evening off with an excellent knockout. He was fortunate to land the strike that gave him the win because he was down on the scorecards.
Martins was having a rough go of it against Jeremy Larsen. The first two rounds give reason enough to not move Martins up the ladder too much for his next fight.
Roger Bowling would be an interesting match-up for the striker.
Bowling has big power but is a decent wrestler. He would challenge Martins in all facets. Bowling has lost two in a row and is in roughly the same place as Martins in the division. The loser could likely be cut, so it could help sort out the riff-raff in the crowded lightweight division.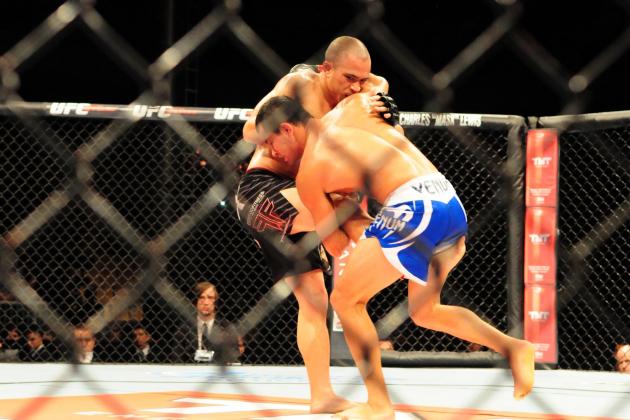 Jason da Silva-USA TODAY Sports

Jussier Formiga entered the night as the fifth-ranked flyweight in the UFC, and he defeated No. 10 Chris Cariaso at UFC on FX 8.
That should line him up for a big fight in the division.
Formiga already has taken on John Dodson, so a rematch is unlikely, and John Moraga is next in line for a title shot. That leaves Ian McCall and Joseph Benavidez as potential opponents.
Formiga has fought McCall in the past, so it may be time for a new challenge.
Benavidez poses some of the same problems for Formiga that Dodson did. It would be up to the UFC for what matchup they like better, but either fighter is a good option and could give Formiga a title shot with a win.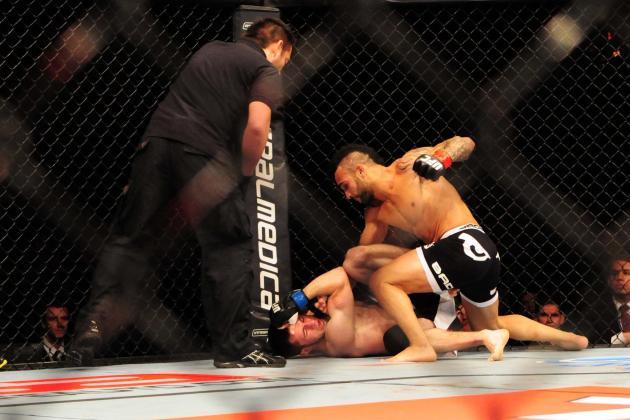 Jason da Silva-USA TODAY Sports

John Lineker showed his big power in the second-round stoppage over Azamat Gashimov.
The No. 8-ranked flyweight will move up in the rankings, but not too far. The top of the rankings is jam-packed with fighters who won't be jumped by this mere performance.
Lineker deserves a top 10 fight in his next outing, but it's slim pickin's.
The most exciting option for fans would be a fight against Ian McCall.
McCall and Lineker would be a fun fight that would line the winner up with a potential contender's bout. Neither are going to get a title fight win one win, so these two top flyweights should meet.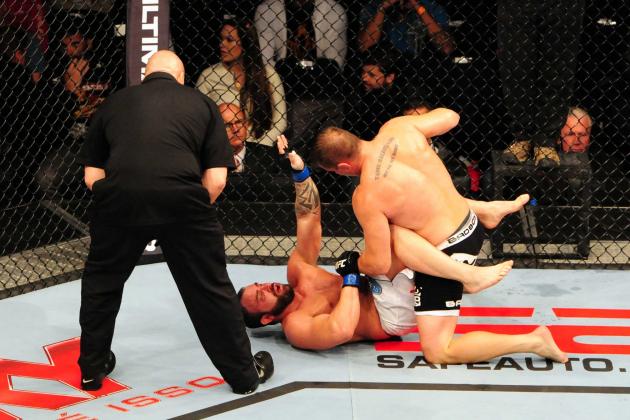 Jason da Silva-USA TODAY Sports

Fabio Maldonado won, but let's be honest: he is not a good mixed martial artist.
He has a ton of heart and a great chin, but he is simply not a UFC-caliber fighter.
What's next for Maldonado? Perhaps Vinny Magalhaes.
Magalhaes challenged Phil Davis and lost. So, it's back to the end of the bread line for him. That's what makes him a good choice for Maldonado's next opponent.
Magalhaes has good skills, but he still needs to improve his striking and wrestling. A fight against Maldonado would give him the opportunity to work on these while having his jiu-jitsu as a fall back. It's a favorable matchup for a light heavyweight with actual upside.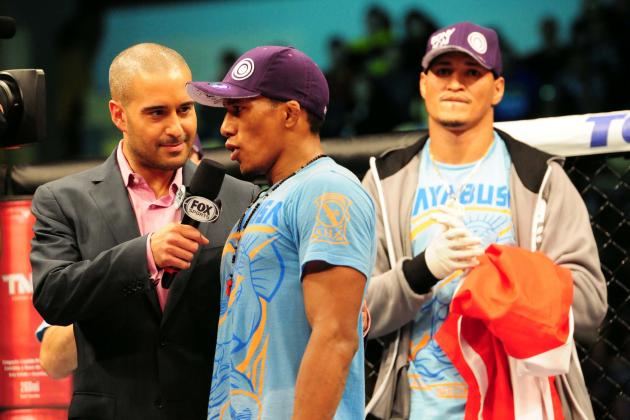 Jason da Silva-USA TODAY Sports

Yuri Alcantara looked phenomenal against Iliarde Santos at UFC on FX 8. He emerged as a potential bantamweight contender.
The division is still a work in progress and a few impressive performances can rocket a fighter toward the top.
Two fighters are similar to Alcantara in that regard: T.J. Dillashaw and Bryan Caraway. Caraway is 2-1 in the division, and Dillashaw has been on a tear.
The title scene is muddled at the moment and that gives Alcantara a chance to fight one of the up-and-comers in the division soon. If Alcantara is truly a potential contender in the division, a fight against Caraway or Dillashaw will reveal it.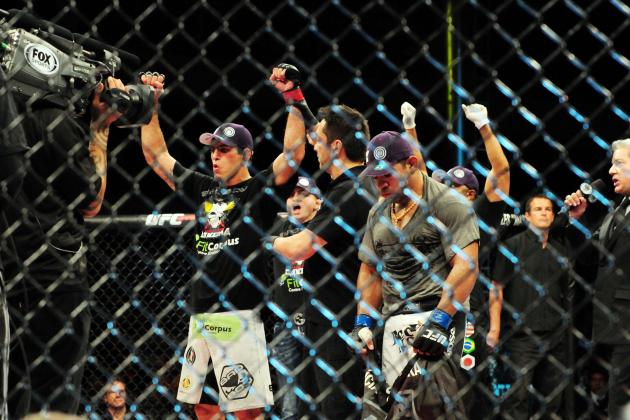 Jason da Silva-USA TODAY Sports

The Brazilian welterweight is 2-4 in his last six fights, and he picked up a much-needed win against Michel Prazeres.
Thiago should not be thrust back into a fight against one of the better fighters in the division. He deserves a slower rise through the ranks. He needs to continue to gain confidence.
Ryan LaFlare is undefeated, but nowhere near the top of the division. It's a good fight for both Thiago and LaFlare.
LaFlare will be tested against a veteran of the UFC, and Thiago will have a chance to face a lower-level fighter and get a win. It's a win-win for the fighters and the UFC.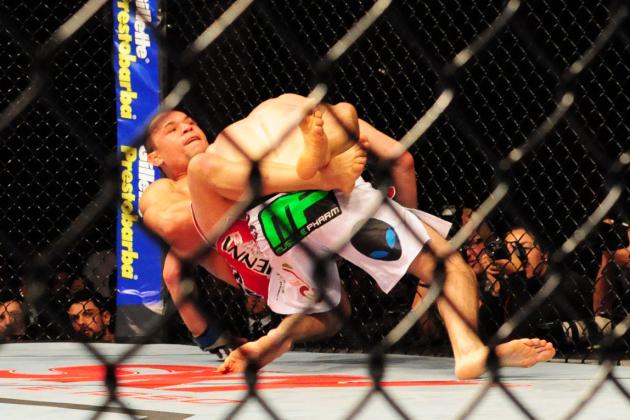 Jason da Silva-USA TODAY Sports

Gleison Tibau is a longtime veteran of the UFC's lightweight division, but he has failed to make a significant run. In recent fights, he has exchanged wins and losses, but he remains competitive in all his fights.
Tibau could be falling into a much-needed role for the lightweight division: gatekeeper.
Rustam Khabilov is a rising lightweight who needs to face a gatekeeper-type fighter. It makes sense.
Tibau's size and skillset will be a challenge for Khabilov. It's a perfect test to see if Khabilov is ready to make the move into the deep end of the lightweight talent pool.
Jason da Silva-USA TODAY Sports

Francisco Trinaldo picked up his second straight win at UFC on FX 8, and he moves his UFC record to 3-1.
There are a lot of options in the lightweight division for the middle of the pack, but timing is important.
That makes Myles Jury a prime candidate for Trinaldo's next opponent.
Jury knocked out Ramsey Nijem recently, and that makes a timetable for a fight with Trinaldo ripe for the picking. The winner would move closer to fighting in a more significant bout.
There are plenty of options in the lightweight division at this level. Jury vs. Trinaldo is good enough to be featured on an undercard.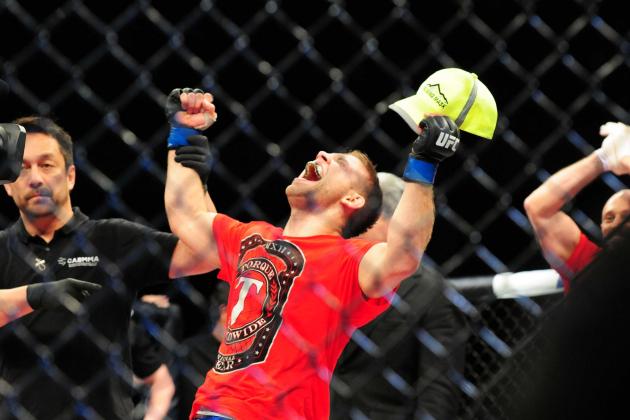 Jason da Silva-USA TODAY Sports

Nik Lentz moves to 3-0 in the featherweight division. He picked up a big win at UFC on FX 8 over Hacran Dias. Lentz entered at No. 10 in the division.
Dias was a significant opponent even though he was unranked, and this should earn Lentz a top 10 fight in his next outing.
The No. 9-ranked featherweight could be next for Lentz. Erik Koch lost to No. 2 Ricardo Lamas earlier this year, and he has no fight scheduled. Koch was once at the top of the division, but injuries and the loss dropped him.
Typically, fighters coming off a loss don't fight ones on a winning streak, but in this case, it makes sense.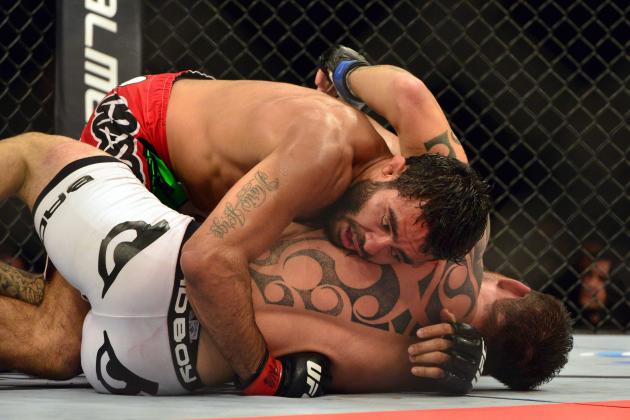 Jason da Silva-USA TODAY Sports

Rafael Natal picked up another lackluster win at UFC on FX 8.
Natal did what was needed, but he still failed to impress. He does not earn a big fight for his next bout.
Another underperforming middleweight on a winning streak is Francis Carmont. Maybe two negatives can make a positive. That should be the goal.
Stick Carmont and Natal together on a preliminary card somewhere and hope something fun happens.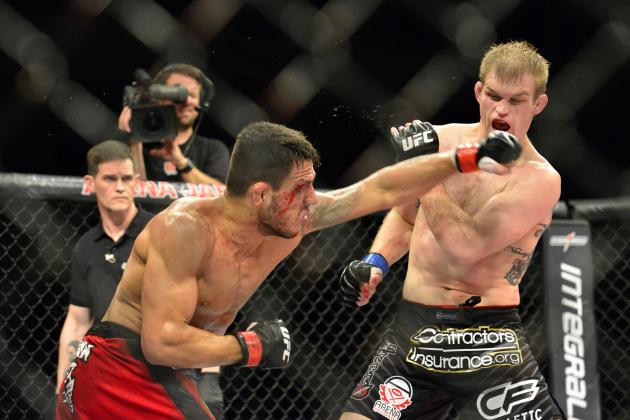 Jason da Silva-USA TODAY Sports

Rafael dos Anjos picked up a contentious decision against Evan Dunham, but the No. 10 ranked lightweight won nonetheless.
What does that mean for him? It means he's earned a top 10 fight.
Pat Healy would be a good choice for the next bout. Most of the top 10 is already scheduled for fights, and others are coming off losses. Healy is only on a 90-day suspension so it should not effect the timing of making this fight.
Healy and Dos Anjos paired together would send the winner up the ladder even more. It could turn out to be a vital fight in the lightweight division.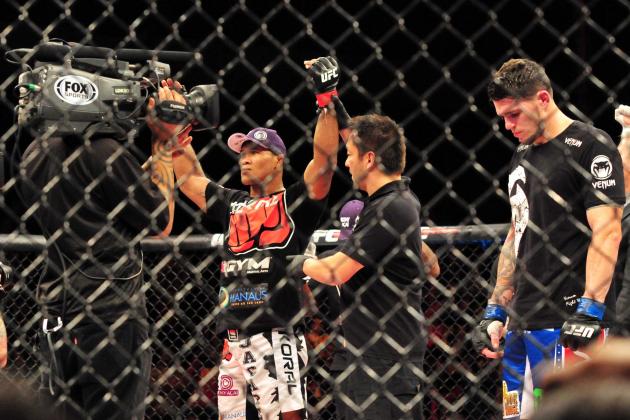 Jason da Silva-USA TODAY Sports

Jacare entered with much hype and fanfare, and he delivered.
Jacare's next fight should be who he was originally scheduled to fight at UFC on FX 8: Costa Philippou.
Philippou is a top 10 middleweight. It is right in line with the type of fight that Jacare should be getting.
After an impressive performance, some may want Jacare to take on a bigger fight, but this was only his first UFC fight and it wasn't against a top-tier fighter. He needs to take on a lower-ranked fighter before being thrust into a potential title contender fight.
This fight was already scheduled, and it should be rescheduled.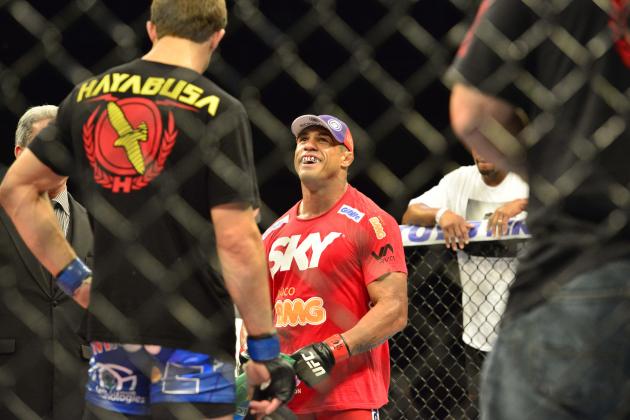 Jason da Silva-USA TODAY Sports

Vitor Belfort deserves a title shot. Period.
He is the No. 2 middleweight in the world, and he has finished two top-five middleweights in a row. There is no way around that.
The winner of Chris Weidman and Anderson Silva should know that Belfort lays in wait for him. The timing works out well with the title bout scheduled for early July.
Belfort may end up taking a top contender's fight, but that has been what these past two fights have essentially been for his opponents.
Bisping was all but assured a title shot if he beat Belfort, but he failed. And Rockhold had a good story being the last Strikeforce champion, but Belfort ended that dream as well.
Belfort is the next contender. Haters and doubters should accept it.