Chicago Bulls' Step-by-Step Guide to the Offseason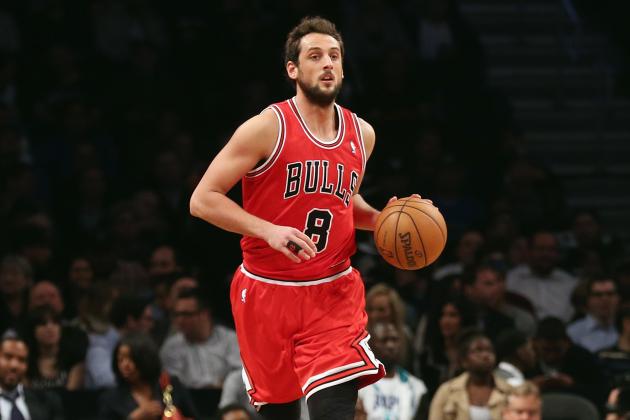 Bruce Bennett/Getty Images
Will Marco Belinelli wear a Bulls jersey next season?
If you're hoping for an exciting Chicago Bulls offseason, you'll be deeply disappointed.
The team doesn't have the money to sign a top-notch free agent, and it's not going to pull off any blockbuster trades.
There has been speculation, a la Grantland's Bill Simmons, of a deal that would send the Minnesota Timberwolves' Kevin Love to Chicago. While a squad featuring Derrick Rose, Love and Joakim Noah would be fun to watch, a major transaction like that just isn't in the cards for the Bulls.
Rose and Noah are basically untouchable. Luol Deng and Jimmy Butler aren't going anywhere either unless a trade offer emerges that the Bulls can't turn down.
Also, Carlos Boozer won't be amnestied, especially after a solid season. The Bulls could let him go next summer, though.
Will Nate Robinson or Marco Belinelli be bought back? What about Nazr Mohammed?
And who should the Bulls draft with their first-round pick—a center or shooting guard?
This slideshow lists the team's offseason decisions in the order they will be addressed as well as how they will be handled.
Begin Slideshow

»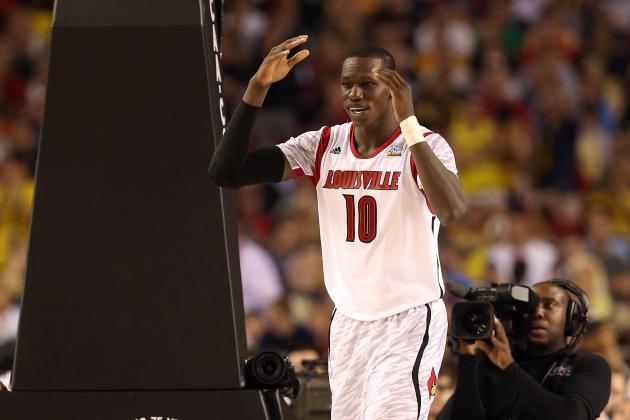 Andy Lyons/Getty Images

This year's draft class is considered weak. There's no LeBron James, Kevin Durant or even a Kyrie Irving-type prospect available.
But that doesn't mean there isn't a plethora of future quality role players.
Holding the 20th overall pick, the Bulls could get their hands on an intriguing big man like Louisville's Gorgui Dieng. The 6'11," 245-pounder helped the Cardinals capture a national championship this year.
Dieng averaged 9.8 points, 9.4 rebounds, 2.5 blocks, two assists and 1.3 steals per contest.
While he can rebound and swat shots at a high level, he also possesses a reliable mid-range jumper.
Dieng would be an excellent backup for starting center Joakim Noah, picking up 10-15 minutes a night.
Bulls coach Tom Thibodeau isn't a huge fan of playing rookies. Just ask Jimmy Butler and Marquis Teague. However, Coach Thibs should change his ways and give Dieng some minutes, seeing that he'll contribute a lot on the defensive end of the floor.
Illinois guard Brandon Paul would be a great selection for the Bulls with their second-round pick (49th overall).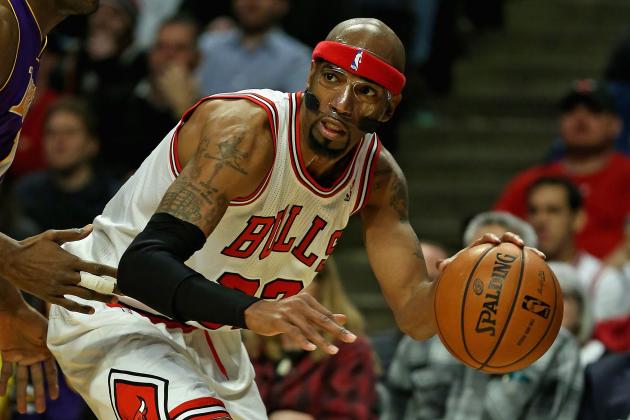 Jonathan Daniel/Getty Images

Richard Hamilton scored 15 points during the Bulls' Game 5 loss to the Miami Heat. That was the Bulls' final game of the season as well as Rip's last ever appearance with the team.
According to K.C. Johnson of the Chicago Tribune, the Bulls will buy out Richard Hamilton for $1 million at some point this summer.
That's not very surprising.
Signing with the Bulls prior to the 2011-12 season, Hamilton was supposed to be the shooting guard the team had longed for.
Unfortunately, the three-time All-Star would prove to be a colossal disappointment during his two-year stay in Chicago. He appeared in just 78 regular-season games and fell out of the rotation during this year's playoffs.
The injury-prone Derrick Rose-Hamilton backcourt never played much together, leaving Hamilton to wonder "what if," via ESPN Chicago:
For me, it's just one of them things like when you've got somebody as great as Derrick, and me playing in the backcourt with him ... it's one of them things like, 'Man, I wonder what would have happened? But that's part of the game. It's part of the game you just try to figure it out.
Hamilton, who helped the Detroit Pistons win a title in 2004, just might pick up another ring before his career comes to an end. However, it won't be with the Bulls.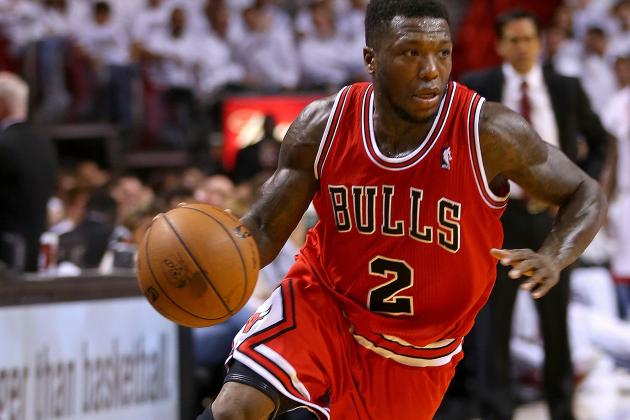 Mike Ehrmann/Getty Images

Why would the Bulls let Nate Robinson go and allow another team to pick him up?
It's not that the Bulls don't want Robinson back; they just can't afford him. Playing for the veteran's minimum this season, Robinson's stellar play will result in expensive offers from other teams during the offseason.
The former slam dunk champ averaged 13.1 points per game during the regular season and 16.3 during the playoffs.
Speaking of the playoffs, no Bulls fan will ever forget his amazing 34-point performance in Game 4 of the Brooklyn Nets series. He scored 23 fourth-quarter points during that contest, just one shy of Michael Jordan's franchise record for postseason points in a quarter.
A healthy Derrick Rose and Robinson could play together at times next season, forming a rather exciting one-two punch. Too bad we won't get the opportunity to see that duo.
Goodbye, Nate. You were great in your one-and-done season with the Bulls. Chicago sports fans will surely miss your energy and scoring off the bench.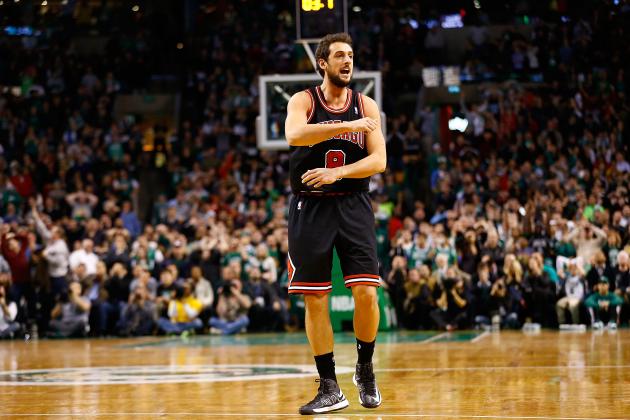 Jared Wickerham/Getty Images

While the Bulls will likely lose Nate Robinson, there's a good chance they'll keep fellow free agent Marco Belinelli.
The Italian shooting guard put together a respectable campaign, averaging 9.6 points in the regular season and a career-high 11.1 during the playoffs.
Belinelli was one of the main reasons for Chicago's Game 7 victory against the Nets. He recorded 24 points, six rebounds, two assists and knocked down three of his six three-point attempts.
Belinelli, who started 27 games, will back up Jimmy Butler at shooting guard next season if he remains in Chicago.
The Bulls should also re-sign reserve center Nazr Mohammed. Basically nonexistent for much of the season, the Chicago native eventually emerged as a valuable role player while filling in for an injured Joakim Noah.
In 2013-14, the Bulls could use Mohammed as either Noah's primary backup or a mentor for a big-man rookie.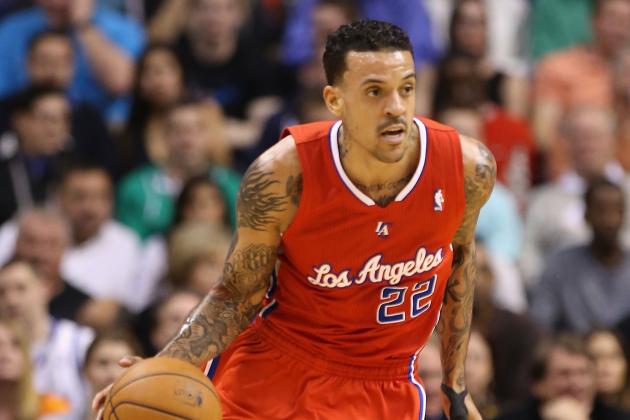 Christian Petersen/Getty Images

Matt Barnes should be a top free-agent target for the Bulls during the offseason.
Barnes spent this season with the Los Angeles Clippers while playing for the veteran's minimum. Via Arash Markazi of ESPN L.A., he's interested in re-signing with the team and wants to receive a heftier contract:
"I had a great season with the Clippers and my family is very comfortable here in L.A. So the Clippers are going to be one of my top choices, but we're looking for a pay increase."
Hopefully, Barnes ends up choosing Chicago over Los Angeles, as he would fit in perfectly with the Bulls.
The UCLA product is an outstanding defender, which would make him an instant favorite of Tom Thibodeau. Thibs loves players who contribute on the defensive end of the floor.
Barnes can also shoot from downtown, one of the Bulls' biggest weaknesses.
He would serve as an ideal backup for starting small forward Luol Deng.