Every 2012-13 NBA Playoff Team's Finest Hour
Mike Ehrmann/Getty Images

Only one team will ultimately win the NBA title. The number of teams who can potentially claim that gradually dwindles down, as now only four teams can make that claim. That doesn't mean every team failed, though. Every playoff team has its own finest hour.
One team's accomplishment is another team's disappointment. For one team, merely being in the postseason defies expectations, while for another, winning a title is this year's goal. For more, it's getting one round further than the previous year.
Regardless of who they are, every team had that moment, that shot, that run, or that little stretch of games where they believed, surpassed expectations, and were greater than the sum of their parts.
Since accomplishments can't be compared or ranked because of differing expectations, they are listed in alphabetical order. This is merely a chance for fans of all the postseason teams to feel good about their teams for a moment. They all have reason to be.
Believe, fans! If not for this year, for the next, or the one after that.
Begin Slideshow

»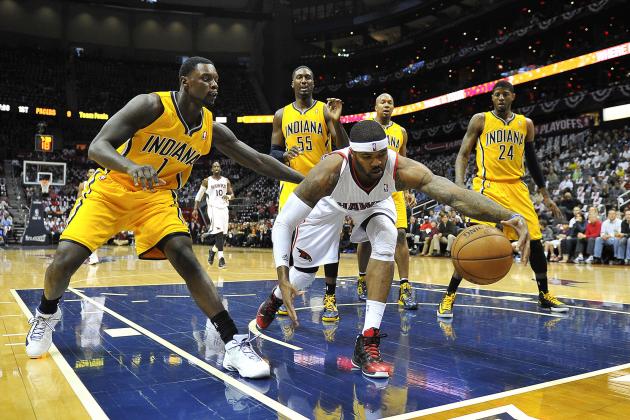 Paul Abell/Getty Images

To say the Atlanta Hawks were clobbered in their first two games against the Indiana Pacers would be to give too much credit to the word "clobbered." Clobbered aspires to be what happened to the Hawks.
Indiana had just put on about 96 minutes of steady and deliberate pummeling, winning the first two games by a total of 32 points. Atlanta had not had the lead past the 4:52 marker of the first quarter in either game.
It looked like Atlanta was going to get swept quicker than you say, "Where is Josh Smith going this offseason" when suddenly the Hawks flapped their wings and showed some resistance.
They shut down Indiana completely and in Game 3 held them to 69 points, while scoring 90. Then they won Game 4 by 11.
Suddenly, they had equaled the Pacers, not only in games, but in total points as well.
It would have been easy for the team to fold, but the fight and resilience they showed in winning that pair of games in Atlanta was commendable. And the defense they showed in Game 3 was extraordinary.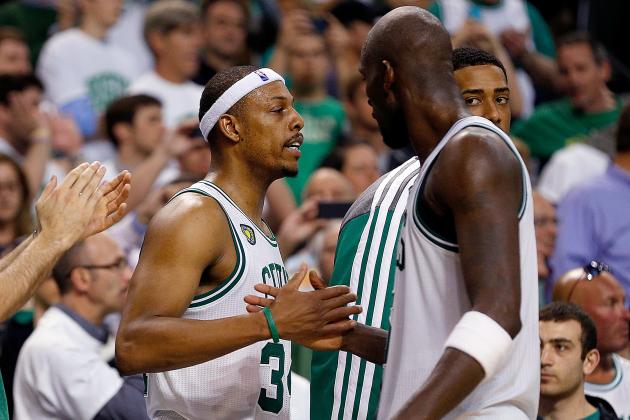 Jim Rogash/Getty Images

Perhaps it was just karmically stupid for the New York Knicks to be preparing for Boston's "funeral" so soon after the Boston Bombing. Or perhaps it was just blatantly stupid to taunt the likes of Paul Pierce and Kevin Garnett, battle-tested warriors who don't go down easy.
They may have been old. They may have been out, but you do not bury Boston until they are dead!!!
Nevertheless, the Knicks showed up all dressed in black for Game 5 in preparation for the Celtics funeral.
Boston did not cooperate, which was about as shocking as Kevin Garnett batting away a dead ball from the net. The Celtics rose up and staved off losing the series by one more game.
Perhaps the most poetically beautiful thing about whole misadventure from the Celtics' point of view was getting to watch the Knicks depart in the funeral attire in which they arrived, albeit mourning in an entirely different manner than expected.
Really, it would have been appropriate for Nelson from The Simpsons to have popped up with a finger point and a "Ha! Ha!"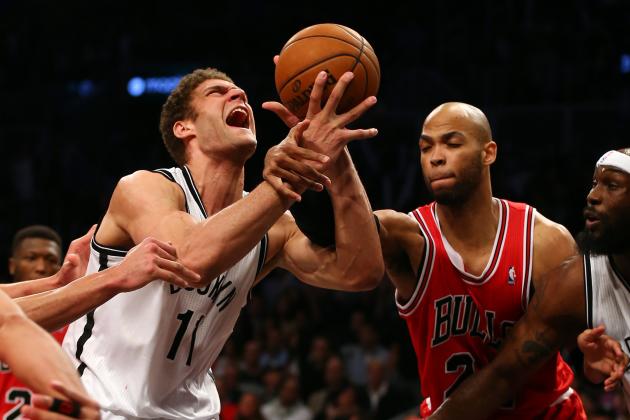 Elsa/Getty Images

After falling back to the Chicago Bulls three games to one, the Brooklyn Nets were in huge trouble. After all, in the 28 prior occasions where the higher seed had fallen back 3-1 in the first round, 28 times the higher seed had lost.
It was not looking good for the Nets. But they won first at home, then in a very tight game in Game 6. With a three-point lead and the shot clock off, the Nets played airtight defense, refusing the Bulls a chance at even a decent look at a shot.
They showed a lot of fight in coming back and getting to Game 7. Returning home, it seemed like a good chance to come back and beat the Bulls, but it was not to be.
The Nets had some problems and struggles during the playoffs, but at least for a little while it was believable they could advance to the second round. They came very close to a historic series comeback and deserve credit for that.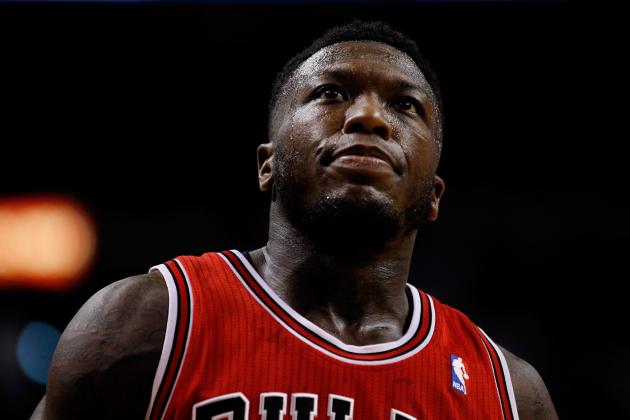 Chris Trotman/Getty Images

The Chicago Bulls were so beat up that there were times their lineup on the court looked like a practical joke. Marco Belinelli, Daequan Cook, Nazr Mohammed, Vladimir Radmanovic, and Marquis Teague actually played together for nearly eight minutes—and they were a plus-seven!
They had injury after injury, and then illness upon injury (in Taj Gibson's case) or injury upon illness (in Nate Robinson's case). Yet they still kept fighting and slinging guys out there, and somehow they managed to slog their way to a through a Game 7 win against the Brooklyn Nets.
Delirium swept Chicago. It goes nowhere but up from here! It was nearly universally accepted that the Heat would be the next thing to sweep through.
And somehow, led by Nate Robinson, who busted his lip midway and got sewn up, nearly had the most unique triple-double in NBA history: 27 points, nine assists, and 10 stitches. And the Bulls won. The Bulls defied non-existent expectations.
They played and played Tom Thibodeau's system to make the system work. The way they performed prompted Kenny Smith, on the halftime show of Game 5 to say, "If you live your life the way the Chicago Bulls play basketball, you have a good life."
It was a quote that epitomized the way Bulls fought. It was how they fought in coming back in Game 4 against the Nets. It's how they fought when they won Game 7. Its the way they fought back after falling back by 18 in Game 5 against the Heat, nearly pulling that one out as well.
All those games were memorable, but the peak was that Game 1 victory where for just a day, the impossible seemed attainable.
Pretty much every kid who ever shot a basketball has done the imaginary countdown "Three, two, one, he shoots, he SCORES!!!"
Even at the NBA level, very few players get to live that dream out. Of the 3,334 games played this year, regular season or playoffs, there have been 40 shots which put a team ahead with two seconds or fewer remaining. That's about 1.2 percent of all the games played.
Those shots were made by a total of 36 players of the 465 players that attempted a shot this season, meaning only 7.7 percent of players scored a buzzer-beater this year.
Andre Miller is one of the most underrated players the league has ever seen. Ranked 10th all-time in assists, he is the only player who is ranked in the top 10 in any of the three main statistical categories (points, rebounds and assists) who has never been to the All-Star Game.
He also had never hit a game-winning shot at any level of his career.
So when the player who had never hit a game-winner in his career chose Game 1 one of the playoffs to do it, and when he finally got a modicum of limelight exposure, it was impossible not be happy for him. The irony is that the strike against the Nuggets was that they didn't have the guy who could hit that shot.
Which they didn't, until they did, because he hadn't, until he did. You didn't need to be a Denver Nuggets fan to feel good for Miller and the Nuggets in that moment.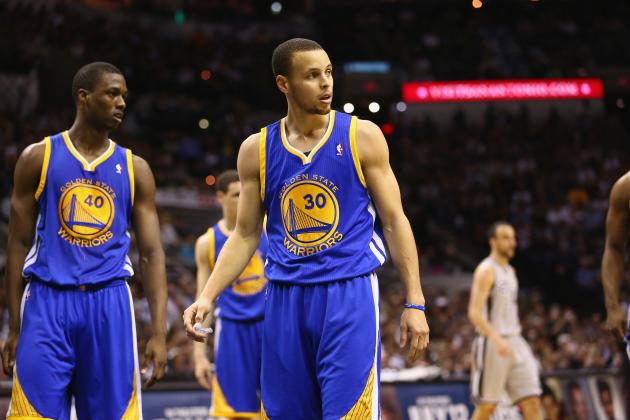 Ronald Martinez/Getty Images

The Golden State Warriors had their best team since Stephen Curry believed in Santa Claus, so in one sense, the whole season was a gift, but for the Warriors and their fans, it was Curry's otherworldly third quarter in Game 1 against the Spurs that was their finest hour.
Now granted, the Warriors eventually lost the game, but when we're looking at this list, we're not focused on eventual outcomes, we're looking at moments, and in that moment the Warriors were unbeatable. Curry was hitting everything in sight.
For that third quarter, the Warriors were unstoppable and Curry was an MVP in waiting. And truthfully, there was flash image of the future there. He is not just a star, he's an emerging superstar.
Sure, the Warriors dropped that series, but this year was a ringing success for them, and the future looks bright.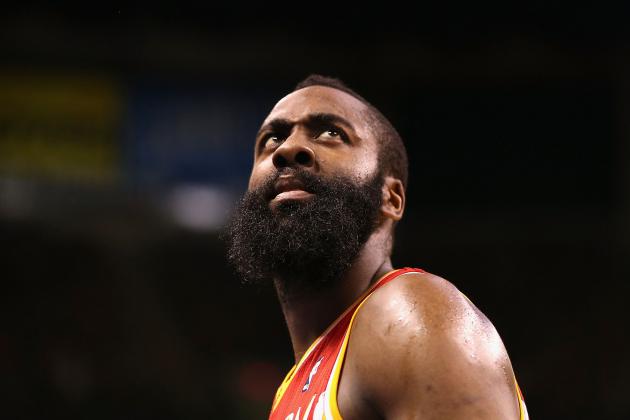 Christian Petersen/Getty Images

The Houston Rockets are the youngest team in the league, so making it to the postseason at all is a big deal. Their matchup with the Oklahoma City Thunder promised to be an exciting one as the two teams featured two of the most proficient offenses in the league.
James Harden, the former Thunder player, led the charge for the young Rockets but there are other bright futures ahead as well. Second-round pick from 2011 Chandler Parsons is one of the real steals of that year's draft.
Omer Asik is one of the best defensive centers in the game. Patrick Beverly, after earning his stripes in Russia, finally got the chance to play with Houston this year, and he vindicated himself well in the playoffs.
The Rockets were reminiscent of a young Thunder squad three years ago, facing off against the Western Conference champion Lakers. Though they lost the series, the fight they put up presented a promise for better things ahead.
Similarly, Houston stormed back from a three-game deficit and first took Game 4 at home, and then Game 5, in Oklahoma City on the strength of Harden's 31 points on just 16 field-goal attempts.
The Rockets gained valuable experience, not only winning their first postseason game together, but their first postseason road win together. Expect more from this team in the future.
Elsa/Getty Images

Prior to the start of the season, Danny Granger said the Indiana Pacers were the second-best team in the Eastern Conference.
Certain people, who will go nameless (mostly out of an interest in self preservation) mocked. Well, it's Danny Granger who is laughing now, even if he didn't have very much to do with his prediction coming true.
The Pacers have been up and down this postseason, seeming to either get blown out or doing the blowing out. All but four of their games have been decided by double digits. Their average loss has been by 16.8 points. But they have done more winning than losing. More blowing out than getting blown out.
In the end, it doesn't mater how much you win or lose a game by, it's whether you win or lose the games, and if you can get four of those wins. The Pacers have done that against the Hawks and the Knicks.
The team was tested in Game 6 against the Knicks and it was their best performance of the postseason. They got their backs up. Roy Hibbert dominated on both ends, and Lance Stephenson suddenly looked like a star.
Now they are on to their next, and biggest challenge against the Miami Heat, but being in the Conference Finals already gives the their most successful season since 2004.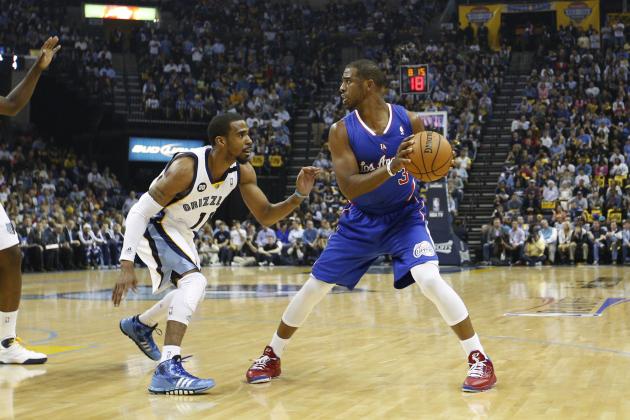 Joe Robbins/Getty Images

For a while there, it looked like the Los Angeles Clippers might have a real shot at a run to the Finals. With Russell Westbrook injured, it was clear that the Thunder were not going to have an easy road to the finals, and the Clippers were arguably the most complete and balanced teams in the league.
For a brief period of time, it was easy to gloss over the fact that Vinny Del Negro was their head coach. Clippers fans could embrace, for a very brief period of time, that they were contenders for the title.
I need to repeat that so it can be absorbed.
The Los Angeles Clippers were contenders for the title.
Honestly, it feels as weird to type it as it does to read it.
Then Blake Griffin got injured, Del Negro had to resort to his coaching "skills," and the Clippers lost four straight. The North and South Poles were restored to their proper positions and the world resumed normal function.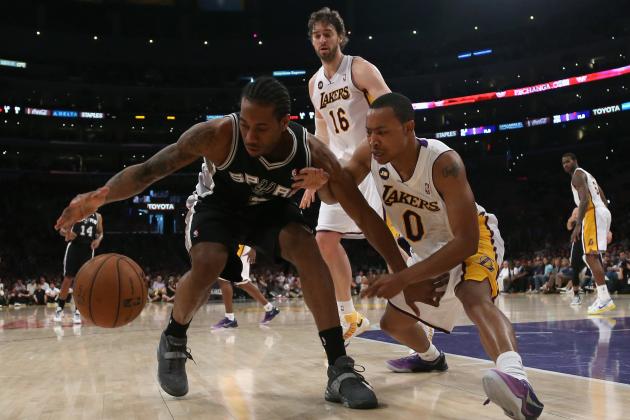 Jeff Gross/Getty Images

Considering what had been expected of the Los Angeles Lakers after the offseason trades acquired Steve Nash and Dwight Howard, it is hard to find a "finest" hour for a team that was decisively swept from the first round of the playoffs.
It was a pretty horrible showing for the Lakers. They didn't merely lose all four games, they were embarrassed in all four games by the San Antonio Spurs. They were outscored, on average, 104-85 for the series.
So with Kobe Bryant having been taken out for the postseason, literally by his Achilles heel, and with Steve Nash out with injury as well, it would have been easy for the Lakers to just give it up in Game 4 after Dwight Howard was ejected from the game in the third quarter.
Not every fight for pride shows up in the box score or in the final score.
The remaining Lakers, led by Pau Gasol, Andrew Goudelock, and Darius Morris, kept plugging away. While they still lost by 21 points, it is one better than the 22 points they were trailing by after Howard's ejection.
Playing with no chance of winning, and only for the pride of the purple and gold, it was a worthwhile representation.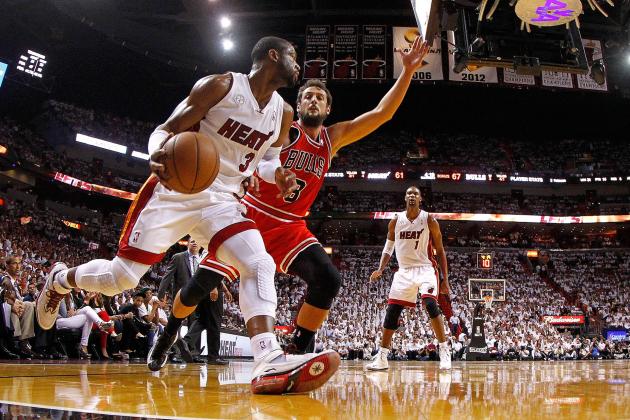 Mike Ehrmann/Getty Images

Let's face it: the Miami Heat's finest hour hasn't really had a chance yet. That's not a swipe at the Heat. It's an acknowledgement that they're too sexy for their opponents. Basically, they've just been destroying everyone in their path.
Over the last 50 games they've played, regular and postseason combined, the Heat are 46-4. Since Feb. 1, the only team to beat the Heat when LeBron James started is the Chicago Bulls, who have done it twice.
First, the Bulls ended the Heat's historic win streak of 27 games. Then they ended another Miami win streak of 12 games when they beat them in the postseason. People began to postulate whether Chicago's style of basketball could beat the Heat in a series.
Succinctly put, Miami responded by showing the Bulls who was boss. They didn't just obliterate Chicago, they o-bull-iterated them, 115-78. It was the Bulls worst postseason loss ever.
While it wasn't an "upset" by any stretch, it certainly showed that Miami wasn't going to be cowed or bullied by a little physical pressure, and they were certainly ready to take things to another level that opponents can't reach.
The Miami Heat are plain and simply the best team in the NBA right now, and it's hard to see how a team that has lost four games since before the Super Bowl is going to lose four in seven tries. For now, their finest hour is their response to the closest thing they've had to adversity. More lies ahead for them, though.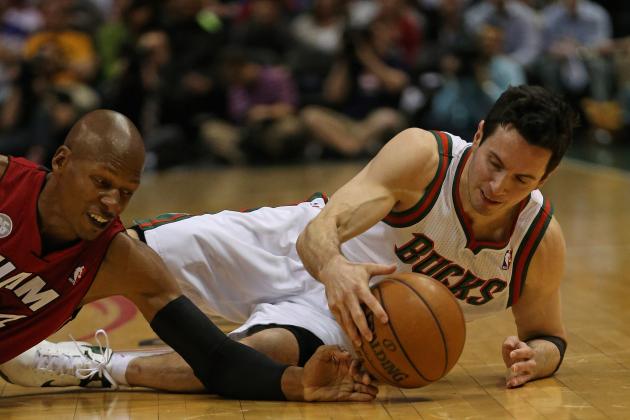 Jonathan Daniel/Getty Images

The Milwaukee Bucks were given almost no chance at all against the Miami Heat. That may be because they had none.
But they did put up a bit of a fight—or at least for the first half of each of their four games.
The best that can be said for the Bucks is that they did at least keep things competitive for a while in every game.
For a team that is facing as uncertain a future as the Deer are, it's not like they are striking fear into anyone, so just making the postseason and playing respectably for a while is reason enough to celebrate.
For a while there in Game 3, they even looked like they could win a game. In fact, at the half they were ahead 50-48. Even up to almost five minutes after the third quarter started, they held onto a lead, but then LeBron James happened, and that was that.
James scored or assisted on nine of 11 points in an 11-2 run. Before the Bucks could blink, the Heat had a 10-point lead and the rest was just Miami finishing them off.
But for a while, the Bucks faithful had something to cheer about, in the postseason, in spite of the fact that they have no idea what their team will look like next year, and less of an idea who is going to be coaching it.
So the fact there was anything to cheer for these playoffs is a plus to them.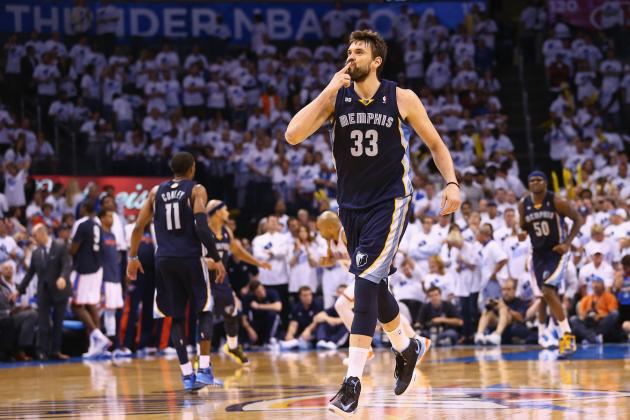 Ronald Martinez/Getty Images

The Memphis Grizzlies are arguably the most balanced team in the league right now, and it is showing in their first-ever trip to the Conference Finals.
With reigning Defensive Player of the Year Marc Gasol, leading the way, they are winning battle after battle. Mike Conley continues to prove he is a hugely underrated player, averaging nearly 18 points and eight assists this postseason. Zach Randolph has been averaging about 20 points and nine boards. Gasol is going for 18 points and eight rebounds.
No other team has three players averaging at least 17 points per game this postseason. The trio makes up three of the top seven players as measured by total Win Shares.
Additionally, Tayshaun Prince has proven he was not the booby prize in the trade which sent Rudy Gay to Toronto by contributing solid defense. Tony Allen is First-Team All-Defense. Memphis plays both sides of the ball very well.
The Grizzlies are old school. They use tough defense and interior scoring to get the job done, and that was effective against the jump-shooting Thunder. Closing out Oklahoma City was literally the biggest win in franchise history.
It's not difficult to pick that out as their finest hour so far; it's the finest in their history. Finer hours yet may be ahead of them.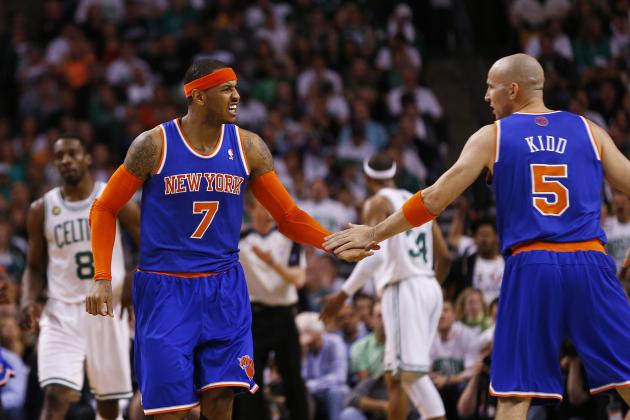 Jim Rogash/Getty Images

The last time the Knicks won a series was in 1998. The country was learning who Monica Lewinsky was, The Boy is Mine by Brandy and Monica was the No. 1 song, and Saving Private Ryan was the big hit at the box office.
Iman Shumpert was just an eight-year-old kid.
That's a long time to cart a big old monkey on your back, and just getting it off was a win for the Knicks. Their brightest moment has to be that they just got into the second round. And they didn't just get there by running over a bunch of schleps, either.
They had to go against the Boston Celtics, a battle-tested, seasoned group of veterans, many of who had hardware on their hands, like Kevin Garnett, Paul Pierce and Jason Terry.
It was doubtless a disappointment that they didn't get to the Conference Finals, but that they made it to the second round still makes it their most successful season since the Patrick Ewing era.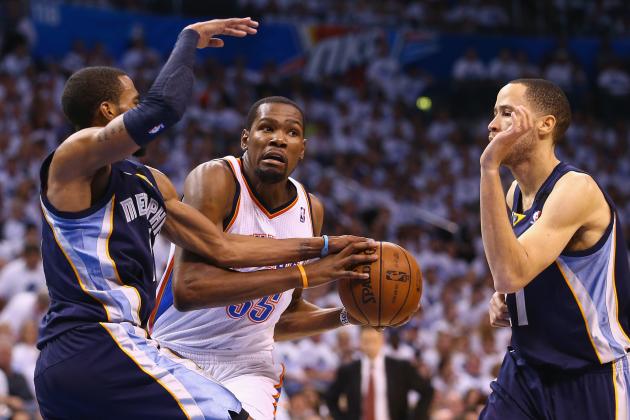 Ronald Martinez/Getty Images

It's amazing how spurious the media can be. Kevin Durant has a couple of games, essentially playing one-on-five against the league's second-best defense, where he struggles from the field, and he's a "choker."
Forget about the fact that he averaged 31 points, nine rebounds and six assists for the duration of the playoffs. Forget that he was without his sidekick, Russell Westbrook. Forget that he played 44 minutes a game.
Most importantly, to buy the "choker" narrative, you have to forget all the times he didn't choke, like in Game 1, against Memphis, when he hit the shot which put the Oklahoma City Thunder ahead of the Memphis Grizzlies for good.
After that game, Oklahoma City fans witnessed their team take a 1-0 lead in their second-round series. For a time, it looked like Durant could lead them alone. Sure, that belief was eventually dashed against the rocks, but in the moment, it was the highlight of the Thunder's postseason. And Durant still did it.
The San Antonio Spurs had their doubters coming into this postseason. They had great regular seasons in 2011 and 2012 as well, only to be sent home without the prize in the playoffs.
So far though, they've answered the bell and played sensationally, but never more so than when they came back from 16 down with less than four minutes remaining to defeat the Golden State Warriors in Game 1 of their second-round series.
Tony Parker's free throws with 3:57 left sparked a 15-point run and with 58 seconds left, Boris Diaw capped the run when brought the deficit down to one with a pair of free throws of his own.
Jarrett Jack's field goal with 29 seconds left put the Warriors up by three, and then Danny Green tied it with a three-point shot eight seconds later.
The game went into overtime, then to double overtime. There, the Warriors' Kent Bazemore hit a layup with just 3.9 seconds left, to put the Warriors up by one.
It seemed the comeback was going to be lost after all, but Manu Ginobili was the man of the hour, and sank a three-point shot with just 1.2 seconds left to give the Spurs the win.
The Spurs are four-time champs. They demonstrated they still have championship heart in coming back and winning that game.