WWE Payback 2013: Creating a Card Through Logic and Wishful Thinking
All logos and superstar images credited to WWE
Although a bit slight, the early foundation for WWE Payback has been set. The company's debut of their new pay-per-view event will take place at Chicago's Allstate Arena in just three weeks' time.
So in addition to the already planned match between John Cena and Ryback, what else can we expect?
Well luckily, I may be able to provide some assistance here.
Through logic and a little wishful thinking, here is how I would book the upcoming Payback pay-per-view.
Begin Slideshow

»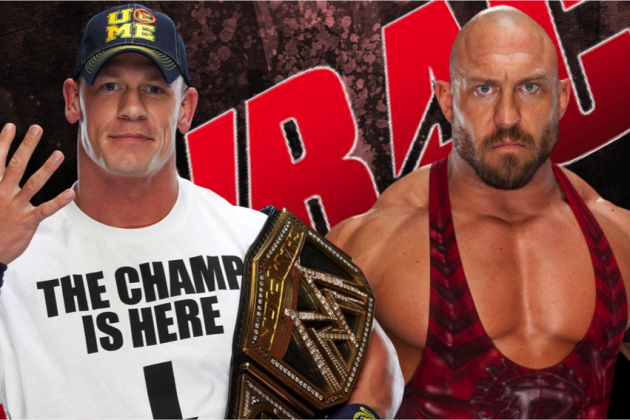 All logos and superstar images credited to WWE
All right, you caught me. I really didn't come up with this match on my own.
But all kidding aside, this will be our main event for the debut of WWE Payback. The WWE Champion John Cena will defend his title against the skull cap-wearing, motorcycle jacket-sporting Ryback in an ambulance match.
In their previous championship bout at Extreme Rules, Cena and Ryback mercilessly fought to a no-contest. Despite the Last Man Standing stipulation, both men were unable to respond to the 10-count and left the door open for another meeting. This ambulance match will be it.
Unlike their last matchup, this one will undoubtedly provide us with a winner. (Unless we're in for some unforeseen shenanigans.) But who should it be?
Despite the imminent Cena victory, I'll give the nod to Ryback for a few reasons. A WWE Championship victory would certainly help rebuild Ryback's recent slump. Not only has he failed to pick up a pay-per-view victory since last year's Money in the Bank, but Ryback and his character turn has transformed him into yet another spineless heel.
Ryback, who used to be a "take no prisoners" wrecking force, now comes across as a more timid and sometimes fearful personality.
A title win for Ryback would extend this feud (which isn't necessarily a terrible outlook), reestablish the credibility of Ryback and give the company a legitimate heel presence it's been sorely lacking.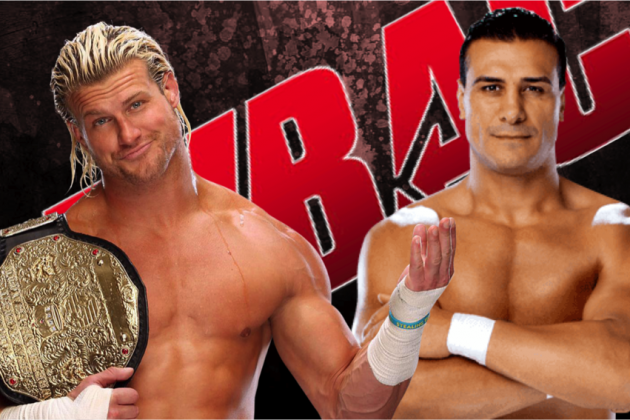 All logos and superstar images credited to WWE
Just as the previous match with Cena and Ryback, this booking didn't require much creativity from my standpoint.
In defeating Jack Swagger in an "I Quit" match at Extreme Rules, Alberto Del Rio became the No. 1 contender to Dolph Ziggler's World Heavyweight Championship. So logically, the Mexican aristocrat's chance at the gold will come at Payback.
The obvious rationale will tab Ziggler as the victor here.
His title run is fresh, it's intriguing and has some potentially promising feuds down the line. The "Show Off" may very well be locking up for the strap with the likes of Chris Jericho, Sheamus, Randy Orton and Daniel Bryan at some point.
And as I referenced in the last slide, the WWE could undoubtedly use more viable heel talent on the top of the card.
Ziggler picks up the win, retains and moves on from Del Rio.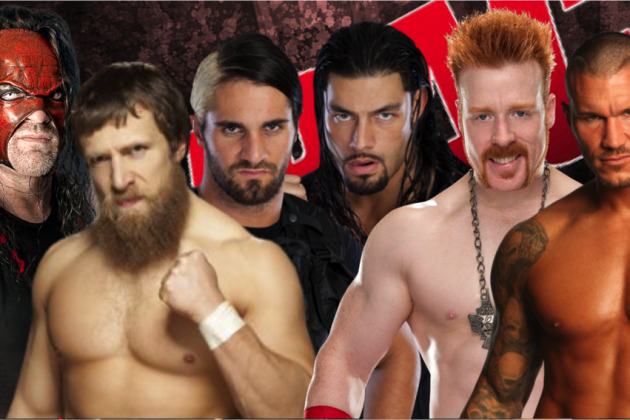 All logos and superstar images credited to WWE
This may appear a bit farfetched at first glance but stick with me here.
A three corners elimination tag between Seth Rollins and Roman Reigns, Team Hell No and Sheamus and Randy Orton irons out quite a number of key storyline wrinkles. And I don't mean to brag, but my brainchild here is a win-win-win.
For one, this is finally where Kane and Daniel Bryan reach their boiling point. With their tag title loss and recent "I am not the weak link" insinuation by Bryan, Team Hell No is on the outs.
Being the first of the three teams eliminated could be the final straw and cause either Kane or Bryan to turn on the other. This would subsequently lead to a much anticipated feud between the two that would roll into an interesting match at SummerSlam.
Second, the match could also set up a rift between Orton and Sheamus and finally catapult the "Apex Predator" into his heel persona. Orton could strike with an RKO and/or punt to the head of Sheamus and leave him open for a cover. (A SummerSlam feud would be in the cards here too.)
And last, a win by two-thirds of The Shield just keeps that juggernaut rolling. Featuring talents such as Orton, Sheamus, Bryan and Kane alongside Rollins and Reigns increases the credibility of the duo as well as the tag team division.
On a side note, many Internet fans are pushing for a "Winners Take All" six-man tag that would pit The Shield against Team Hell No and Kofi Kingston. Given The Shield's previous victories over much stiffer competition in Cena, Orton, Ryback, Sheamus and Big Show, that potential booking wouldn't provide much suspense.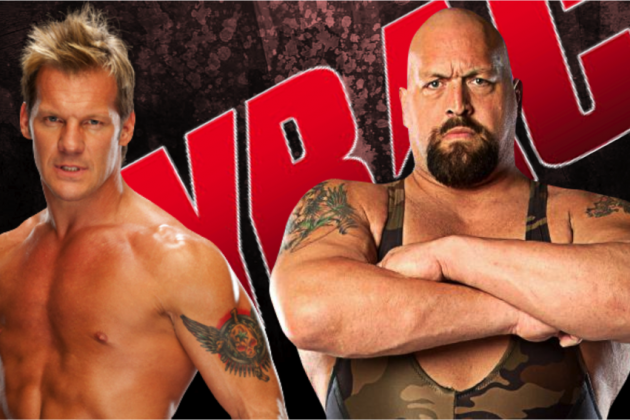 All logos and superstar images credited to WWE
On this week's edition of SmackDown, Chris Jericho defeated Big Show via count-out. Y2J delivered a thunderous Codebreaker to Show, causing him to fall over a barricade and nix his chances of answering the referee's count.
After the match, Jericho chased off his former tag team partner with a few chair shots. Their television bout, as well as the activity afterwards, has left some ends untied. Despite Jericho's possible link to the Intercontinental Championship scene with Fadango, The Miz and Wade Barrett, both him and Show are actually quite open for a separate angle.
As we head back to Jericho's post-match beating of Show, I honestly perceived it as a change in character for the "Ayatollah of Rock and Roll'a." Perhaps a more dominant and aggressive force is prepared to emerge in Jericho.
If so, defeating the giant in a Falls Count Anywhere match (a solution to their aforementioned count-out ending) would give Y2J some solid momentum in a prospective main event booking.
We could be in for a World Heavyweight title feud between Jericho and the champion Ziggler come SummerSlam. This would be a nice step in doing so.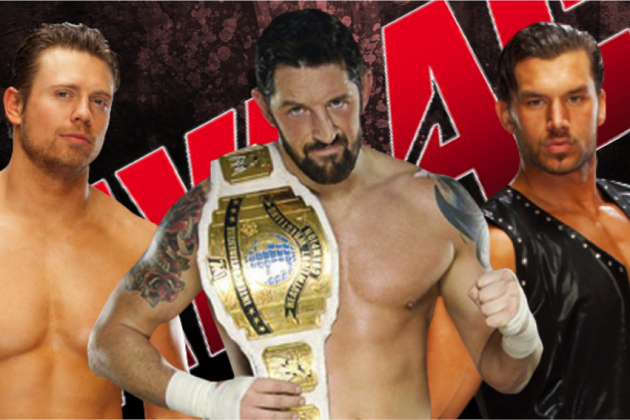 All logos and superstar images credited to WWE
Once again, this match doesn't call for a whole lot on my part.
Given the recent activity between these three superstars, a triple threat at Payback between Barrett, Miz and Fandango is more than likely to occur.
And opposed to the recent Intercontinental Championship bookings, this match is truly a very unpredictable one. Each man involved has a legitimate case to pick up the win and the once-coveted IC strap.
I would tend to lean towards rewarding Fandango with the victory just in hopes of protecting the immediate future of his two opponents.
With Money in the Bank as the WWE's next pay-per-view, an opportunity for Barrett to jump into the WWE Championship or World Heavyweight Championship scene will be open. So let's relieve him of the Intercontinental title and sets his sights on either of the briefcases.
As for The Miz, another Intercontinental title reign would prove a bit repetitive and perhaps frustrating. The Miz did not do anything for the title and the title, conversely, did nothing for The Miz. He should also move on from this program and look to solidify his repackaging.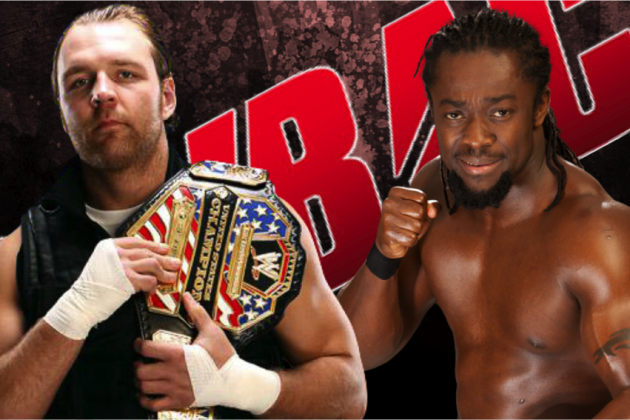 All logos and superstar images credited to WWE
Despite locking up with Ambrose for his rematch clause on SmackDown, Kofi Kingston never realized a definitive ending to his United States Championship run. The match ended in a disqualification due to some outside interference from Rollins and Reigns.
So with that being said, this feud still has some juice left. In fact, the feud has barely hit upon a personal level for either two. We have yet to see Kofi or Ambrose cut a quality promo on one another.
In addition, their match at Extreme Rules did leave me wanting more. Although the match was a tad on the short end, Ambrose and Kingston certainly made the most of it. One last showdown could prove to be a relatively satisfying ending to a solid booking.
Ambrose would take the win and continue his first championship run in the WWE.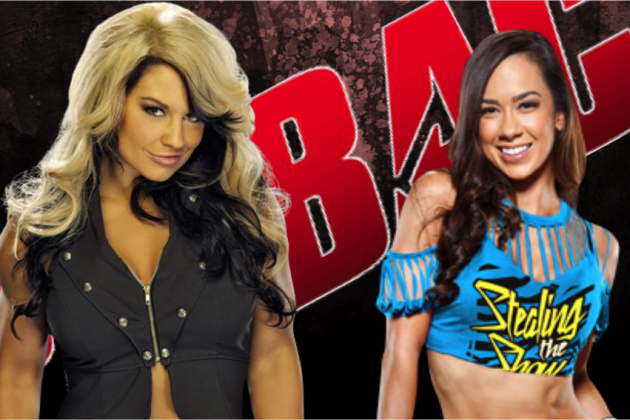 All logos and superstar images credited to WWE
Whether you like it or not, we haven't seen a Divas match on a pay-per-view since Elimination Chamber. With AJ as the No. 1 contender, this would obviously be the next one we see.
I'd undoubtedly give AJ and her new Black Widow the victory here. Since there isn't a whole lot going on in the division, an AJ victory would prolong the feud and give creative a sensible booking into the next event.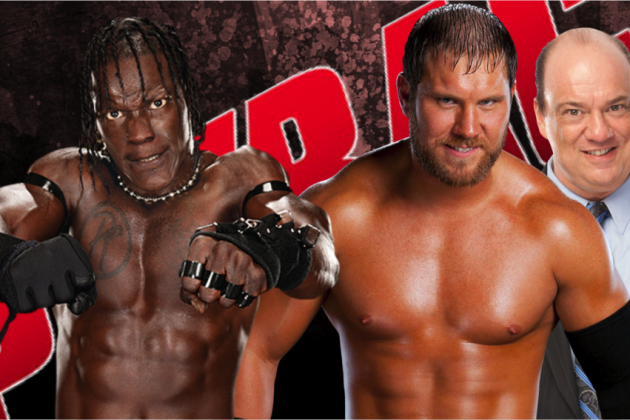 All logos and superstar images credited to WWE
Before you scream at me through your computer screen, this matchup between Perfect Jr. and Big Jimmy would serve as one of those famed throw-ins. No build, no problem.
Since the WWE is in the process of pushing Michael McGillicutty, I mean Curtis Axel out there, he'll get a showcase and an easy win at the pay-per-view.
But this booking, is in fact, double-sided. An appearance from Axel and Paul Heyman could lead to a...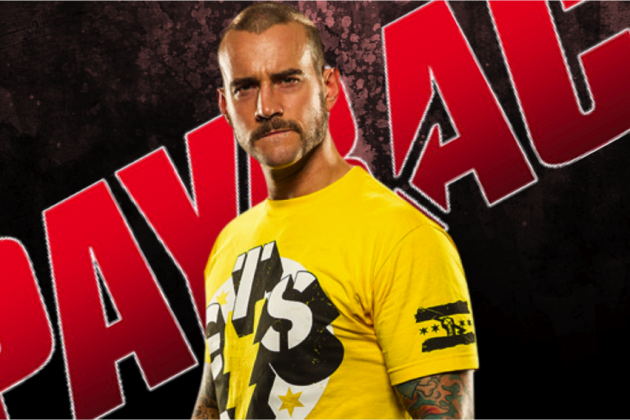 All logos and superstar images credited to WWE
Surprise!
Although I believe keeping CM Punk away a bit longer would do wonders, a return at Payback would make a considerable amount of sense.
According to numerous reports from those pesky dirt sheets, the WWE is planning on a face turn for the "Straight Edge Messiah." Given that the older demographic persistently cheers for Punk at every event, this isn't exactly a horrible idea anyway.
If this rumor is true, where better to start the turn than in Punk's hometown of Chicago, Illinois? A surprise return from Punk would definitely send the crowd into a frenzy, as Chicago is and always has been one of wrestling's best cities.
After Axel's victory, Punk could cut a promo blaming Heyman for disappointing his losses to The Rock and The Undertaker. Much of Punk's historic WWE title reign came without the aid of Heyman. That could provide the fuel to Punk's turn on his manager and a rumored feud with Heyman's "beast incarnate" in Brock Lesnar at SummerSlam.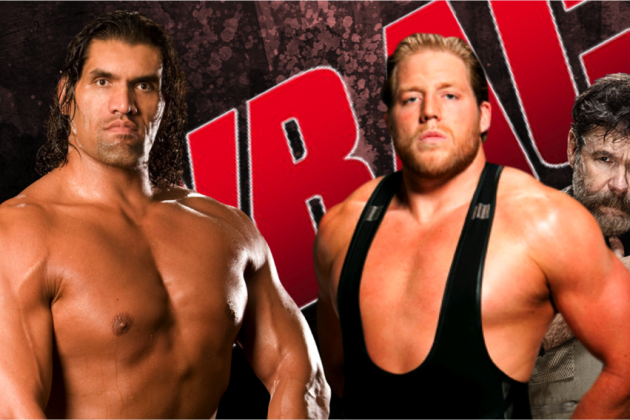 All logos and superstar images credited to WWE
This looks exciting, doesn't it?
According to the Universe's response to the WWE App voting on Raw, The Great Khali is 10 percent more popular than R-Truth. Well that's good enough for me.
Swagger should be involved in one way or another and that mean working the pre-show. Besides fighting Zack Ryder for the umpteenth time, we'll feed the "Punjabi Playboy" to Swagger.
I'm also sure Zeb Colter may have something edgy and clever to say about Khali's foreign roots. Oh goody!
All logos and superstar images credited to WWE
*Matches in descending order
8. WWE Championship: John Cena (c) vs. Ryback (Ambulance Match)
7. R-Truth vs. Curtis Axel (with CM Punk promo)
6. Tag Team Championships: Rollins & Reigns (c) vs. Team Hell No vs. Sheamus and Orton
5. World Heavyweight Championship: Dolph Ziggler (c) vs. Alberto Del Rio
4. United States Championship: Dean Ambrose (c) vs. Kofi Kingston
3. Divas Championship: Kaitlyn (c) vs. AJ Lee
2. Chris Jericho vs. Big Show (Falls Count Anywhere)
1. Intercontinental Championship: Wade Barrett (c) vs. The Miz vs. Fandango
Pre-Show Match: The Great Khali vs. Jack Swagger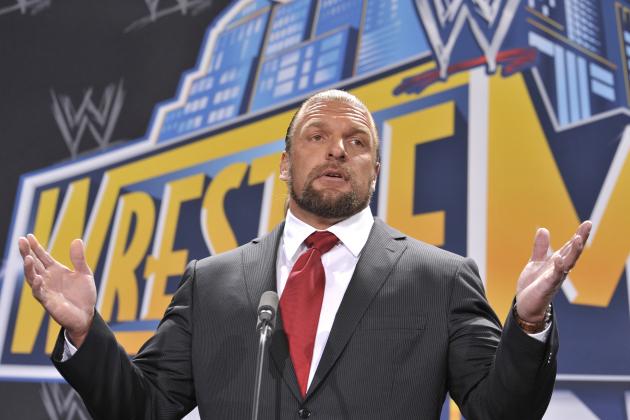 Michael N. Todaro/Getty Images

Triple H: The Game will be headed for a concussion angle according to reports. That would insinuate that he'll be out of the picture, at least until SummerSlam.
Brock Lesnar: The beast will be out for a little. Can't waste those dates, right?
Mark Henry: In addition to being a little banged up, Henry has been considered for a face turn. He'll take a little more time away to build up such a repackaging.
Big E. Langston: The only action Big E. should see is helping out Ziggler at ringside. His time, however, is soon approaching.
Damien Sandow: Despite his little fracas with Sheamus this past Friday, Sandow isn't involved in much at the moment. Hopefully he will be within the month or so.
Cody Rhodes: Rhodes is in the same boat as his current/former/who knows tag team partner in Sandow.
Antonio Cesaro: Unfortunately for him, Cesaro is going through a little rough patch now.