1 Player Every NHL Lottery Team Should Trade This Offseason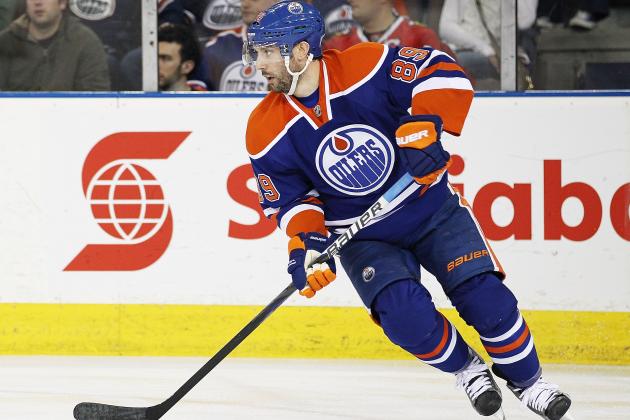 Perry Nelson/Getty Images

Each non-playoff team had a chance to win the draft lottery, and the Colorado Avalanche will pick No. 1 overall. Each non-playoff team should make some changes to their roster, and players such as Paul Stastny, Thomas Vanek and Sam Gagner should be traded for a numbers of reasons.
While each is a talented player, they carry value that could be used to address other needs on the roster. Here is one player that every NHL lottery team should trade this offseason.
Begin Slideshow

»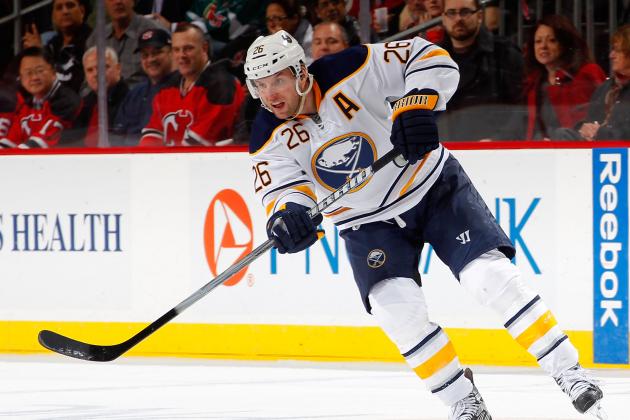 Paul Bereswill/Getty Images
Thomas Vanek could be traded this summer.
Thomas Vanek is in the final year of a seven-year contract, and he has a cap hit of $7,142,857. The 29-year-old winger is set to become a highly sought-after free agent next summer, and his value is higher than ever.
Vanek had a great 2012-13 campaign, and he has even hinted that he would be willing to accept a trade. He is in the prime of his career, and adding him in his contract year would give him incentive to prove that he deserves another large contract.
The Sabres could deal Vanek for a massive return, and they would free up some cap space in the process.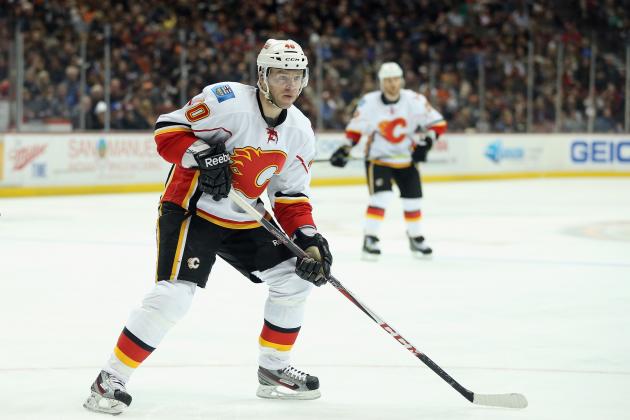 Jeff Gross/Getty Images
Tanguay is a veteran scorer who can still be effective.
The Calgary Flames should continue rebuilding their roster for the future by moving veteran winger Alex Tanguay. The Flames started by moving Jarome Iginla, and moving Tanguay should be next on the agenda.
Tanguay averaged 0.68 points per game this past season, and he could be an asset to a winning team. He has three years left on his contract with an annual cap hit of $3.5 million, and it could be a bargain if he regains form.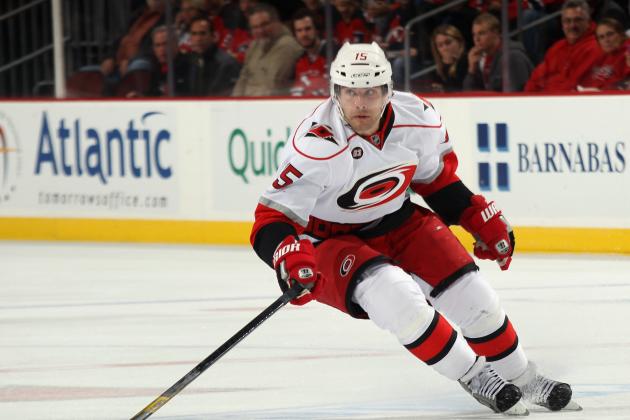 Bruce Bennett/Getty Images
Moving Ruutu would give the Hurricanes flexibility.
The Hurricanes may have signed Tuomo Ruutu to a contract extension in 2012, but they should move him this summer. He is coming off an injury and has three years left on his contract at $4.75 million per year.
Ruutu is now entering the wrong side of 30, and the dynamic of the team has changed drastically. The team's makeup is primarily a group of offensive players, and Ruutu is no longer the 60-point scorer he once was.
He isn't as vital to the success of the Hurricanes as he was a few years ago, and moving him makes sense for multiple reasons.
His salary eats up a decent part of the salary cap, and the money could be better spent. The Hurricanes really need to address their blue line, and moving Ruutu could help them do that.
Jiri Tlusty, Jeff Skinner, Alex Semin, the Staal brothers and Chad Larose make a pretty decent top six, so losing Ruutu wouldn't impact the team in a negative way.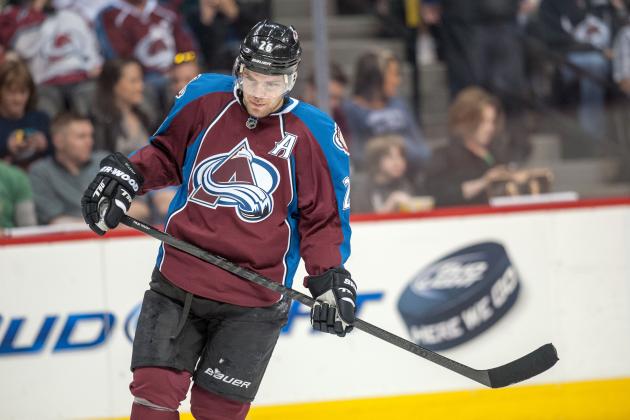 Dustin Bradford/Getty Images
Stastny is a free agent after this season.
Paul Stastny is a free agent after the 2013-14 season, and there is a slim chance that the Avalanche will re-sign him at his current rate of $6.6 million. The Avs have a good 1-2 punch with Ryan O'Reilly and Matt Duchene, so trading Stastny would make a ton of sense.
There are a number of teams who would be willing to take a chance on a young center like Stastny, and moving him this summer would allow the team to maximize on his value.
There is a good chance that the Avs will draft Seth Jones No. 1 overall, but they could pull a swerve and draft Nathan MacKinnon instead. In that situation, there would be even more of a reason to deal Stastny for a defenseman, but the fact still remains that moving him makes the most sense.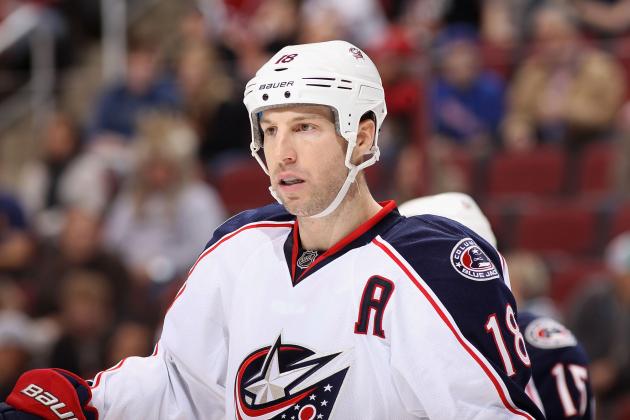 Christian Petersen/Getty Images
There was interest in Umberger at the trade deadline.
R.J. Umberger has four years remaining on his contract, but the Blue Jackets wouldn't have a tough time moving him. He makes $4.6 million a year, and he is a scoring winger who plays with physicality.
Umberger would have value to teams seeking a power forward like the Toronto Maple Leafs and Vancouver Canucks, so there is a market out there for a player like him.
Umberger is a heart-and-soul player that adds character to the lineup, and trading him would give John Davidson and Jarmo Kekalainen some flexibility this summer to re-shape the Blue Jackets.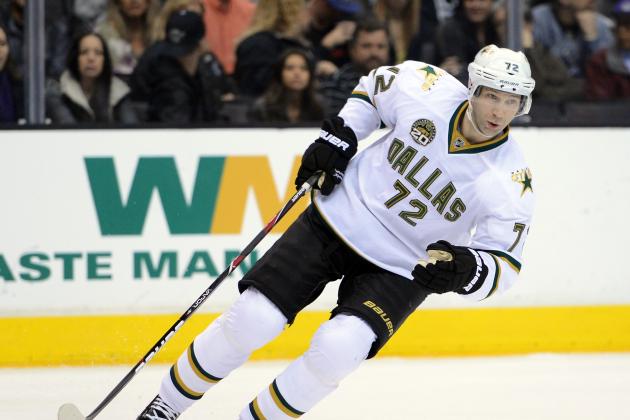 Harry How/Getty Images
Cole was acquired before trade deadline in exchange for Michael Ryder.
Erik Cole has two more years left on his contract at $4.5 million a year. He's an older player who really doesn't fit in well with the Dallas Stars, and removing him from the roster would give new GM Jim Nill some cap space to fix his roster.
Michael Ryder was the Stars' top scorer when he was traded, so it was questionable when they received Cole in return.
The Stars can't continue to miss the playoffs, and making some big changes this offseason should start with the trade of Erik Cole. Cole is no longer as valuable as he once was, but he can be a successful third-line player.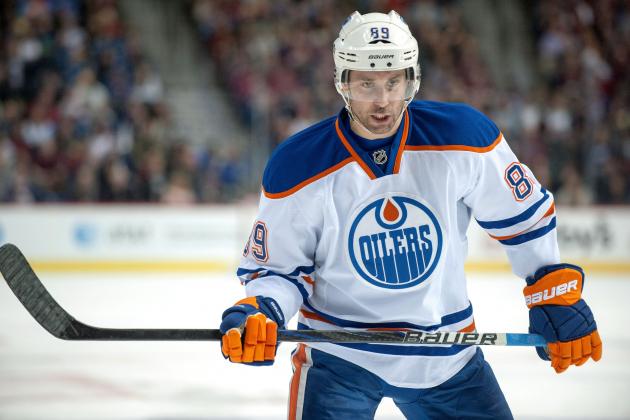 Dustin Bradford/Getty Images
Gagner has tremendous value, and trading him can strengthen the Oilers.
The Edmonton Oilers have enough young scoring forwards on their roster, but they lack a bona-fide stud defenseman. The Oilers are set with Taylor Hall, Ryan Nugent Hopkins, Jordan Eberle and Nail Yakupov, leaving Sam Gagner as the most attractive trade asset.
Signing Justin Schultz last summer was a good start, but the Oilers need to address their blue line if they want to contend for the Stanley Cup in the upcoming seasons. Gagner is one of the team's most valuable trade chips, and dealing him for a top-four defenseman and a draft pick or prospect would be a great way for Craig MacTavish to start remodeling his team.
A logical swap would send Gagner to the Phoenix Coyotes for Keith Yandle, but there are many options when it comes to trading Gagner.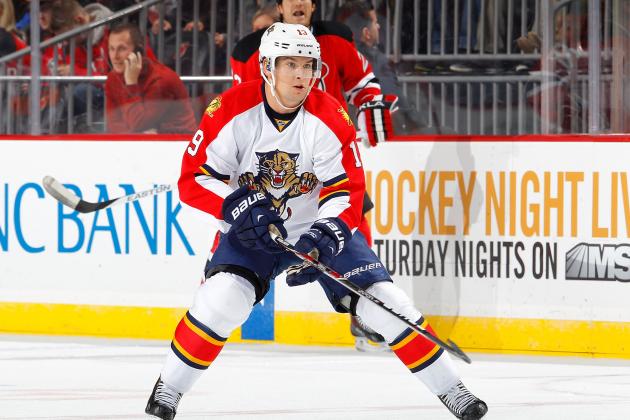 Jim McIsaac/Getty Images
Upshall hasn't fit in well with the Panthers.
Scottie Upshall hasn't worked out for the Florida Panthers, and trading him this summer should be a priority. Upshall is only 29, and he is a physical forward who likes to play the role of agitator while on the ice.
He is coming off a down year, but he has shown in the past that he can be a solid third-line player. Moving Upshall would clear cap space and allow the Panthers to round out their bottom six with a better fit for the team.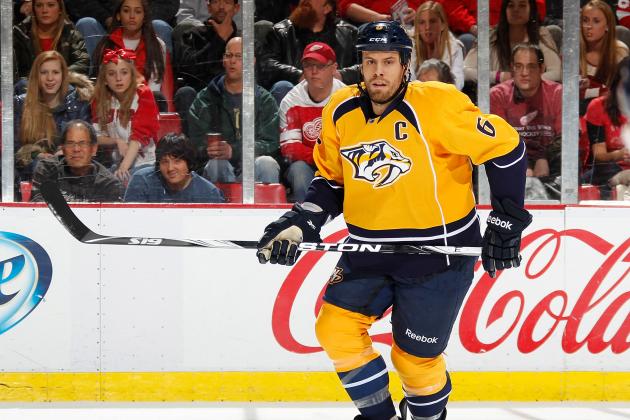 Gregory Shamus/Getty Images
Weber will make $13 million before stepping on the ice this year.
It may not be a popular option, but trading Shea Weber would be a smart move for the Nashville Predators. Weber has a large contract full of bonus money, but he is a franchise defenseman.
There are a number of teams who would sell the farm for Weber, and trading him would benefit the Predators in the long run. If the Predators put Weber on the market, they could receive at least a top-six forward, a top-four defenseman, a prospect and/or a quality draft pick.
Weber is a very valuable player. Dealing him for a multitude of assets would strengthen the team, and it would remove a huge financial burden from the payroll.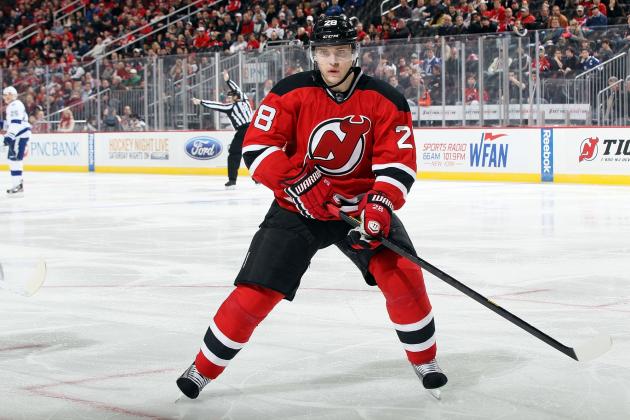 Jim McIsaac/Getty Images
Volchenkov could fetch the Devils a nice return.
The New Jersey Devils have 14 players to re-sign or replace this offseason, and they need some money to accomplish that. Trading Anton Volchenkov would free up an additional $4.25 million in salary, and that would give Lou Lamoriello more room to fill out his roster.
Volchenkov's play has declined since joining the Devils, but he could do fine in a reduced role on another team in the NHL.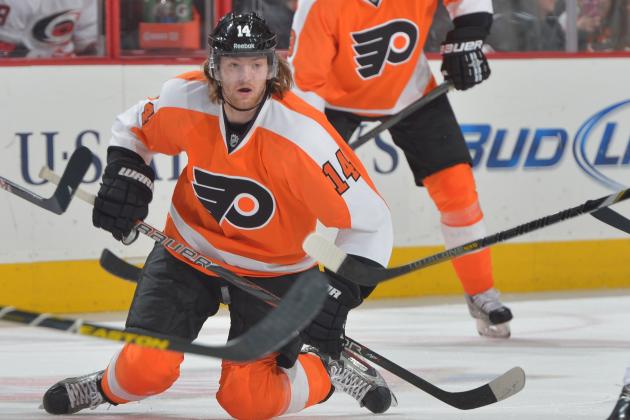 Drew Hallowell/Getty Images
Couturier is an ideal trade chip for the Flyers.
Although Sean Couturier had a down season, he is a young center with a ton of value. The Flyers could really use a stud defenseman, and Couturier is one of the team's top trade chips.
The Flyers have players like Claude Giroux, Wayne Simmonds, Brayden Schenn, Jakub Voracek, Scott Hartnell, Matt Read and Scott Laughton who will round out the top six, and the lineup could survive without Couturier.
The Flyers need more help on defense than any other area in their lineup, so moving Couturier would be a very smart decision.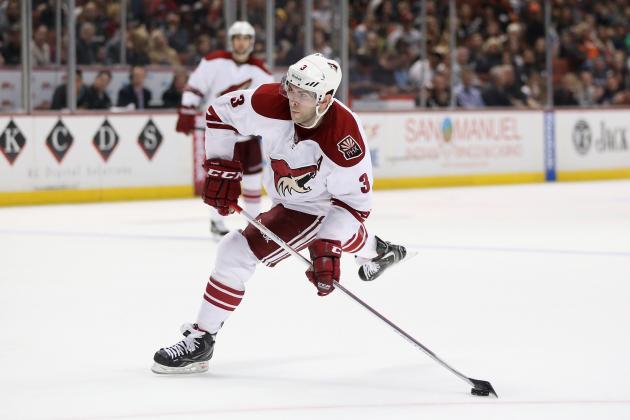 Jeff Gross/Getty Images
The Coyotes are set on defense, but need scoring.
The Coyotes' defense for the future is set, and dealing Keith Yandle this summer for some additional offense would be the best move that Don Maloney could make. While Yandle is talented, he is more valuable as a trade asset than he is as a player.
Dealing Yandle for a top center or winger would be ideal, because the Coyotes are desperate for scoring. Oliver Ekman-Larsson, Connor Murphy, Brandon Gormley and David Rundblad are solid cornerstone pieces, and this summer would be a great time to finally deal Yandle.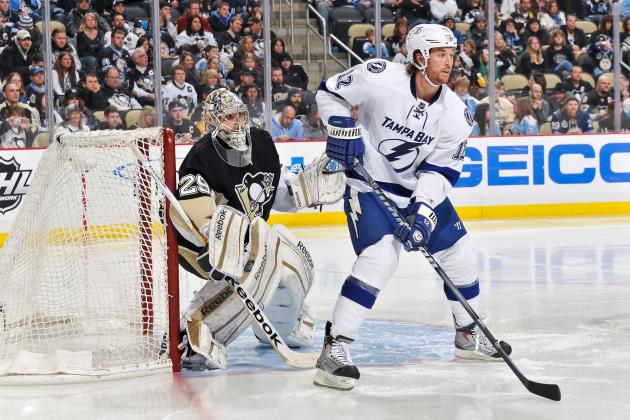 Jamie Sabau/Getty Images
Injuries have impacted Ryan Malone's game as he has gotten older.
Ryan Malone isn't player he once was because of injuries. The Lightning have wingers like Alex Killorn, Martin St. Louis, Teddy Purcell, and Brett Connolly, so they could afford to lose a player like Malone.
If the Lightning still wanted to have a player like Malone on their roster, they would have the chance to address that during free agency by signing David Clarkson or Nathan Horton.
There is also the chance that the Lightning could look to use their No. 3 pick to add a young forward into the lineup for the 2013-14 season. The Lightning have a good chance of drafting Jonathan Drouin No. 3 overall, so freeing up a roster spot would make a lot of sense.
While Malone is still a valuable hockey player, moving him before his game drops off any more would make sense for the Tampa Bay Lightning. Although he has a NTC, he would probably accept a trade to help the team rebuild the roster.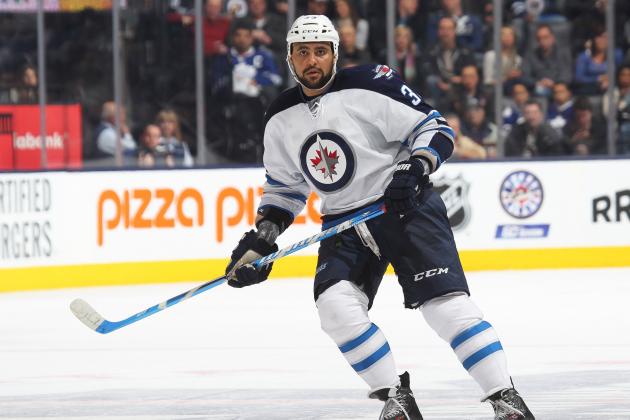 Claus Andersen/Getty Images
Byfuglien may have run his course in Winnipeg.
With Jacob Trouba almost a lock to make the team next season, the Jets can afford to deal Dustin Byfuglien. Byfuglien is a defenseman who has significant value, and moving him in the right deal could give the Jets depth and financial flexibility.
Byfuglien has been on the Jets for a few years now, and the team hasn't had success with him on the roster. This is a situation where the Jets could deal him for multiple parts to strengthen the lineup.
The Jets still have defenders such as Trouba, Zach Bogosian and Tobias Enstrom, so dealing Byfuglien would not compromise the team's defense. Gary Lawless of the Winnipeg Free Press thinks the Jets should move him, and the team should consider it this summer.