Mack Brown's 6 Biggest Challenges for Texas in 2013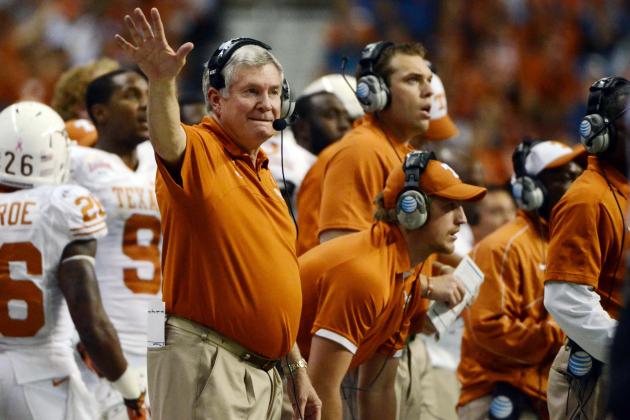 Brendan Maloney-USA TODAY Sports

Mack Brown and his Texas Longhorns program have been climbing ever since the collapse in 2010.
It is an old tale by now—the 5-7 pitfall to the positive 8-5 campaign to the two-sided 9-4 season a year ago. But in a 2013 season where Texas returns 19 starters, the Longhorns have high hopes for a down year in the Big 12.
At the forefront of all of that is Brown, who has executed change after change to bring his program to the brink of a true resurgence. Entering spring ball, his team was coming off a momentous Alamo Bowl victory, and there was some light at the end of a tunnel that has been dark for a while now.
Atop the list of challenges for Brown this season are beating Oklahoma, winning the Big 12 and finalizing his 2014 recruiting class with a bang. What else stands in Brown's way this year?
Begin Slideshow

»
Matthew Emmons-USA TODAY Sports

Some may say that Texas and Mack Brown's biggest hurdle this season will be beating Oklahoma, in what would be the Horns' first win over the Sooners in four attempts.
The 55-17 rout in 2011 and the 63-21 beatdown in 2012 likely have left some pretty sour tastes in the mouths of fans, coaches and players alike, but Texas has the tools to beat Oklahoma this year. Can Brown out-prepare a Sooners team that will be introducing a new starting quarterback?
Bob Stoops has won the preparation game for three years straight, and it has become a thorn in the side of Brown and his program.
Can Texas win the Big 12 without beating Oklahoma? Absolutely. But a win against Oklahoma in Dallas could create the mental and emotional gains to take the conference by storm and perhaps challenge for a huge BCS splash.
Here is some food for thought: If Brown wins the Big 12 but loses to Oklahoma for the fourth straight year, what happens next?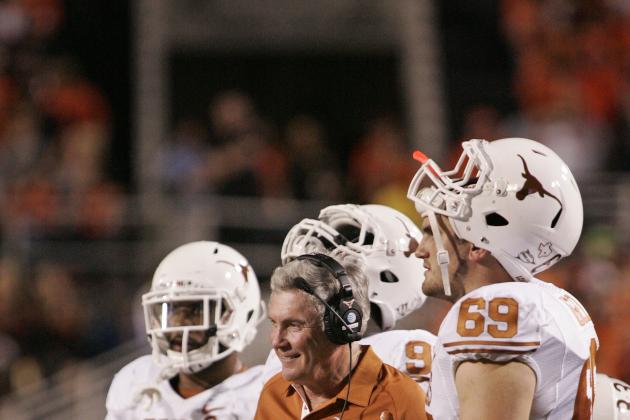 Brett Deering/Getty Images

The Longhorns' five road games this season are as follows:
Nothing outrageously scary from that bunch, although the true road games in BYU and TCU are among the grittier tests for the Longhorns.
The Oklahoma game, which is technically a road contest in Dallas, is a different beast entirely that commands separate attention, though it seems Texas has been losing in the preparation battle for some time, dropping the last three matchups in 2011 and 2012.
The six home games, on the other hand, appear to be far less worrisome when it comes to the opposition. New Mexico State, Ole Miss, Kansas State, Kansas, Oklahoma State and Texas Tech are nothing extraordinary, and the Longhorns are likely to be favorites in all of those matchups.
If Texas takes care of its business at home, then all that remains to challenge for a conference title are a handful of intriguing road contests—including a non-gimme, season-finale at Baylor, and Oklahoma.
Will Brown have his troops ready to go on the road?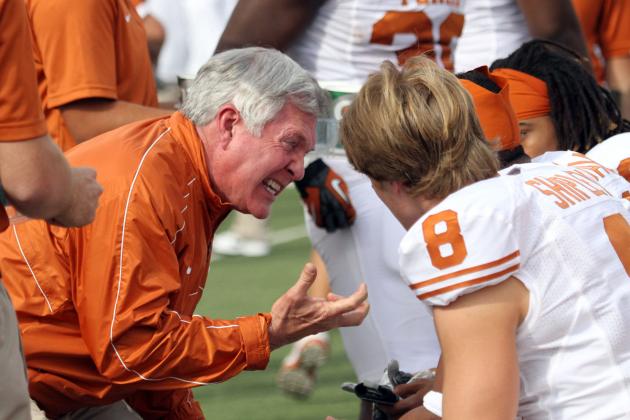 Michael C. Johnson-USA TODAY Sports

Complacency kills, and it contributed plenty to tearing down Texas' reputation.
Brown has been adamant about fixing up the program that he took into the heavens with Vince Young and Colt McCoy, and he is close to achieving his objectives.
Instituting change upon change, Brown has taken his program on a wild ride of up and downs, and it has not been without its criticisms. Nevertheless, some in the media still pin his program as a top favorite for a conference title.
In what will be the third season of the rebuild, it is now or never to see results for the tenured Brown.
Can he extract everything he can get out of his players and coaches? Can he bring the right kind of energy and the right kind of atmosphere that will encourage and manifest success in a program that come so close to the pinnacle of the sport only four seasons ago?
Brown can save plenty of face with a special season, and he has to be a huge catalyst for that to happen.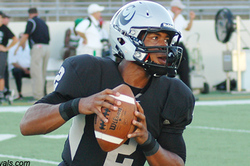 rivals.com
It may be the 2013 season, but coaches have to worry about the future as well as the present.
The Longhorns have inked in some respectable recruiting classes in 2011, 2012 and 2013, with a number of players emerging as big-time contributors. But the coaches' recent recruiting halls are not without their shortcomings.
Texas came up well short of adding to its defensive line depth in 2013, and there is a feeling that it has not secured enough bona fide playmakers to project well in the 2014 campaign and beyond.
The Horns currently sit at 13 commitments, after recent decommitments from Demetrius Knox and Daniel Gresham. And with signing day less than nine months away, the Longhorns will have ample time to readjust their recruiting efforts.
It is up to Brown and his staff, however, to deliver the right messages and connect performances on the field to success on the recruiting trails.
Brendan Maloney-USA TODAY Sports

There was a quote in the movie Remember the Titans where head coach Herman Boone says, "Now, I have never seen an assistant coach's name in the newspaper for losing a game," and it is mostly true.
Brown is the top dog in Austin and will take most of the glory or blame, but his assistants are no slouches, notably Major Applewhite and Duane Akina.
In Manny Diaz's third season as defensive coordinator at Texas, where his first was much more productive than his second, what new things, if any, can he bring to the table that can turn the tables on defense?
What will Applewhite's offense look like? Will he have full autonomy or will Brown press his options if things look shaky?
Brown has built himself a solid reputation but can he manage his coaches to the point where his team begins to experience significant improvements?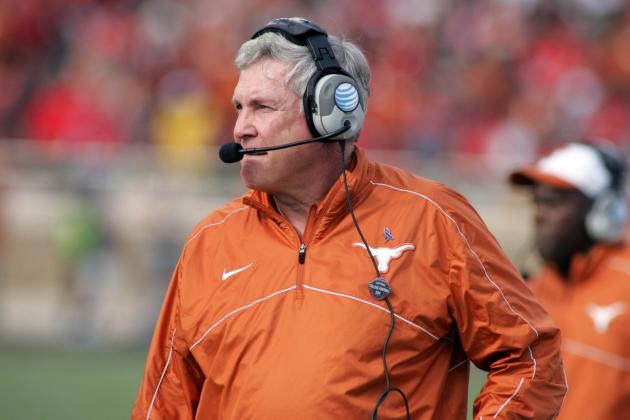 Michael C. Johnson-USA TODAY Sports

Media everywhere are pinning Texas as one of the favorites to win the Big 12, but whether the preseason praise is worthy or not, the Longhorns simply need to win.
For all of the talk of this being the year Texas truly returns, with both naysayers who doubt the Longhorns and fans whose hope hangs by a thread at times, winning will help cure everything.
A 10-2 season may be enough to win the Big 12 this season, and a bowl victory would return Brown's Longhorns to the 11-win plateau, a standard that he met six out of nine times between 2001 and 2009. In those three instances where he did not reach that mark, his Horns won 10 games in each of those seasons.
Is that the kind of team Brown has at his disposal this year? He might know, but we will surely find out.