Baltimore Ravens: 6 Players Feeling the Most Pressure Heading into Training Camp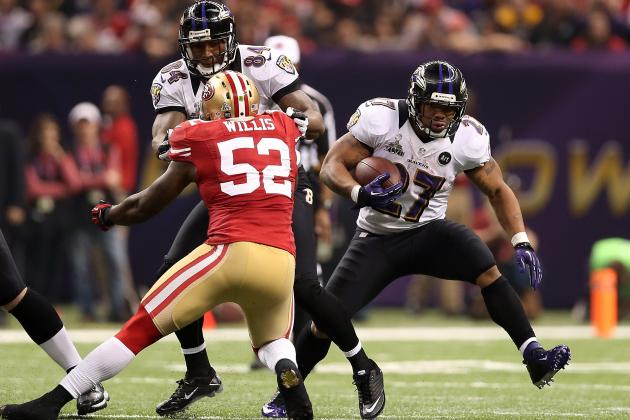 Christian Petersen/Getty Images

The NFL player's career is a transient one, with the possibility of change always right around the corner. The average NFL player who makes a team's opening-day roster only plays for six seasons, with that number being considerably lower for those many players that never get beyond a team's practice squad.
With this number in mind, the Baltimore Ravens will field a very different roster in 2013. It's mostly a younger roster with many of the team's older players either getting Super Bowl-influenced pay days with other teams or choosing to retire.
There could still be more small changes with the Ravens' depth chart, but with the early wave of free agency and the draft over with, it's doubtful that there will be any more sweeping changes. There will still be several starting jobs that will be fought over in training camp, though, and some older players who are making more money will need to justify their contracts if they want to stay in Baltimore beyond 2013.
Here are several players that are facing some pressure during the offseason workouts.
These aren't necessarily players that are struggling to produce: Some are here because of external forces, like a promising second-year player being behind them on the depth chart. Others could be dealing with the harsh realities of an NFL career, like recurring injuries or declining numbers that don't justify their current contract situation.
Begin Slideshow

»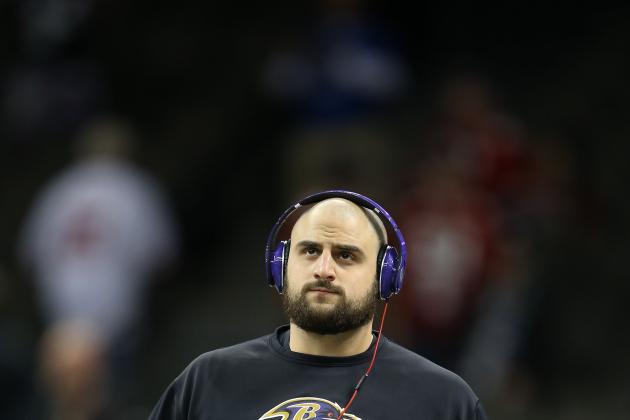 Mark J. Rebilas-USA TODAY Sports

After four years starting as the Ravens' center, Matt Birk is finally gone to retirement. NFL centers don't usually get a lot of attention, but Birk was quietly one of the better centers in the league, and both his leadership and level of play will be missed on the Ravens' offensive line in 2013.
Birk's likely successor is Gino Gradkowski, a 2012 fourth-round pick out of Delaware. Coach John Harbaugh has reiterated his belief in Gradkowski's starting abilities, and right now the potential competition behind him on the depth chart is pretty minimal.
For now the competition boils down to one other name, the recently acquired A.Q. Shipley. Shipley started four games with the Indianapolis Colts last season, and during those games, he performed well and earned a grade of 6.9 from Pro Football Focus.
Gradkowski's only playing experience in real games came during the 2012 regular season finale against the Cincinnati Bengals. He did a good job sealing off the Bengals' defensive linemen at the second level, and his run-blocking was key in allowing some big runs for both Bernard Pierce and Anthony Allen.
Though his playing time last season was limited, Gradkowski has clearly made a strong case to contend for a starting job. The main reason he is under pressure is because he will have to fill the giant shoes left by Birk, and he will have the intimidating job of being the leader of the offensive line as only a second-year player.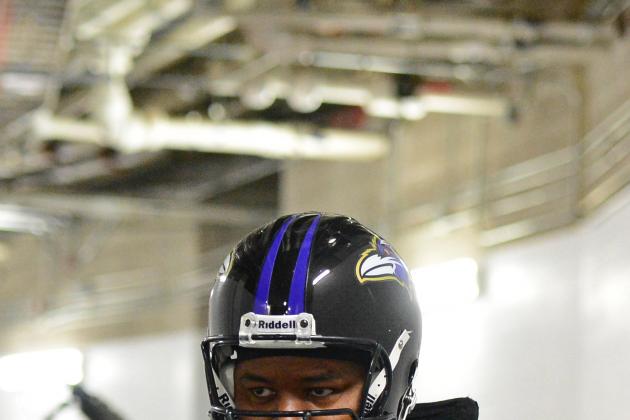 Mark J. Rebilas-USA TODAY Sports

Despite his excellent level of play during the 2012 NFL playoffs, Bryant McKinnie faces an enormous amount of pressure entering his third year with the Ravens.
If he can live up to his potential, McKinnie is a shoe-in as the starting left tackle. That is by no means a guarantee, though, thanks to McKinnie's reputation as a lazy player who doesn't try in workouts and frequently shows up overweight to training camp.
Harbaugh has shown in the past that he will not stand for laziness, and in McKinnie's case, that resulted in him not starting any games in the 2012 regular season.
The new two-year contract that McKinnie signed a few weeks ago takes this information into account. The deal includes incentive clauses and workout bonuses, basically implying that McKinnie needs to stay in shape in order to stay a Raven.
To his credit, McKinnie has done a good job participating in the Ravens' offseason workouts so far. McKinnie has talked about improving his technique while also doing his best to not show up to camp overnight and hopefully keep his grip on the starting left tackle job all season.
While things are good right now, you'd better believe that McKinnie will be benched if he can't perform at a high level. The team has already proven that they believe him to be expendable, waiting through two months of free agency before re-signing him.
The starting job may be McKinnie's to lose, but if he struggles, the line could be shuffled to place Kelechi Osemele or Jah Reid at starting left tackle.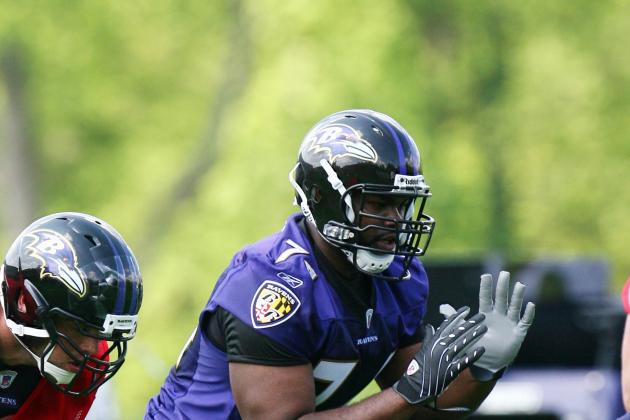 Ned Dishman/Getty Images

Continuing the trend with Ravens' offensive linemen under pressure, Michael Oher also is feeling the heat going into the 2013 season. McKinnie's return puts Oher back in line to start at right tackle, where he has been far better than when he plays at his famed "blind spot" position.
At right tackle, Oher won't have to worry as much about pass-rushers beating him and getting after Joe Flacco. He also seems to perform better at run-blocking from the right tackle position.
The main question with Oher is: Has he done enough to get re-signed when he hits free agency? Even casual fans notice that he is frequently called out for false starts or unnecessary roughness penalties. This has been a problem with Oher for years now, and there is no certainty that things are going just suddenly get better with him.
There's also the problem of Oher's high status being raised by The Blind Side film from 2009. The second contract is typically where players seek to make the most money, and with the movie making Oher one of the most recognizable offensive linemen, he could definitely get a big payday when he hits free agency.
The Ravens have discussed re-signing Oher, so it isn't entirely unrealistic that they could get a deal done sometime this offseason. With both his famous public image and his experience at left tackle, Oher could make things difficult by demanding top left tackle money, something the Ravens would likely not want to do.
This year is very much a make-it-or-break-it season for Oher. He needs to prove that he is more than just a suitable player at right tackle and that the offensive line needs him in their plans moving forward. If not, he could be playing elsewhere in 2014.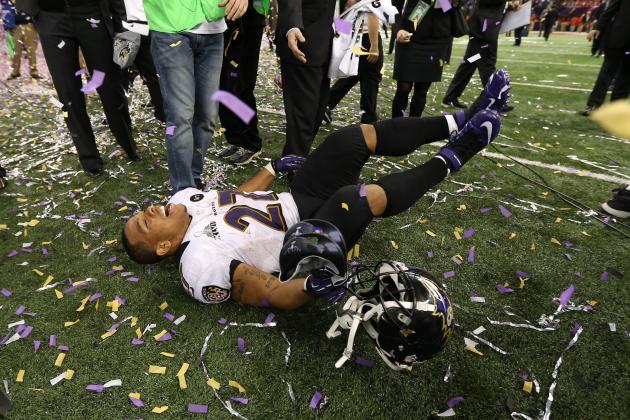 Mark J. Rebilas-USA TODAY Sports

To clarify, Ray Rice is in no danger of getting cut or traded anytime soon. Rice is easily one of the Ravens' best players, and his current five-year contract for $35 million makes him one of the richest players on the Ravens' roster.
The pressure that Rice is feeling is coming mostly from the player behind him on the depth chart. Bernard Pierce finished his rookie season with 532 rushing yards on 108 attempts. This included an impressive three-game stretch at the end of the regular season where Pierce topped 89 rushing yards in three successive games.
Unlike the short and shifty Rice, Pierce is a great traditional runner who is hard to bring down. Pierce recorded an impressive 19 broken tackles on his 115 touches, while Rice finished with only 27 broken tackles with his 318 touches.
Late in the 2012 regular season and even in the playoffs, Rice and Pierce seemed to have a more equal spread of carries. It seems like Jim Caldwell wants to integrate both running backs into the game plan, which if used correctly could make for a fearsome one-two punch.
Rice also has to answer for some postseason struggles, struggles that admittedly got less attention because of the Ravens' Super Bowl win. He now has five fumbles in his playoff career, a number that ranks higher than any other active running back.
It's definitely way too early to suggest that Rice is starting to decline as a player. Running backs do tend to have short shelf lives, though. Despite the Ravens' attempts to protect Rice, he does now have 1,216 total carries. He also has been remarkably free from injury during his time in the NFL, and that kind of luck is unfortunately the kind of thing that could run out.
When bringing all these facts together, it makes sense that the Ravens could be slowly pushing towards a running offense where Pierce is the centerpiece. Rice is still the undisputed star as of now, but he needs to increase playoff ball security and also not let these struggles extend to the regular season.
Pierce's increased role in the offense could be seen as a blessing or a curse. It could bless Rice by giving him less wear and tear, which could increase the chances of him having fresh legs. It could curse him, though, by opening up the possibility that Pierce could be the better running back going forward.
Mark J. Rebilas-USA TODAY Sports

Anquan Boldin's departure leaves a void and also an interesting dilemma at the second wide receiver spot. As the only backup with any sort of experience, Jacoby Jones seems like the logical replacement to start alongside Torrey Smith.
The main problem with this idea is that Jones is mostly a deep threat as a receiver, and his style of play is quite similar to Smith's.
He's also never shown the consistency needed to be a starting receiver, something the Houston Texans know all too well. In five seasons in Houston, the most games he ever started for them was 10, and he rewarded the team with only 31 receptions for 512 yards and two touchdowns.
The other issue with Jones starting is the fact that he's become quite the threat at kick returner. Usually teams don't let their main kick returner start, an example being the electric Devin Hester, who has proven to be very ordinary as a starting receiver.
Jones still has an early edge over youngsters Tandon Doss and David Reed for the starting wide receiver spot. Still, it's no certainty that he'll hold on that role for the entirety of the season.
Jones will turn 29 years old this summer, making this likely his best chance to become a starting wide receiver in the NFL. The opportunity is here, but so is the pressure. If Jones fails here, his NFL career may be known solely for his returning abilities and his heroics in the 2012 playoffs.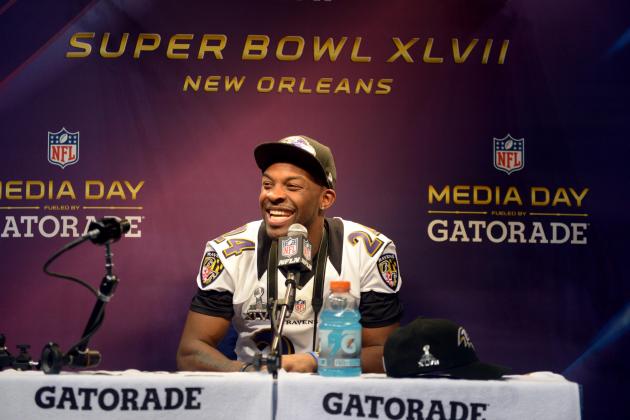 Kirby Lee-USA TODAY Sports

Despite being one of the feel-good stories of the 2012 season, Corey Graham is one of the Ravens' defensive starters facing a good deal of pressure this offseason.
Graham was ushered into a starting role after the season-ending injury to Lardarius Webb midway through the year. Graham did a very good job with his role, particularly in the playoffs, where he picked off Peyton Manning twice in the divisional round win over the Denver Broncos.
It's not too hard to forget that behind Graham on the depth chart is Jimmy Smith. Even though he's disappointed in his career this far, Smith was a first-round draft pick two seasons ago, and he showed some promise with several good plays as a nickel corner in the playoffs.
Graham, meanwhile, has never shown long-term starting potential during his five years with the Chicago Bears before joining the Ravens last year. In Chicago, he was mostly a special teams player, which was the role he had in Baltimore before injuries forced him into the starting role.
If Smith can have a strong camp and build on his potential, he could potentially overtake Graham on the depth chart. Graham needs to build upon his first season as a starter in order to avoid going back to being solely a special teams contributor.