Player-by-Player Grades of Manchester City's 2012-13 Premier League Squad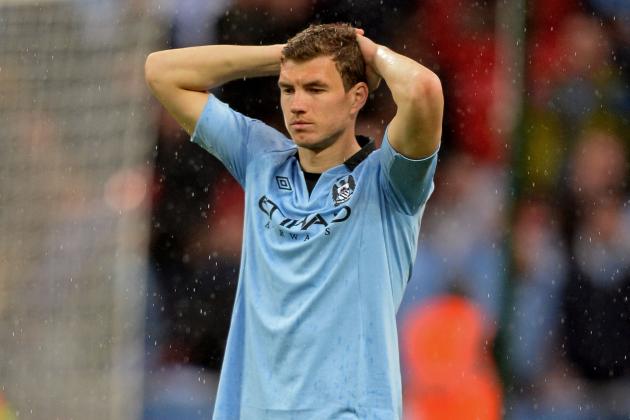 Mike Hewitt/Getty Images
Here is City's leading scorer. I don't even have a joke here.
When you were a young child in school, you probably had a favorite teacher.
Someone who cared about you, who inspired you to reach beyond your pedestrian abilities and exceed even your most immodest goals.
Or maybe it was just a soft grader you loved. Everyone has had that easy marker who would take a paper you knew deserved a B- and give it a B+ just because she liked you.
In the moment, that indulgence feels good. But deep down, you knew that that sort of coddling was far more likely to encourage backsliding than it was to inspire a better effort next time around.
That is why the following grades are going to trend toward ruler-wielding and belittling.
No one—NO ONE—on the 2012-13 Manchester City squad is blameless.
The side that won the Premier League in dramatic fashion the season before pulled collective no-shows in the Champions League, the defense of the Prem title and the FA Cup final.
Let the judgments begin.
N.B. Certain players have been omitted (Kolo Toure, Maicon Sisenando, Micah Richards and others) due to limited playing time. You are certainly free to grade them in the comments if you like.
Begin Slideshow

»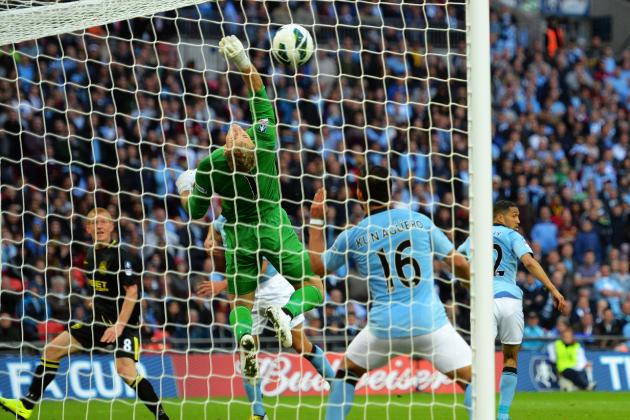 Shaun Botterill/Getty Images
Hart only missed a few key saves all season, but when he did he left no doubt.
As a threshold matter, keeper is City's strongest position.
Right, Yaya Toure is great, Sergio Aguero is great, and David Silva and Vincent Kompany and on and on.
Joe Hart is City's best player.
With a keeper beneath Hart's station, say a Pepe Reina or even a Tim Howard, City might have been looking at a Europa League berth out of this stillbirth of a season.
Hart is that good—18 clean sheets don't lie.
All that said, when Hart does screw up, he makes it pretty obvious.
Hart's failure to cover the long-side top corner against Robin van Persie's free kick in the first derby was inexplicable. His failure to corral Rickie Lambert's soft shot against Southampton in February was shambolic.
As for Ben Watson's header in the FA Cup final, well, if you want to say he had no chance then we can agree to disagree.
A lot of this is nit-picking though. If City put Hart on offer tomorrow, they could get the moon and stars for him.
City has 99 problems but a keeper isn't one.
Final Grade: B+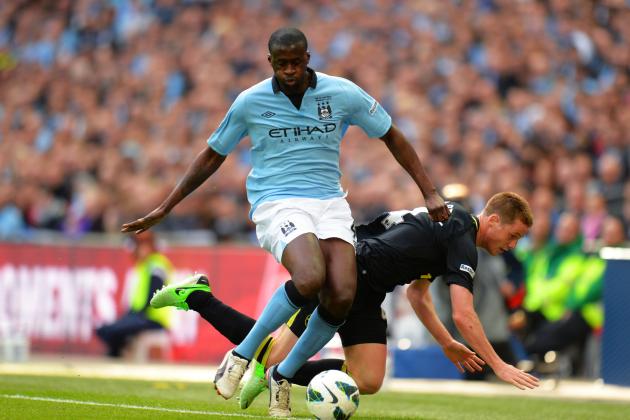 Shaun Botterill/Getty Images
When Yaya is good, he is like no one else.
Like so many of City's players this season, Yaya Toure was good—but not nearly as good as he was the year before or the year before that.
Some of Yaya's ineffectiveness was doubtlessly due to his now former manager's reliance on him.
Say what you will about the departed Roberto Mancini, but the Italian was nobody's fool. He could throw an XI out there without Carlos Tevez or without David Silva, but if Yaya could go, he was going.
So there were days where Yaya looked gassed, and in those days he would get shockingly dispossessed of the ball at midfield and look a step slow.
But on proper rest and with proper motivation, Yaya is still a player without peer in the Premiership.
It was not a bad year for Yaya, It just was not his best.
Final Grade: B+
Alex Livesey/Getty Images
Sometimes the hat had a bunny in it...sometimes the hat was empty.
Football fans condemn statistics every day. "Lies, damn lies and statistics" is the common refrain.
Sometimes, though, even the hardened cynic has to look at the numbers and say "well, OK."
David Silva played in 32 of City's 38 Premier League matches. He scored four times and had eight assists.
Even if you want to create an alibi for the diminutive Spaniard by saying that his strikers were profligate with the chances he created, ultimately, if Silva had been special the numbers would have been better.
This, from a player who gives you absolutely nothing defensively.
Final Grade: B-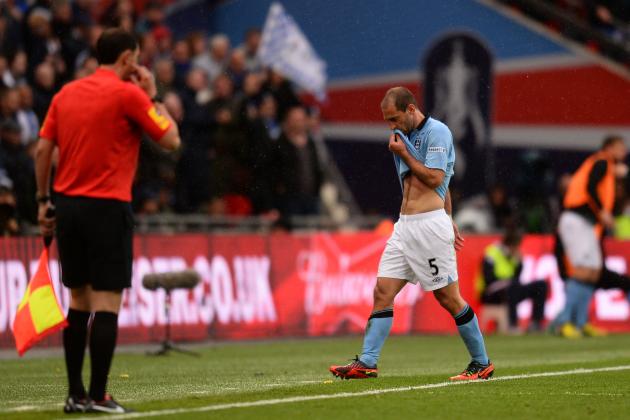 Mike Hewitt/Getty Images
This was Zabaleta's only demerit of the year...but oh, what a demerit.
Et tu, Pablo?
That was my reaction to watching Pablo Zabaleta being sent off in the FA Cup final.
Everyone expected this sort of amateurish behavior from Samir Nasri and Edin Dzeko on occasion.
But Zabaleta had been the professional's professional all season.
In a season where Vincent Kompany fought the injury bug and Joleon Lescott played himself onto the bench, Zabaleta was Roberto Mancini's iron man.
Save for the FA Cup error, Zabaleta had the best season of any Sky Blue.
Final Grade: A-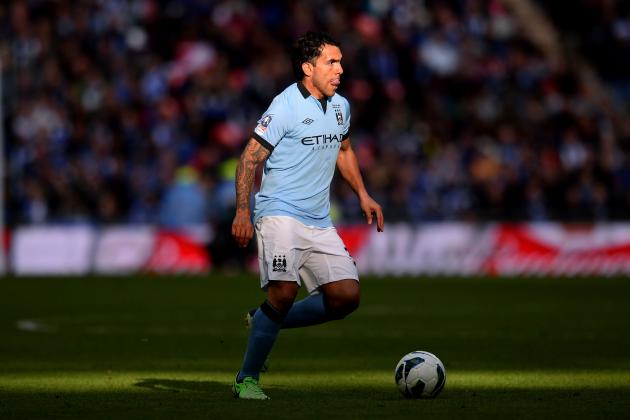 Mike Hewitt/Getty Images
"In sunshine and in shadow..."
Of all the seasons Carlos Tevez has produced for Manchester City, this one was probably the weirdest.
On the plus side, he did not go absent without leave. In fact, he was a consummate pro.
And on occasion, he produced those moments of shock and awe that brought him to the blue side of Manchester in the first place.
On the down side, for a guy who shoots so much, he just does not find the net too often.
Industry is admirable, but it does not feed the bulldog. That said, he will still be missed, as he told French television station Telefoot, according to ESPN FC, that he would entertain a move to Ligue 1 even with one year remaining on his current contract.
Final Grade: B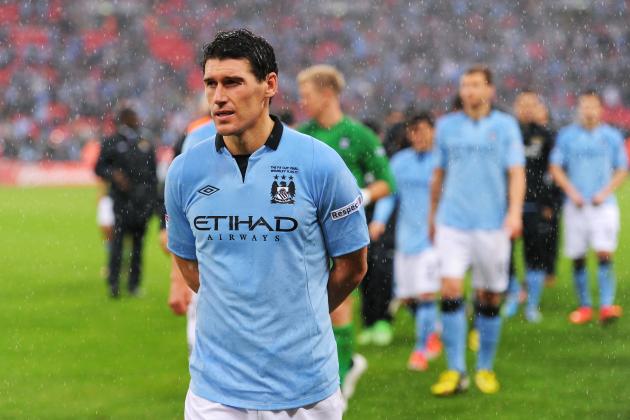 Mike Hewitt/Getty Images
They do not sing of Barr nor do they persecute him.
As Jackson Browne famously sang in "The Pretender," "gonna pack my lunch in the morning, and go to work each day."
Thus is the sum total of Gareth Barry, in this season and all seasons.
Barry played in 31 matches in the Premier League for City, scored one goal and had two assists.
To be fair, the one goal was surely a cracker.
So maybe Gareth Barry is not the most exciting player to don the sky blue kit. At least you know what you're getting every time he plays.
Final Grade: B+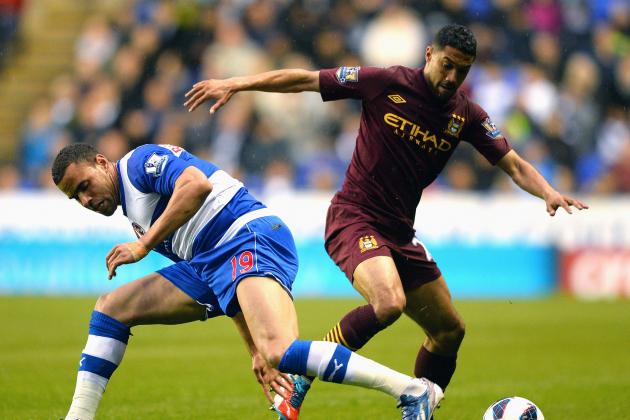 Laurence Griffiths/Getty Images
Clichy is another player whose best days are the ones where you do not notice him at all.
Gael Clichy plays a position where, on a good day, you forget he is on the pitch.
On bad days, though, he decides to clear his lines alone, turns the ball over and costs his team two points in a derby against United.
More often than not, though, Clichy was unobtrusively excellent. City did not give up the fewest goals in the Premiership by fluke or despite Clichy's play.
Clichy's fingerprints are all over City's stellar defensive campaign on merit.
Final Grade: A-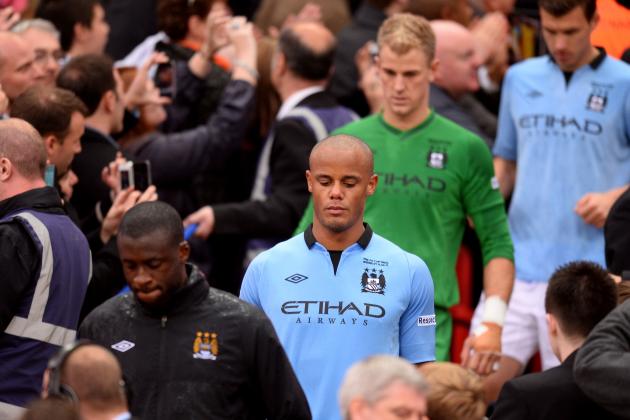 Mike Hewitt/Getty Images
Regrettably, Kompany was little more than a face in the crowd this season.
City's loss of the derby against Manchester United at the Etihad back in December featured stalwart defender Vincent Kompany limping off in the 21st minute.
Not to say the result would have turned out differently had Kompany stayed on, but it's pretty well a certainty he would not have been seen shrinking in the wall on van Persie's winning free kick.
Even with Kompany absent for lengthy patches of the schedule, City still boasted the stingiest defense in the Premier League.
Great players make those around them better, it is said.
In Kompany's case, the same could well work in reverse. He is often surrounded by so much exceptional defensive talent that he can simply concentrate on doing his own job.
Even when Kompany was fully healthy this season, he did not look much like the voracious defensive monster he has been in previous years. City must hope that in Kompany's case, form is temporary, but class is permanent.
So the grade this year is middling, but bet on a resurgence if you can.
Final Grade: C+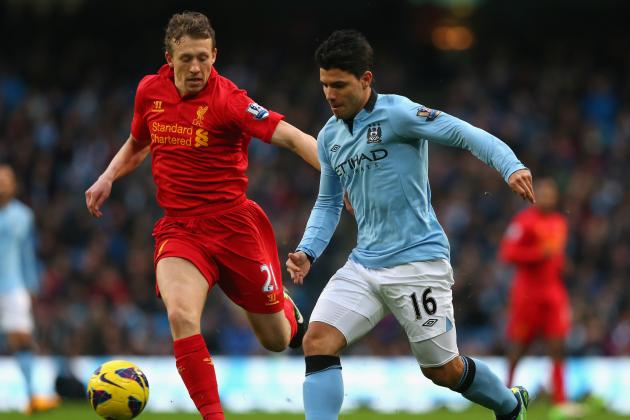 Alex Livesey/Getty Images
Aguero's angled strike against Liverpool was one for the ages.
Last season, Sergio Aguero led City with 23 Premier League goals.
Any blueprint for a repeat Premier League title almost certainly included at least 20 markers from the man who scored The Goal.
Instead, Aguero was sort of in and out of the picture all season, finishing with a mundane 12 Premier League goals.
That would have been all right had Mario Balotelli (when he was still around) or Carlos Tevez or Edin Dzeko stepped into his place as lead singer.
But those three proved themselves to be little more than rhythm guitarists and backup vocalists.
City needed Aguero to be John Lennon (Noel Gallagher?), and instead Aguero gave them a George Harrison season.
Final Grade: B-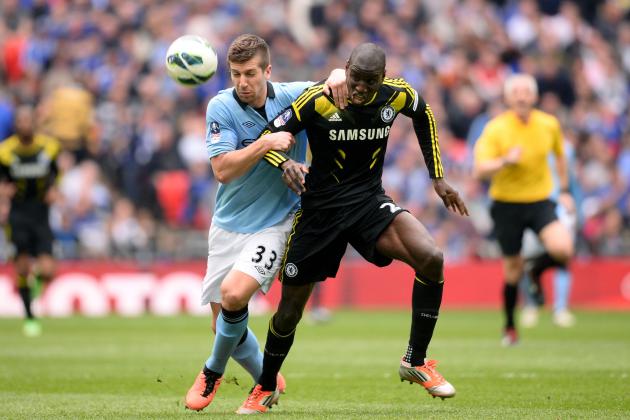 Mike Hewitt/Getty Images
The emergence of Nastasic redeemed an otherwise poor summer transfer effort by City.
It was some debut Matija Nastasic made for Manchester City—a Champions League match against Cristiano Ronaldo and Real Madrid.
The defense crumbled that evening, losing a late lead en route to a crushing loss.
There are thousands of stories about players nailed to benches at top clubs in the wake of such a debut. But Nastasic seized the starting job in late October at home against Swansea City and never let it go.
Nastasic made 21 appearances in the Premier League this season. He started every one of those matches.
Nastasic, all of 20 years old, is now a linchpin of City's plans for the foreseeable future.
Final Grade: A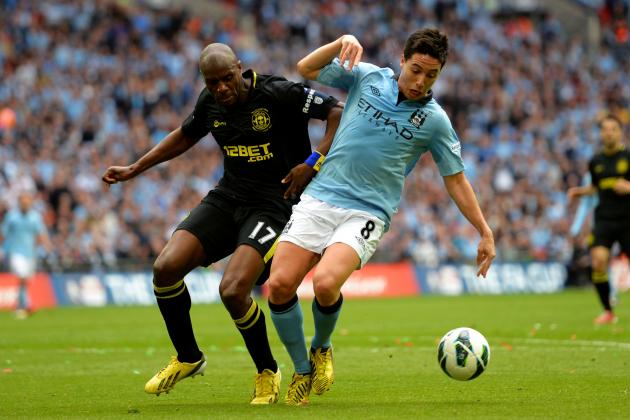 Shaun Botterill/Getty Images
Occasional bursts of brilliance from Nasri were nowhere near enough to save his season.
Samir Nasri was an effective player for Manchester City for the last month of the season.
Which is sort of like a fire truck arriving to douse smoldering ruins hours after fire has consumed a building.
Nasri's first significant act of the season, in the dying moments of the first derby, was notable for all the wrong reasons.
Eventually, Nasri's constant petulance and non-performance led his manager to want to punch Nasri.
Two goals and seven assists in 28 appearances is insufficient for a player like Nasri who, as he showed at the first derby, does not care much about defending.
Just giving Nasri a passing grade feels like a gift.
Final Grade: D
Mike Hewitt/Getty Images
Milner is never shy about getting stuck in.
James Milner was one of the most consistent and reliable Sky Blues this season.
Milner is no one's idea of a prolific creator or gifted scorer. Milner is usually tasked with tracking back on defense to cover for the odd turnover from Yaya Toure, Samir Nasri or David Silva.
City often depends on Milner to break up the counter so the defense can reset and restore order, and Milner is really good at that.
As detailed in their earlier slides in this piece, City's midfield stars all had hit-and-miss years.
Each time Mancini needed the ship steadied at midfield, though, Milner dutifully put in a solid shift.
Unfortunately, though, when Milner is your most consistent midfielder, that actually does not bode too well for your team's chances. But that is not his fault.
Final Grade: A-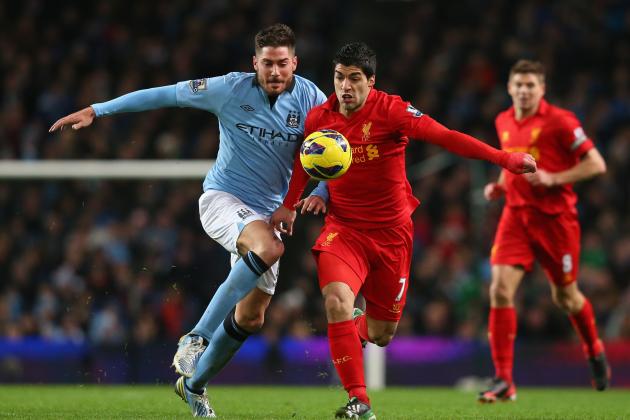 Alex Livesey/Getty Images
Garcia looks like he can play. Looks can deceive though.
Javi Garcia might fairly be the poster man for why City's season ended up being so disappointing.
Garcia was brought in with an outsized reputation as a defensive midfielder. He had to be special defensively, since he had two goals and no assists in 24 appearances.
By late March, though, Garcia had played himself out of Roberto Mancini's rotation. There can be no more damning indictment of Garcia than his inability to see the pitch at all at White Hart Lane in late April or in the recent FA Cup final.
It was a breathtaking fall. Of all the players happy to see Mancini gone, Garcia may well be at the top of the list.
Because under Mancini, Garcia was well below average.
Final Grade: D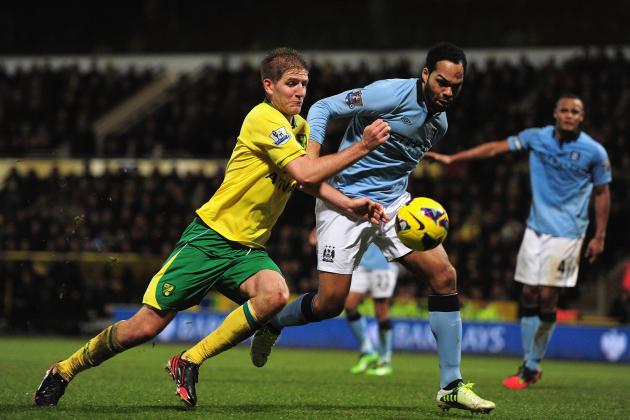 Jamie McDonald/Getty Images
Lescott may have played his way out of Manchester this year.
Joleon Lescott's slow slide to irrelevancy at City is easily traced to his poor effort against Ajax in Champions League play.
For that matter, it may have begun as far back as his brainless back pass in the last match of the 2011-12 season.
Whenever it was that Roberto Mancini lost confidence in Lescott, there can be no doubt that it did happen. Lescott at this point only sees the pitch in matches City is heavily favored to win or as a late, time-wasting substitute.
If Lescott had a memorable moment this season, it does not come quickly to mind.
Final Grade: D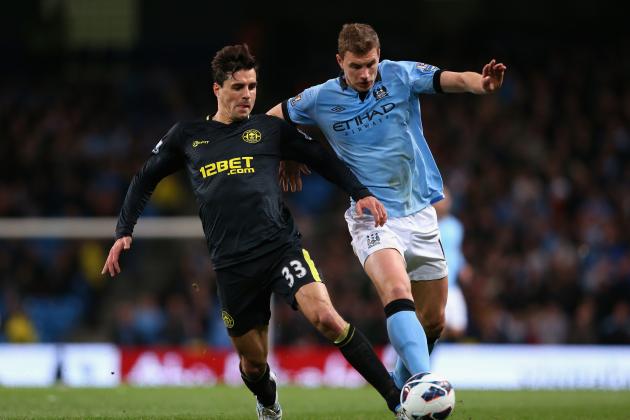 Alex Livesey/Getty Images
Dzeko is a gifted substitute and an ordinary starter on this season's evidence.
Edin Dzeko led Manchester City in goals this season despite making as many appearances as a substitute as he did as a starter. That is hard to do.
But if Dzeko is so good, why is every other story about Dzeko—like this one from Simone Bargellini of Sky Sports—centered on his likely departure from Manchester?
It is tempting to overanalyze what is at work here. Really it is very simple.
Dzeko thinks he is a starter, but every time he starts he seems to float around the pitch paying intermittent attention and occasionally wasting good chances.
His fans will point to how special Dzeko was as a late substitute, saving City's hide more than once in the dying stages of matches. And they are right.
That sort of skill is very useful, but it does not make Dzeko an honor student.
Final Grade: B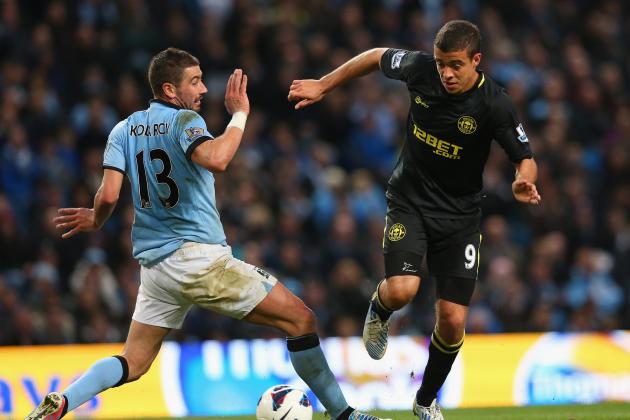 Alex Livesey/Getty Images
Kolarov has become another odd man out at City.
Once an absolute mainstay for City, Aleksandar Kolarov has fallen into the same trap that claimed Joleon Lescott and Javi Garcia.
Through mediocre play and the presence of better players ahead of him, Kolarov has become a depth player at City, little more.
Kolarov was deployed early on as an expert taker of free kicks and corner kicks. By midseason, though, it was apparent that Kolarov had misplaced (if not lost altogether) his pace and placement on those chances.
And without that special skill to lean on, Kolarov found himself further and further from regular minutes.
He has no one to blame but himself.
Final Grade: C-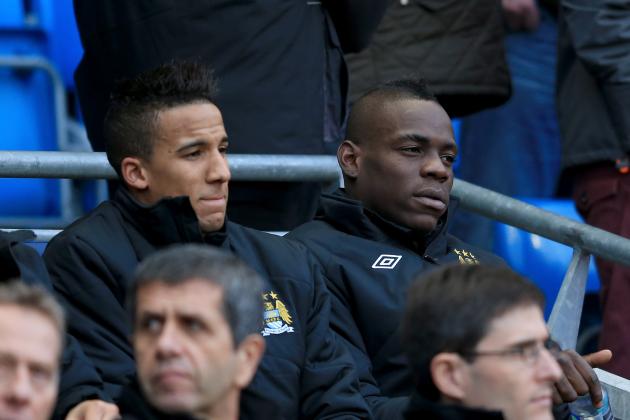 Richard Heathcote/Getty Images
If you ever needed to find Sinclair during a match, this was a good place to start the search.
Scott Sinclair was brought in from Swansea City ostensibly to create chances on the outside and perhaps net a few goals of his own.
Instead, Sinclair's City career initially failed to launch, never did take off at all, and may now be over according to Jack Wilson of the Express.
Sinclair cost City over £6 million to acquire. For that outlay, City received in return two starts, nine substitute appearances, zero goals and zero assists.
Pitiful.
Final Grade: F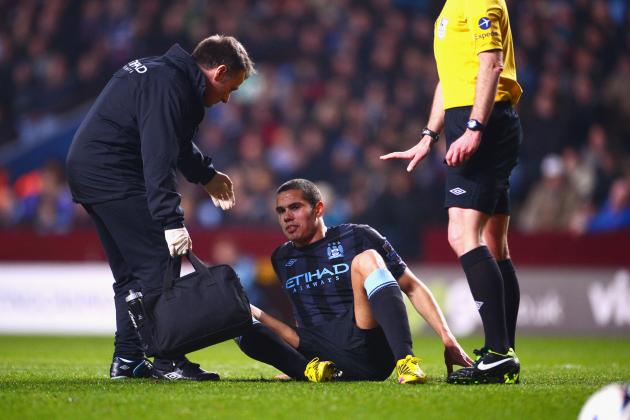 Michael Regan/Getty Images
If you were ever looking for Jack Rodwell during a match, this was a good place to start the search.
No one knows what kind of player Jack Rodwell can be for Manchester City. To date, his body has not let him deliver on the promise of his potential in sky blue.
Roberto Mancini can be faulted for plenty of things in the wake of this lost season. But it was not the Italian's fault that the big prize of the prior summer transfer window managed only 10 appearances, limping off as often as he walked off.
It is too soon to give up on Rodwell's potential. But even after two goals in the season finale, it is also impossible to grade his performance this season.
Final Grade: Incomplete