UFC on FX 8 Results: Questions Heading into UFC 160 Velasquez vs Bigfoot Silva 2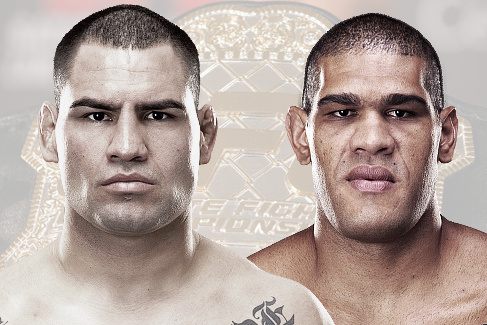 UFC on FX 8 is in the books and the full fight card results can be found below:
Vitor Belfort defeats Luke Rockhold via knockout at 2:32 of Round 1
Ronaldo Souza defeats Chris Camozzi via submission at 3:37 of Round 1
Rafael dos Anjos defeats Evan Dunham via unanimous decision (29-28 x 3)
Rafael Natal defeats Joao Zeferino via unanimous decision (30-27, 29-28, 29-28)
Nik Lentz defeats Hacran Dias via unanimous decision (28-27, 29-28, 29-28)
Francisco Trinaldo defeats Mike Rio via submission at 3:08 of Round 1
Gleison Tibau defeats John Cholish via submission at 2:34 of Round 2
Paulo Thiago defeats Michel Prazeres via unanimous decision (29-28 x 3)
Yuri Alcantara defeats Iliarde Santos via TKO at 2:31 of Round 1
Fabio Maldonado defeats Roger Hollett via unanimous decision (29-28, 29-27, 29-27)
John Lineker defeats Azamat Gashimov via TKO at 1:07 of Round 2
Jussier Formiga defeats Chris Cariaso via unanimous decision (29-28 x 3)
Lucas Martins defeats Jeremy Larsen via knockout at 0:13 of Round 3
The UFC will waste no time getting back into the action after UFC on FX 8 wraps up, heading back to Las Vegas, Nev. for the Memorial Day weekend show at the MGM Grand Garden Arena. That card, which will take place on May 25, will be headlined by a title fight, as heavyweight champion Cain Velasquez puts his crown on the line against Antonio Silva.
As always, there are some questions surrounding the upcoming card. What are those questions, you ask? Well, read on to find out.
Begin Slideshow

»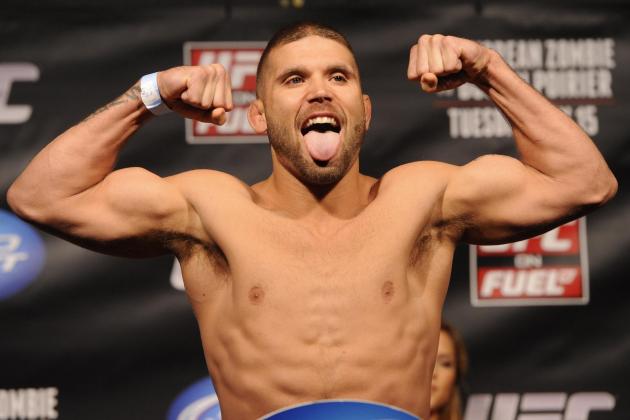 Rafael Suanes-USA TODAY Sports

Jeremy Stephens was scheduled to fight Yves Edwards on October 5, 2012 at UFC on FX 5. The fight didn't happen that night because Stephens had been arrested earlier in the day on an outstanding warrant.
The warrant was for an alleged assault that took place on October 15, 2011 at Fat Tony's Sports Tap in Des Moines, Iowa.
According to the Des Moines Register (h/t to MMAMania.com) Stephens and another man "punched and kicked the victim on his head and body for about a minute." The victim was left "unconscious and stopped breathing twice" and had to be intubated before being taken to a hospital in critical condition.
Stephens has proclaimed that he is innocent of the charges, but the case has yet to go to court.
Stephens should not be denied the ability to make a living while the wheels of justice move slowly forward, but the UFC has to think about its business as a whole. Having a fighter that is soon going to stand trial on two felony charges for an alleged assault is not the best look for the promotion, especially when the UFC is fighting to become legalized in New York.
There is no need to give your enemies ammunition, and having Stephens on the upcoming card with those charge hanging out there may just do that.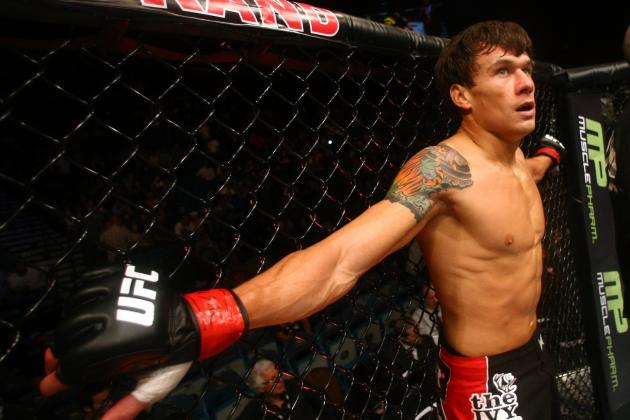 Donald Miralle/Zuffa LLC UFC via Getty Images
Less than three years ago, Brian Bowles was riding high, sitting atop the WEC's bantamweight division after knocking out Miguel Torres to claim the championship belt at WEC 42.
Bowles' reign ended in his next bout when a hand injury left him unable to answer the bell at the start of the third round when he faced Dominick Cruz.
Since that loss to Cruz in March 2011, Bowles has fought three times, going 2-1. However, his last bout was all the way back in November 2011. He lost that fight against Urijah Faber via second-round submission.
Bowles will make his return to the Octagon at UFC 160 facing George Roop far away from the main card, appearing on the Facebook portion of the preliminary fight card.
A refreshed Bowles feels he is ready to make a comeback, but a layoff like the one Bowles is coming back from brings concerns. There are the worries of ring rust, of past injuries and there's always the question of if his heart will be as invested as his head.
Despite his inactivity, Bowles remains ranked in the top 10 of the bantamweight division, coming in at No. 8—a win over Roop and he'll throw his name "in the mix" in the shallow division.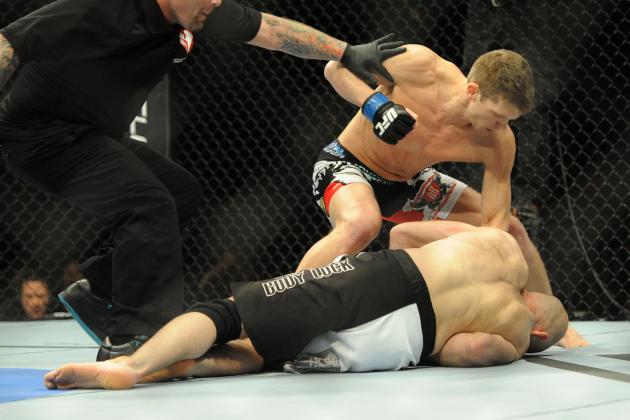 Kelvin Kuo-USA TODAY Sports

Stephen Thompson entered the UFC with a professional MMA record of 5-0 and a kickboxing record of 57-0.
His first fight in the Octagon didn't last long. Thompson stopped Dan Stittgen at the 4:13 mark of the first round via a pretty spectacular and memorable head kick. The "Knockout of the Night" performance ratcheted up the expectations on the fighter known as "Wonderboy."
The relatively green Thompson didn't fair as well in his next bout, dropping a unanimous decision to Matt Brown at UFC 145.
Thompson's next fight was supposed to be at UFC 154, but a knee injury forced him from that event.
He will end his long layoff when he faces Nah-Shon Burrell at UFC 160. Perhaps the time off and placement on the Facebook portion of UFC 160 will lessen the pressure and expectations on Thompson, allowing him to slowly recapture the Wonderboy persona.
Don McPeak-USA TODAY Sports

Khabib Nurmagomedov will enter UFC 160 with a record of 19-0. The 24-year-old Russian fighting out of AKA is coming off of a 1:55 knockout of Thiago Tavares in his last fight and is beginning to hear whispers that he is a future contender in the lightweight division.
The two-time Combat Sambo world champion will meet Abel Trujillo at the MGM Grand. Trujillo is on a five-fight winning streak, but you wouldn't be out of line in thinking that Trujillo is expected to lose this fight. After all, looking at the Fight! Magazine rankings you won't find Trujillo listed among the top 100 lightweights.
Perhaps the matchup is an indication that the UFC is unsure of what it has in Nurmagomedov. The more likely scenario is that the promotion is looking to keep Nurmagomedov's win streak alive and bring him along slowly.
Will the MMA gods, who have been a vindictive bunch, allow Nurmagomedov to reach 20 consecutive wins?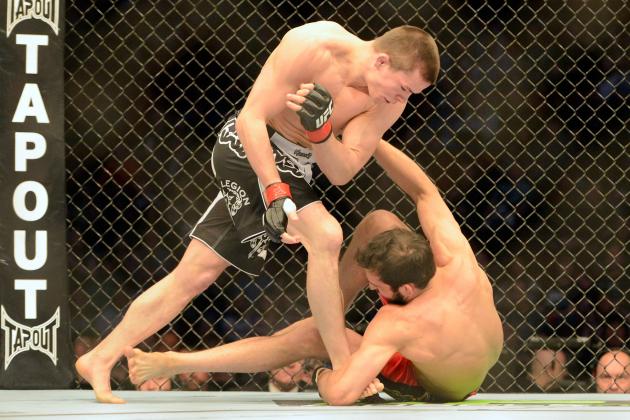 Eric Bolte-USA TODAY Sports

Rick Story debuted in the UFC with a loss to John Hathaway at UFC 99. Following that defeat, he rolled off six straight wins and earned a main event bout against Nate Marquardt on June 26, 2011.
The fight was scrapped at the last minute when Marquardt wasn't cleared to compete. In stepped Charlie Brenneman, who defeated Story in an upset unanimous decision.
Since then, Story has had a rough haul, going 2-2, with his last fight being a first-round TKO victory over Quinn Mulhern.
Story will face Mike Pyle at UFC 160 in what is most likely a make-or-break fight for the welterweight competitor.
If he defeats Pyle, he'll keep moving up the divisional rankings, and at 28 years old another run to the top of the division is not out of the question for Story. A loss to Pyle and Story will most likely settle in as a middle-of-the-pack preliminary card fighter or worse, face release from the promotion.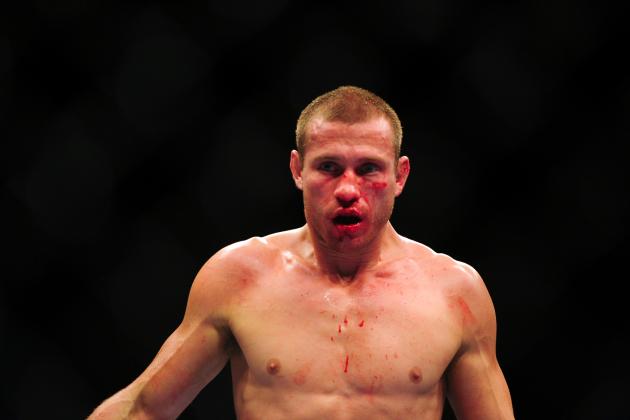 Mark J. Rebilas-USA TODAY Sports

Twice Donald Cerrone has seemingly been a win away from earning a UFC title shot, twice he has tasted defeat.
Cerrone spoke to Shaun Al-Shatti of MMAFighting.com about those defeats:
It's like, I don't know if it's the camera or the pressure, but I've got to figure that out. Whatever makes me fight hard to get there, and then I seem to, like, fold under pressure. I don't know. I'm tryin' to [figure it out]. I got a new sports psychologist tryin' to work those kinks out.
Cerrone will face K.J. Noons at UFC 160. It will be the first fight for Cerrone since he was felled by a brutal liver kick from Anthony Pettis in January of this year.
The table is set for Cerrone to make a statement in this fight. Cerrone could serve notice to the lightweight division that he may have stumbled against Pettis and before that against Nate Diaz, but with the help of his sports psychologist he is ready to make a run back to the top of the division.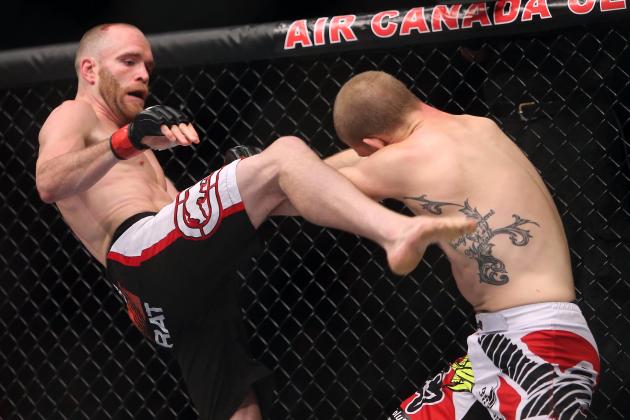 Tom Szczerbowski-USA TODAY Sports

T.J. Grant had a so-so start to his UFC career, alternating wins and losses in his first six contests with the promotion. In those six fights, Grant was competing in the welterweight division.
Grant dropped to lightweight beginning with the October 1, 2011 UFC Live: Cruz vs. Johnson card. Since that time, he has put together a four-fight winning streak and emerged as one of the most unsung title contenders currently competing in the UFC.
A win over Gray Maynard at UFC 160 will earn Grant a shot at UFC lightweight champion Benson Henderson and may also put his name on the lips of more than the hardcore fans who have followed his ascent through the 145-pound rankings.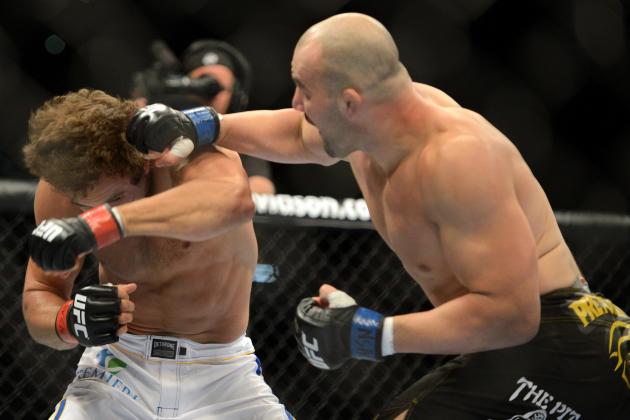 Ron Chenoy-USA TODAY Sports

Glover Teixeira joined the UFC with a great deal of hype behind him.
Since his first fight with the promotion, a first-round submission win over Kyle Kingsbury at UFC 146, that hype has only grown. Teixeira now sits at No. 4 in the promotion's light heavyweight rankings following his last win, a unanimous decision over Rampage Jackson.
Teixeira was originally scheduled to face top-10-ranked Ryan Bader at UFC 160, but an injury forced Bader from the card. James Te Huna will step in for Bader.
Some questions still remain concerning Teixeira, as he's still relatively new to the UFC. He answered some of those questions against Jackson when he walked the walk, telling Jackson he would stand and trade with him and doing just that on his way to the win.
It will be interesting to see how Teixeira responds to facing a fighter that, while dangerous, is ranked lower than he is in the division. Will the favored Teixeira lose a little hunger and look toward his next fight, or will he keep his foot on the gas and look to cement his status as a top-five 205-pound fighter?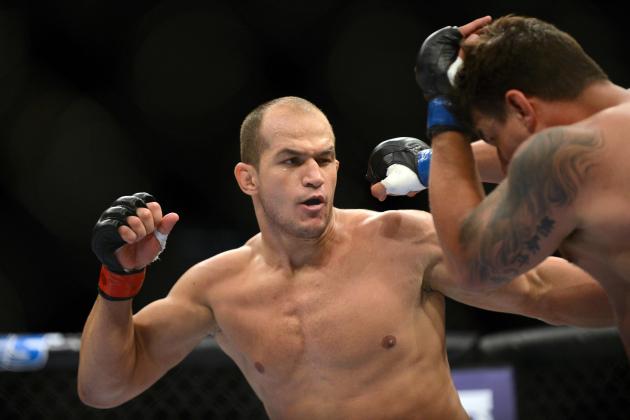 Ron Chenoy-USA TODAY Sports

We know that Junior dos Santos possesses a black belt in Brazilian jiu-jitsu, but will we ever see him use those skills inside the Octagon?
If ever there was a fight where he might want to dust off his ground skills it would the one he has coming at UFC 160 against heavy handed Mark Hunt.
Dos Santos is one of the quickest heavyweights in the UFC, and there's no doubt that he has power in his hands, but does his power match up with that of Hunt and should he be willing to find out the answer to that inquiry?
In addition to avoiding the power of Hunt, Dos Santos may want to think about going to the ground. Hunt has shown that he does not have the greatest submission defense, with six of his seven losses coming by submission.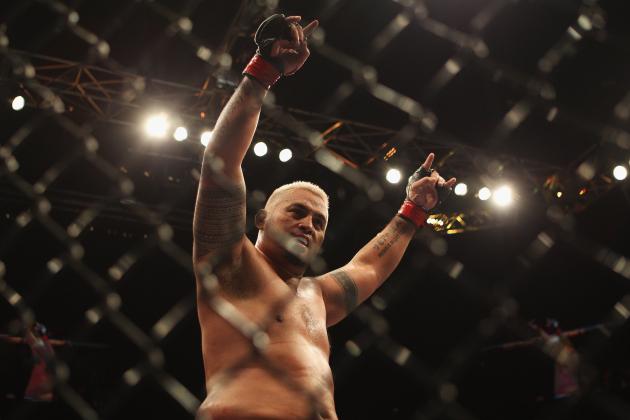 Mark Kolbe/Getty Images

If you don't know Mark Hunt's saga with the UFC, you should. When the UFC purchased PRIDE, Hunt was part of the deal—a part of the deal that the UFC had no interest in keeping. UFC president Dana White told Hunt they would pay him what was owed on his PRIDE contract and let him walk away.
Hunt had no interest in that deal; he wanted to fight for his pay.
So fight he did. Hunt lost his first bout with the promotion, but since that defeat, he has gone 4-0 with three knockouts and two "Knockout of the Night" bonus awards.
A win over former heavyweight champion Junior dos Santos at UFC 160 will likely earn him a shot at the heavyweight title.
Not too shabby for a fighter who was going to be paid to just walk away.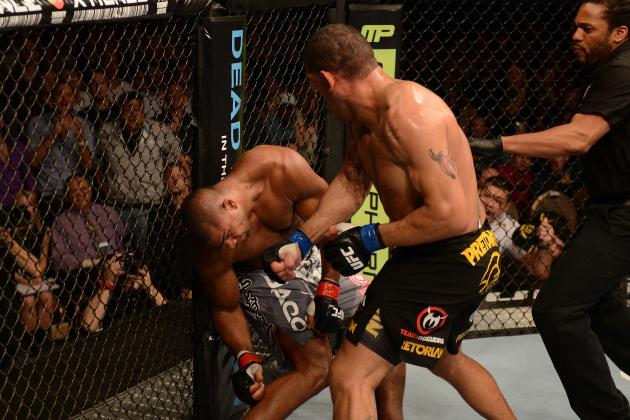 Donald Miralle/Zuffa LLC/Zuffa LLC via Getty Images
When Antonio Silva stepped into the Strikeforce cage against Fedor Emelianenko, he was a plus-325 underdog (23.5 percent chance of winning), according to 5thRound.com. When he faced Alistair Overeem at UFC 156, his odds were a little better but not much. Silva was a plus-235 (29.85 percent chance of winning) underdog against Overeem, according to MMA Odds Breaks.
Silva ended both of those fights early, pummeling Emelianenko bad enough that the doctor would not let him continue into the third round. Overeem lasted a bit longer, making it to the 25-second mark of the third round before being knocked out by Silva.
When Silva enters the Octagon to face Cain Velasquez at UFC 160, he will be facing even longer odds than he did against Emelianeko and Overeem, according to Best Fight Odds. Will he be able to once again defy the odds and come out the victor?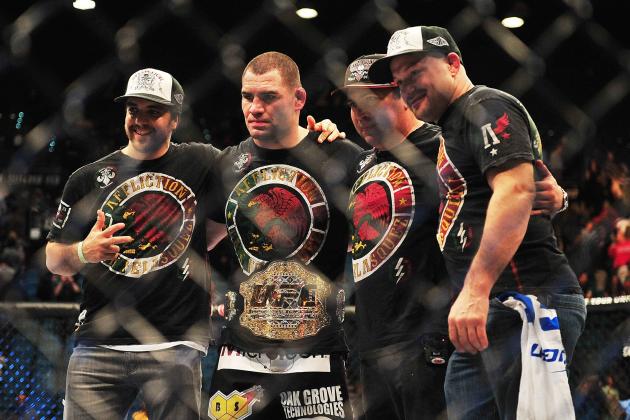 Gary A. Vasquez-USA TODAY Sports

The UFC heavyweight title has been cursed. Removing interim titles from the equation, let's take a look at the heavyweight title defenses, starting with when Randy Couture took the title from Tim Sylvia at UFC 68.
Couture would defend the belt with a win over Gabriel Gonzaga at UFC 74. During that victory, Couture suffered a broken arm, but it wasn't the broken arm that kept him from defending the title. It was a contract squabble with the UFC—a squabble that kept Couture out of the Octagon until UFC 91, when he lost the title to Brock Lesnar.
Lesnar defended his title against interim champion Frank Mir at UFC 100. A bout with diverticulitis knocked Lesnar out of action following that win and he would not return until UFC 116, defeating Shane Carwin. Lesnar would lose the title in his next attempted defense, getting knocked out by Cain Velasquez at UFC 121.
Injury prevented Velasquez from defending the title for more than a year. When he did step into the Octagon, he was knocked out by Junior dos Santos in 64 seconds.
Dos Santos fought Velasquez with an injury, an injury that he had repaired following his win. Rehab from the surgery prevented him from defending the title until May 2012, when he defeated Frank Mir.
In a surprising turn of events, Dos Santos was able to defend the title in December 2012, losing to Velasquez in a five-round rematch.
So, here we are.
UFC 160 is quickly approaching and one has to wonder: Will the winner of the Velasquez vs. Silva fight be healthy enough post-fight to end the string of injuries and illnesses that has followed the heavyweight crown, and if so, will that fighter break the other curse on the title? The one where no UFC heavyweight champion has been able to defend the crown more than two times in a row.
Someone needs to break both these curses.