Preakness Post Positions 2013: Final Breakdown and Predictions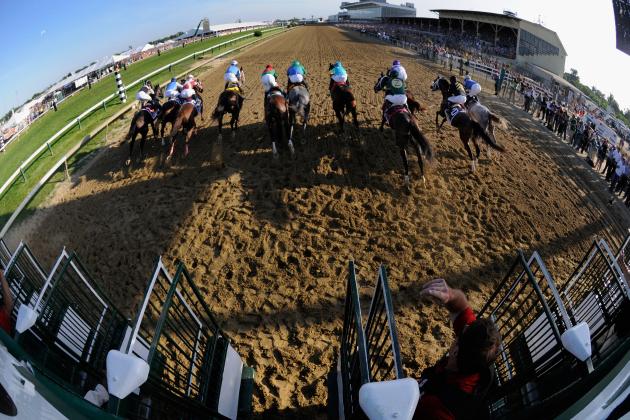 Rob Carr/Getty Images
Nine will break from the gate in Saturday's $1 million Preakness Stakes.
It is time to get our "Preak on" with a field of nine lining up to go in the $1 million Preakness Stakes at Pimlico Race Course in Baltimore, the second jewel of racing's Triple Crown.
Kentucky Derby winner Orb takes on five foes he soundly beat in the slop at Churchill Downs two weeks ago along with three fresh faces that bypassed the Run for the Roses.
A win by Orb, who is even money on the morning line, will send the talented colt to New York in three weeks to attempt to become the first Triple Crown winner since Affirmed in 1978.
But first he has eight foes standing in his way in Baltimore before we start really analyzing his true Triple Crown chances.
Here is my final breakdown on how each of the nine runners will fare in the Preakness, with horses listed in reverse order of predicted finish.
Begin Slideshow

»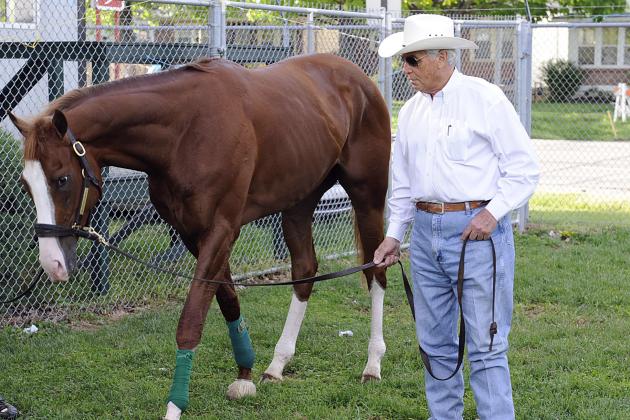 Jamie Rhodes-USA TODAY Sports
D. Wayne Lukas will saddle three in the Preakness, including Titletown Five.
Last-Minute Analysis
This colt is one of three that will be sent out by Hall of Fame trainer D. Wayne Lukas, and he will be the biggest price in the field. The colt just has not shown he is good enough to be competitive in this field, although he will make an impact early.
The colt showed a ton of promise with a big maiden win last fall at Churchill Downs but has not run back to that effort in his three starts in stakes company.
Prediction
The colt is going to be the biggest price on the board, likely close to his 30-1 morning line. He figures to press the early pace and then begin to fade at the top of the stretch, backing out of it at the eighth pole and finishing at the rear of the pack.
The colt would have to show a major improvement to land in the money, and I just do not see it. He will not make it on to any of my tickets. If he does manage to somehow land in the money, my trifecta and superfecta tickets will be dead.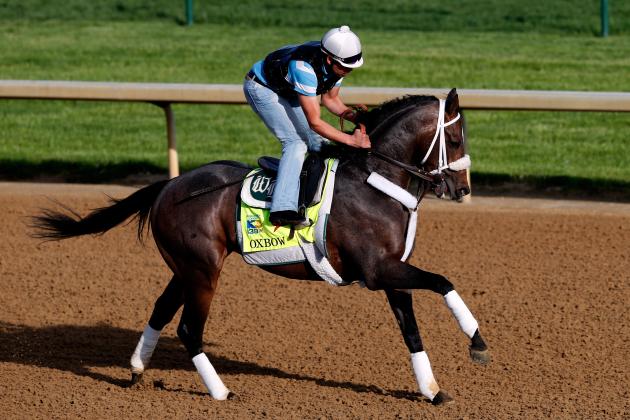 Rob Carr/Getty Images
Oxbow is looking to improve off his Derby finish.
Last-Minute Analysis
The colt may end up shorter than his 15-1 morning-line price because he was in the hunt in the Derby. He went off at 24-1 and did make a good middle move before tiring in the final furlong to finish sixth.
The Lukas trainee could not beat his stablemate Will Take Charge in the Derby, and I do not think he will in the Preakness either.
Prediction
Gary Stevens should have this colt sitting fairly close to the pace early, then the colt will make a move turning for home, but he will not be able to sustain his bid and will weaken to finish eighth.
If he runs back to his head loss in the Rebel back in March, he could be in the mix. But I am going to take a stand against him and toss him from any shot of landing in the money.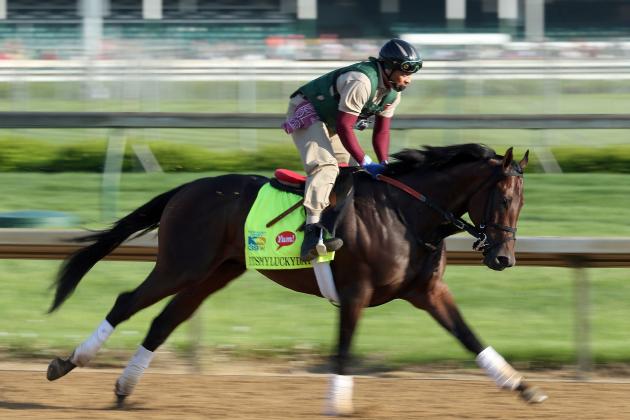 Andy Lyons/Getty Images
Itsmyluckyday was not so lucky on Derby Day.
Last-Minute Analysis
This colt just did not fire on Derby Day at odds of 9-1, fading to finish a well-beaten 15th. The colt may have peaked too soon, as he has not been able to run back to his wins in the Gulfstream Park Derby and the Holy Bull at Gulfstream Park earlier this year.
Some might blame it on the sloppy conditions at Churchill Downs, but the colt did win a stake last summer over a sloppy track at Calder. He picks up Hall of Fame rider John Velazquez, which is a plus, but that will not be enough to get it done.
Prediction
The Eddie Plesa trainee is quick enough to be in the mix early and should be sitting just off pace as they hit the first turn, likely sitting in third.
When the real running starts—when they turn for home—the colt will still be a forward factor and will likely start to tire with a furlong to go.
The colt will take some betting action and may actually be a point or two lower than his 10-1 morning line. I will use him in the bottom of my trifecta and superfecta tickets, but I don't think he can crack the exacta.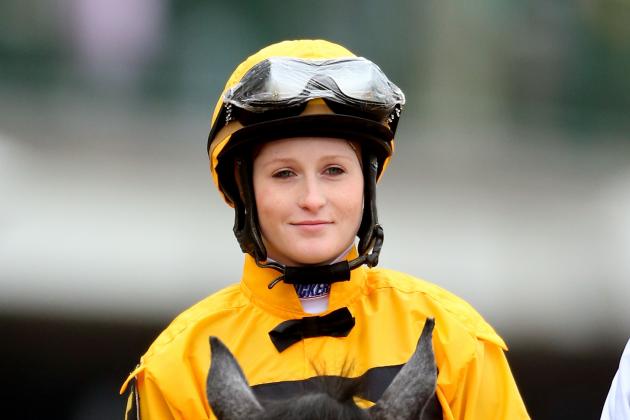 Andy Lyons/Getty Images
Rosie Napravnik is looking to become first female jockey to win the Preakness.
Last-Minute Analysis
The colt was fifth in the Derby, and with the runner-up, third- and fourth-place finishers in the Run for the Roses no-shows for the Preakness, this horse will certainly get some attention.
Add the fact he will be ridden by Rosie Napravnik, who started her career in Maryland, and that could add up to this colt getting a bit too much attention at the betting windows.
The colt made a good late run in the Derby but is not bred to handle 1 1/4 miles, so the shorter distance here should suit him.
Prediction
Things set up really well for him in the Derby, as the early pace was brutal and the runners up front backed up in the stretch. The colt will be moving late, and Rosie knows the Pimlico surface as well as any of the jockeys, which includes three Hall of Famers.
The popular jockey will need to work out a perfect trip and should be coming late, but a minor share is likely the best this colt is going to be able to muster. There are several others in here with similar ability that will be better prices.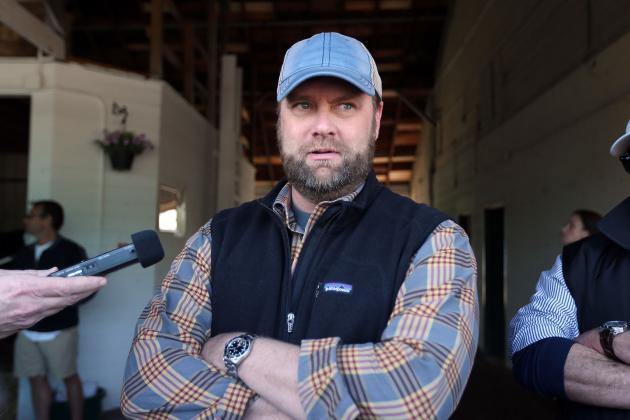 Andy Lyons/Getty Images
Trainer Doug O'Neill is looking for a second Preakness in a row with Goldencents.
Last-Minute Analysis
Saddled by last year's winning Preakness trainer Doug O'Neill, Goldencents was a major disappointment on the first Saturday of May. The colt did have an excuse, as he was up on a very sharp, early pace. He faded to finish a well-beaten 17th, with jockey Kevin Krigger easing him up in the stretch.
The colt has given every indication over the past two weeks that he is likely to bounce back with a much better effort, and if he runs back to his win in the Santa Anita Derby, he will be right in the hunt.
Prediction
An early-pace threat, the colt figures to be pressing Titletown Five for the early lead, and the fractions figure to be solid. That may soften this colt up enough that he does not have enough punch left in the stretch.
He will likely be in front with a furlong to go, but the late runners are going to get him. I will see him on the bottom of my trifecta and superfecta tickets, but he has a better shot of landing out of the money than grabbing one of the top three spots.
Mitch Stringer-USA TODAY Sports
Departing comes into Pimlico off a win in the Illinois Derby.
Last-Minute Analysis
The Al Stall trainee is one of three in here that did not run in the Derby.
After checking in at third in the Louisiana Derby, Stall elected to bypass the Derby in favor of an easier spot. He found it in the Illinois Derby, where the colt came with a solid four-wide run and drew away to win by 3 1/4 lengths.
It is tough to knock a gelding who has won four of his five starts. He was only beaten by three lengths in the Louisiana Derby behind Revolutionary and Mylute, who came back to run third and fifth, respectively, in the Derby.
Prediction
After a tough post and a wide trip in the Illinois Derby, jockey Brian Hernandez should be able to work out a better trip for this colt.
The jockey likely will have him near the back of the pack, toward the outside, and if the pace is fast enough, things could set up for him in the stretch.
The question is whether he is good enough when he sees the likes of the Derby winner in the stretch, and a minor share is much more likely than taking home the top spot. He would need to improve four or five lengths off his last outing, and that is a lot to ask.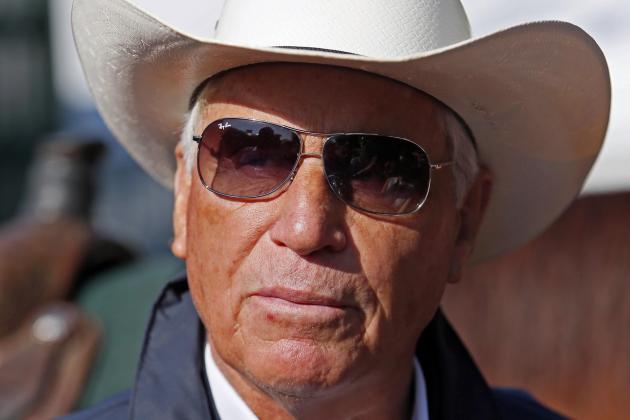 Mitch Stringer-USA TODAY Sports
D. Wayne Lukas will saddle a trio of runners in search of his sixth Preakness win.
Last-Minute Analysis
The third of the Lukas runners, Will Take Charge was eighth in the Derby, having to be put on hold briefly when Verrazano started to fade. A cleaner trip, and the colt would have been more of a threat.
Will Take Charge, who has one of the more appealing pedigrees in the field, gets a key jockey switch here to Hall of Fame rider Mike Smith. The colt is out of the mare Take Charge Lady, a multiple-Grade 1 winner and earner of $2.4 million. The mare also produced Take Charge Indy, last year's Florida Derby winner.
Lukas has won the Preakness five times, the last coming in 1999 with Charismatic. If he is to win his sixth on Saturday, this colt is the most likely of his three to get the job done.
Prediction
The well-bred colt figures to bounce back with a better effort if Smith can get a good trip from off the pace. The colt will be near the back of the pack and likely will angle toward the outside for the stretch run. Smith likely will have his eyes on Orb, and they could be running late as a team.
Will Take Charge would need to run a career best, or we would need to see a regression from the Derby winner for this colt to make it to the winner's circle. However, he is going to be a decent price in this spot and will offer plenty of value in the exacta and trifecta.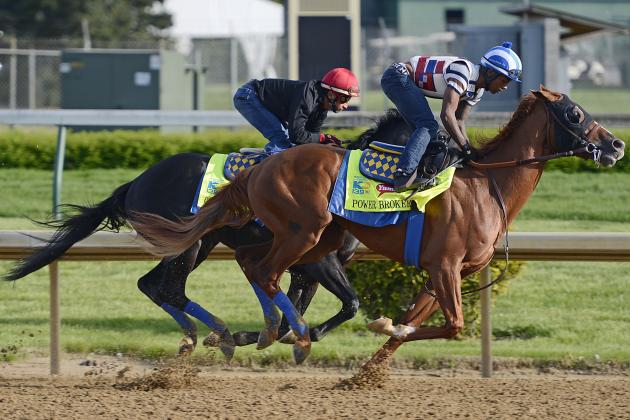 Jamie Rhodes-USA TODAY Sports
Govenor Charlie is one of three newcomers to the Triple Crown trail.
Last-Minute Analysis
Govenor Charlie has not raced since winning the Sunland Derby on March 24, setting a track record in his five-length win. The colt did not beat a very tough group, but he is lightly raced and appears to have as much upside as any contender in the field.
It does not hurt to have Hall of Fame trainer Bob Baffert calling the shots. Baffert has won the Preakness five times and picked up the win in yesterday's Black Eyed Susan with Fiftyshadesofhay.
Minor foot issues knocked him off the Derby trail, and he looks primed for a top effort here. This will be Baffert's first Preakness starter that did not run first in the Derby.
Prediction
Govenor Charlie raced close to the pace in his last two starts but likely will be farther back in this spot. He will need to move forward off his last win to beat the likes of Orb.
With Orb likely to be below even money, this colt is going to offer more bang for the buck if he goes off near his 12-1 morning line.
I am going to give him a slight shot of pulling off the upset and will use him on top of some of my exacta and trifecta tickets.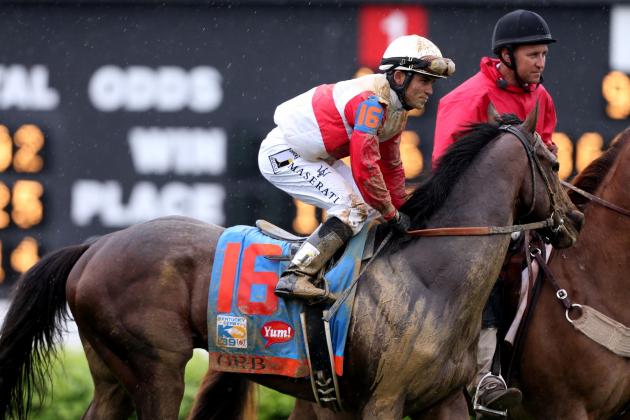 Brian Spurlock-USA TODAY Sports
Orb will be the heavy favorite in the Preakness.
Last-Minute Analysis
Things set up perfectly in the Derby for Orb. He got a brisk, early pace to close into, and he obviously liked the sloppy conditions at Churchill Downs.
The pace will not be as fast, there is a good chance the track will be fast and he goes a shorter distance in the Preakness, which is run at 1 3/16 miles as opposed to the 1 1/4-mile distance of the Derby.
Isn't that a recipe for an upset?
I certainly don't think so. This is a fast-developing colt who is riding a five-race win streak and has his usually conservative trainer Shug McGaughey singing his praises.
I am not one to get excited about backing horses that are going to be such chalk, but I do not think we have seen the best of Orb yet.
Prediction
Jockey Joel Rosario rode Orb perfectly in the Derby and is just in a zone right now, rarely making mistakes or having tough trips. I do not think the colt will be as far back early, although breaking from the rail might be a bit tricky.
If he gets away cleanly, he has a long run to the first turn to get good position. Unless he gets boxed in or finds some type of traffic troubles turning for home, the colt should be sitting toward the outside in fifth or sixth place at the top of the stretch.
Rosario will likely just have to point the way, and Orb should be rolling late, drawing away to win by four or five lengths (returning a paltry $3.80 to win).
Then it is on to the Big Apple.