5 Impressive NHL Playoff Performers Not Receiving Enough Attention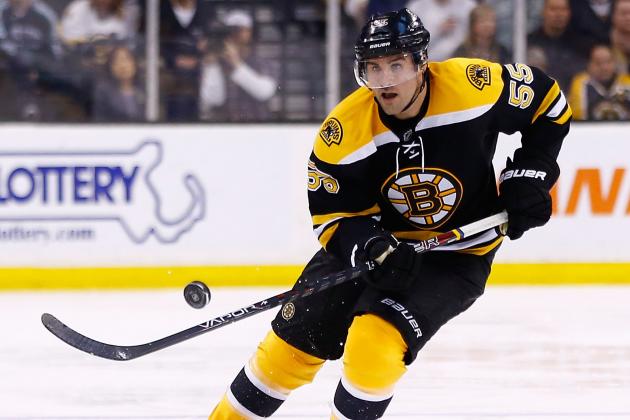 Jared Wickerham/Getty Images

Many of the players who make a strong impact on their team's success during the NHL playoffs are often the guys who don't score a ton of goals or make the highlight reel plays.
We don't often give players enough credit for excelling on special teams, blocking shots and playing good defense. But if teams don't get these kinds of contributions on a consistent basis, whether they come from stars or role players, the challenge of winning the Stanley Cup becomes much harder.
Let's look at five players who aren't receiving enough praise for their impressive performances in the 2013 Stanley Cup playoffs.
Begin Slideshow

»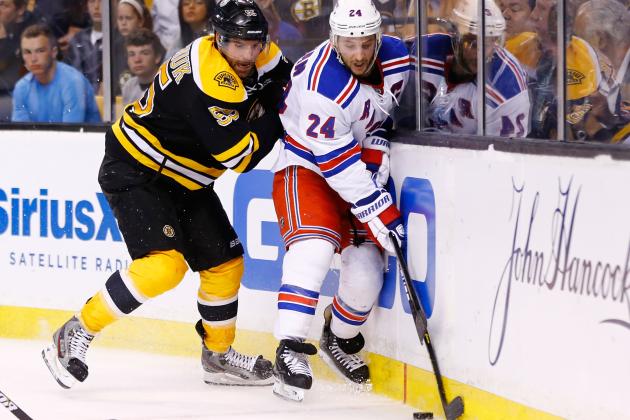 Jared Wickerham/Getty Images

Johnny Boychuk is one of the most underrated defensemen in the NHL as a player with a solid two-way game who is capable of logging a ton of minutes, many of which come against the opposing team's best forwards.
The 29-year-old veteran leads all players with 32 blocked shots in the playoffs and also ranks first among all defensemen with 37 hits.
He averages the second-most time on ice per game (22:52) of any Boston Bruins player while also making an impact on the team's penalty kill, with 2:37 of short-handed time on ice per game.
Boychuk didn't have more than 24 minutes of ice time in any regular-season game in 2013, but with Boston having three veteran defensemen out of the lineup due to injuries, the veteran blueliner has been forced to play over 26 minutes in back-to-back games. Being able to log this much ice time when he blocks so many shots and plays a very physical game is quite impressive.
From an offensive standpoint, Boychuk is useful on the power play with his booming slap shot from the point and his mobility in the attacking zone. He has two goals in the postseason, both of which occurred in the Bruins' seven-game first-round series win over the Toronto Maple Leafs.
Boychuk is playing in a top-pairing role during the playoffs, which is rarely a spot he finds himself in during the regular season. He deserves a lot of credit for taking his game to another level while also playing more minutes.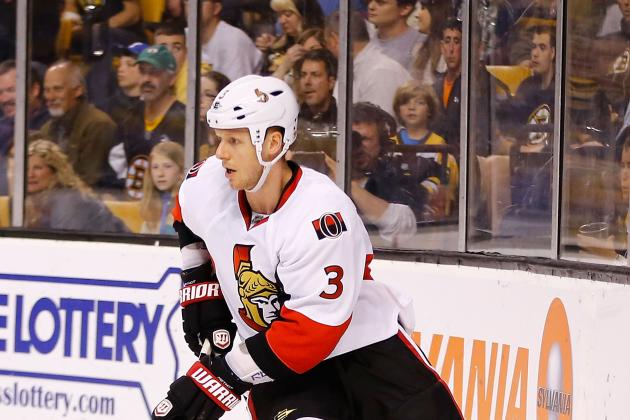 Jared Wickerham/Getty Images

Marc Methot has been a steady presence on the Ottawa Senators' blue line, which has seen its fair share of injuries this year, with reigning Norris Trophy winner Erik Karlsson missing a large portion of the regular season with an Achilles tear.
The 27-year-old blueliner has been just as dependable in the playoffs with five points (one goal, four assists) and a plus-two rating. Methot also ranks third on the Senators in time on ice per game (21:26), and he's been forced to play against a lot of the best forwards on the opposing team.
From a defensive standpoint, the veteran defenseman ranks second on the team in hits (21) and third in blocked shots (eight). He also doesn't make a lot of mistakes in his own zone by making the simple plays and wears down opponents with his physical style of hockey.
Methot's dependable two-way game has played a key part in the Senators reaching the second round of the Eastern Conference playoffs following an opening-round upset of the rival Montreal Canadiens in five games.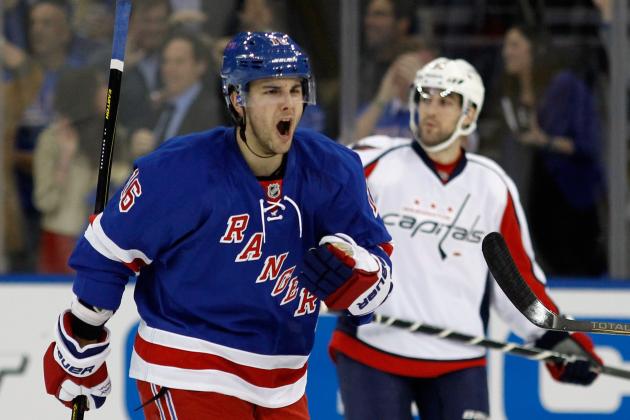 Bruce Bennett/Getty Images

Derick Brassard has been one of the New York Rangers' best players since he was acquired on trade deadline day in early April in a deal that included star winger Marian Gaborik being sent to the Columbus Blue Jackets.
Brassard has been the Rangers' best offensive player in the postseason with a team-leading 10 points and eight assists (none of his teammates have more than four assists).
He's also making an impact defensively. Brassard has the second-most takeaways among forwards in the playoffs, he's won 50.9 percent of his faceoffs and his 20 hits rank fourth on the Blueshirts among forwards.
Even when he doesn't tally a point, Brassard still finds ways to help his team score goals. In the Rangers' 3-2 overtime loss to the Boston Bruins in Game 1 of their second-round series on Thursday, the young center screened goaltender Tuukka Rask to help Ryan McDonagh's shot from the point find the back of the net to tie the score at 1-1 going into the third period.
When you also consider the fact that this is the first postseason of Brassard's career, his remarkable performance is even more impressive.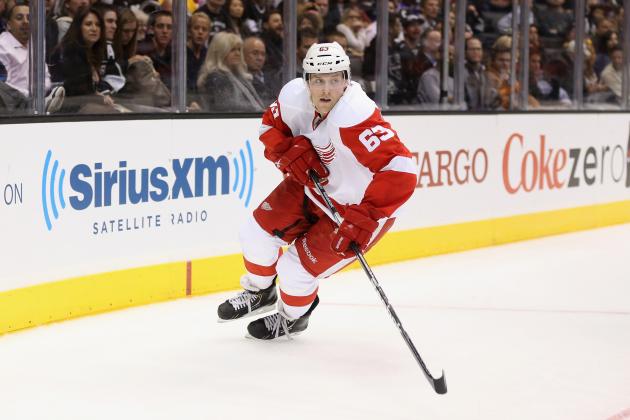 Jeff Gross/Getty Images

Joakim Andersson has done a tremendous job giving the Detroit Red Wings a responsible third-line center who makes a strong impact at both ends of the ice.
The 23-year-old rookie ranks 12th among all players with 62 faceoff wins in the playoffs, including a 53.4 faceoff percentage (10th best in NHL). Andersson also has a strong work ethic, fights for pucks in the dirty areas and he's not afraid to take shots if the opportunity is present.
He has two assists in eight games, including an assist on Damien Brunner's winning goal in overtime of Game 4 in Detroit's first-round series against the Anaheim Ducks.
Andersson is going to be a quality depth player for the Red Wings over the next few years, and it's encouraging for head coach Mike Babcock to see the improvement he's made in the 2013 playoffs. Despite his lack of playoff experience, Andersson is reliable enough to play in any type of situation, including special teams.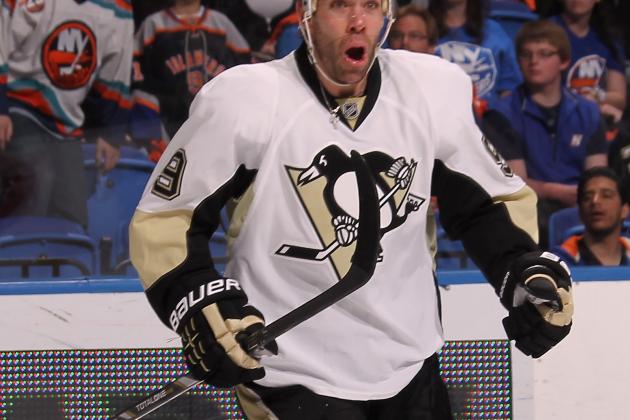 Bruce Bennett/Getty Images

Pascal Dupuis is one of the many Pittsburgh Penguins forwards who is producing offensively in the playoffs, but he's not receiving as much praise as superstars like Sidney Crosby, Evgeni Malkin and Jarome Iginla.
The veteran winger ranks fourth on the Penguins in scoring with eight points, and he's tied with Chicago Blackhawks star Patrick Sharp for the most goals scored in the playoffs with six.
Dupuis is also making a solid contribution defensively with 3:22 of short-handed time on ice per game (second-most among Penguins forwards) and 22 hits (second-most on team).
Pittsburgh won't win the Stanley Cup unless its role players make positive impacts at both ends of the ice, and with Dupuis playing at such a high level, it makes the Penguins a much tougher team to beat because opposing coaches cannot focus on just shutting down stars like Crosby and Malkin.
Nicholas Goss is an NHL lead writer at Bleacher Report. Follow him on Twitter. Nick was a credentialed reporter at the 2011 Stanley Cup Final and 2012 NHL playoffs, and he is also a credentialed writer at the 2013 NHL playoffs in Boston.