New York Mets vs. Chicago Cubs: Matt Harvey Live Score, Analysis and Reaction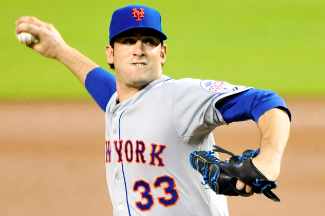 SCORE UPDATE:
FINAL: Cubs 2-3 Mets
W: Harvey (5-0)
L: Jackson (1-6)
S: Parnell (5)
HR- NYM: Wright (6), Murphy (3)
Schierholtz flies out to Baxter in left and the Mets win!
If things hold, Harvey would get the win and Jackson takes the hard-luck loss.
Soriano grounds out to Wright and there are two quick out.
Mike Baxter comes in to play left, replacing Lucas Duda. Bobby Parnell will "bat" in the fifth spot while Baxter would bat in the nine hole.
Rizzo gets under a fly ball to right that Byrd catches in the alley about 20 feet in front of the track.
Kyuji Fujikawa will pitch for Chicago.
After a John Buck strikeout, Rick Ankiel should have been out on a foul out between first and home.
However, Castillo and Rizzo collide and the ball drops. An error is charged to Rizzo, but it is all for naught as Ankiel strikes out.
Not smart baseball for the Cubs the last 20 minutes.
Ike Davis pops out to second and Bobby Parnell will try and slam the door for the Mets.
A replay of Barney getting thrown out shows the third base coach made just a horrific decision. Byrd was about 50 feet behind first when he threw.
Castro grounds out to third and Harvey is in line for the win.
DeJesus singles to right.
David Bell waives Barney home, but Byrd's throw beats him by 10 feet. Bad call to send him and a second out.
Greg Burke comes into to pitch, and Starlin Castro will greet him.
So, Harvey's day will go down as a win or loss based partly on what Scott Rice does here. Nice stat, wins and losses.

— Marc Carig (@MarcCarig) May 17, 2013
Darwin Barney bloops te first pitch of the eighth into shallow center for a single. That ens Harvey's run of outs at 14.
Julio Borbon pinch hits out of the pitcher's spot and bunts one to Harvey.
One out, runner on second and that's it for Harvey.
Scott Rice will pitch.
After a Davis grounder to second that moved Wright to third, Russell gets Duda swinging.
Four big outs recorded for Russell.
Wright singles under the glove of Castro at short and the Mets have their eighth hit of the day.
One could have scored that an error as it glanced off Castro's glove.
Wright steals second. Nine on the season for him.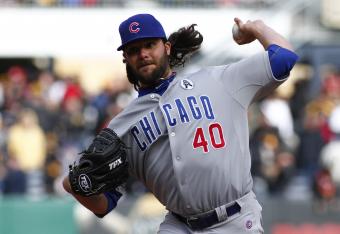 James Russell stays in to start the eighth and gets Murphy swinging on a full count.
Harvey will start the eighth, but the bullpen is stirring.
All six of Matt Harvey's strikeouts have come to an end inning, as Gary Cohen has noted...

— Buster Olney (@Buster_ESPN) May 17, 2013
He fans Castillo to end the seventh.
14 straight retired and six k's, that one swinging.
After Schierhotz grounds out to short, Valbuena flies out to left.
Harvey has now retired 19 out of the last 20. He has mixed in breaking pitches with that devastating fastball.
At 100 pitches, we will see how far he goes.
Byrd flies out to left and it's stretch time at Wrigley.
Pretty close to a full house.
James Russell comes into pitch and Marlon Byrd will pinch-hit for Valdespin.
Harvey's RBI is the second by a Mets pitcher this year.
Harvey singles through the hole at third and Ankiel lumbers all the way home!
Soriano's throw goes through the catcher's glove and that gives the Mets the lead.
That will be all for Edwin Jackson, who pitched deeper into a game today than he had all year.
On a full count, Tejada hits a pop-up to left that Soriano had to race in and catch.
Two out for Harvey.
Love the way @mattharvey33bounced back after the 1st. Sign of a great pitcher in the making @mets

— Dwight Gooden (@DocGooden16) May 17, 2013
Gooden has been nothing less than a cheerleader for Harvey. Frankly, it is great to see.
John Buck starts the seventh by hitting a rocket caught by Schierholtz on the track in right.
Ankiel, then, hits one deeper to right that Schierholtz quit on and ends up on second with a double. Ball was hammered.
Tejada is up and Harvey will pitch the seventh as he stands on deck.
After Rizzo grounds out to first, Soriano goes down swinging.
Harvey is at 92 pitches and has struck out fie through six.
His fastball hitting 97 on the gun on strike three.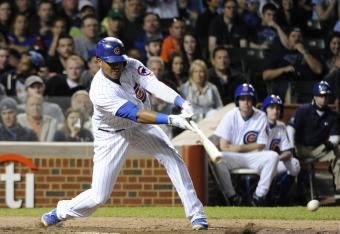 Castro lines one to first that Ike Davis has to play off of himself and is retired after a flip to Harvey.
First time today that Castro has been retired.
Duda slams one down to Barney at second to end the inning. Barney can field.
Jackson is through six, the longest outing for him this year.
This article is
What is the duplicate article?
Why is this article offensive?
Where is this article plagiarized from?
Why is this article poorly edited?