It's been over a decade since 5-star Grand Prairie QB Rhett Bomar emerged from the dressing rooms of a sporting goods store in Irvine, Calif., cheerfully sporting a Crimson and Cream cap.
"It was kind of a joke at first, but we kept talking about it, and it got kind of serious," Bomar said. "Drew (Weatherford) and I went back into the corner with three hats of schools we were considering, and I walked out with an OU hat on."
Despite the informal nature of the announcement, news quickly spread that the nation's top-rated quarterback in the class of 2004 had picked his school. Little did he know that he was about to embark upon a roller coaster of a football career.
Bomar has seen it all in the years since that day at the Elite 11 camp in California.
From the pressure of being the unquestioned No. 1 quarterback in high school football to stepping in for a legend to being unceremoniously dismissed and in search of a football home, Bomar has experienced virtually every high and low college football has to offer.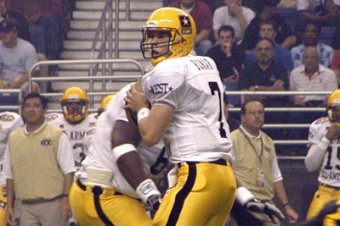 It hasn't broken him.
Bomar is back in his home state this spring, coaching quarterbacks at Orange Grove High School west of Corpus Christi. After being released by the Oakland Raiders last summer, Bomar came back to Texas to clear his head and focus on the next step.
That next step for the 6'2", 225-pounder was supposed to be a journey north of the border to play for the Montreal Alouettes of the Canadian Football League, but he tore his Achilles tendon doing agility work and had surgery to repair it on May 17.
But how did he get to this point?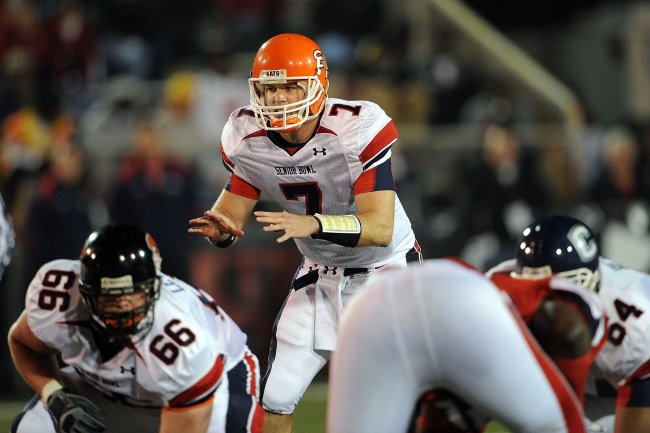 Ronald Martinez/Getty Images
When Bomar was coming out of Grand Prairie High School as the top quarterback in the Rivals.com 100 in the class of 2004, it wasn't a question of if he would succeed, but when.
Alan Zepeda of AggieYell.com broke down the quarterbacks in the state of Texas (subscription required):
Rhett Bomar looks to be not only the top quarterback in the class of 2004 but perhaps even the top player. He is your classic drop-back quarterback who can run also. He has a strong arm plus has the smarts of being a coach's son. Only thing to worry about is he is standout baseball player who will be a high draft choice.
That's high praise for a high schooler, but Bomar didn't let the pressure get to him.
"I never felt a ton of pressure," Bomar said. "It was more excitement. At that time, you're just a kid. I just took it in stride. I was confident in my abilities. I enjoyed it and had fun with it."
His recruiting process came down to two schools—Oklahoma and in-state power Texas.
The Longhorns were coming off an 11-2 season in 2002, having lost to the Sooners 35-24 in a game that ultimately cost them the Big 12 South title. Chris Simms was taking the snaps in Austin, with Vince Young waiting in the wings.
Meanwhile, Oklahoma was clicking on virtually all cylinders. The Sooners held the No. 1 or No. 2 ranking into November, before losses to Texas A&M and Oklahoma State knocked them out of the national title hunt.
It was after that season, in the summer of 2003 while at the Elite 11 camp in Irvine, Calif., that Bomar—then a rising high school senior—made his college decision.
The rather informal commitment quickly made the rounds on the Internet, but the way Bomar announced his college decision wasn't without regret.
"It was kind of stupid," he said. "I look back on it and think, 'That's not really the way I pictured it,' because after that, everything went so fast. Before I had a chance to talk to anyone, it was already out on the Internet that I had committed to Oklahoma."
Bomar credits his relationship with the entire coaching staff at Oklahoma as one of the key factors in his decision to commit to the Sooners.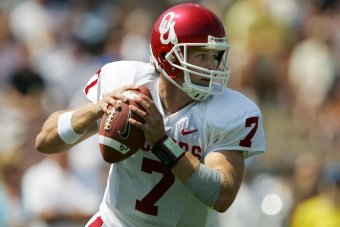 Jeff Gross/Getty Images
"I had a connection with those coaches that recruited my area, but basically their entire offensive staff recruited me," he said. "They were on me early and we were comfortable with them. I liked the entire staff up there, which is what led to my commitment."
During Bomar's senior season in high school, Oklahoma quarterback Jason White came back from two ACL surgeries to win the 2003 Heisman Trophy as a junior. Meanwhile, redshirt freshman Vince Young was taking snaps for Texas.
Due to Young's star turn in Austin, analysts and fans alike posited that Bomar would get on the field for meaningful action more quickly in Norman. However, Bomar says this did not play into the decision-making process.
"I get asked that a lot, but at that time, they really didn't know what Vince Young was going to be," Bomar said. "People tell you all kinds of stuff like, 'He might be a receiver,' and things like that. When you're going to one of those big programs, you're going to have to compete with somebody."
Bomar effectively ended his recruitment early when he picked the Sooners the summer before his senior season. Opting out of over six months of the recruiting process has left Bomar wishing he would have enjoyed the process a bit more and at least taken all five of his official visits.
"It's something that you'll never get to do again," he said. "I would have made the same decision, I'm sure. At least you still get to experience everything a little more. I went to OU and Texas a ton. I took an unofficial to Florida State and would have probably taken [an official] there. No clue on the other two."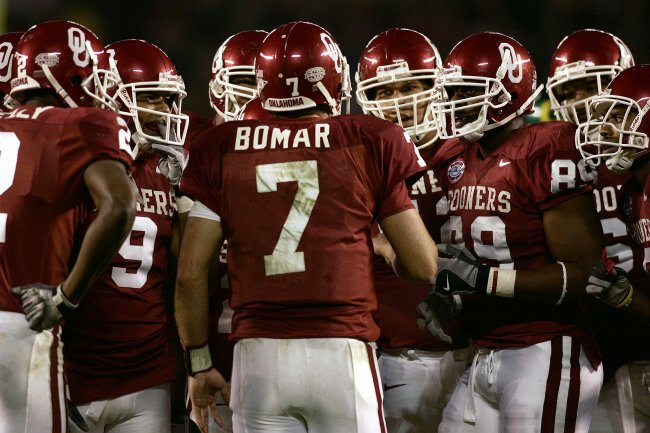 Donald Miralle/Getty Images
That process, however, could be changing in the future.
The NCAA is making a push to deregulate recruiting. Proposals that would allow for off-field staff to recruit and allow recruiters to text prospects without limitation were overridden during the offseason legislative cycle and should stay that way, if Bomar had his way.
"I think it'd be kind of cool at first," he said. "If you're a big-time guy, you'd probably get a little tired of it. I know back in my day, we'd get a lot of calls during that month that they could call you. If coaches could text, those guys' phones would be getting blown up all day."
Bomar's transition to college was a challenge in patience as he went from high school star to redshirt spectator. He spent 2004 behind then-senior Jason White as Oklahoma ran the regular-season table and played in its second consecutive national championship game. When he finally saw the field in 2005, he had big shoes to fill.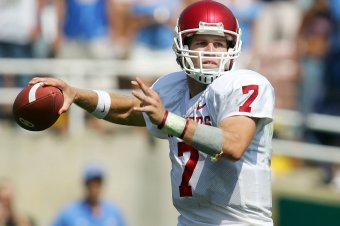 Jeff Gross/Getty Images
"That redshirt year was probably one of the toughest of my life," he said. "You come in as a big recruit and just sit there and wait. It's not fun."
In 2005, he saw limited action in the Sooners' season-opening loss to TCU and started over Paul Thompson the next week versus Tulsa. He finished the 2005 season with 2,018 passing yards, 10 touchdowns and 10 interceptions.
"We had a lot of freshmen playing. Coming in our first game and losing to TCU, that didn't help matters. For me being a high recruit, I had high expectations for myself. It was frustrating not to start the first game of the season. After that, I got to play and we got better and better as the season went on. By the end of the season, I thought we were playing pretty well."
He was in line to be the Sooners' starting quarterback as a sophomore in 2006 but was dismissed from the program after it was learned that he received payment from a car dealership for work he didn't perform. Bomar finished his college career at Sam Houston State and was drafted in the fifth round of the 2009 NFL draft by the New York Giants.
Bomar's roller-coaster career has left him uniquely qualified for his current gig as the quarterbacks coach for the Orange Grove (Texas) Bulldogs.
"I've gone through a lot of stuff during my college career and pro career," he said. "I can always be there to help a kid in the recruiting process and transition, considering all that I've gone through."
Bomar's playing career is in a holding pattern after his Achilles injury, but his time at Orange Grove is preparing him for the next phase in his life—a career in coaching.
Whether he moves into coaching full time right now or gets one more shot as a quarterback, his experiences as a prospect have prepared him to take the leap into coaching when his playing days come to a close—especially if he's fortunate enough to coach a top-tier quarterback.
As for now, Bomar has this advice for the star quarterbacks of the 2014 cycle: "You have to find the best fit. Everybody's goal is to go to the next level. I always say, an offensive-minded head coach is preferably the best, somebody that can develop you for the next level and help you accomplish all your goals."
Bomar also hopes to impress upon high school players the importance of trust in the recruiting game.
"You have to sift through all of the stuff you hear from coaches because they're selling their program," he says. "Find a program you can be comfortable with because you never know if a coach is going to be there for the full four years."
For now, Bomar's goal is to get back to 100 percent.
If a team takes a chance on him, he'd be all for continuing his playing career. But if his injury forces him into coaching full time, he'll have plenty of life lessons to teach his players. Despite the roller-coaster career, Bomar has maintained his love for the game of football and is looking forward to it remaining a big part of his life for years to come.
"As of this year, I'll be coaching down here. If I play again, I can't really say at this point. But either way, it will be a good experience for me."
*Barrett Sallee is the Lead SEC College Football Writer for Bleacher Report. Unless otherwise noted, all quotes were obtained firsthand.
For more of Bleacher Report's exclusive CFB Recruiting 200 Signature Series content check out the hub page.