Preakness 2013 Odds: Betting Guide and Tips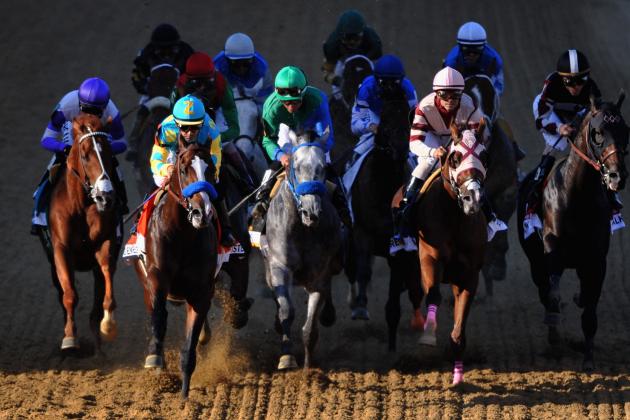 Rob Carr/Getty Images
Nine will line up in Saturday's $1 million Preakness Stakes
The $1 million Preakness Stakes is upon us, with a field of nine lining up to go 1 3/16 miles at Pimlico Race Course in the second jewel of racing's Triple Crown.
All eyes will be on Kentucky Derby winner Orb, who rolled down the sloppy stretch under the Twin Spires at Churchill Downs to win the Run for the Roses by 2 1/2 lengths.
The colt is even money on the morning line to win the Preakness, with his chances enhanced by the fact the runner-up, third- and fourth-place finishers in the Derby are skipping the race.
It will be exciting to watch the race, but it will be a lot more fun if we can pad our wagering bankroll.
Here is a betting guide to the Preakness along with betting tips for the race.
Begin Slideshow

»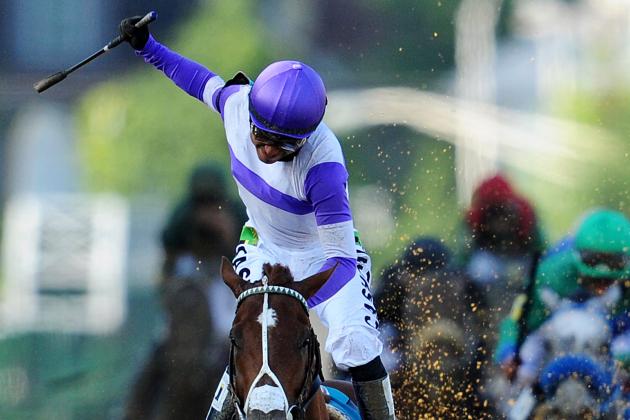 Patrick Smith/Getty Images
I'll Have Another paid $8.40 to win in the 2011 Preakness
The most traditional and well-known wagers in horse racing are Win, Place and Show bets. To cash a Win bet obviously your selection actually has to win the race. That sounds pretty simple. A $2 win wager on Orb in the Kentucky Derby returned $12.80.
To cash a Place bet your selection has to run first or second. Since there are two payoffs, the returns generally will be smaller than with a Win wager. Orb returned $7.40 to Place, and long shot Golden Soul paid a hefty $38.60.
With a Show wager, the pool is split three ways, and all your selection needs to do is finish in the top three to cash.
In the Derby, which usually has a 19- or 20-horse field, such traditional wagering can produce a nice windfall. In the Preakness, with a nine-horse field and a heavy favorite, that may not be the case.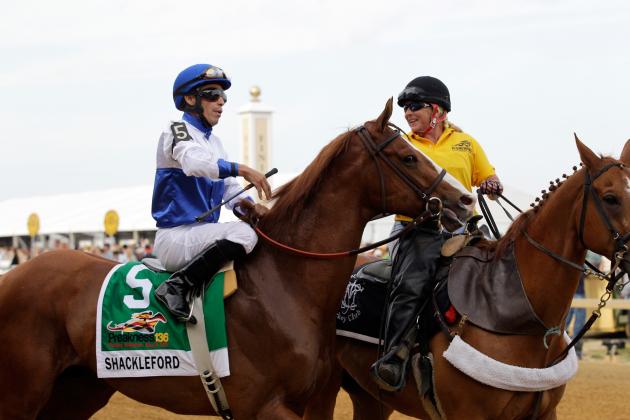 Rob Carr/Getty Images
2011 Preakness winner Shackleford topped a $114.80 exacta
If you are looking for a bigger windfall, a few of the exotic wagers being offered on the Preakness might be more your style. They are higher risk bets, but the rewards can far outweigh traditional Win, Place and Show betting.
With Derby winner Orb likely to be sent off at less than even money, I am going to focus my wagers on the exotics.
If Orb does win, his Win price is likely going to be $3.80 or $4.00 for a $2 wager. If he runs in the money, the Place and Show payoffs will be deflated as well.
Orb topped a $2 Exacta with long shot Golden Soul that paid $981.60 in the Derby, but with a smaller field and Orb a heavier favorite, expect shorter prices in the Preakness unless the Derby winner fails to fire his best.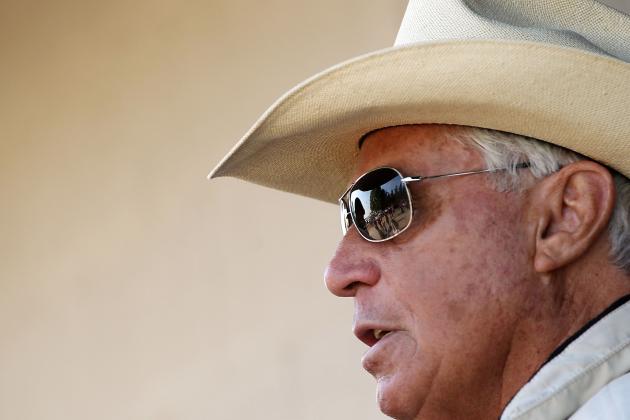 Jamie Squire/Getty Images
D. Wayne Lukas sends out a trio of runners, with Titletown Five the biggest longshot
In the Kentucky Derby, it is fairly easy to find runners that have little chance to finish in the money. In some years, more than half the field can be eliminated.
In this year's Preakness, it is a bit more difficult to do. Because the field has just nine runners, I am going to use five, which means I have to toss four.
Titletown Five is the easiest. The colt was fourth in the Derby Trial and just does not look quick enough. I do not think Itsmyluckyday is going to bounce back from his 15th in the Derby, and Oxbow fails to make the cut.
The most difficult toss was Mylute, who is the second choice on the morning line at 5-1. With Pimlico favorite Rosie Napravnik in the irons, the colt just has the look of an underlay.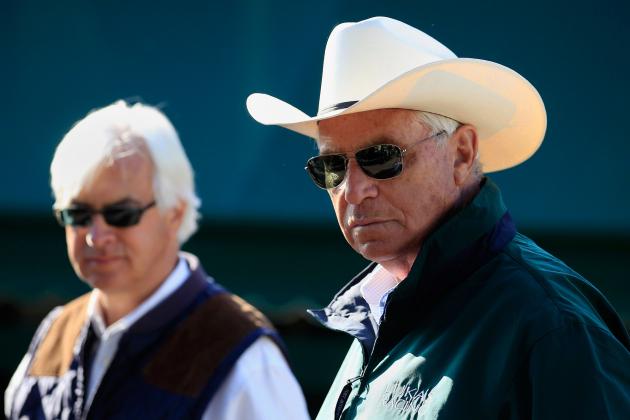 Rob Carr/Getty Images
Hall of Famers Bob Baffert and D. Wayne Lukas both have live longshots in the Preakness
Derby winner Orb is obviously the one to beat and is a must use in exotic betting despite the chalky price that may end up south of even money.
The colt with perhaps the most upside is Sunland Derby-winner Govenor Charlie, and it does not hurt to have Hall of Fame trainer Bob Baffert calling the shots. Baffert has won the Preakness five times.
Will Take Charge was my Derby long shot and did have some trouble when Verrazano backed into him. The colt should be able to improve off his eighth place finish in the Derby. I'll stick with him and trainer D. Wayne Lukas, who also has five Preakness wins.
Departing won the Illinois Derby and looks like the best of the trio of runners that did not run in the Derby. In his previous start he was third in the Louisiana Derby and the duo that beat him, Revolutionary and Mylute, both ran well in the Derby.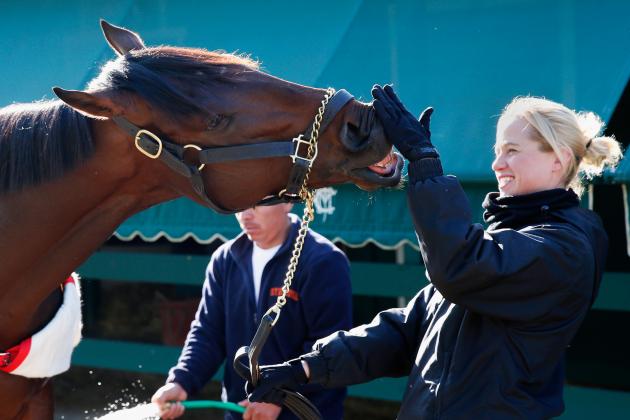 Rob Carr/Getty Images
Derby winner Orb is coming into the Preakness in top form
Horses that run well in the Kentucky Derby usually come back and run well in the Preakness, and there is no indication that Orb is going to regress off his impressive victory on the first Saturday of May.
Granted he had a great trip, he got a perfect pace set up as the early fractions were sharp, and there is no doubt he relished the off going.
The colt worked sharply at Belmont Park, and trainer Shug McGaughey—usually not a trainer that tosses around superlatives—mentioned he thought the work was "breathtaking."
The price is going to be light, but the colt is not facing an imposing group and looks as if he may be headed to the Big Apple in three weeks for a shot at Triple Crown glory.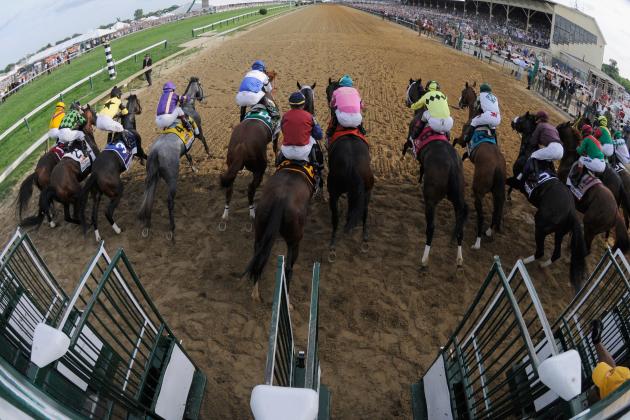 Rob Carr/Getty Images
Exotic wagers may be the way to go in this year's Preakness
A Win wager on Orb is likely to return just $3.80 or $4.00 for a $2 wager, so we will have to get a bit more creative to cash a few tickets that will have an impact on the bankroll.
Unless Orb drifts up in price from his even-money morning line, I am going to look at the exotics and spread my wagering dollars between Exacta, Trifecta and Superfecta bets.
We are not going to see huge windfalls unless Orb fails to run his race, and we could be looking at similar payoffs to last year's Preakness. The favorite Bodemeister (8-5) was run down by second choice I'll Have Another, the $2 Exacta paying $18.60 and the Trifecta with Creative Cause (6-1) returning $70.80.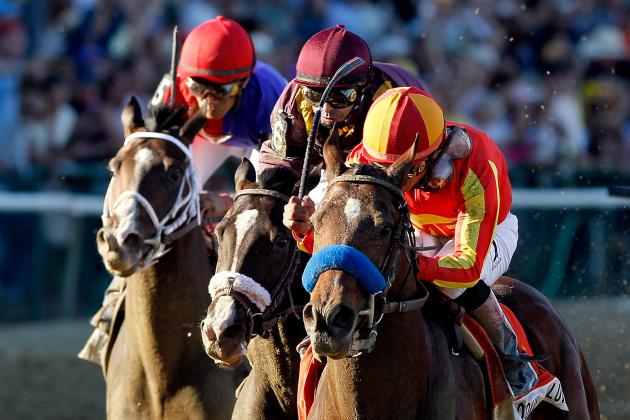 Matthew Stockman/Getty Images
Lookin At Lucky topped a $2 Exacta in 2010 that paid $188.60
The Exacta starts with Orb, and the play is to key the Derby winner on top of a couple of long shots in hopes of getting a generous payoff.
We are going to use three runners in the bottom half of the Exacta play. Those are Govenor Charlie (12-1), Will Take Charge (12-1) and Departing (6-1).
If Orb does indeed win, we might still get a decent reward for our wager. In 2010, Lookin At Lucky paid $6.80 and the Exacta with long shot First Dude returned $188.60.
Big Brown was a huge favorite in 2008 paying just $2.40 to win, but the Exacta payoff with long shot Macho Again still returned $36.30.
Using the betting numbers, a $2 Exacta would look like this: 1 over 4,7,8 ($6 investment).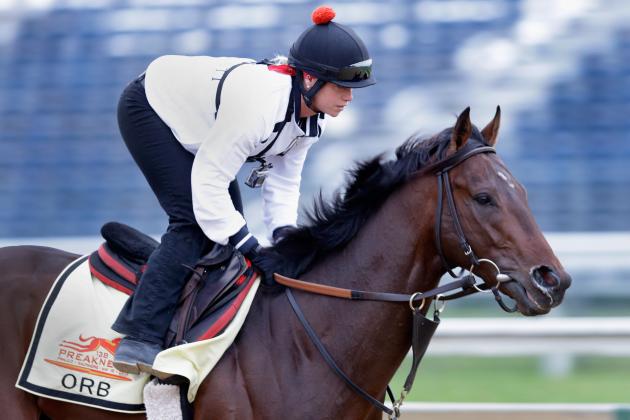 Rob Carr/Getty Images
Orb is going to be the key horse on many Trifecta tickets
Looking for a bigger score than with our Exacta play, I am going to go just bit deeper with our Trifecta wager.
Again, I am going use Orb as my key horse on top and hope we can land a couple of our long shots in the second and third spots.
By using Orb as a single to win, we can also go a little more in-depth for the second and third spots to give us a better shot of hitting the Trifecta.
We will use Govenor Charlie, Will Take Charge and Departing in the second and third spot, and add Goldencents, Itsmyluckyday and Mylute in the third position.
A $1 Trifecta ticket would look like this 1 with 4,7,8 with 2,4,5,7,8,9 ($15 investment).
The minimum increment for a Trifecta wager at Pimlico is 50 cents.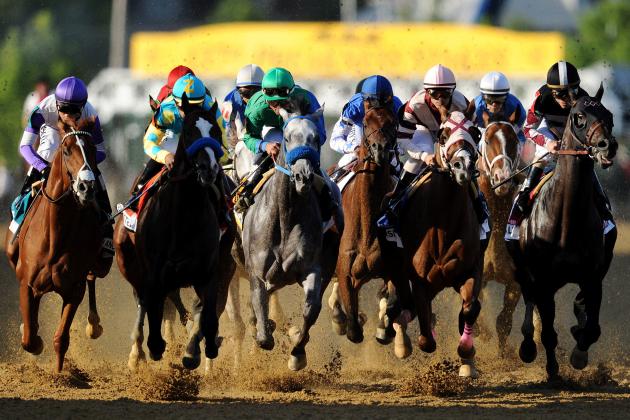 Patrick Smith/Getty Images
Cashing a Superfecta wager is tougher than it looks
To successfully nail the Superfecta, we need to correctly select the top four finishers in exact order. The wager has gained popularity in recent years with the advent of the 10-cent increment.
The lower bet means a horseplayer can cover more possibilities and include a few long shots that normally might not be used depending on the size of the bankroll.
For our Preakness Superfecta, I will go ahead and use 50 cents as the increment and we can still spread a little deeper.
I will use Orb and we will toss in my second choice Govenor Charlie on top, and then use my top four contenders in the second and third spots, and go seven deep in the final spot.
The ticket would look like this: 1,8 / 1,4,7,8 / 1,4,7,8 / 1,2,4,5,7,8,9 ($24 investment based on a 50-cent increment).
As long as Orb or Govenor Charlie manages to win, we are spread deep enough to hopefully cash our ticket.
Enjoy the Preakness and let's pad the bankroll!