The New York Knicks battled to an 85-75 victory over the Indiana Pacers in Game 5 on Wednesday night, meaning the Miami Heat's scouting staff will have to continue manning double duty for another few days.
It was a win-or-go-home scenario for the Knicks (who now trail 3-2 in this best-of-seven series), and they responded with their best defensive performance of the series. New York held Indiana to a series-low in points, forced 19 turnovers and kept the Pacers to a sub-40 field-goal percentage (36.2) for the second time in the series.
Carmelo Anthony put up 28 points to lead all scorers (on 12-of-28 shooting from the field), while reserves Chris Copeland and J.R. Smith poured in 13 apiece.
With the Knicks' win, the Heat now know when they'll be playing next. Game 1 of the Eastern Conference Finals is set to tip off at 8:30 p.m. ET on Wednesday (via Ira Winderman of the South Florida Sun Sentinel), giving Miami a full six days of rest after its series-clinching 94-91 win over the Chicago Bulls.
It also means the Heat will have at least another 48 minutes of game footage to review of their next postseason opponent. But the film sessions that have already been underway should have yielded a few clues about passing either of the potential stepping stones in Miami's quest to defend its crown.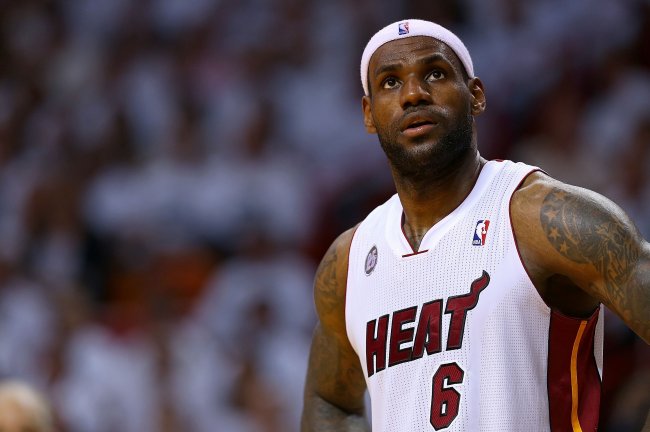 Mike Ehrmann/Getty Images
Since the Pacers have the series lead, they'll be the first team put under the microscope.
Indiana prefers to play a tough, physical brand of basketball similar to what Miami saw in its series against Chicago. The Pacers, though, have a better post-scoring tandem in Roy Hibbert and David West, and Indiana's hard to contain when its twin towers are producing together.
That was not the case in Game 5.
West racked up points early and often, scoring 17 points on a 7-of-17 shooting night. But Hibbert battled foul trouble, along with 2011-12 Defensive Player of the Year Tyson Chandler, and managed only nine points in 31 minutes.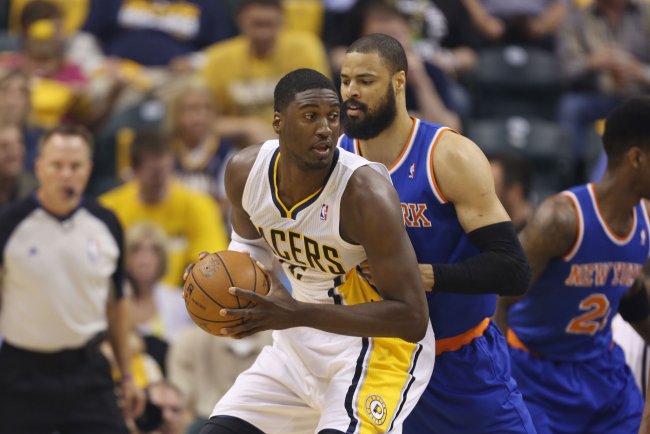 Brian Spurlock-USA TODAY Sports
The inside-out attack struggled to get off the ground and was assuredly limited by the absence of its battle-tested pilot. George Hill, who had 26 points and four assists in Indiana's Game 4 victory, was held out of the contest with a concussion.
His replacements were less than impressive.
D.J. Augustin scored 12 points but missed six of his nine field-goal attempts and failed to record a single assist in 38-plus minutes. Lance Stephenson, Indiana's starting shooting guard who saw spot duty at the point, went 1-of-7 from the field. Gerald Green showed why he'd disappeared from Frank Vogel's rotation over the last two weeks (via Frank Isola of the New York Daily News):
Gerald Green now 0-for-2 on entry passes. (There are so many bad players in his league you lose count after a while.)

— Frank Isola (@FisolaNYDN) May 17, 2013
A misstep is to be expected when a team loses its starting point guard, but Hill's absence put a spotlight on a glaring issue for Indiana. The Pacers don't have much depth anywhere on the roster. They are paper-thin on the perimeter behind Stephenson and All-Star Paul George (via Bob Kravitz of the Indianapolis Star):
OK I've seen enough Gerald Green. And Sam Young. That's where Hill's injury kills the Pacers, at the backup 2 spot.

— BobKravitz (@bkravitz) May 17, 2013
Considering Erik Spoelstra has a never-ending line of athletes and shooters at his disposal, Miami should look to increase the tempo at every opportunity if Indiana's the next team on its schedule. No team can transform turnovers into points faster than the Heat, and taking care of the basketball was a problem even when Hill's been healthy (via Isola):
The Pacers lead the league in mindless turnovers. How they got this far is a small miracle.

— Frank Isola (@FisolaNYDN) May 17, 2013
As for the Knicks, they kept their season alive on Wednesday night but had trouble burying a team that spent most of the night digging its own grave. In addition to the turnovers, the Pacers left 14 points at the charity stripe, connecting on just 19 of their 33 attempts.
The scoreboard didn't seem to match the play—until the Knicks got down to the offensive end of the floor.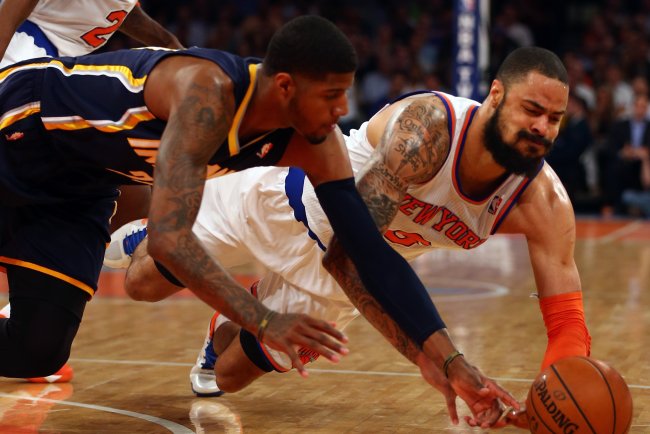 Elsa/Getty Images
Hero ball made another unsightly appearance. New York assisted on only 12 of its 32 field goals, far too often settling for isolation looks and subsequent forced jumpers. Anthony was guilty of it (he fired off 28 shots in the game), as were Smith (4-of-11) and Raymond Felton (12 points, 6-of-14).
This was a game the Knicks should have won easily, yet the Pacers got within four points with seven minutes left in regulation (via Kravitz):
The Knicks should be ashamed of themselves for not blowing out the Pacers tonight. Seriously.

— BobKravitz (@bkravitz) May 17, 2013
The Heat's swarming defensive rotation is truly a sight to behold when the players are fully committed, but inside of that team system lies a number of talented individual defenders.
New York has two of the most potent offensive weapons in the league in Anthony, the reigning scoring champion, and Smith, the reigning Sixth Man of the Year. But both of those players have been force-fed heavy doses of relentless defenders and have struggled to find any rhythm in the series.
Anthony, a career 45.6 percent shooter, has made just 41.3 percent of his shots. Smith's forgettable 36.4 percent showing in Game 4 was his most efficient of the series, and he's twice failed to crack the 30-percent mark.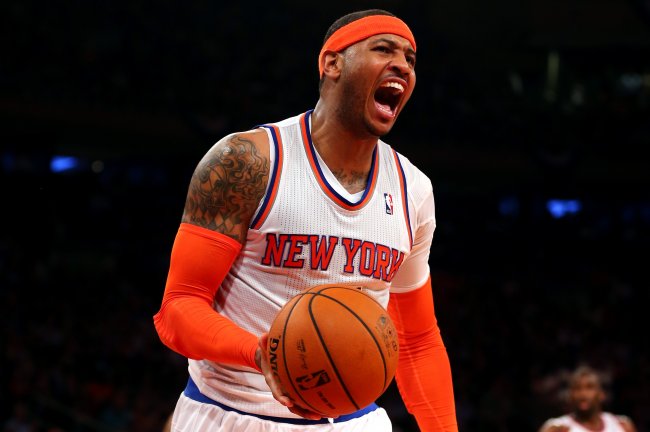 Elsa/Getty Images
New York has the same issues with depth as Indiana, or even worse ones. Anthony (28.7 points per game) and Smith (18.1) were two of the three Knicks players to average better than 14 points in the regular season, and the third member of that group, Amar'e Stoudemire, is one of several reserves who appeared to have lost the confidence of their coach (via NBA.com's Adam Zagoria):
Pretty clear Woodson has no faith at this point in Amar'e, Kidd and Novak. Nor should he really.

— Adam Zagoria (@AdamZagoria) May 17, 2013
Swift ball movement and timely cuts to the basket are always key to solving complex defensive puzzles. The Knicks should know this already. New York averaged more than 23 assists in its three wins over Miami in the regular season, yet it's averaging a league-worst 14.7 in the postseason (h/t NBA.com).
Who has the better chance of upsetting the Heat?
The Heat know they're the best team in the league, and sometimes they play like it. But they manage to scatter enough moments of brilliance in between fits of inconsistent effort to win more often than not.
So a narrowed focus may be all that's standing between them and a third straight appearance in the NBA Finals.
If Indiana's next on the schedule, Miami has to crowd the interior and take advantage of miscues at every opportunity. If the Knicks crawl their way out of this series, the Heat have to overwhelm Anthony and Smith and keep a close eye on their shooters.
Sounds simple enough, right?