SA Spurs vs. Golden State Warriors: Game 6 Postgame Grades and Analysis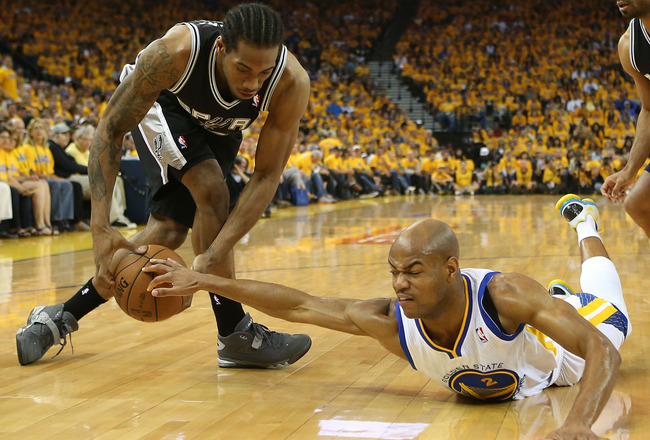 Jed Jacobsohn/Getty Images
An exemplary defensive effort and a balanced scoring attack fueled the San Antonio Spurs' series-clinching 94-82 win over the Golden State Warriors in Game 6 on Thursday night.
Oracle Arena was rocking, but it didn't deter San Antonio coach Gregg Popovich's crew from dealing 27 assists and holding off a Warriors' rally in the second half.
Tim Duncan led San Antonio with 19 points, but he had plenty of help as all five Spurs' starters scored in double-digits and the bench unloaded 15 assists.
Although Stephen Curry had 22 points of his own, the Splash Brothers weren't enough to keep the Dubs' season alive. Harrison Barnes' head injury didn't help either.
Find out how every key player performed as we hand out grades for Game 6.
Point Guards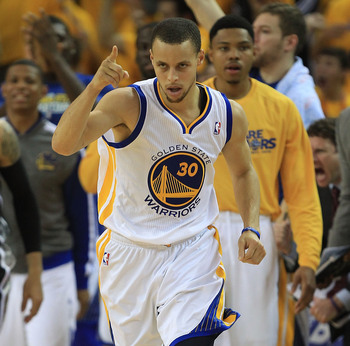 Jed Jacobsohn/Getty Images
Tony Parker, Spurs
From the field, Tony Parker shot the ball horrendously. His mid-range game wasn't clicking at all, which helps to explain his 3-of-16 numbers.
On the bright side, he got to the free-throw line a few times, dished eight assists and knocked down a pair of fourth-quarter triples.
It wasn't enough to get him an A, but was worthy of a better grade than his 19 percent shooting would indicate.
Overall Grade: C+
Stephen Curry, Warriors
We wondered how Stephen Curry would respond after his nine-point Game 5, and he answered with a more Curry-like display in Game 6.
However, it wasn't superstar-caliber stuff, as he missed 15 shots and ended up with a minus-19 plus/minus margin for the game.
He converted on a series of drives, pull-up jumpers and dishes, but he wasn't able to get the late-fourth quarter shots to drop. Curry's 22 points and six assists were a huge improvement over Game 5, yet he left something to be desired.
Overall Grade: B-
Shooting Guards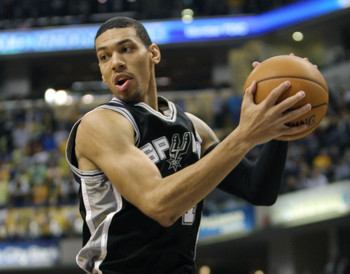 Pat Lovell-USA TODAY Sports
Danny Green, Spurs
He won't go down in San Antonio lore as the hero of Game 6, but Danny Green made several smart plays that made the win possible. His shot selection was heady and his stops on defense were pivotal.
Green played superb defense on Stephen Curry and Klay Thompson for most of the game, not letting Thompson get loose for an extended stretch and preventing him from getting comfortable from distance.
That forced the Warriors into one of their most inefficient offensive games of the postseason.
Overall Grade: B+
Klay Thompson, Warriors
After his four-point debacle in Game 5, Klay Thompson stayed aggressive and looked for his shot.
He didn't find it in the first half (two points), and even though he found it in the second half, it wasn't enough.
Thompson's pair of second-half bombs served to keep the Dubs afloat, but he was rendered ineffective for most of the game, including crunch time.
Overall Grade: C
Small Forwards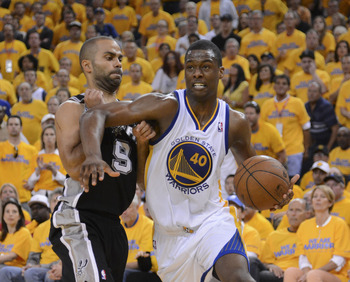 Kyle Terada-USA TODAY Sports
Kawhi Leonard, Spurs
A player who usually does a lot of the dirty work for San Antonio did just that Thursday, as Kawhi Leonard worked tirelessly as an off-ball defender and rebounder.
He was rewarded with some crucial scoring opportunities that buried the Warriors.
Leonard finished with 16 points and 10 rebounds, many of which were timely boards that gave the Spurs extra possessions.
Overall Grade: A-
Harrison Barnes, Warriors
Harrison Barnes enjoyed a solid first half that included 4-of-7 shooting for eight points and excellent end-to-end intensity.
Toward the end of the half, however, he hit his head on the court after getting upended on a skyward defense of Boris Diaw.
He received some stitches at halftime and got right back on the court, but had to leave later in the half due to headaches.
What we saw on the court prior to his departure was good, but not spectacular.
Overall Grade: B
Power Forwards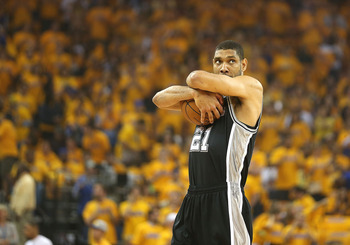 Jed Jacobsohn/Getty Images
Tim Duncan, Spurs
It wouldn't be a Tim Duncan outing if it was show-stopping and shiny.
The veteran star shot well from both sides of the basket, protected the rim and was perfect from the free-throw line.
His Game 6 won't blow up Youtube or land on any highlight reels. Nevertheless, he was the anchor that powered the Spurs in their series-clinching win, scoring 19 points to accompany his six rebounds.
Overall Grade: A
Festus Ezeli, Warriors
While he was aggressive in spots and crashed the glass during his time on the floor, Festus Ezeli was unable to impact the game enough to keep the Warriors at a championship level.
He went 0-of-2 from the field and committed four fouls in 23 minutes. Although he's a developing rookie, Golden State needed more from him Thursday.
Overall Grade: D
Centers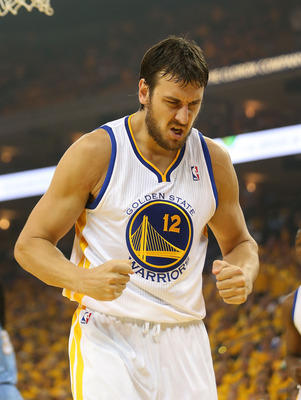 Jed Jacobsohn/Getty Images
Tiago Splitter, Spurs
One of the top performers for San Antonio on Thursday night was Tiago Splitter, who is deserving of a generous grade considering how he played off the ball and finished plays.
He found the soft spots in the defense, timed his cuts to the rim perfectly and finished with a variety of flip shots, baby hooks and dunks. Gregg Popovich even favored him over Tim Duncan in the final minutes of the contest.
The result was 14 points and a huge hand in the Spurs advancing.
Overall Grade: A-
Andrew Bogut, Warriors
With just three points and seven rebounds in 20 minutes of action, Andrew Bogut came up small at home in the most important game of the season.
Because he played so well early in the series, Warriors fans had hoped for more production and impact from him the past couple games.
He was simply outplayed and out-finessed by Duncan and Tiago Splitter in this decisive contest.
Overall Grade: D
Sixth Men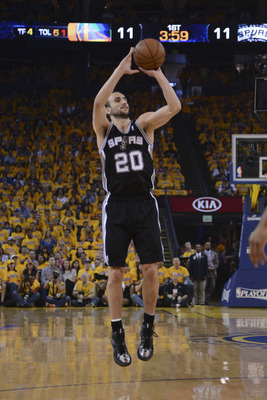 Kyle Terada-USA TODAY Sports
Manu Ginobili, SG Spurs
He wasn't part of San Antonio's scoring attack in the first half (zero points), but Manu Ginobili helped Tony Parker facilitate in his modest minutes.
While Ginobili didn't record his first field goal of the game until early in the fourth quarter, it was no problem.
Even though he only ended up with five points, Ginobili's creativity in the pick-and-roll game led to 11 assists and opened things for his fellow shooters. His drive and dish to Kawhi Leonard's three-point basket late in the fourth gave San Antonio the breathing room necessary to win.
Overall Grade: A
Jarrett Jack, PG Warriors
Through three quarters, point guard and sparkplug Jarrett Jack gave the Warriors decent minutes in an unspectacular performance.
Fortunately, he was relatively efficient and made some critical shots down the stretch to keep Golden State in the game. A couple defensive miscues could have been avoided, but his 15 points on 6-of-12 shooting made the Warriors competitive.
Dubs fans have a love-hate relationship with Jack, and at the end of this grind-it-out Game 6, they will remember him lovingly, even if it's in defeat.
Overall Grade: B+
Benches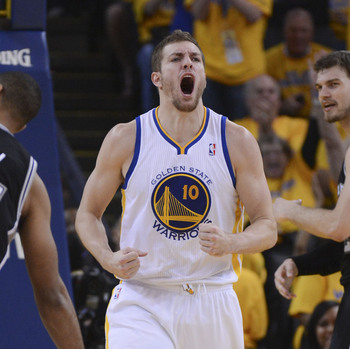 Kyle Terada-USA TODAY Sports
San Antonio Spurs Bench
Any time your bench can get you 15 assists, it's a good night.
In addition to Manu Ginobili's aforementioned 11 assists, Boris Diaw delivered a quartet of nifty interior passes to set up Tim Duncan, Tiago Splitter and Kawhi Leonard.
Cory Joseph and Gary Neal combined for 22 important minutes, chipping in 14 points during their cameos.
Overall Grade: A
Golden State Warriors Bench
It was a mixed bag for Mark Jackson's bench, but the positives far outweighed the negatives throughout the course of the game.
David Lee played just 12 minutes, but he supplied massive production during that stint. He grabbed five boards, scored inside and out, and finished with nine big points to give Golden State hope.
Carl Landry also turned in a respectable outing, connecting on a couple key put-backs in the second half to post 11 points.
Meanwhile, Draymond Green and Andris Biedrins teamed for 20 minutes and zero points.
Overall Grade: B+
Keep Reading