Florida Football: Ranking the Gators' 2013 Opponents by Difficulty Level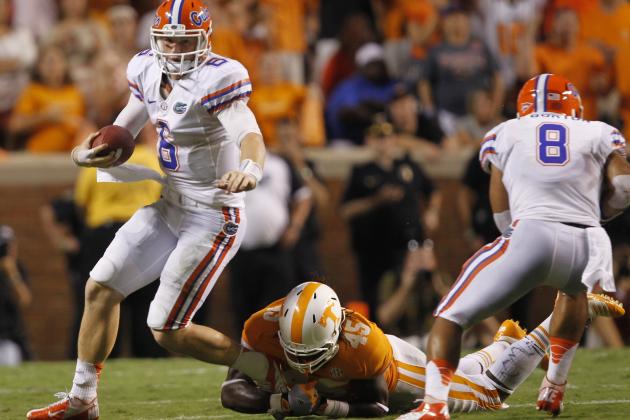 John Sommers II/Getty Images

The Florida Gators are once again facing one of the toughest schedules in the country. As if their conference opponents were not enough, they will also face both of their fiercest in-state rivals.
Talk about traversing a tough road to the SEC title game.
Still, there are some opponents that Gator fans do not need to necessarily fret over. They include an FCS team and traditional adversaries in the midst of a temporary decline.
So which games and teams could give the Gators problems?
We shall answer that question now as we rank each game on the Gators' schedule according to level of difficulty.
Begin Slideshow

»
The Gators should have no issues with Georgia Southern.
None.
Just look at the way that Georgia manhandled the Eagles last season. As pumped up as the Eagles can get for this game, they will have essentially no chance of pulling off an upset in Ben Hill Griffin Stadium. The difference in talent between an SEC power and an FCS school will simply be too large.
Florida should have fun in this late-season romp.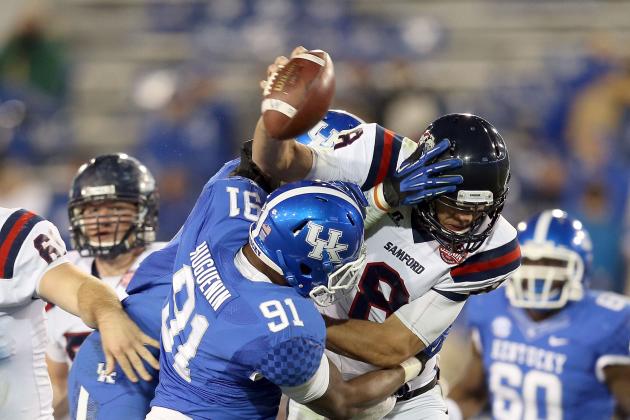 Andy Lyons/Getty Images

The Gators demolished the Wildcats in Gainesville last season. Although Kentucky should put up more of a fight in 2013, the end result should be similar to that of the previous fall.
The Gators' defense was unstoppable in that game. The Cats were limited to only 219 total yards and gave the ball away three times.
Although small improvements are likely, Kentucky will still have too large of a gap to fill before even becoming competitive against a team of Florida's caliber.
The Gators have won 26 straight in this series, and they will make it 27 in September.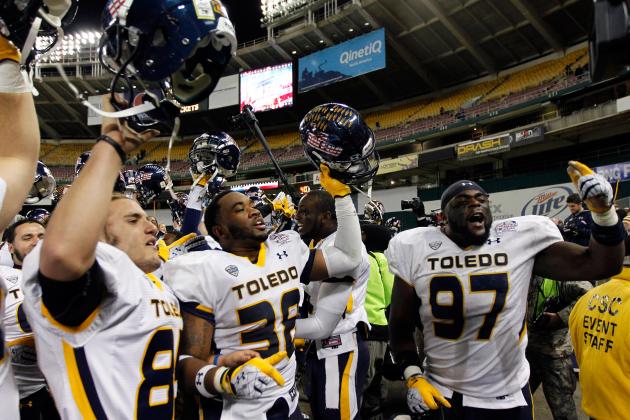 Rob Carr/Getty Images

Florida opens up the schedule against MAC power Toledo. With the opening day crowd rocking in Gainesville, the Rockets don't stand much of a chance.
Toledo does have potent offensive weapons. Wide receiver Bernard Reedy could be headed for an explosive season, while running back David Fluellen is bound to make an impact on the stat sheet.
However, the Rockets are not used to facing SEC defenses.
The Gators might have some early jitters, but they should have no problem dispatching their first opponent of the season.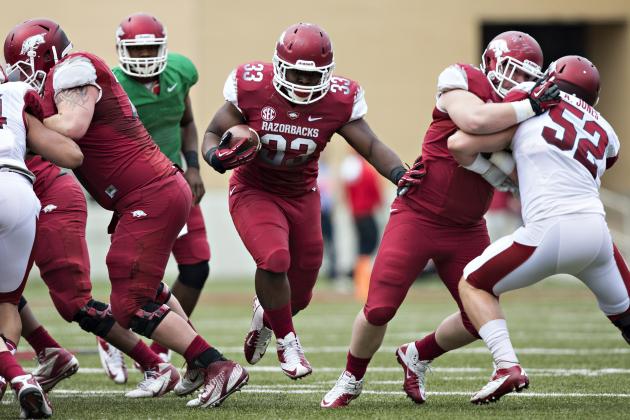 Wesley Hitt/Getty Images

The 2012 Arkansas football season was, in a word, disastrous.
An early loss to Louisiana-Monroe sent the Razorbacks into a season-long tailspin. Not even Tyler Wilson could help them at times.
His departure leaves nothing but more question marks for the Hogs. In any case, they will have a new starting quarterback and the task of improving a defense that ranked 83rd in the nation.
This should give the Gators a huge advantage in their matchup. Throw in the fact that the game is in Gainesville, and a Florida victory appears imminent.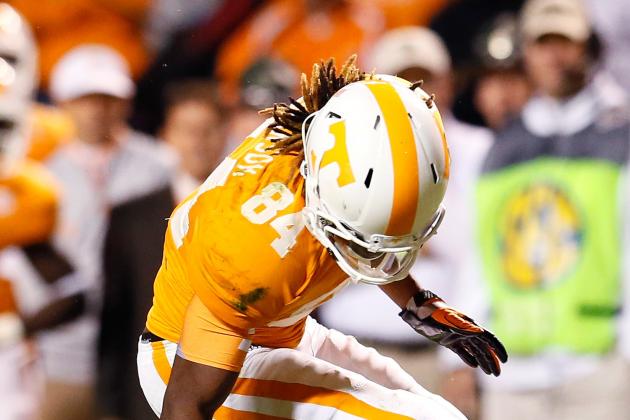 Kevin C. Cox/Getty Images

The Gators have had the Volunteers' number in recent years. Although I expect that trend to continue, Will Muschamp and the gang will have to earn it.
Perhaps Butch Jones can provide the spark this team needs. Even if he can eventually rekindle the Knoxville magic, however, he will be fighting an uphill battle this season. Much of Tennessee's offensive core needs to be rediscovered, and Jones will need to find a way to preserve momentum throughout an entire campaign.
He may very well do so, but not as early as his first season at the helm of the Vols. I think he keeps this year's tilt with the Gators close for a half, but then the Gators will pull away for a big win.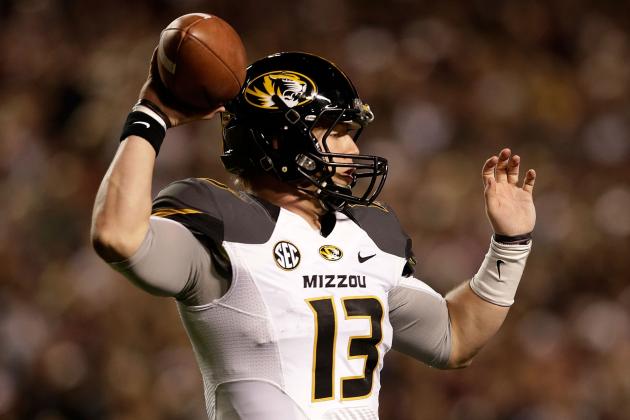 Scott Halleran/Getty Images

Under the right conditions, the Missouri Tigers could be a legitimate threat to upset the Gators.
If you need proof, look back to their first matchup as SEC opponents. The Tigers were awful on offense, and yet they only lost by one score. If they had been able to make a few more plays, they could have really derailed Florida's season.
The location of this season's edition will work in Missouri's favor. The key will be whether or not the Tigers can make enough plays to muster any offense.
Against Florida's defense, however, this seems very unlikely. Still, there is the chance for an upset.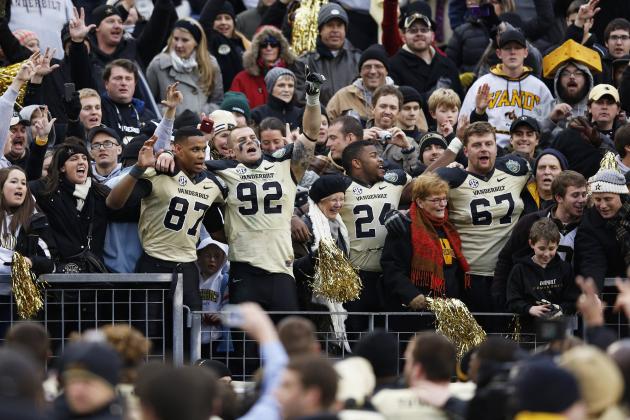 Joe Robbins/Getty Images

The Commodores have repeatedly been a minor threat for the Gators during the course of recent history. In the end, though, the Gators always pull out a win.
But could this be the year that Vanderbilt takes the next step and crushes Florida's hopes? Maybe, but it is not a likely scenario.
The Commodores will need to figure out how to contain Jeff Driskel, something that proved impossible for them last season. Of course, they gave up only 18.7 points per game, one of the best marks in college football. If any team can make the proper adjustments, it is James Franklin and his underrated squad.
They would also have to claim victory in Gainesville, a fact which does not benefit their cause.
I would still be surprised if Vanderbilt beat Florida this season, but it certainly wouldn't shock me.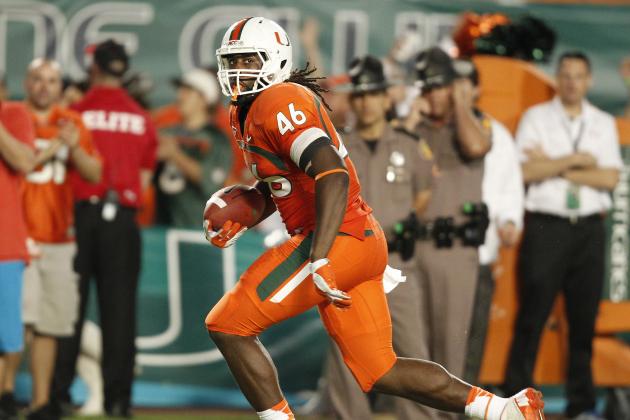 Joel Auerbach/Getty Images

The rivalry between Florida and Miami is certainly not what it used to be. When the two clash on the Hurricanes' home turf, however, there will certainly be some fireworks.
This matchup pits strength against strength. Miami has an explosive offense led by Stephen Morris and Duke Johnson, while the Gators have a solid defensive unit anchored by Marcus Roberson and Loucheiz Purifoy.
As a result, the outcome could very well be determined by the offensive effectiveness of both sides. An offensive shootout is not part of the Gators' comfort zone, so they will look to make this game as much of a defensive affair as possible.
Miami will want this win to get back on the national stage. For this reason, Florida will have to play sound fundamental football to escape disaster.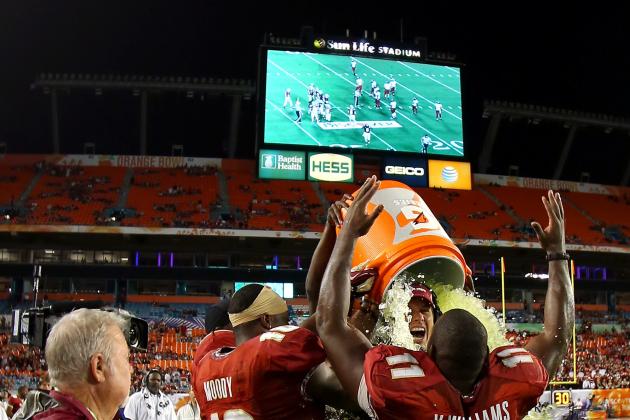 Mike Ehrmann/Getty Images

The Gators kept their slim national title hopes alive with a comeback win over the Seminoles in 2012. As with any rivalry game, it was tough to pick a true favorite before the actual clash.
The same trend should continue for these two squads in 2013.
Immediate reactions might give the advantage to the Gators. After all, Florida State has to replace EJ Manuel. In addition, the game will be at the Swamp.
As Lee Corso would say, "Not so fast, my friend."
This should be a tight contest. The Gators will have to contend with weapons like Rashad Greene, but the Seminoles will also have to counteract a dangerous Florida rushing attack.
In the end, home-field advantage should favor the Gators. However, it will be a tight battle.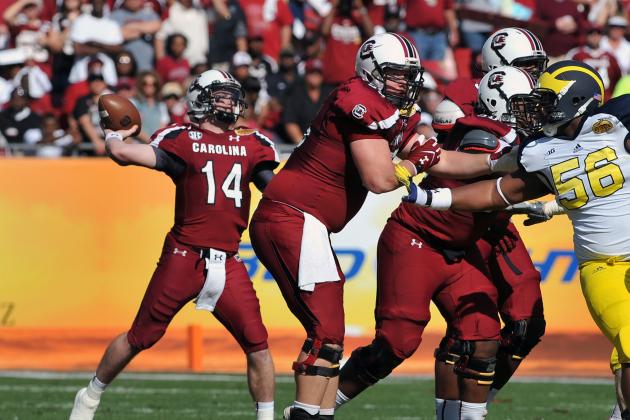 Al Messerschmidt/Getty Images

The Gators embarrassed South Carolina last season.
Well, the Gamecocks embarrassed themselves by making plenty of blunders and failing to execute. Still, the end result is the same.
However, this should not happen again when the two meet at Williams-Brice Stadium.
I still think Connor Shaw could be ready for a breakout season. The receivers he will have at his side, particularly at tight end, could give many teams fits, including Florida. If they can click, they will score a lot of points.
Oh, and then there is that Jadeveon Clowney guy to worry about.
With the home crowd behind them, Steve Spurrier's boys should pose one of the biggest challenges for the Gators.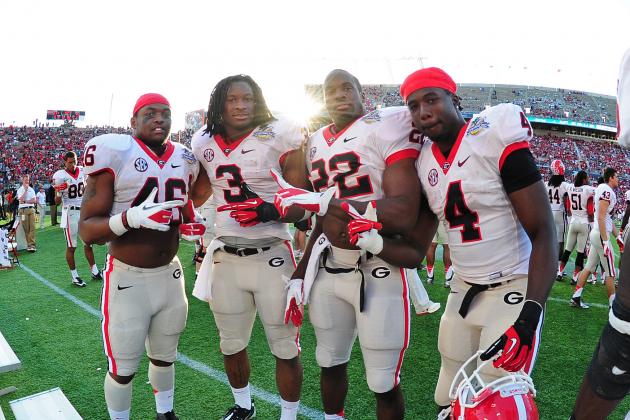 Scott Cunningham/Getty Images

The Gators would have been playing Alabama for a trip to the BCS title game if they beat Georgia. Similar stakes could be on the line when the two squads meet once again.
Last year's duel came down to offensive execution. Jeff Driskel and his teammates simply made too many gaffes to get the victory.
Even if they correct these issues for the 2013 showdown, the Gators could struggle to stop Georgia's weapons. Todd Gurley and Keith Marshall form one of the best running back tandems in the nation, and Aaron Murray is in the perfect position to finally reach an elite level.
I expect the Gators to come out with a purpose against their bitter rival. Still, it may not be enough when all is said and done.
Kevin C. Cox/Getty Images

The Gators were able to once again beat their major SEC West rival in 2012. It took a gutsy performance from their defense and Mike Gillislee, but they got the job done.
Unfortunately, that task might be more difficult this October.
Both teams will have to overcome key losses defensively, so that side of things could be a potential wash. That leaves it up to both offenses to make more plays. Right now, I have more confidence in Jeremy Hill and Zach Mettenberger than I do in Jeff Driskel and Florida's unproven wide receiver corps.
Not to mention, the game is at Death Valley.
This game could literally go either way. In fact, the Tigers should be a slight favorite at home. In any case, the Gators could be in big trouble after this one.