2013 Preakness Contenders: Handicapping the Entire Field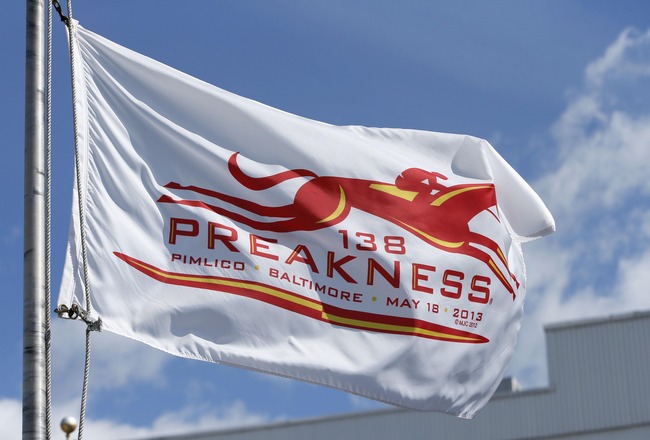 The Preakness draws near
Mitch Stringer-USA TODAY Sports
Handicapping the Preakness Stakes can be a formidable task, and the painstaking process of landing on a winner can be daunting.
Analyzing the full field in the Kentucky Derby is like assembling a giant puzzle, sometimes to find that you lost a piece somewhere along the way. The Preakness, with a more compact field and at a shorter distance, requires a different approach from the handicapping process that led me to land on eventual winner Orb in the Derby.
The following slides present a breakdown of the rules I've used to handicap the 138th Preakness Stakes. Through the process of elimination, I settled on my winner. Read on to find out who that horse is!
Rule: Champion Must Have Won a Race This Year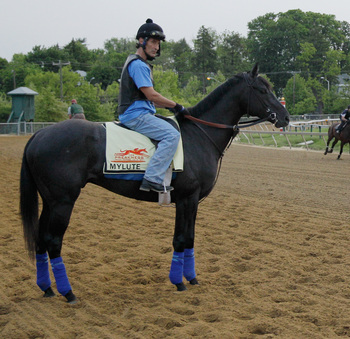 Mylute is tough to endorse in the Preakness
Rob Carr/Getty Images
That's not too much to ask, is it? By the middle of May, the eventual Preakness winner should have won a race.
It is one thing to knock heads against top competition and be competitive, but a horse needs to prove that it is competitive enough to win as well. At this point of the season, most of these horses have had at least three starts, which is more than ample opportunity to win.
In this case, both Titletown Five and Mylute get tossed from my list. Mylute has been far more competitive than Titletown Five, but both of his career victories came as a juvenile, and neither colt has ever won a stakes race.
Eliminate: #3 Titletown Five, #5 Mylute
Rule: Champion Must Be Versatile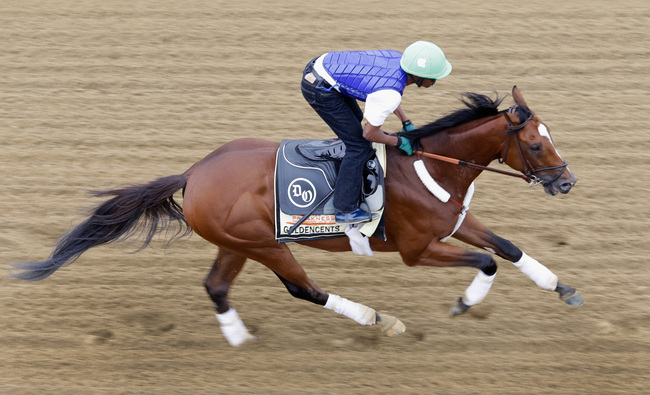 Goldencents needs more versatility
Rob Carr/Getty Images
The Preakness can in some ways be the trickiest of all three Triple Crown races to win. Run at 1 3/16, the race is slightly shorter than the Kentucky Derby, and with the cutback in distance, strategies can change.
To win the Preakness Stakes, a horse must be tactical and versatile. A true champion can win even when things do not go their way. Though the Preakness is not the wild free-for-all out of the gate that the Kentucky Derby is due to the field size, anything can happen in horse racing. Some of the greatest Preakness victories have come when a horse has overcome adversity.
In the Kentucky Derby, Goldencents proved that while he may be talented, he is not versatile and cannot rebound when things do not go as planned.
Eliminate: #2 Goldencents
Rule: Champion Must Be Consistent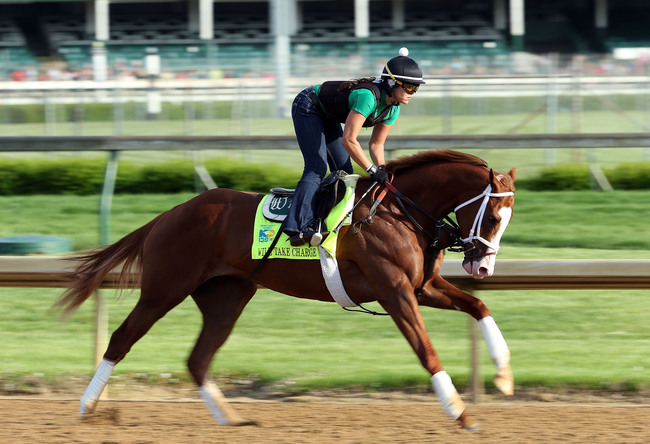 Which Will Take Charge will show up?
Andy Lyons/Getty Images
With so many contenders wheeling back on a two-week rest after competing in the Kentucky Derby, consistency is key in winning the Preakness Stakes.
Two weeks is a relatively short time, and not much can be improved upon in a horse's training in that time frame. In most cases, the best a trainer can hope for is to maintain the form that they had going into the Kentucky Derby.
For me, a consistent horse is valuable here. It is too much to speculate on which version of an unreliable horse will show up off of such a short rest. Though Will Take Charge ran a dynamite race in the Derby, he has had more than his share of clunkers recently, too.
Eliminate: #3 Titletown Five, #5 Mylute, #7 Will Take Charge
Rule: Champion Must Not Have Missed Recent Training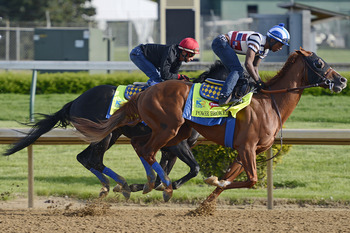 Govenor Charlie
Jamie Rhodes-USA TODAY Sports
Horses are athletes, and their training regimen is as detailed and complex as any elite athlete. Because of their massive size, they can be even more difficult to keep fit, sound and on target. When a horse has to miss days of training, that can throw all plans out the window.
Trainer Bob Baffert was forced to withdraw his highly regarded and lightly raced Govenor Charlie from the Kentucky Derby the week of the race due to missing training because of a hoof bruise. Now, a bruised hoof is not a life- or career-threatening injury, but it is an incredibly frustrating one.
Thoroughbreds are notorious for having sensitive feet, and a hoof bruise is the type of injury that can reoccur at any time. Because Govenor Charlie has been so lightly raced, the question is whether or not he has struggled with that issue for some time.
Eliminate: #8 Govenor Charlie
Rule: Champion Must Be Improving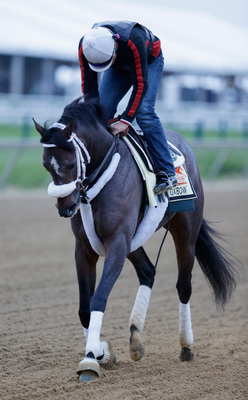 Oxbow may bounce off of his big effort in Kentucky
Rob Carr/Getty Images
Heading into the second leg of the Triple Crown, it is important to not have completely peaked two weeks ago in the Kentucky Derby. The five weeks that encompasses the Triple Crown are incredibly demanding, and a horse that is still progressing is more likely to still have something left in the tank after the Derby.
There are multiple ways to gauge whether or not a horse's form is on the upswing or the decline. One can look at Beyer Speed Figures and try to discern a pattern or a handicapper and simply look at recent race results. Is this horse getting better as the distances increase and the competition stiffens? If not, look elsewhere.
Itsmyluckyday has not been able to replicate his impressive score in the Holy Bull Stakes in January. Instead, his efforts have gotten progressively worse with each start. Though Oxbow ran a dynamite race in the Derby and was the only front-runner to stick around, he looks set up to regress off of that huge effort.
Eliminate: #6 Oxbow, #9 Itsmyluckyday
And the Winner Is...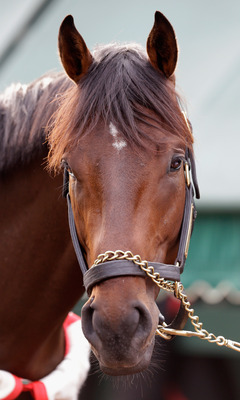 Orb, the 2013 Kentucky Derby champion... and Preakness winner?
Rob Carr/Getty Images
Orb!
Going into the Kentucky Derby, Orb had all the goods. He seems to have brought the total package to Maryland as well.
He is undefeated this year with four wins to his credit, three of which came against graded stakes company. He is versatile and tactical; though he is a closer, he has proven he can adjust how far back he is as needed. He is as consistent a horse as you could find right now—his flawless sophomore season backs that up. Since the Kentucky Derby, he has had a sharp, impressive workout. And finally, this colt is maturing and improving even still. His best race might be ahead of him yet, and that is exciting.
Departing also meets all of my criteria. There comes a point when handicapping a race where you need to trust your instinct. My gut tells me Orb might be something special, and even if at first glance on paper he and Departing have similarities, Orb is the superior horse.
Keep Reading