Indiana Pacers vs. New York Knicks: Game 5 Postgame Grades and Analysis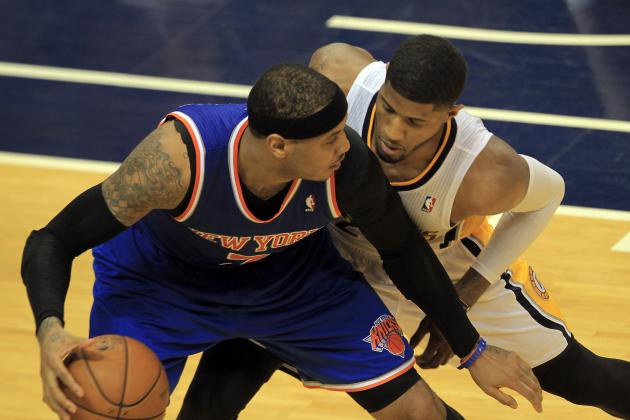 Pat Lovell-USA TODAY Sports

In a game that lacked all aesthetic beauty, the New York Knicks stayed alive with an 85-75 victory against the Indiana Pacers.
Carmelo Anthony scored 28 points on 28 shots in 42 minutes, but the real story was New York's defense, which held a sloppy Indiana team to 36.2 percent shooting from the floor while forcing 19 turnovers.
Begin Slideshow

»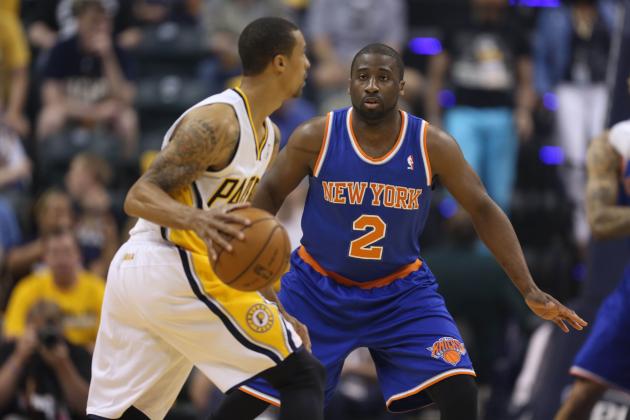 Brian Spurlock-USA TODAY Sports

D.J. Augustin
Starting for George Hill, who had to sit with a concussion, D.J. Augustin knocked down his first three-point attempt. But as the game went on, Augustin showed everyone why he's a backup.
There were countless turnovers, silly passes to nobody and an inability to get Indiana into their offense for half-court sets.
Grade: D
Ray Felton
Felton was aggressive early on, getting into the lane often but only finishing once on his own. In the second half he operated the pick-and-roll efficiently, getting room for open jumpers and lanes to the basket.
He finished with 12 points, four assists and three steals in 37 minutes (only Anthony played more).
Grade: B-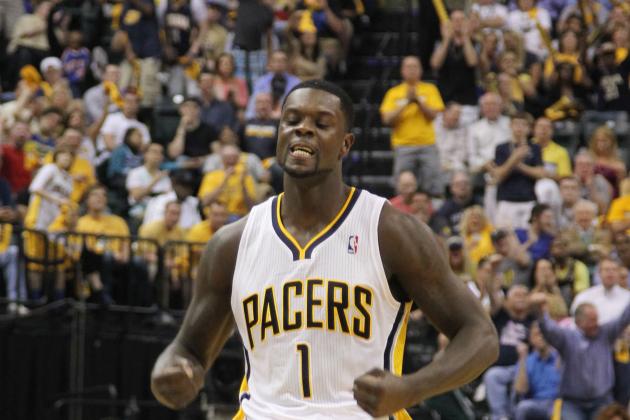 Brian Spurlock-USA TODAY Sports

Lance Stephenson
Stephenson was extremely aggressive in the first half, but sometimes it was to his detriment. He attempted to dunk over Tyson Chandler twice, and paid for it the second time with a hard foul that sent him tumbling to the ground.
In the closing minutes of the first half he also launched an unwise three-pointer with more than enough time on the shot clock.
Grade: C
Pablo Prigioni
Prigioni effectively moved the ball and was able to get into the paint more than usual, resulting in open three-pointers after he'd kick it out.
He finished with three points and three assists in 19 minutes, re-gaining his spot in the starting lineup as the Knicks went back to what made them so successful.
Grade: C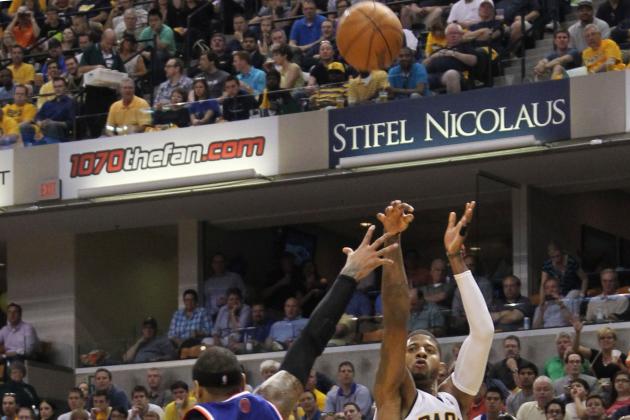 Brian Spurlock-USA TODAY Sports

Paul George
George's passing has been his greatest strength in this series, and that continued in the first half, with some nifty drive-and-kicks and a few dump off passes to Roy Hibbert and David West that resulted in easy baskets.
His shot wasn't falling, though. George finished the game with an efficient 23 points, six points and six rebounds. He picked up five fouls midway through the fourth quarter which forced him off Anthony. That hurt.
Grade: B+
Iman Shumpert
Shumpert knocked his first two shots down, stepping into both with assured confidence and a quick flick of the wrist. But after that he missed his next eight attempts from the floor.
He finished with five points and six rebounds in 26 minutes.
Grade: C-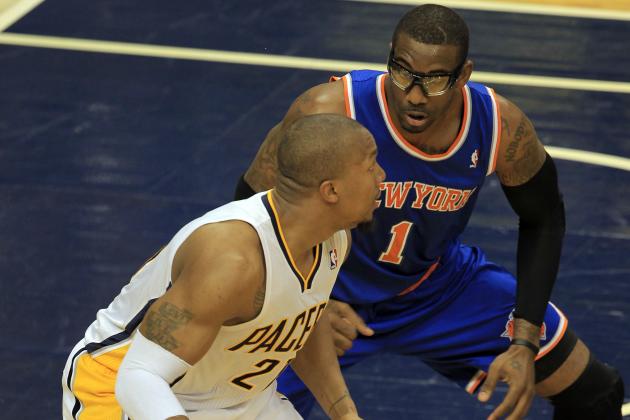 Pat Lovell-USA TODAY Sports

David West
West was the hub of Indiana's offense throughout the first half, catching it at the foul line on several offensive possessions and deciding what the next step would be.
He was also a monster on the glass, the first Pacer to hit double digits in scoring and a total handful for Carmelo Anthony to defend.
West finished the game with 17 points and 10 rebounds in 39 minutes.
Grade: B+
Carmelo Anthony
Anthony started the game with two quick baskets, knocking in a pull-up three in transition and a mid-range jumper after getting a pin down screen from Tyson Chandler.
He wasn't efficient in this game, but it didn't matter with the Pacers offense being as atrocious as it was. He scored 28 points but needed 28 shots to get there.
Grade: B-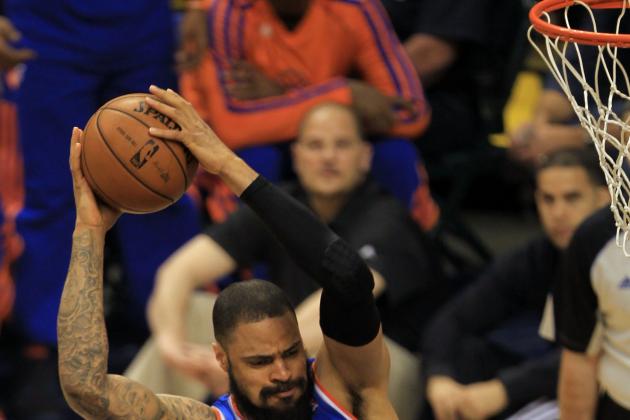 Pat Lovell-USA TODAY Sports

Roy Hibbert
Hibbert was terrible in the first quarter, getting his opening shot blocked and getting beaten badly by Tyson Chandler on the glass. He missed all three of his shots in his first seven-minute stint.
He battled foul trouble thanks to some questionable calls and failed to reach double figures in scoring (he scored nine points).
Grade: C
Tyson Chandler
Chandler looked refreshed in the opening minutes, picking up a quick blocked shot and rolling hard to the basket on all New York's high pick-and-rolls.
He ended with two points and eight rebounds, and fell hard on his back in the game's closing minutes. It could be an injury to watch moving forward.
Grade: C-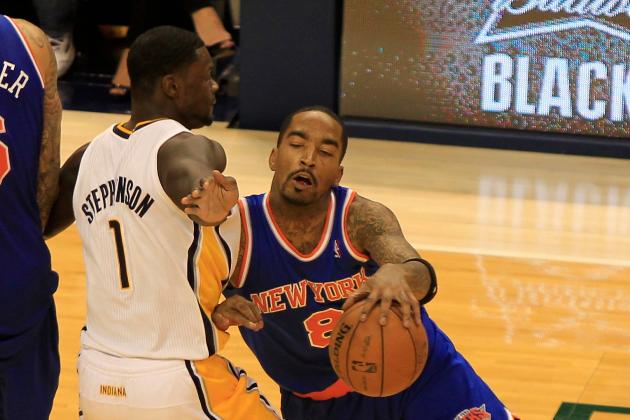 Pat Lovell-USA TODAY Sports

Tyler Hansbrough
For his first shot, Hansbrough air-balled a jumper from just above the free-throw line. After that, Frank Vogel took him out and sat him the rest of the first half.
Hansbrough didn't re-enter the game until early in the fourth quarter, and on the defensive end he struggled containing ball-handlers in the pick-and-roll, and picking up his man (Chris Copeland) in transition.
Grade: D+
J.R. Smith
Smith began the game looking for his own shot, which he always does. Except tonight he was making them. He started making two of his first four shots, one of them a three from the corner and the other a tough step-back jumper.
He finished with 13 points on 11 shots in 36 minutes.
Grade: C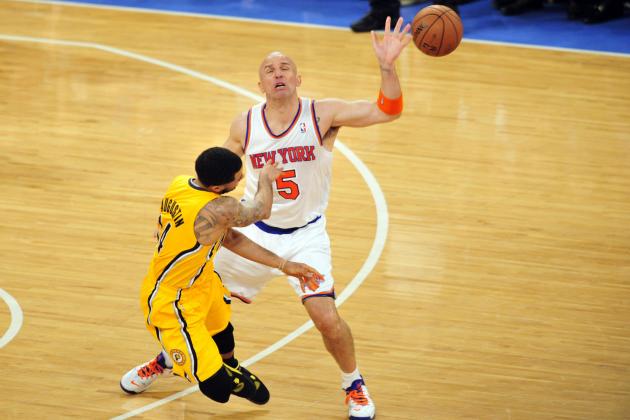 Joe Camporeale-USA TODAY Sports

Pacers
Sam Young and Gerald Green found themselves playing more minutes than usual as a result of George Hill's absence. Neither was special, and Young was forced to cover Carmelo Anthony in the fourth quarter when Paul George picked up his fifth foul.
The two combined for five points.
Grade: D-
Knicks
Chris Copeland was brilliant off the bench, stretching the floor and peppering a few key three-pointers throughout the game. He ended with 13 points, which was second most on his team.
Amar'e Stoudemire only logged seven minutes, which was a wise decision by Mike Woodson, and Kenyon Martin contributed 20 minutes of rough, tough basketball, scoring seven points to go along with his two blocks.
Grade: B