What Should and Will Happen at WWE Extreme Rules 2013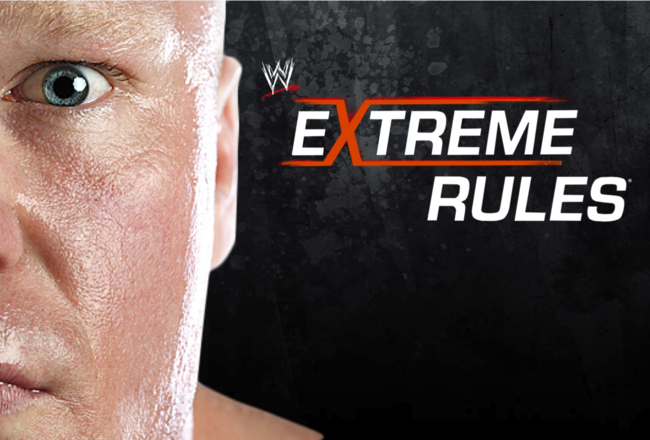 Logos and superstar images credited to WWE

What can we expect to go down at WWE's Extreme Rules come Sunday?
Will the WWE Champion John Cena put an end to Ryback and his rule? Can Triple H tame the beast in Brock Lesnar? And will The Shield be able to walk out of St. Louis, Mo., with some gold?
Well, here are my thoughts on what should and what will happen at the company's most extreme event of the year.
Pre-Show: The Miz vs. Cody Rhodes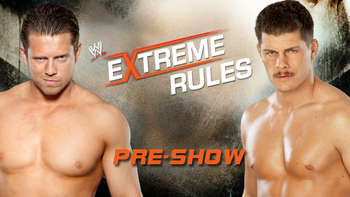 Credit to WWE.com
What Should Happen: The Miz wins
Although the most "Must See" WWE Superstar has to be seen on the pre-show, The Miz's presence in these matches could translate well for the company. The Miz, a former WWE Champion, isn't exactly a nobody. Throwing him on the pre-show must create some intrigue and should have a considerable amount of fans tuning in.
Regardless, we'll give the nod to him here. With his newly-adopted Figure Four Leg Lock, the "Awesome One" seems to be headed back into legitimacy. Let's not derail that with a loss to the mustachioed Cody Rhodes.
What Will Happen: The Miz wins
Again, pretty solid logic here. A surprise win from Rhodes could be a nice curveball but The Miz is certainly in line for the victory. Expect Rhodes to tap out.
Chris Jericho vs. Fandango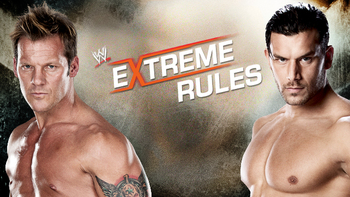 Credit to WWE.com
What Should Happen: Chris Jericho wins
Sure, this Fandango fad has gone for an unforeseen ride. Thanks to the energetic crowd over in East Rutherford, the man formally known as Johnny Curtis transformed into an overnight sensation.
That doesn't, however, mean he should pick up yet another victory against Chris Jericho.
For one, Jericho has already done the job Vince McMahon had asked him for. As the first-ever WWE Undisputed Champion and wrestling legend, Y2J graciously put over a young upstart in Fandango at WrestleMania of all stages.
I say we maintain whatever credibility Jericho has left and finally have him get to his dancing foe.
And for those worrying about a potential loss damaging the stock of Fandango, it wouldn't. In addition to his aforementioned 'Mania win, Fandango has experienced quite a push just being in a program with Jericho. This time last year, the man was feuding with the WWE Champion CM Punk.
What Will Happen: Chris Jericho wins
They won't be that evil to Jericho, right?
This feud, although moderately interesting, should now be meeting its end. And common wrestling knowledge tells you that the face eventually conquers the heel. Jericho picks up the win with the Codebreaker.
Randy Orton vs. Big Show (Extreme Rules Match)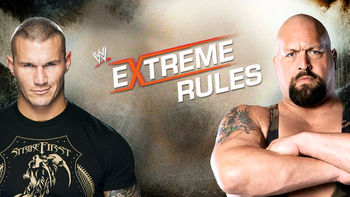 Credit to WWE.com
What Should Happen: Randy Orton wins
Surprisingly enough, Orton has done quite a few jobs over the past year. And even though this is a rather refreshing angle for the six-time WWE Champion, it's really time for a change.
As we very well know, Orton's character is as boring as it's ever been. In fact, Orton appears to be flat-out bored at times running whatever gimmick he's attempting to portray.
The WWE has a solid draw in Orton and they have to turn him around. And whether or not they ultimately decide to turn him into the vicious heel he once was, his current standing has to see some improvement.
That could all start with a win against Show at Extreme Rules.
What Will Happen: Big Show wins
There seems to be a huge fascination in building Big Show as a monster heel. (As evidenced by his two---week heel to face to heel transformation before WrestleMania.)
I predict Show will win with some sort of extreme WMD. Perhaps the big man will deliver the knockout punch through a chair to the head of the "Apex Predator."
Sheamus vs. Mark Henry (Strap Match)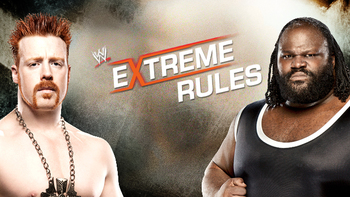 Credit to WWE.com
What Should Happen: Mark Henry wins
In my view, the most surprising WrestleMania outcome saw Mark Henry defeating Ryback after he sort of pancaked him. So if they don't want to waste that head scratcher, the WWE should keep riding the Henry train.
Unfortunately for "The World's Strongest Man," his wrestling career may soon be coming to an end. He's had to face numerous injuries over the past 12 or so months and could struggle to keep healthy.
Before he finally hangs up the boots, Henry can be used for one final monster heel run. The title scene is really missing out on a daunting presence like Henry given that most, if not all, company heels have a cowardly feel to them.
With the top heel in CM Punk taking time off, investing in Henry short-term would be a wise move.
What Will Happen: Sheamus wins
I see Sheamus still coming out on top here. I mean, he's a face, so why not?
Sheamus will touch all four corners and pick up the victory.
Tag Team Championships: Team Hell No (c) vs. Roman Reigns and Seth Rollins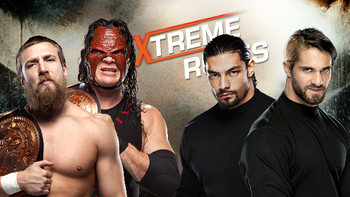 Credit to WWE.com
What Should Happen: Roman Reigns and Seth Rollins win
The WWE really doesn't want to fumble this Shield angle. Can't you tell yet?
Ambrose, Reigns and Rollins are all very promising talents and future main-event mainstays. A traditional step, of course, would be to put some mid-card straps around them. Besides, these three men have piled over some of the company's top names during their run, so it's time for something new.
So it should all start with some tag team gold.
What Will Happen: Roman Reigns and Seth Rollins win
Although I would have loved to see The Shield defend their potential tag team gold under the Freebirds Rule, Reigns and Rollins will hoist the belts come Sunday.
Reigns and Rollins will grab the victory after a little discourse from the champs in Team Hell No. I expect Kane and Bryan to drop the straps here and go off into their program where they feud against one another.
United States Championship: Kofi Kingston (c) vs. Dean Ambrose
Credit to WWE.com
What Should Happen: Dean Ambrose wins
In all honesty, the United States Championship is meaningless. So in my opinion, wrapping that belt around a quickly rising talent in Ambrose is somewhat of a waste.
But if we have Reigns and Rollins taking gold, then why not Ambrose?
What Will Happen: Dean Ambrose wins
As I stated, I can't see any of The Shield losing their matches on Sunday. The WWE has strapped a rocket to the backs of these superstars and it still has plenty of fuel left to go.
Ambrose wins with his headlock driver and casts Kingston off into further irrelevancy.
Alberto Del Rio vs. Jack Swagger ('I Quit' Match)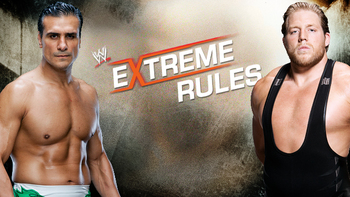 Credit to WWE.com
What Should Happen: Alberto Del Rio wins
Alberto Del Rio's face run has left creative a heck of a lot more to work with. Even though his persona fits the mold of your cocky heel, Del Rio's "man of the people" gimmick is much more enjoyable.
So with the concussed Dolph Ziggler awaiting the victor of this matchup, I'll give the nod to the Mexican aristocrat. A potential Del Rio-Ziggler feud should be more entertaining and does make a ton of more sense than one between Ziggler and Swagger.
What Will Happen: Alberto Del Rio wins
This is one of the easier picks of the night. I'd be shocked if they decide to pit a heel against a heel in a World Heavyweight Championship feud with a Swagger win.
Del Rio forces Swagger to utter the "I Quit."
Steel Cage Match: Triple H vs. Brock Lesnar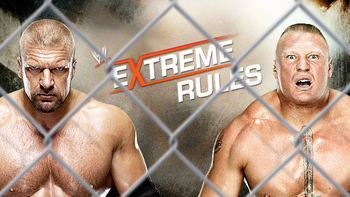 Credit to WWE.com
What Should Happen: Brock Lesnar wins
How are we supposed to believe Lesnar is this unstoppable force the WWE claims him to be? How about throwing him a win?
If I were calling shots, Lesnar never would have lost upon his return. He's an enormous, spoiled wrecking machine who fights when and where he sees fit. Shouldn't he be untouchable in order to justify that?
Doesn't it seem silly that he constantly has leverage despite being 1-2 since he stepped back into the ring?
Anyway, the company has a cash cow in Lesnar again and they certainly know it. And if the rumored Rock vs. Brock WrestleMania main event is in the cards, the beast must earn it.
What Will Happen: Brock Lesnar wins
Lesnar losing makes absolute zero sense. If Triple H was going to win this feud, it'd be over already.
The WWE is setting up Lesnar for a win here en route to a momentous build towards WrestleMania XXX. Brock takes it with an F-5.
WWE Championship: John Cena (c) vs. Ryback (Last Man Standing)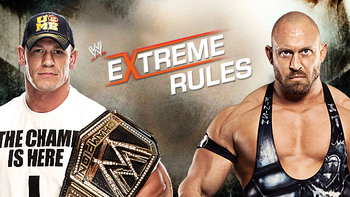 Credit to WWE.com
What Should Happen: Ryback wins
This isn't an instance of a smark wishing Cena would just go away. In fact, allowing Cena to hold onto the strap makes perfect sense given its past two holders in The Rock and CM Punk.
But if creative doesn't want to completely derail Ryback, he has to come out on top here.
After a huge push, the state of Ryback has taken a considerable hit. He's lost in his last six pay-per-view matches and now comes across as a very timid character amidst his sudden heel turn.
Ryback has turned into one of the company's biggest stars and will most likely be on top of plenty of cards in the very near future. His stock is in dire straits and really cannot afford yet another loss.
What Will Happen: John Cena wins
Unless we have a major swerve in store for us, Cena will retain.
A Cena win, however, will not spell the end for this feud. Given Punk's absence and the relatively fresh feel to the matchup, we should expect these two to be going at it for a bit more.
Keep Reading