San Jose Sharks vs. Los Angeles Kings Game 2: Live Score, Updates, Analysis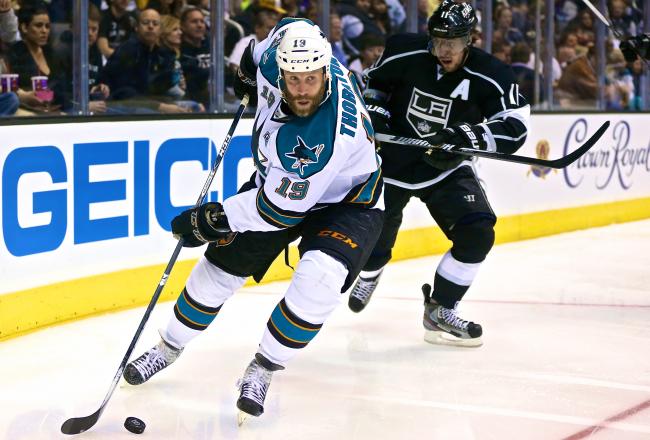 San Jose solved Jonathan Quick but couldn't prevent an epic Kings comeback. Los Angeles scored a pair of power play goals in a 22-second span to take a 4-3 lead with 81 seconds remaining in regulation, an advantage that held up to the final horn.
Trevor Lewis scored the game-winner to stun San Jose and hand Los Angeles a 2-0 series advantage. Quick stopped the first 16 shots of the game before surrendering a trio of goals that cost the Kings an early 2-0 lead.
A demoralized Sharks squad heads home for Game 3. Los Angeles is now 21-2 when holding a lead in playoff games during the past two postseasons.
Final: Los Angeles 4, San Jose 3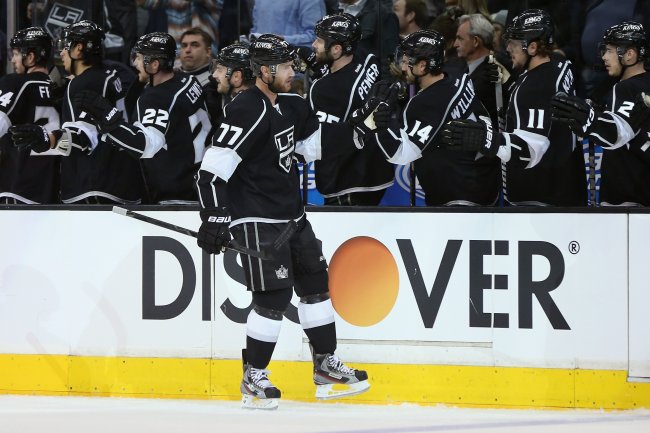 Jeff Gross/Getty Images
Kings come up big in the clutch, score pair of power play goals to take 4-3 lead with 1:21 remaining in regulation. Hold on to win!
Los Angeles has rallied from the brink of defeat to regain the lead with 81 seconds left in Game 2. The Kings notched a pair of power play goals in a 22-second span to seize a 4-3 lead.
With both Brad Stuart and Marc-Edouard Vlasic sitting in the penalty box, Jeff Carter tied the game (Mike Richards on the assist) with 1:43 left in regulation. Moments later, Trevor Lewis gave Los Angeles the lead on a rebound to beat Neimi (assisted by Tyler Toffoli).
It's a remarkable close to a memorable playoff clash. San Jose slumps home knowing it just let one slip away.
San Jose 3, Los Angeles 2 (7:00 3rd Period)
Antti Niemi is reminding everyone why he landed on the list of Vezina Trophy finalists. Although he's likely to play the role of "the other goalie" in this series, Niemi has weathered the storm during the late stage of Game 2.
He has eight saves in the third period and stood tall during a Kings power play opportunity.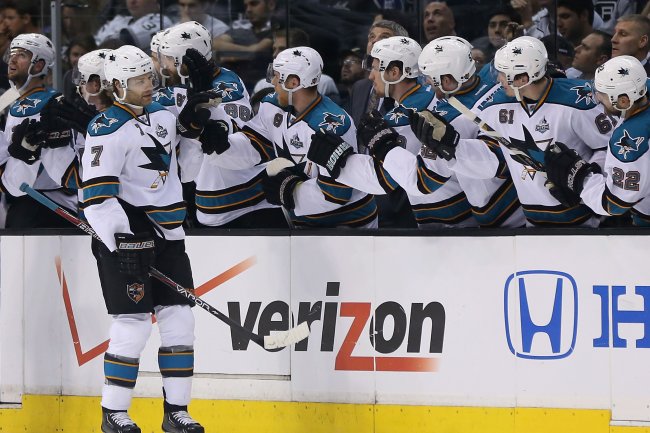 Jeff Gross/Getty Images
San Jose sneaks shot past Quick in traffic to take 3-2 lead with 11:04 remaining in regulation!
The Sharks' stunning surge continues here in the third period. After surrendering the first four goals of the series, San Jose has racked up three unanswered scores.
Defenseman Marc-Edouard Vlasic tallied his first goal of the playoffs by putting his stick on the puck as Quick was caught up with his own teammate on the edge of the crease. Brad Stuart and Scott Gomez provided the assists and each player has two points tonight.
This is the Sharks' first lead of the Western Conference semifinals.
Los Angeles 2, San Jose 2 (13:25 3rd Period)
Game 2 remains locked in a stalemate. The teams have played more than six minutes of 5-on-5 hockey in the final frame of regulation and the Kings have turned things around.
Los Angeles has outshot San Jose 4-0 in the third period, a far cry from the first 40 minutes of game action. The Sharks outshot their hosts 24-13 during the first two periods.
Los Angeles 2, San Jose 2 (18:30 3rd Period)
Kings standout Anze Kopita heads to the locker room after being hit in the mouth by a shot. Blood could clearly be seen and his return has to be in doubt after a nasty collision with the puck.
The third period has begun in Los Angeles as the Kings look to take a 2-0 series advantage. Following San Jose's second-period surge it's anyone's game.
If you're looking for a hot-shooting star, keep an eye on Jeff Carter. The Los Angeles center has three points through five periods of this series.
Jeff Gross/Getty Images
Sharks rally highlights second period as game reached intermission tied 2-2!
When San Jose fell behind 2-0 it must have felt like a much bigger hole considering the way Kings goalie Jonathan Quick dominated the first four periods of action in this series.
However, the Sharks surged into a tie with two goals in a span of less than five minutes. Patrick Marleau and Brad Stuart scored for San Jose, responding to an earlier Los Angeles power play goal by Drew Doughty.
Stay tuned for what should be a wild third period in L.A.!
Los Angeles 2, San Jose 2 (2:20 2nd Period)
The Kings have really struggled to find space on offense against San Jose tonight. Through nearly 40 minutes of action, Los Angeles has just 12 shots on goal.
Quick is superb but it's hard to ask him to shoulder the load night after night if the offense can't muster a sustained attack.
Stuart pulls San Jose into 2-2 tie with 5:32 remaining in second period!
Hit the reset button in Los Angeles, we have a tie hockey game. Jonathan Quick suddenly looks mortal after San Jose scored its second goal in less than five minutes of action.
Brad Stuart knotted the contest at two goals apiece and the body language on the Sharks' bench has changed drastically. Suddenly, the pressure is on Los Angeles to right the ship and regain momentum.
Stuart was assisted by Scott Gomez.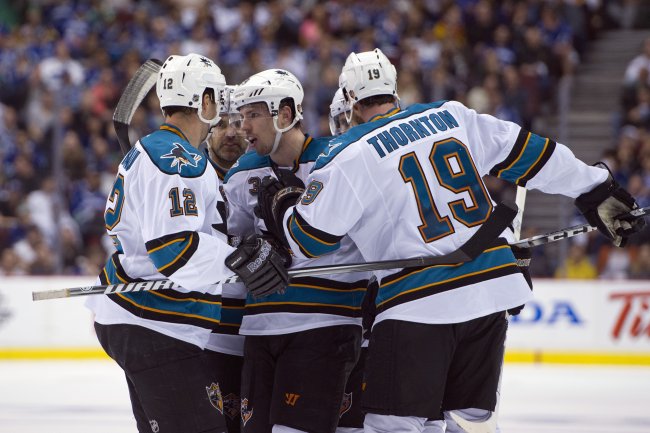 Rich Lam/Getty Images
Sharks finally break through, beat Quick to cut Kings' lead to 2-1 with 10:13 left in second period!
Blogger's jinx?
Quick stopped the first 51 San Jose shot attempts of this series but couldn't get in front Patrick Marleau's blast. San Jose suddenly has a pulse, trailing 2-1 midway through Game 2.
It's Marleau's fifth goal of the playoffs. He was assisted by Logan Couture and Dan Boyle.
The Sharks ended Quick's bid for his seventh career postseason shutout. Now we'll see if San Jose can manage to beat him twice.
Los Angeles 2, San Jose 0 (11:10 2nd Period)
Jonathan Quick is a joy to watch right now (for those outside the California bay area). His confidence is apparent as he continues to creep beyond the crease at times in an effort to strengthen a stranglehold on the net behind him.
Quick has several highlight reel saves, stopping 16 shots.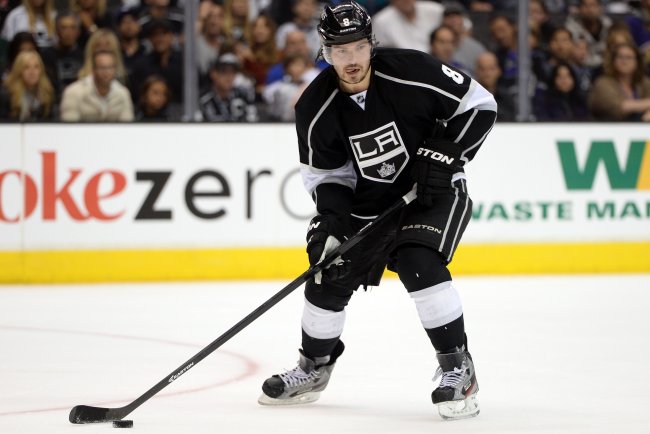 Harry How/Getty Images
Los Angeles leads 2-0 on power play goal with 15:50 left in second period!
Drew Doughty delivered a laser that rose above the right shoulder of Sharks goaltender Antti Niemi, doubling the home squad's advantage early in the second period. Brad Richardson, normally a reserve player, stepped up to provide Doughty with an excellent pass in space to set up the shot.
Scott Hannan could only watch from the penalty box after being whistled for interfering with Jordan Nolan. It's Doughty's second goal of the postseason.
The second period is underway at the Staples Center. Here are a couple notes to keep in mind as Game 2 evolves:
- The Kings are 20-2 when holding a lead during playoff games during the past two seasons.
- San Jose claimed three comeback victories against Vancouver in the first round.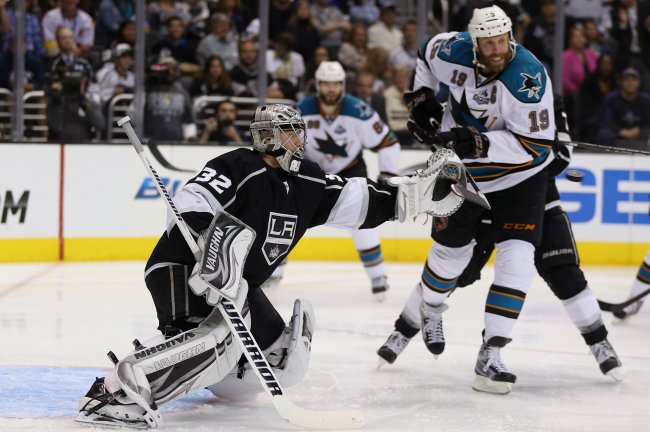 Jeff Gross/Getty Images
First period comes to a close with Los Angeles in front 1-0!
Jonathan Quick hasn't allowed the Sharks to score through four periods, stopping 46 straight shots along the way. Jeff Carter capitalized on a breakaway to give the Kings a lead with his fourth score of the postseason.
San Jose outshot Los Angeles 11-4 but came up empty on two first-period power play chances. Stay tuned for second period coverage...
Los Angeles 1, San Jose 0 (4:15 1st Period)
Each squad has squandered a power play opportunity in the opening period. San Jose's Tim Kennedy was sent to the box for high-sticking, while Los Angeles lost Jordan Nolan for two minutes after he was whistled for slashing.
The Sharks own a 10-4 advantage in shots on goal but still haven't been able to solve the brick wall that is Jonathan Quick.
Los Angeles 1, San Jose 0 (9:04 1st Period)
Jonathan Quick continues to swallow up every shot sent his way. The 2012 postseason superstar already has two shutouts in these playoffs and has stifled San Jose at every turn.
He has stopped seven shots tonight and is now 42-for-42 through three and a half periods against the Sharks.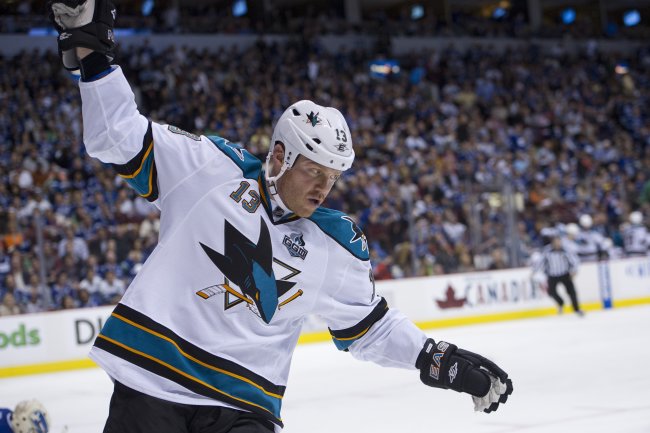 Rich Lam/Getty Images
Los Angeles 1, San Jose 0 (12:06 1st Period)
Remember, San Jose standout Raffi Torres is suspended for Game 2 (and likely beyond) after laying a vicious hit on Kings center Jarret Stoll. Both players involved in the altercation, as Stoll is sidelined indefinitely.
It created immediate bad blood in this interstate showdown and cost Torres a chance to change his reputation as a volatile force on the ice.
Los Angeles claimes 1-0 lead on Carter's goal with 16:54 left in first period!
Jeff Carter strikes again! The center scored his fourth goal of the postseason and second of the series a little more than three minutes into Game 2.
Carter, who has been an offensive catalyst in Los Angeles since the team acquired him from Philadelphia, already has three points in the series.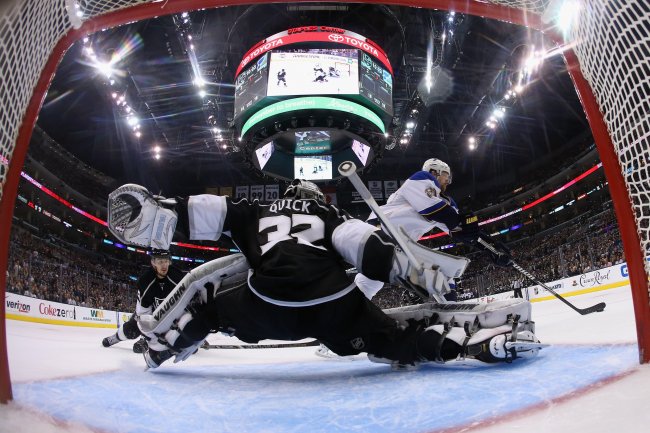 Jeff Gross/Getty Images
The puck has dropped in Los Angeles, where the Kings aim to claim a 2-0 series advantage over San Jose. This series features an incredible goaltending duel.
Kings' netminder Jonathan Quick claimed the 2012 Conn Smythe Trophy. Antti Niemi, who starts for San Jose on the opposite end of the ice, is a Vezina Trophy finalist.
This article is
What is the duplicate article?
Why is this article offensive?
Where is this article plagiarized from?
Why is this article poorly edited?