One NBA Playoff Cliché to Describe Every Team Left Standing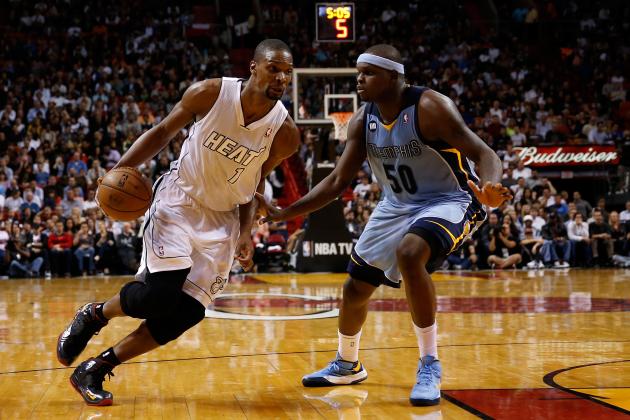 Chris Trotman/Getty Images
Zach Randolph's Grizzlies could face Chris Bosh and the Miami Heat in the NBA Finals.
NBA basketball has greatly evolved since the league's inception, though many of the underlying principles behind winning games have remained unchanged. That consistency has allowed the media to rely on clichés to tell the story of different players and teams.
Many clichés are used to describe the mental and physical attributes of a team, such as talent level, age, experience and the personality of its players. Some expressions are used to explain a team's style of play, while others refer to the history of a team or the city it calls home.
Certain clichés address aspects of the game, like defense or rebounding. There are also those that touch on deeper philosophical ideas, such as "staying in the moment."
Regardless of the subject, clichés enable the media, fans and players to understand teams within a greater context, whether it be the history of the game, society as a whole or human nature.
Begin Slideshow

»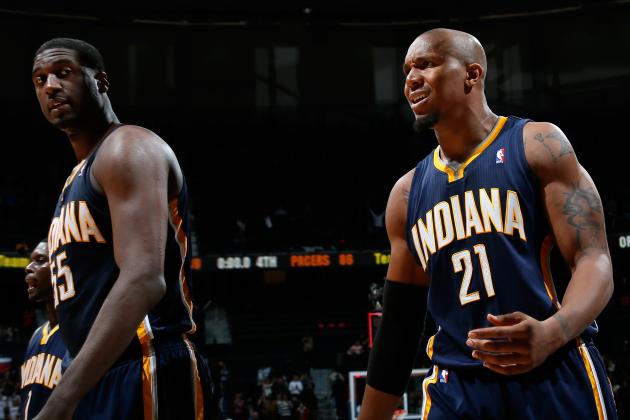 Kevin C. Cox/Getty Images
David West and Roy Hibbert are all business on the court.
The Indiana Pacers are a young team, though what they lack in experience they make up for with passion. Frank Vogel's squad beats itself at times with turnovers, but they never lose a game due to a lack of effort.
The Pacers do not have a bona fide superstar on their roster, nor are they the most athletic team. They win games by playing as a unit and competing on every possession.
Indiana stole home-court advantage Game 1 of their Eastern Conference semifinals matchup against the New York Knicks in New York because the Knicks did not play with a sense of urgency. Indiana has not suffered a similar lapse in focus and is one game from the conference finals as a result.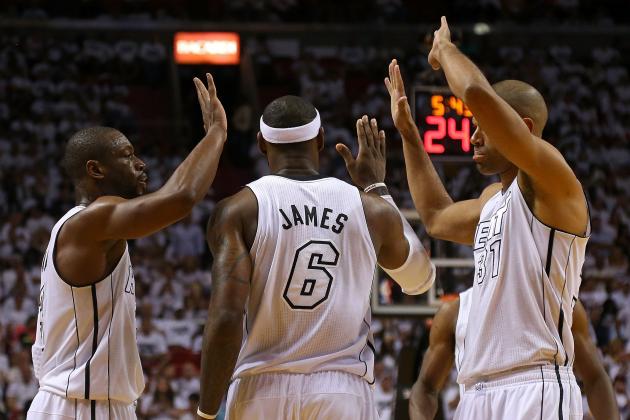 Mike Ehrmann/Getty Images
LeBron James and company are on their way to back-to-back titles.
The Miami Heat are heavily favored to repeat as NBA champions because no team can match their talent. LeBron James is the greatest player in the world, and he is surrounded by three other future Hall of Famers in Chris Bosh, Dwyane Wade and Ray Allen.
After defeating the Oklahoma City Thunder in the NBA Finals last year, the Heat came back stronger this season. The Big Three are even more comfortable playing together in Erik Spoelstra's system, and Pat Riley upgraded the roster with the additions of Allen and Chris "Birdman" Andersen.
Miami won a league-high 66 games during the regular season and has lost just three times in its past 48 contests. Barring a major injury to James, Wade or Bosh, it is difficult to imagine one of the remaining teams stealing the Heat's crown.
Brad Penner-USA TODAY Sports
Carmelo Anthony and the Knicks must focus on winning Game 6 against the Pacers.
"One game at a time" is one of the most commonly used clichés in sports, and it is never more applicable than when a team digs themselves a big hole, as the New York Knicks did in their second-round series against the Indiana Pacers.
New York fell behind 3-1 in the best-of-seven series after dreadful performances in Games 3 and 4. The thought of having to beat a stingy Pacers team three times in a row was quite daunting, so the Knicks had to restrict their focus to the next game in front of them.
The Knicks took care of business in Game 5 and have a realistic shot at winning this series. If they win Game 6 in Indiana, they will be playing before their hometown crowd in Game 7. But, if Mike Woodson's team starts thinking about Game 7 too soon, they will never get there.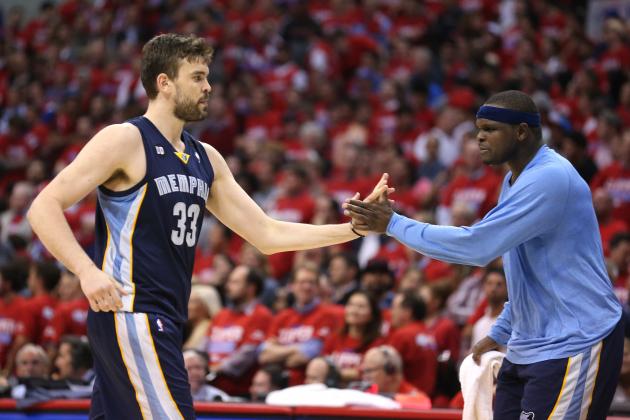 Stephen Dunn/Getty Images
Marc Gasol and Zach Randolph are great players, but they have not attained superstar status.
One of the major storylines of this NBA season was whether the Denver Nuggets could win a championship without a superstar. The question was answered when George Karl's team was bounced in the first round by the Golden State Warriors, but the Memphis Grizzlies and Indiana Pacers, who are without a household name on their rosters, are still in it.
"Superstar" is a vague word, open to many different interpretations. It is generally used to describe players who consistently dominate their sport. A more specific definition is difficult to nail down.
Marc Gasol was named Defensive Player of the Year, and Zach Randolph was selected to his second All-Star team this season, though neither finished in the top 10 in PER, nor are they likely to make the All-NBA First Team. As previously noted, few teams have won an NBA championship without at least one player meeting that criteria.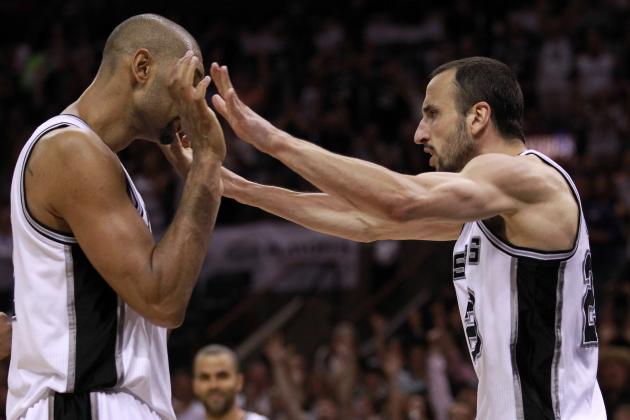 Ronald Martinez/Getty Images
Tim Duncan and Manu Ginobili are not the players they once were.
It seems like the media and basketball fans have been closing the curtain on the San Antonio Spurs' run since Gregg Popovich's team won its last championship in 2007. However, this appears to finally be the last shot at winning a title for this nucleus.
Tim Duncan had another exceptional season. He finished sixth in PER and actually saw an uptick in his scoring, rebounding and blocked shots per game, but the big fella can no longer put the team on his back like he did earlier in his career.
Age has also caught up with Manu Ginobili. The Argentine was hobbled by leg injuries this season and was limited to just 23 minutes per game when he was in the lineup. He has lost some of his explosiveness and has had trouble finishing around the rim in the playoffs.
The Oklahoma City Thunder's defeat of the Spurs in the conference finals last season represented a changing of the guard, but an injury to Russell Westbrook kept the Thunder out of the conference finals and left the Spurs' championship window open a crack for one final run.