Predicting the 2013 NFL All-Pro Team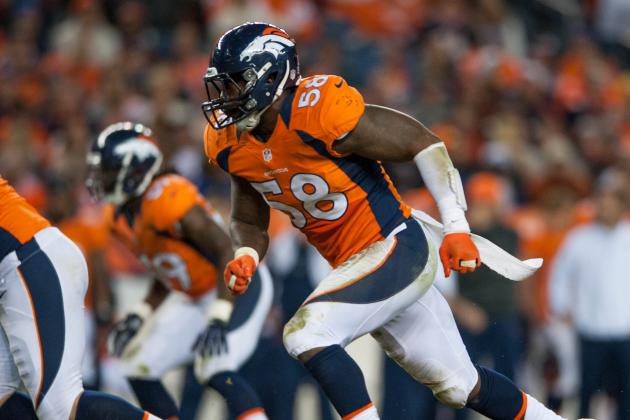 Dustin Bradford/Getty Images

The NFL offseason hasn't even wrapped up, but it's not too early to start looking at some of the potential standouts for next year. This league has only a handful of elite players at each position, so predicting potential All-Pro players at this point in the year can be a fun exercise.
I used past performances, offseason transactions and coaching changes to develop this list. Each position also includes a sleeper who has the potential to shock some people and steal a spot on the All-Pro team at the end of the season.
Begin Slideshow

»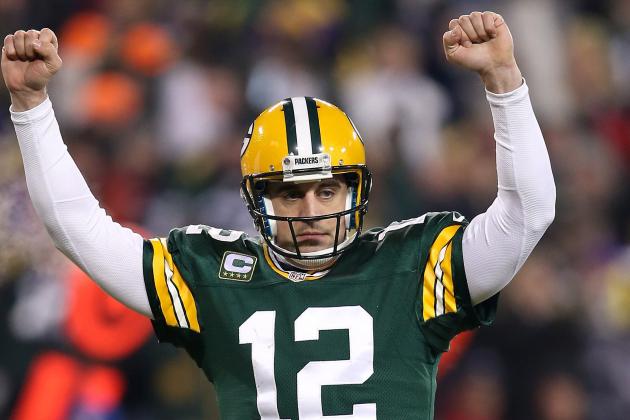 Andy Lyons/Getty Images

Aaron Rodgers, Green Bay Packers
The Green Bay Packers used two picks during the 2013 NFL draft to finally give Aaron Rodgers some talent at the running back position, as Eddie Lacy and Johnathan Franklin will help balance out the Packers' offense. The presence of a running game will also help create more one-on-on opportunities for Green Bay's wide receivers.
Rodgers would have been in the running for an All-Pro nomination without the addition of Lacy and Franklin. However, he'll likely become an even more efficient quarterback because of these upgrades at running back.
Some will point to offensive line issues as a possible tripping point for Rodgers. Again, the running game will also help in this area. Pass-rushers will have to respect the run and not just focus on rushing upfield.




Sleeper: Russell Wilson, Seattle Seahawks
Russell Wilson had an amazing rookie season, but he just scratched the surface of his talent. Wilson is a tireless worker who is constantly looking to get better.
It's important to note that his success came despite having average talent at the wide receiver position. Wilson helped elevate the play of pass-catchers like Golden Tate, Sidney Rice and Zach Miller.
Seattle's offseason trade to bring Percy Harvin into the mix was a great move. Harvin is the type of playmaker who can turn wide-receiver screens into touchdowns.
Adrian Peterson, Minnesota Vikings
Last year's performance by Adrian Peterson was absolutely amazing, but this is the type of production that he has put up throughout his career. The Minnesota Vikings know that he's the focal point of their offense, and they will continue to feed him the ball.
Yes, opposing defenses will place most of their attention on stopping Peterson. This won't impact his success, however, as this isn't anything new.
With another year of experience, quarterback Christian Ponder should start to show signs of improvement. This combined with the additions of Greg Jennings and Cordarrelle Patterson should help create more running room for Peterson.
Chris Johnson, Tennessee Titans
The Tennessee Titans focused most of their offseason resources on upgrading the talent along the offensive line. They signed Andy Levitre to a big-money deal, drafted Chance Warmack with the No. 10 overall pick in the draft and added center Brian Schwenke in the fourth round.
Warmack is the key addition, as he shows the potential to immediately become a dominant force up front. The combination of these additions will help Chris Johnson regain his form. Johnson quietly had a good year last season, despite dealing with an absolutely terrible offensive line.
Tennessee should also continue to make Johnson the focal point of the offense. Jake Locker has yet to show the consistency needed for the coaching staff to feel comfortable about his ability as a quarterback.
Sleeper: C.J. Spiller, Buffalo Bills
C.J. Spiller averaged six yard per attempt last season. The combination of his explosiveness and ability to contribute in the passing game makes him a special playmaker. Look for the Buffalo Bills' new coach, Doug Marrone, to get Spiller the ball as much as possible.
The key here is Fred Jackson, as the more carries he steals from Spiller, the less likely it is that the latter lands a spot on the All-Pro team.
Bills quarterback Kevin Kolb had this to say about Spiller in a recent interview:
"Explosive," Kolb replied with a smile after Wednesday's voluntary workout at One Bills Drive. "Yeah, super-explosive. He's truly a bounce in every step, and there's very few of those around."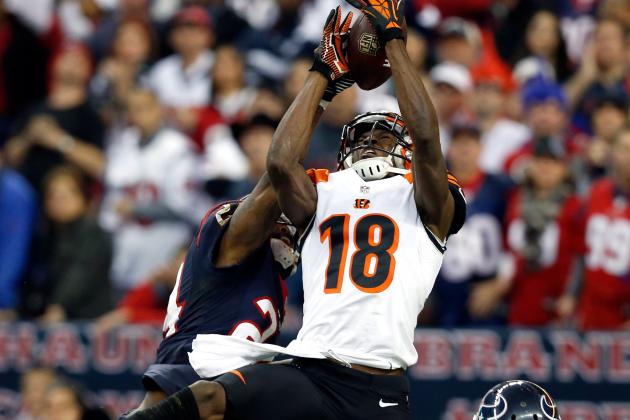 Scott Halleran/Getty Images

A.J. Green, Cincinnati Bengals
A.J. Green has quickly developed into one of the more consistent playmakers in the NFL. His ability to stretch the defense, attack the ball at its highest point and make the tough catch in traffic makes him a nightmare to cover.
A lot of the talk is that the Cincinnati Bengals' addition of rookie tight end Tyler Eifert will benefit Andy Dalton the most. However, Green may actually be the bigger winner in this scenario.
Opposing defenses know that Green is Dalton's favorite target and typically roll coverage to his side of the field. Eifert possesses the pass-catching skills needed to draw coverage away from Green. The more one-on-one coverage Green sees, the more he'll produce.
ESPN's Chris Mortensen: "Bengals take TE Tyler Eifert to take heat off A.J. Green."
— AJC UGA (@ajcuga) April 26, 2013


Brandon Marshall, Chicago Bears
Brandon Marshall has always found a way to put up big numbers. However, his improved behavior off the field has helped his consistency on the field. Marshall showed last year that he can be a leader, and he still works extremely well with quarterback Jay Cutler.
Chicago is hoping that someone out of Martellus Bennett, Alshon Jeffery and Earl Bennett can take some pressure off of Marshall next season. Even if one of those three steps up, Marshall will still get a large majority of the targets.
Over the years, the Bears offensive line has hindered the potential of the passing game. This is why Chicago went out and added players like Jermon Bushrod, Kyle Long and Matt Slauson to the mix this offseason. Better pass protection for Cutler means better opportunities for Marshall.
Sleeper: Percy Harvin, Seattle Seahawks
The Seattle Seahawks didn't orchestrate a trade for Percy Harvin to have him play a complementary role. He's going to be the team's No. 1 pass-catching option and someone the offense looks to feature.
Look for the Seahawks to find unique ways to get the ball in Harvin's hands. Don't be surprised if we even see a lot of Harvin lined up in the backfield next to Russell Wilson. The duo of Wilson and Harvin has a chance to be really special.
Jimmy Graham, New Orleans Saints
This is going to be a completely different year for the New Orleans Saints. They've finally put the bounty scandal in the rear-view mirror, and they will have head coach Sean Payton back in the mix next season. Payton's return will help regain the consistency that the offense lacked last season.
Jimmy Graham showed over the past two seasons that he's a special player. His numbers were a little down last year because he was slowed by some injuries.
With both the injuries and distractions in the past, Graham is poised for a great year.
Sleeper: Martellus Bennett, Chicago Bears
The Chicago Bears brought in Martellus Bennett both to help take pressure off of Brandon Marshall and to contribute in the running game. A lot of All-Pro votes go to tight ends who excel in the passing game, but nobody should overlook the importance of being an all-around contributor.
Bennett possesses the athletic ability to keep pace with the top pass-catching tight ends and is one of the better blockers in the league.
Christian Petersen/Getty Images

Duane Brown, Houston Texans
Duane Brown has quietly become one of the top offensive tackles in the league. He's an excellent all-around player, who both opens running lanes and protects the passer. The Houston Texans' offense wouldn't be nearly as effective without Brown.
Arian Foster gets a lot of credit for carrying the offense over the past two seasons. However, he's able to find room to run because of the offensive line.
It's important to note that Brown has played a major role in keeping this unit working as a team. Over the past two offseasons, Houston has lost starters like Eric Winston and Mike Brisiel.
Talked to Brennan Williams said he is looking forward to working with Duane Brown and learn from one of the best in the game. #Texans
— PDS (@PatDStat) May 12, 2013


Joe Staley, San Francisco 49ers
The San Francisco 49ers' offensive line deserves as much credit for the team's success as Colin Kaepernick and the defense. This group consistently opens large running lanes and provides the quarterback with the time needed to find open targets.
Joe Staley is one of the leaders of this group. He uses a combination of athleticism, strength and tenacity to dominate opponents. Staley often sets the tone by working to the whistle and moving defenders off the line of scrimmage.
Sleeper: Matt Kalil, Minnesota Vikings
Adrian Peterson is an elite running back who had an amazing year in 2012, but we shouldn't overlook the play of the offensive line. Matt Kalil, especially, deserves a lot of credit, as his addition last season helped stabilize the unit.
Kalil made a seamless transition from the college level to the NFL. He played with a nasty streak that helped open running lanes as well as athleticism that helped protect the quarterback.
This is a player who will continue to develop and could quickly become one of the better left tackles in the entire league.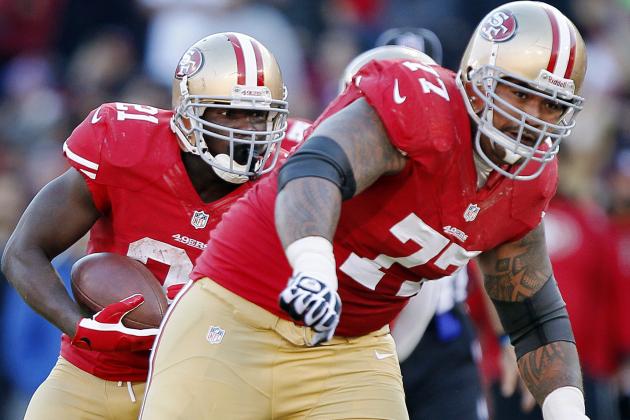 Brian Bahr/Getty Images

Mike Iupati, San Francisco 49ers
Mike Iupati is a versatile interior offensive lineman who allows the San Francisco 49ers to do a lot of different things. The offense is able to run plays where they use Iupati to trap, pull to the outside and climb to the second level.
These aren't just things that Iupati is capable of simply performing, as he does each of these tasks at a high level.
Chance Warmack, Tennessee Titans
Chance Warmack was actually the second offensive guard selected in the 2013 draft. However, he's talented enough to immediately dominate the line of scrimmage. Warmack features an explosive first step, which allows him to deliver a strong initial jolt and get a push off the line.
The Tennessee Titans are looking for him to help kick-start their struggling ground attack. Warmack is physical, strong and nasty enough to accomplish this task.
Look for Chris Johnson to have bounce-back season and for Warmack to get a large amount of the credit.
Mike Munchak on Chance Warmack: "He's the complete package." #TitansDraft
— Tennessee Titans (@TennesseeTitans) April 26, 2013




Sleeper: Jonathan Cooper, Arizona Cardinals
Jonathan Cooper is a different type of interior lineman than Chance Warmack. He's more athletic and capable of doing different things. This is the type of guard who can get out in front of a running back and make blocks down the field.
However, he's also explosive off the ball and strong enough to generate a push off the line. Cooper is an excellent all-around player who will immediately improve the Arizona Cardinals entire offensive line.
Max Unger, Seattle Seahawks
Max Unger was named to the All-Pro team for the first time last year. He was a major factor in Marshawn Lynch's ability top the 1,500-yard mark. Unger also played a major role in the quick development of Russell Wilson.
A successful ground game is a great tool for a young quarterback. Wilson was able to lean on Lynch to help keep the defense off balance.
Unger was also response for making adjustments along the offensive line. His leadership and understanding of the game absolutely eased Wilson's transition. Don't look for things to change during the upcoming season.
Sleeper: Alex Mack, Cleveland Browns
The Cleveland Browns brought in new head coach Rob Chudzinski and offensive coordinator Norv Turner to increase the production of the offense. Both coaches have proven that they know how to make the best of what talent is on the roster.
For the Cleveland Browns, this includes a strong offensive line and Trent Richardson. Alex Mack is in the middle of that offensive line, and he is one of the better centers in the league.
Chudzinski and Turner will look to feature Richardson this season. A strong year by Richardson will be possible because of contributions from lineman like Mack. Left tackle Joe Thomas gets the majority of the attention within this group, but Mack is quickly developing into a dominant force.
J.J. Watt, Houston Texans
J.J. Watt has transformed the way most people look at a five-technique defensive end. Traditionally, those at this position are asked to play two-gap football and occupy blockers. However, Watt has been able to both hold up against the run and create a ton of pressure on the quarterback.
Because of his natural talent and non-stop motor, we can expect to see the same type of production from him, year in and year out.
Watt's such a special player because he impacts the game in multiple ways. He excels at rushing the passer, stuffing the run and batting balls at the line of scrimmage.
Bleacher Report's Matt Stein had the following to say about Watt in a recent article:
It's hard to call an NFL player perfect, but Watt is as close as any player in the league to truly being the perfect football player. He's the best player in the NFL right now, and the scary part is that he's only going to get better.
Cameron Wake, Miami Dolphins
Cameron Wake has put up excellent pass-rush numbers, despite being a one-man show. Things are going to change this year, though, with the addition of Dion Jordan through the draft. Jordan's pass-rushing ability will force opposing offenses to take some attention away from Wake.
Upgrades in the secondary will also help Wake maintain his production. Brent Grimes and Jamar Taylor will force the wide receivers to work longer to create space. The more time Wake as to rush the passer, the more opportunities he will have to rack up sacks.
Sleeper: Michael Johnson, Cincinnati Bengals
The Cincinnati Bengals have been patient with Michael Johnson as he learned to make the most of his talent. Johnson has always been an extremely athletic football player, but he didn't have a great feel for the position.
He appears to have put in the time and has developed into a feared pass-rusher. Opposing offenses don't have the resources to neutralize both Johnson and defensive tackle Geno Atkins.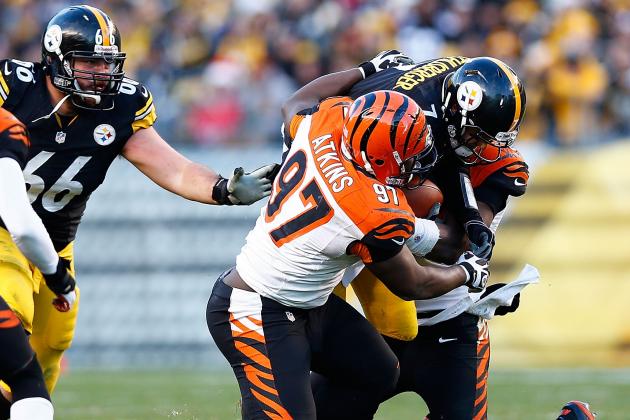 Jared Wickerham/Getty Images

Geno Atkins, Cincinnati Bengals
Geno Atkins is just now becoming a household name, but truth is that he has been making plays since the preseason of his rookie year. Atkins uses a non-stop motor, proper technique and an explosive first step to wreak havoc in the offensive backfield.
His 12.5 sacks in 2012 were 4.5 more than the next best defensive tackle, Ndamukong Suh, produced. This is a player who is just entering the prime of his career, and it appears as if he's only getting better.
The development of Michael Johnson and Carlos Dunlap means that opposing offenses won't be able to key on just stopping Atkins. He can expect to see more favorable matchups in the future.
NFL Films' Greg Cosell said on The Herd the two best NFL players this season have been Houston's J.J. Watt and Cincinnati's Geno Atkins.
— Adam Schefter (@AdamSchefter) December 6, 2012


Gerald McCoy, Tampa Bay Buccaneers
Last year was the first time in his career that Gerald McCoy played in all 16 games. His health allowed him to finally show the talent that helped make him the No. 3 overall pick in the 2010 draft. McCoy anchors a Buccaneers' defensive line that's on the verge of a breakout.
His ability to both generate pressure in the face of the quarterback and stuff the run makes him an excellent all-around player.
With his first healthy season under his belt, McCoy should finally be able to build some momentum.
Sleeper: Kendall Reyes, San Diego Chargers
The San Diego Chargers got a major steal when they landed Kendall Reyes in the second round of the 2011 draft. He's a gifted athlete who is just starting to really figure everything out. Last year, he was able to tally 5.5 sacks despite seeing sporadic playing time.
Reyes is slated to open the year as one of the starting five-techniques opposite Corey Liuget. This duo has the potential to cause some real issues for opposing offenses.
Von Miller, Denver Broncos
Peyton Manning gets a lot of credit for the Denver Broncos' status as a Super Bowl contender. However, Von Miller deserves equal credit, as his ability to generate pressure on the quarterback makes the Broncos a well-rounded team.
While his pass-rushing ability is the key to his success, Miller can also impact the game by setting the edge against the run and dropping into coverage.
This isn't just a player who will get All-Pro consideration, as he should also be in the mix for Defensive Player of the Year.
Aldon Smith, San Francisco 49ers
Aldon Smith is very similar to Von Miller in that he excels at getting to the quarterback. Over the past two seasons, Smith has registered a total of 33.5 sacks. The San Francisco 49ers' defense as a whole is very successful, but Smith's pressure is what puts them over the top.
Without Smith, the 49ers' top pass-rusher would be Ahmad Brooks, who registered 6.5 sacks last year. This shows just how important Smith is to the 49ers' defense.
Sleeper: Lance Briggs, Chicago Bears
Lance Briggs has had a great career, but he has always been stuck behind Brian Urlacher's shadow. This year, he has an opportunity to show that he has meant just as much as Urlacher has to the Chicago Bears defense.
Briggs takes on the role of the leader in a linebacker corps that could feature two rookie starters next season in Jonathan Bostic and Khaseem Greene.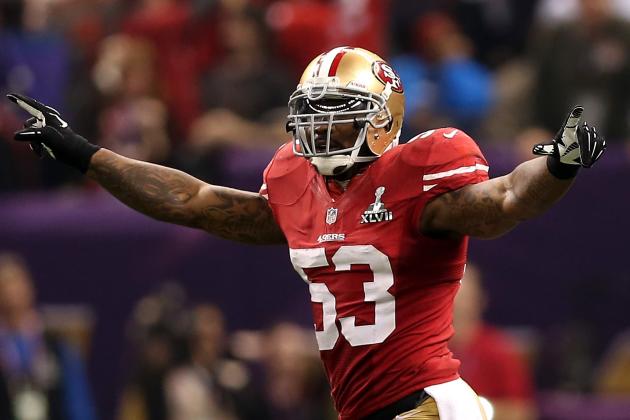 Christian Petersen/Getty Images

NaVorro Bowman, San Francisco 49ers
NaVorro Bowman has quietly become the best linebacker on the San Francisco 49ers' roster. This says a lot because Patrick Willis is a great player in his own right. The combination of these two players makes this duo one of the best in the league.
Bowman has shown the ability to make plays all over the field. His quickness helps him chase the ball from sideline to sideline, and it also allows him to hold up in coverage. He's an all-around player who can remain on the field in passing situations.
How many people realize NaVorro Bowman is better than Patrick Willis?
— Ross Tucker (@RossTuckerNFL) January 31, 2013


Bobby Wagner, Seattle Seahawks
Russell Wilson gets most of the attention as the Seattle Seahawks' best draft pick in 2012. However, Bobby Wagner quickly proved to be an equally important piece of the puzzle. Wagner instantly inserted himself as a leader on the defense.
He does a great job deciphering post-snap information and chasing down the ball. His hard-hitting ability helped set the tone for the rest of the unit.
Seattle undoubtedly has an excellent secondary, but Wagner helped raise the linebacking corps to an equally high level.
Sleeper: Luke Kuechly, Carolina Panthers
Luke Kuechly was able to lead the NFL in tackles as a rookie with limited talent along the defensive line last season. The Carolina Panthers helped their young linebacker by using their first two draft picks in 2013 to add defensive tackles Star Lotulelei and Kawann Short.
These are two massive defensive tackles who can occupy blockers and allow Kuechly to flow freely to the ball.
This is a great situation, as Kuechly's one weakness is that he doesn't do a great job when taking on blockers.
Richard Sherman, Seattle Seahawks
Richard Sherman loves to boast about his skills to the media. Fortunately, he has the talent and drive to live up to the expectations that he creates for himself. Sherman's physical play makes him one of the more feared defenders in the league.
Most wide receivers hate to be jammed at the line of scrimmage, which helps Sherman employ a little psychological warfare.
Sherman isn't just a physical player, as he also does a good job flipping his hips and sticking with his target. He's able to create a bigger impact on the game because of his ball skills. His eight interceptions last year tied for second in the league.
Patrick Peterson, Arizona Cardinals
Patrick Peterson is still developing his coverage skills, but his impact on the game goes beyond this area. Peterson gives the Cardinals some swagger and confidence. His ability to both change the game as a return man and with interceptions as a cornerback increases the confidence of his teammates.
Because of his top-notch athleticism and work ethic, look for Peterson to take another step forward in his coverage ability. Even a slight step should help keep him in the mix for an All-Pro spot.
Sleeper: Casey Hayward, Green Bay Packers
The Green Bay Packers got a real steal when they landed Casey Hayward in the second round of the 2012 draft. He instantly provided them with solid coverage and another ball-hawk in the secondary. His strong play forced teams to attack different players like Tramon Williams and Sam Shields.
Because Green Bay's offense puts a ton of pressure on their opponent, Hayward will have plenty of opportunities to match last year's interception total.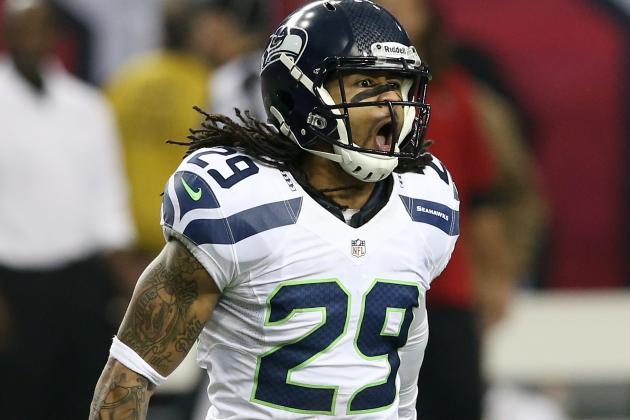 Streeter Lecka/Getty Images

Earl Thomas, Seattle Seahawks
NFL offenses are always looking to create mismatches. This puts a lot of pressure on a defensive coordinator to find ways to get the right personnel on the field. Earl Thomas' versatility is what makes him such a special player.
Thomas is the type of safety who supports the run, provides range in the deep part of the field and can drop down to cover in the slot. He's fluid enough to stick with those quicker slot receivers and physical enough to match up with tight ends.
Seattle has more defensive flexibility than most because of Thomas' presence.
Turned 24 this week, #Seahawks S Earl Thomas is one of the top players in the league. If ball production increases (INT drops)- Future HOF.
— NFL_DRAFT_Bites (@NFLDraftBites) May 11, 2013


Jairus Byrd, Buffalo Bills
The Buffalo Bills' secondary had its share of issues last season, but Jairus Byrd was one of the bright spots. He's proven to be one of the more consistent safeties in the entire league. His ability to track the ball and pull down interceptions makes him a real difference maker.
A change in defensive philosophy and a healthy Mario Williams will have a positive impact on Byrd. The new defense should do a better job of generating pressure on the quarterback. This will lead to more mistakes and hurried throws by opposing signal-callers. Byrd is the type of instinctive player to take full advantage of this situation.
Sleeper: Harrison Smith, Minnesota Vikings
Harrison Smith's presence in the Minnesota Vikings' secondary made a major difference last season. He provided them with an aggressive playmaker and a strong leader. Smith finished first on the team last season with three interceptions and second with 78 tackles.
Kicker: Justin Tucker, Baltimore Ravens
Joe Flacco's excellent playoff run paved the way to the Baltimore Ravens' Super Bowl victory. However, Justin Tucker's ability to hit clutch field goals played an equally important role. In only his second season, Tucker is already one of the more reliable kickers in the league.
Punter: Andy Lee, San Francisco 49ers
Andy Lee is just a great all-around punter. He not only led the league by netting 43.2 yards per punt last season, but he also landed 36 balls inside the 20-yard line. It's important not to judge punters on total yardage, as players like Lee don't get as many opportunities because he plays on a successful team.
Devin Hester, Chicago Bears
Marc Trestman has finally pulled the plug on the Devin Hester wide-receiver experiment. Despite showing flashes, Hester just didn't have the hands and route-running ability to develop into a consistent contributor at the position.
Chicago plans to allow Hester to focus solely on regaining his return abilities. Hester might have had a down year in this department, but he's still one of the more electrifying return men in the league.