MLB Trade Speculation: All 30 Teams' Biggest Need at the One-Quarter Mark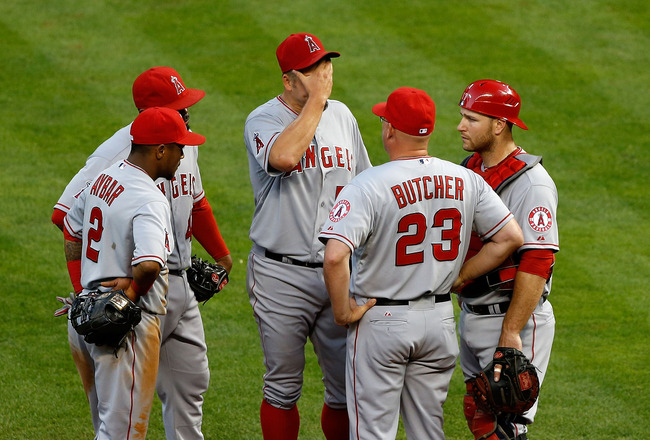 Scott Halleran/Getty Images
Now that the 2013 MLB season has reached the one-quarter mark, teams have a much clearer picture of their biggest needs going forward.
Each team will take the next two-plus months to assess their deficiencies and determine whether trade deadline deals can fix some of their issues.
For some, it could simply be a matter of adding a veteran presence that can help off the bench. Others could be looking at a more major acquisition to bolster an area of need. Still others will be bidding for the services of a rental player who can help out in the short-term.
Not every team will be looking to make upgrades to help out for the rest of this season. Teams like the Houston Astros and Miami Marlins will likely be used as sources for other contending teams to make changes.
Here then is each MLB team's biggest need at the one-quarter mark that could be addressed via the trade market.
Arizona Diamondbacks: Veteran Bullpen Arm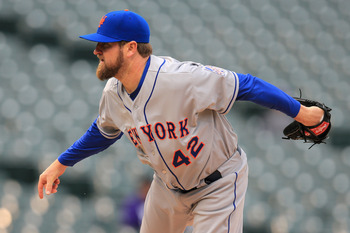 Doug Pensinger/Getty Images
The Arizona Diamondbacks finished the first quarter with a 23-18 record—pretty darn good considering the rash of injuries they endured.
Adam Eaton and Cody Ross started the season on the disabled list. Soon after, Aaron Hill made his way to the DL as well. Jason Kubel was felled for a short time, and closer J.J. Putz was also shelved with right elbow pain.
Both Ross and Kubel are healthy, Eaton has been on rehab assignment at Triple-A Reno and there's no current timetable for Hill's return.
Through all of that the Diamondbacks have done more than survive—they're just a half-game off the pace in the NL West.
While there's no immediate need for Arizona, another veteran arm for the bullpen wouldn't be such a bad thing.
Brandon Lyon wouldn't be a bad choice. The Diamondbacks are certainly familiar with Lyon—he spent four years of his career in the desert. Signed to just a $750K contract with the New York Mets, he could certainly be made available at the trade deadline.
Atlanta Braves: None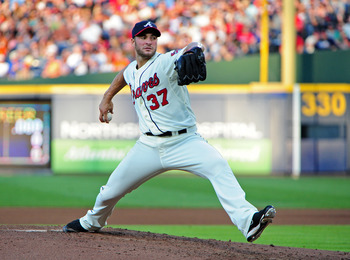 Brandon Beachy's return will help the Braves' rotation in the long run.
Scott Cunningham/Getty Images
The Atlanta Braves are holding on to the lead in the NL East despite winning just 10 of their last 27 games.
Thanks to a slow start by the Washington Nationals and Philadelphia Phillies, the Braves' current slump hasn't put them in a catch-up situation. But there are some issues.
Those issues likely aren't something that can be fixed by a trade. Center fielder B.J. Upton and second baseman Dan Uggla are mired in season-long slumps, and right fielder Jason Heyward could be back with the team as soon as Friday.
Starting pitcher Brandon Beachy has progressed well in his recovery from Tommy John surgery and could be back with the Braves in mid-June. Beachy will absolutely help to bolster the rotation.
Jonny Venters' sore left elbow is still a concern—he underwent a second Tommy John surgery on Thursday. The bullpen has been terrific without him, however, leading the National League with a 2.77 ERA.
The issues faced by the Braves will be dealt with by two factors—improved play from slumping stars and the return of Beachy and Heyward.
Baltimore Orioles: Designated Hitter and Top-Shelf Starter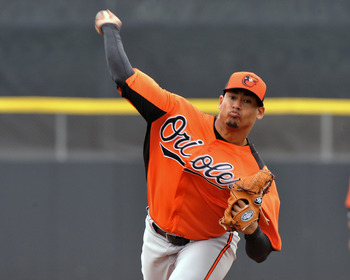 Jair Jurrjens will make his first start for the Orioles on Saturday.
Al Messerschmidt/Getty Images
The Baltimore Orioles finished the first quarter six games above .500, and they did it in spite of an almost automatic out in their batting order and without an ace for their rotation.
Designated hitters for the Orioles produced a woeful .148/.244/.244 slash line with just three home runs. The biggest culprits were Steve Pearce (.167) and Nolan Reimold (.143).
At some point soon it should be expected that vice president of baseball operations Dan Duquette will be addressing that issue.
In addition, the Orioles starting rotation posted a not-so stellar 4.68 ERA in the first quarter. Wei-Yin Chen has been placed on the disabled list with an oblique strain.
According to Ken Rosenthal of FoxSports.com, the O's will turn to a reclamation project for help:
Sources: Jurrjens will make #Orioles debut Saturday against #Rays. 3.14 ERA in 8 starts at AAA, 36 Ks, 15 BBs, 2 HRs allowed in 51 2/3 IP.

— Ken Rosenthal (@Ken_Rosenthal) May 14, 2013
While Jurrjens might help in the short-term, Jon Heyman of CBSSports.com is reporting that the O's are looking for a more viable long-term solution.
According to Heyman:
The Orioles miraculously won a wild-card berth without a top-of-the-rotation starter last season but apparently would feel a whole lot better if they can acquire one, possibly from their minor-league ranks but more likely via trade. There's no guarantee any top starters will become available via trade, as even the early speculation surrounds pitching stars who aren't free agents after the year, such as R.A. Dickey, Cliff Lee, David Price and Jake Peavy, meaning there's nothing that would necessarily compel their current teams to trade them.
Prospects like Dylan Bundy and Kevin Gausman aren't going anywhere, but the Orioles do have attractive pieces in their farm system should the right match be found.
Boston Red Sox: Catcher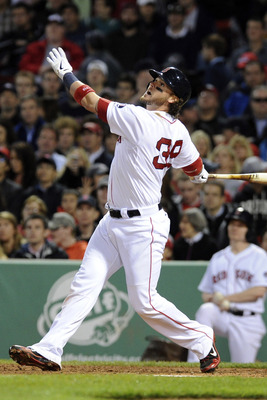 USA TODAY Sports
While the Boston Red Sox have produced the fourth-most runs in the American League, they're not happy with the production from behind the plate.
Two weeks ago, ESPN's Buster Olney appeared on the Mut and Merloni show on WEEI radio to talk about the Sox and their apparent unhappiness with catcher Jarrod Saltalamacchia.
Via Annie Maroon of WEEI.com:
With Saltalamacchia, I've heard this from executives of other teams: They say they think the Red Sox will be looking for an upgrade at that position, possible even before the trade deadline at some point. They feel like, given the money that they're paying him, he's got to perform better than how he's been performing at the beginning of this year.
Saltalamacchia is hitting .248 with four homers and 11 RBI. But he's also whiffed at the rate of 33.6 percent and has thrown out just one runner attempting to steal in 17 tries.
There is simply not much available on the open market unless the Red Sox make a play for Braves backup catcher Gerald Laird, who, according to Mark Bowman of MLB.com, could be made available.
They could try to make a play for Brian McCann as well, keeping Laird as a backup to Evan Gattis. That scenario, however, is remote at best.
Chicago Cubs: A Do-Over on Edwin Jackson Contract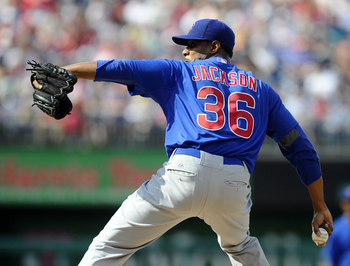 Brad Mills-USA TODAY Sports
When Edwin Jackson signed a four-year, $52 million contract with the Chicago Cubs, general manager Jed Hoyer justified the deal by noting that the Cubs dealt with a depth issue.
"We needed to really address our depth," Hoyer said at the time. "We've worked hard it. We'll find out over the course of six months whether we were right or wrong about it. ... That was sort of our goal this winter to add as much depth and quality as we could."
Based on current results, maybe Hoyer and company didn't work quite hard enough.
Jackson is 1-5 with a 6.02 ERA in eight starts thus far. Only two of his starts have been of the quality variety, and he has yet to work past the sixth inning in any start thus far.
I don't think that's the type of quality depth that Hoyer was looking for.
Chicago White Sox: Offense Behind the Plate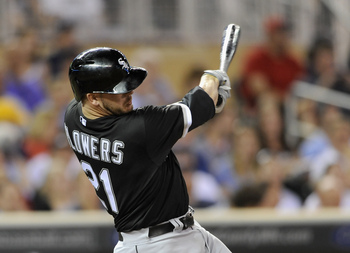 Hannah Foslien/Getty Images
The Chicago White Sox were content to let catcher A.J. Pierzynski hit free agency over the offseason, believing that Tyler Flowers was ready to assume everyday duties behind the plate.
Flowers is hitting just .202 with four home runs. His backup, Hector Gimenez, is hitting just .125.
Maybe it should be the White Sox calling the Atlanta Braves to inquire about Gerald Laird or Brian McCann.
Maybe I mixed up my Sox.
Cincinnati Reds: Relief Help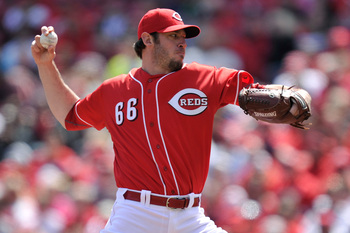 Jamie Sabau/Getty Images
The Cincinnati Reds bullpen hasn't been a disaster, but it hasn't been dominant, either.
Reds' relievers sit in the middle of the pack in the National League with a 3.64 ERA. Logan Ondrusek could find himself in danger of losing his spot once Johnny Cueto returns from the disabled list. Mike Leake would likely be bumped from the rotation at that point.
Jonathan Broxton had an ugly performance against the Pittsburgh Pirates that inflated his numbers, but the 4.41 ERA isn't what was expected from a man signed to a three-year, $21 million contract.
The return of a healthy Sean Marshall will help, but another left-handed specialist might be in order.
Cleveland Indians: Veteran Starter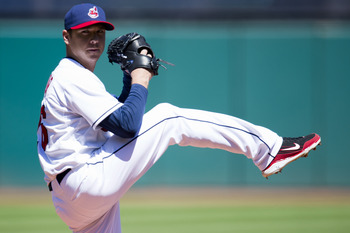 Jason Miller/Getty Images
It's hard to find much fault right now with the Cleveland Indians.
As Richard Justice of MLB.com aptly pointed out, even their starting pitching has come through lately:
Indians have won 14 of 18 thanks to a rotation that has gone 12-4 w/ 3.17 ERA. Tribe starters have held opponents to 3 runs or less 15 times

— Richard Justice (@richardjustice) May 16, 2013
However, I for one would feel a lot better if the Tribe added one more quality starter.
They've rolled the dice with Corey Kluber, Zach McAllister and a rejuvenated Scott Kazmir, but adding depth just in case seems smart at this point.
Colorado Rockies: Starting Pitching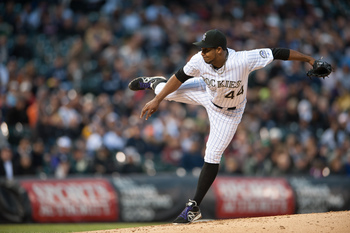 Dustin Bradford/Getty Images
The Colorado Rockies have pitched much better than expected to start the season, and their efforts have helped vault them into a tight NL West race.
However, chinks in the armor are appearing.
Jeff Francis, who turned in a solid outing against the Chicago Cubs on Tuesday, was placed on the 15-day disabled list with a strained groin.
Juan Nicasio will remain in the rotation for now despite a rocky start in which he's posted a 5.13 ERA in eight starts. But it could be a very short leash.
The Rockies have Tyler Chatwood, who's pitched extremely well at Triple-A Colorado Springs and has made two spot starts already. But if they can somehow carry their solid start into the All-Star break, rotation depth will definitely be on their wish list at the trade deadline.
Detroit Tigers: Back-End Rotation Help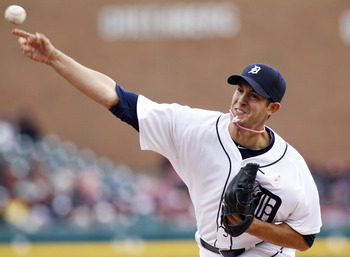 Duane Burleson/Getty Images
After a horrific start to the 2013 season, Rick Porcello has now posted three consecutive quality starts to drop his ERA to 6.68.
But are the Tigers playing with fire in keeping Porcello in the rotation?
Porcello has the been the subject of various rumors throughout the spring. In fact, Andy Martino of the New York Daily News said that the Tigers were actively seeking a deal at the time:
Exec who's talked #Tigers re: Porcello: "They have been actively calling around on him...asking a lot, but I think they will move him."

— Andy Martino (@MartinoNYDN) March 21, 2013
Porcello ending up beating out Drew Smyly for the final spot in the Tigers rotation. But inconsistency has been the bane of Porcello's existence in Detroit.
To mount a defense of their American League pennant and seek their first World Series title since 1984, the Tigers will likely seek an upgrade over Porcello at some point soon.
Houston Astros: You Name It, They Need It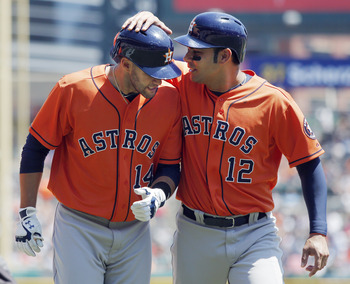 Duane Burleson/Getty Images
A better question—or easier question for that matter—for the Houston Astros is what they don't need.
It's certainly a shorter answer.
Their strength and future lies in second baseman Jose Altuve. He may be short of stature, but Altuve has the talent and skills with which the Astros can build a team around.
At 11-30 the Astros are headed towards a record of futility in modern-day baseball. With most of their future tied up in the lower levels of the minors, there won't be much help for them to avoid that record.
Kansas City Royals: Second Base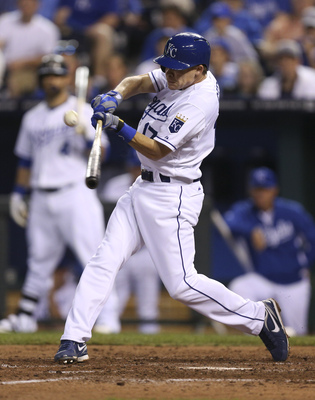 Ed Zurga/Getty Images
The Kansas City Royals are hanging tough in the AL Central, just one game off the pace set by the Detroit Tigers.
The pitching has been solid, and although the power is missing from their offensive arsenal, they're nonetheless scoring runs.
However, second base continues to be an issue. Chris Getz won the everyday job over Johnny Giavotella in spring training but has hit just .193 thus far. Elliott Johnson has hit .302 in a backup role but isn't their long-term answer.
Mike Moustakas has had his struggles at the plate as well, but the Royals seem committed to him long-term. They likely don't have that same feeling toward Getz.
There aren't many options on the open market that would be considered a huge upgrade. If the Philadelphia Phillies go into selling mode at the trade deadline, the Royals could try to make a play for Chase Utley if they have an honest shot at a postseason berth.
Los Angeles Angels: Starting Pitching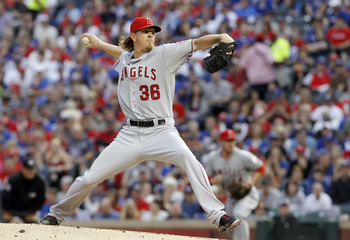 The return of Jered Weaver will help, but the Angels need a lot more help beyond just Weaver alone.
Brandon Wade/Getty Images
The Los Angeles Angels clearly have issues all over the roster with their 15-25 start, but the most glaring of those issues is clearly the starting rotation.
The injury to Jered Weaver aside, Angels starters simply haven't gotten it done. With a 9-19 record and 5.10 ERA, they've put pressure on the bullpen to the point that the Angels have had to shuffle in relievers from Triple-A just to have fresh bodies on hand.
This from Bill Shaikin of the Los Angeles Times:
#Angels try ex-#Royals P Billy Buckner as 21st P of year. Barry Enright DFA.

— Bill Shaikin (@BillShaikin) May 16, 2013
They've already nearly used a number of pitchers that would fill a major league roster.
The failure of Joe Blanton combined with the inability of starters to work deep into games has been a complete drain on the bullpen—hence the shuttle with Triple-A pitchers.
Los Angeles Dodgers: Third Base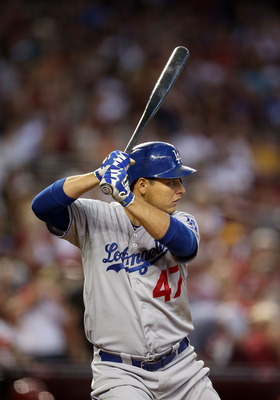 Christian Petersen/Getty Images
An obvious need for the Los Angeles Dodgers is good health—nine players are currently on the disabled list.
But the left side of the infield—third base in particular—has been abysmal.
Four players—Luis Cruz, Juan Uribe, Jerry Hairston and Nick Punto—have combined to hit .182 with two home runs. Cruz had been expected to carry the load offensively, but with an .087 average and no home runs, it's safe to say that's a failed experiment.
The Dodgers could well go with Hanley Ramirez at third base and Dee Gordon at shortstop when Ramirez returns from a strained hamstring. Or, general manager Ned Colletti could look for a better solution on the open market.
Miami Marlins: Houston Astros, Part Deux
Mike Ehrmann/Getty Images
The Miami Marlins lost to the Cincinnati Reds in extra innings on Thursday, dropping their record to 11-30. It's the same exact record as the Houston Astros, and like the Astros, their needs are too numerous to mention.
With Giancarlo Stanton on the disabled list and Logan Morrison still rehabbing from offseason knee surgery, they are a team completely devoid of power.
The 4.11 team ERA doesn't stink, but with an offense unable to mount any kind of a consistent attack they're left to hold on for dear life.
Much like the Astros, their talent lies mostly at the lower levels of the minors and won't be providing any relief this year.
Milwaukee Brewers: Pitching, Pitching and More Pitching
Mike McGinnis/Getty Images
With a 7-1 loss to the Pittsburgh Pirates, the Milwaukee Brewers now have the worst rotation ERA in the National League.
Their collective 5.01 ERA clearly shows that the fears of experts before the season started are coming to fruition.
The inexperience beyond ace Yovani Gallardo was cited as a potential trouble spot for Milwaukee. The addition of Kyle Lohse was supposed to help, but that has yet to happen as well.
The Brewers are by no means out of it, but the rotation as currently constructed simply will not be enough to carry them into the postseason without being addressed.
Minnesota Twins: Outfield Help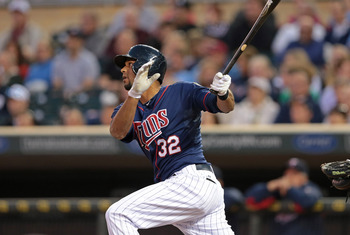 USA TODAY Sports
The Minnesota Twins are hanging on in the AL Central, just three games off the pace with an 18-19 record. And they're doing it with a relatively unproductive outfield.
| | | | | |
| --- | --- | --- | --- | --- |
| | BA | HR | RBI | OPS |
| Left Field | .234 | 5 | 23 | .762 |
| Center Field | .164 | 3 | 17 | .533 |
| Right Field | .232 | 4 | 14 | .666 |
The Twins have stuck by Aaron Hicks in center largely because no one else in the system is better or able. Darin Mastroianni is on the DL and Joe Benson is struggling mightily in Triple-A. Chris Parmelee is hitting just .204 and Josh Willingham only .205.
If the Twins had a set of outfielders that could complement the M & M boys—Joe Mauer and Justin Morneau—this would be an entirely different conversation.
New York Mets: First Base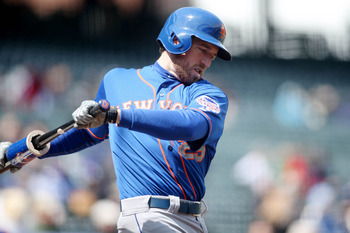 Chris Humphreys-USA TODAY Sports
New York Mets manager Terry Collins will likely be forced to soon make a decision at first base.
Ike Davis' struggles have continued, now hitting just .157 with four home runs and a .512 OPS.
Collins continues to put up excuses for his struggling first baseman. He told Jorge Castillo of the Newark Star Ledger that he's hitting the ball hard, but right at people.
"Ike's swinging better," Collins said. "The hardest part is when he's swinging better, he's not getting any hits and that's frustrating for him.
"Ike was struggling, but you could live with it because other guys were hitting. Right now, nobody's hitting. So yeah, the results, you have to certainly hope they are better than a year ago."
The question is how much longer is Collins going to wait.
How much longer can he afford to wait?
New York Yankees: Back-End Rotation Help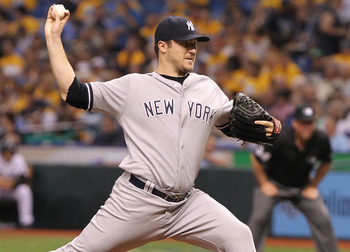 Kim Klement-USA TODAY Sports
The banged-up New York Yankees have seen solid performances from the top three starters in their starting rotation.
The back end? Not so much.
Phil Hughes, Ivan Nova and David Phelps have combined for a 4-6 record and 5.40 ERA. There's not much help available internally at this point.
GM Brian Cashman has to be more than pleasantly surprised that his team is 25-16 at this point with a rag-tag group of replacement players and struggling starters.
It shouldn't be much of a surprise to see him explore the trade market to explore upgrades for his rotation at this point.
Oakland Athletics: What Else? Starters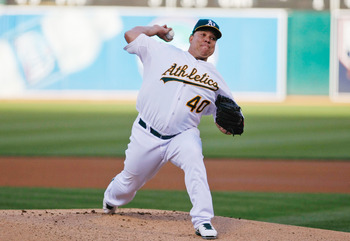 Kelley L Cox-USA TODAY Sports
There are five teams in the American League with an ERA above 5.00 from their starters. Surprisingly, the Oakland Athletics are one of them.
A strength for the A's last year in their magical run to the AL West Division title, that same rotation has sputtered in the first quarter.
Bartolo Colon, Jarrod Parker, Brett Anderson and Dan Straily have combined for a 7-13 record and 6.03 ERA. They can't use the schedule as an excuse—they've played almost half their games at pitcher-friendly O.co Coliseum.
Those struggles simply cannot continue if the A's hope for a repeat performance in the AL West.
Philadelphia Phillies: Back-End of Bullpen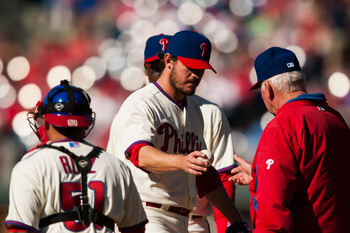 Howard Smith-USA TODAY Sports
The main guys in the Philadelphia Phillies bullpen—Jonathan Papelbon, Mike Adams and Antonio Bastardo—have largely delivered. The rest of the group has struggled.
When Papelbon's ERA is taken out of the equation, the Phillies' bullpen ERA is 4.75. The biggest culprits have been Jeremy Horst, Raul Valdes and Chad Durbin, who have combined for a 6.75 ERA.
Manager Charlie Manuel was rather cryptic in comments about his struggling 'pen.
"The object of the game is when you bring someone in, if you're behind or tied or even if you have the lead, is to hold the other team," Manuel told Bob Brookover of Philly.com. "Can you do it all the time? No, but you have to do it at a high percentage."
That was a not-so subtle message to his struggling relief corps.
If the Phillies are in a position to be buyers by the trade deadline, look for general manager Ruben Amaro Jr. to be addressing this issue first and foremost.
Pittsburgh Pirates: Depth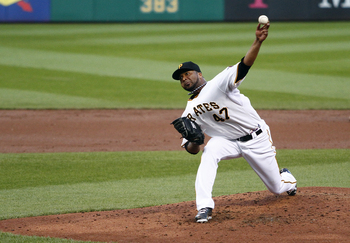 Justin K. Aller/Getty Images
It's hard to find fault in the Pittsburgh Pirates right now.
That's certainly a rare statement, given their 20-year run of consecutive losing seasons.
But with a 24-17 record, the Pirates are off to a terrific start. Francisco Liriano has stepped in to give the Pirates a viable option at the top of the rotation behind A.J. Burnett and Wandy Rodriguez. Jason Grilli and Mark Melancon have combined to be the best closer-setup man tandem in baseball.
The offense struggled mightily in the first week of the season but have since gelled. Backups Jordy Mercer and Jose Tabata have been solid contributors, and even shortstop Clint Barmes has turned things around since a rough beginning.
General manager Neal Huntington will need to be careful in assessing needs for his team in the second half. The deals pulled off in the last two years at the trade deadline failed to give the Pirates a lift—he'll need to carefully weigh his options and bring in players that don't mess with the chemistry.
San Diego Padres: Top-Shelf Starters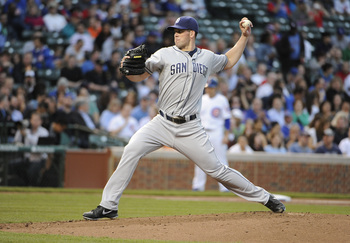 David Banks/Getty Images
The San Diego Padres are second-to-last in the National League with a 4.94 ERA from its starters, and much of the struggles have come from their top two men.
Edinson Volquez and Clayton Richard have combined for a 3-8 record and 6.60 ERA. Richard is currently on the disabled list with an intestinal virus.
The Padres did nothing to address their rotation concerns at the top during the offseason—that strategy has certainly come back to haunt them now.
San Francisco Giants: Rotation Depth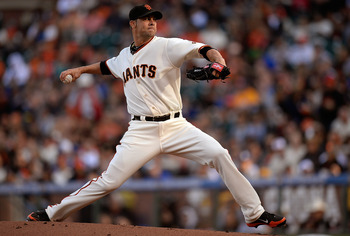 Thearon W. Henderson/Getty Images
The San Francisco Giants have largely relied on a stellar starting rotation over the past three seasons to help them climb to the top of the standings. That same rotation is their biggest issue right now, however.
Ryan Vogelsong is clearly struggling, now with a 8.06 ERA through eight starts. Matt Cain has won three straight starts, but gave up six runs on Thursday night, pushing his ERA to 5.43.
The issue for the Giants is depth. Manager Bruce Bochy will stick with Vogelsong for now, but he doesn't have many viable options to replace him in the rotation, or anyone else should injuries occur.
General manager Brian Sabean absolutely needs to address this issue if the Giants seek to win a third World Series championship in four seasons. Rolling the dice with the same five starters for a second season in a row is a gamble.
Seattle Mariners: It's Still About Offense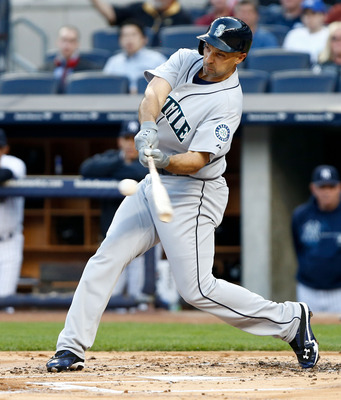 USA TODAY Sports
The Seattle Mariners have at least achieved one thing through the first quarter of the 2013 season—they're not in last place in runs scored.
That honor goes to the Chicago White Sox. But the Mariners shouldn't get too comfortable with their accomplishment—they only succeeded in scoring more runs than Chicago.
It's still all about offense, and the Mariners are still struggling in that regard. The additions of Michael Morse, Kendrys Morales and Raul Ibanez have helped to a degree, but are nowhere near enough to make their offense a scary proposition in the eyes of opponents.
St. Louis Cardinals: None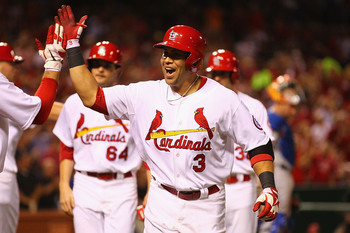 Dilip Vishwanat/Getty Images
There is an awful lot to like about the St. Louis Cardinals right about now.
At 26-14 they have the second-best record in baseball. The rotation has been stellar, and the bullpen has stabilized considerably since Edward Mujica took over as closer.
The offense has been solid as well—their .263 team average is third in the National League and they're fourth overall in runs scored.
General manager John Mozeliak may just need to tweak a bit and add some depth at this point to keep his team on top in the NL Central.
Tampa Bay Rays: Bullpen Help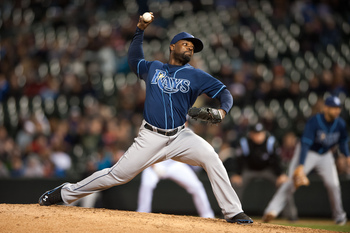 Dustin Bradford/Getty Images
Relief is hardly what's been provided by the Tampa Bay Rays bullpen this season.
Their 4.67 bullpen ERA is second-to-last in the American League. Closer Fernando Rodney was unable to put the finishing touches on a solid effort by starter Alex Cobb, allowing a bases-clearing double by Will Middlebrooks in the top of the ninth inning on Thursday.
Rodney has now allowed nine earned runs on the season—he gave up just five for the entire 2012 season.
But he's not the only one to blame. Jake McGee has posted an 8.80 ERA in his 19 appearances. Brandon Gomes, Kyle Farnsworth and Jamey Wright have struggled as well.
It's unlikely that the cash-strapped Rays will spend money to upgrade their bullpen, but it's clearly the biggest area of concern right now.
Texas Rangers: None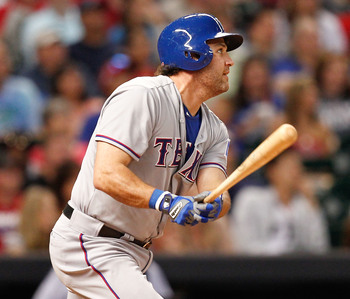 Bob Levey/Getty Images
With the best record in the majors at 27-14, the Texas Rangers are enjoying life right now.
General manager Jon Daniels has to be sitting back and smiling at his handiwork.
The offseason was indeed tumultuous as the Rangers lost Josh Hamilton, Mike Napoli and Michael Young. They failed to land a top-shelf starter. Their biggest free-agent acquisition came in the form of Lance Berkman, who played in just 32 games last season.
Yet they're the best in baseball.
Daniels is smiling indeed.
Toronto Blue Jays: Starting Pitching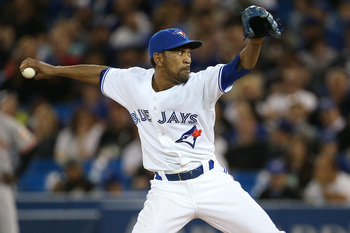 Tom Szczerbowski/Getty Images
The Toronto Blue Jays have won their last four games, but they still sit in the cellar of the AL East.
Their starting rotation has been simply awful. Consider that Brandon Morrow's 4.69 ERA represents the best mark of anyone in the rotation. They've been forced to turn to 40-year-old Ramon Ortiz to provide help.
In the competitive AL East, the Blue Jays have already fallen eight games off the pace. Despite their current run of success, they're simply going to need a much more consistent effort from their rotation.,
Washington Nationals: Second Base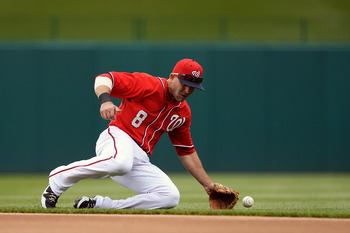 Patrick McDermott/Getty Images
It's been a major struggle thus far this season for Washington Nationals second baseman Danny Espinosa.
Hitting just .177 with three home runs, Espinosa was benched in favor of Steve Lombardozzi in the Nationals' win over the San Diego Padres on Thursday.
That could be a more frequent occurrence if Espinosa fails to get out of his funk.
Doug Mead is a featured columnist with Bleacher Report. His work has been featured in the Seattle Post-Intelligencer, SF Gate, CBS Sports, the Los Angeles Times and the Houston Chronicle.
Feel free to talk baseball with Doug anytime on Twitter.
Keep Reading