Texas Football: 2013 Recruits Who Will Prove the Experts Wrong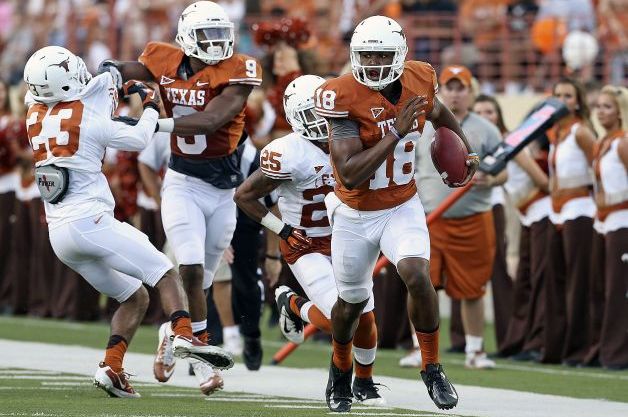 QB Tyrone Swoopes (18) has already proven to be better than his recruiting grade. Tom Reel/Express-News
Recruiting busts always snag the headlines and infuriate the fanbase. Though it is the unexpected booms that should get the attention, and the Texas Longhorns will have their fair share of them from their 2013 class.
As much as we all love recruiting, it is quite frankly, a terrible indicator of future success. According to Saturday Down South, Dee Milliner was the only top-10 NFL Draft pick who was a 5-star recruit coming out of high school. Or just look at Texas' fifth-ranked 2009 class, from which only four players have been consistent contributors.
The point is that a low recruiting ranking is not a death sentence. If a player has the right combination of motivation, physical tools and proper coaching, he can make a 5-star recruit look pretty silly on the field of play.
That is exactly what these 2013 recruits are going to do when they get their chance for the Texas Longhorns.
Begin Slideshow

»
Linebacker Deoundrei Davis is far from a reach as a recruit. However, he is going to easily outdo his No. 151 ranking on the ESPN 300.
After a stellar junior season, Davis surged up the rankings and was poised to cement himself as the state's top linebacker. Unfortunately he sustained an ACL tear early in his senior season from which he is still recovering.
Do not let this deter you from getting stoked about Davis. He is a vicious hitter who can create havoc in the backfield yet has the athleticism to cover in space. That ability is what will make him such a rare commodity in the pass-happy Big 12.
While his injury has sowed some doubt, Davis has done his best to make up for it by learning everything he could as an early enrollee. He is destined to be an every-down player once he gets healthy and will be an all-conference player before his Longhorn career is done.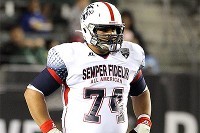 Cal Sport Media via AP Images
Feel free to tell offensive guard Rami Hammad that he is a 3-star recruit: That is pure motivation for him—just hope you are not on the wrong end of that motivation.
Hammad is the dictionary definition of a late-bloomer. A year ago, the 6'5" prospect was 270 pounds and only attracting moderate attention. Now he is up to 320 pounds and had to sort through nearly 50 offers before choosing the 'Horns.
Using his medial designation as fuel, Hammad simply went to work. That hard work came to fruition when he dominated the Semper Fidelis All-America Bowl to earn an offer from the Longhorns. Soon after, he decommitted from Baylor and committed to his dream school.
The last of Texas' five offensive line recruits is a mauler up front. ESPN's Max Olson describes his mean streak as being similar to that of four-year starter Mason Walters—a lofty comparison seeing as Hammad will be looking to replace Walters after he graduates.
He seems poised to do just that, and this 3-star designation may end up pushing him all the way to the NFL.
Former Washington State commit Montrel Meander is Texas' lowest-rated recruit of the 2013 class. His size-speed combination begs to differ.
Standing at 6'3", Meander is as tall or taller than all but two true receivers who will be on the 2013 roster. But what he holds over those players is the track speed to take the top off of the defense.
In high school, Meander was the deep-ball specialist, a position the 'Horns will be missing after Mike Davis' graduation next year. He tracks the ball well, then can go up and snatch it with ease. That said, he is extremely raw—needing a redshirt season to add weight and learn the technical aspects of the position.
Once that happens, Meander will provide the length and speed that no other player on the roster possesses.
A year after accepting a grayshirt offer from the 'Horns, Naashon Hughes officially becomes a scholarshipped player this summer. And Manny Diaz is going to have fun turning this kid loose.
The brother of 2012 commit Camrhon, Hughes has athletic potential coming out of his ears. He stands 6'4" and runs a 4.4 40 at 210 pounds. That time will likely fall once he adds the 20-30 pounds that his body can handle, but you get the point.
He will likely have to redshirt, but Hughes projects as one of Jon Gruden's "jokers" on defense as a safety-linebacker hybrid. He is athletic enough to cover and pursue in space, but he also has the strength to bring the wood. His long arms also figure to make an impact in disrupting passes at the line.
With the ability to line up any and everywhere, Hughes will be a joy to watch once he hits the field.
After a stellar spring, Tyrone Swoopes already has the recruitniks kicking themselves. Is it possible that he is even better than we had hoped?
Swoopes started out as the No. 1 dual-threat quarterback in the country. Then a rough 2012 saw him lose his classification as a quarterback and then fall out of both the ESPN 300 and the Rivals 250.
After enrolling early, Swoopes has come full circle and is back to giving fans Vince Young-esque visions of the future—scary part is he could end up being even better than the Texas legend.
Already Swoopes has ballooned up to 250 pounds and looks capable of adding 10 pounds or more to his 6'5" frame. But most surprisingly, he is picking up the offense at an accelerated pace and has already leapfrogged to third on the depth chart after a thrilling series in the spring game.
Swoopes did all of that in three months. Imagine what the product will be at the end of the redshirt season he is expected to use in 2013.