Chicago Bulls vs. Miami Heat: Game 5 Postgame Grades and Analysis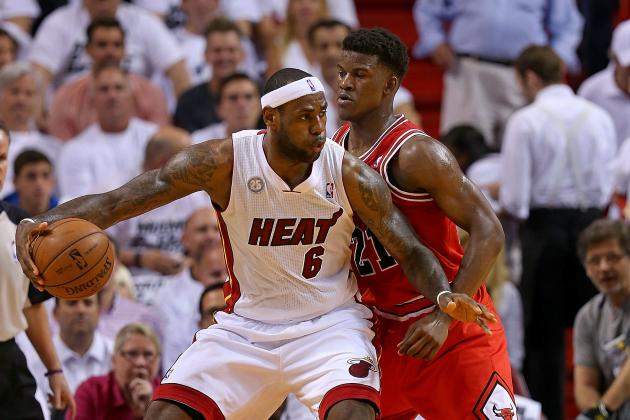 Mike Ehrmann/Getty Images

It's all over for the Chicago Bulls.
LeBron James and the Miami Heat are headed to the Eastern Conference Finals after beating the Bulls 94-91 in Game 5. They'll face the winner of the Indiana Pacers and New York Knicks series.
Miami came gunning out the gate, building a quick 22-4 lead. Chicago navigated its way back, though, and headed into halftime with a six-point lead.
These Bulls didn't appear on the verge of letting up in the second half. They maintained their lead well into the fourth quarter before the Heat took over in the latter half of the period.
Chicago put forth a valiant effort and nearly pulled this one out, but it was the reigning NBA champions that ultimately prevailed.
And so, the quest for a repeat lives on.
Begin Slideshow

»
Steve Mitchell-USA TODAY Sports

Nate Robinson, CHI: B+
So much for that shooting slump of Nate Robinson's. Well, sort of.
Nate the Great went just 6-of-15 from the field, but he was 4-of-7 from deep and finished with 21 points. It was he (and Carlos Boozer) who provided the impetus for Chicago's offense to close out a strong first half.
Robinson did a nice job running the point. He over-dribbled at times and made some questionable decisions (four turnovers), but what else isn't new? Miami didn't have an answer for most of his ball-handling, though. He dropped six assists and pick-and-rolled the hell out of the Heat with Boozer in the first half.
Chicago's undersized point man wasn't as much of a liability defensively, either. He hounded Mario Chalmers (and Norris Cole) and was far less of an on-ball wild card.
Will he be back next season? I sure hope so. He was fun to watch, as always.
Mario Chalmers, MIA: C
Chalmers could have been better in this one.
His shooting touch just wasn't there (3-of-9) as he seemed to struggle playing off the ball, which is usually a strong suit of his.
He made some nice defensive plays (two steals) but wasn't able to force the ball out of Robinson's hands enough. He could have done a better job fighting over some of the screens as well.
Chalmers' off-ball defense in the second half was the highlight of his performance. Which, as you can see, really isn't saying much.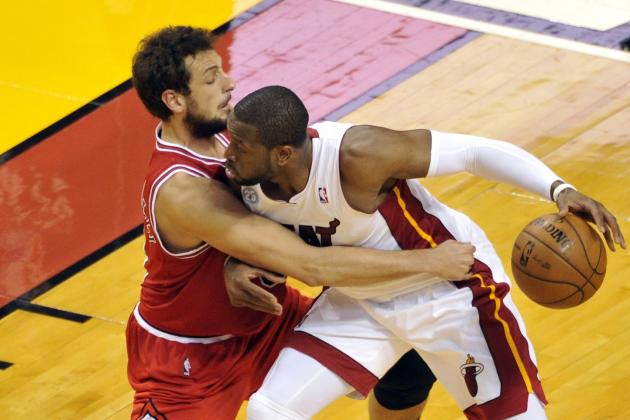 Steve Mitchell-USA TODAY Sports

Marco Belinelli, CHI: D
Where did all of Marco Belinelli's minutes go? To Richard Hamilton (seriously).
Belinelli couldn't seem to get in any sort of offensive rhythm in his 14 minutes of burn. He went 1-of-3 from the field for just three points and was a severe defensive liability in the opening minutes of the game.
Marco didn't appear to be coming over screens or moving without the ball well in general. It kind of felt like he was in cruise control.
Given how pivotal a game this was, that was odd. It's no surprise that Tom Thibodeau limited his minutes. That's what happens when you're playing with limited focus.
Dwyane Wade, MIA: B+
Give Dwyane Wade this: He plays...through whatever.
Truthfully, he wasn't able to play especially well for most of the game. But he finished strong. He was 7-of-13 from the floor and posted 18 points.
His fourth-quarter excursion was very Wade-like. He scored six points in the final period, making things incredibly difficult for the desperately depleted Bulls down the stretch.
You also have to appreciate Wade's ability to impact the game in other ways. He used his angles incredibly well and while neither the mobility nor explosion was there (until that fourth), he created some nice opportunities for his teammates (six assists).
Credit Wade's defense also. He was restricted when it came to moving East and West, but he still came up with two steals, one block and led Chicago's backcourt into some suffocating traps.
Hopefully Wade gets healthy. Because as much as we could find to appreciate here, we know he's capable of even more.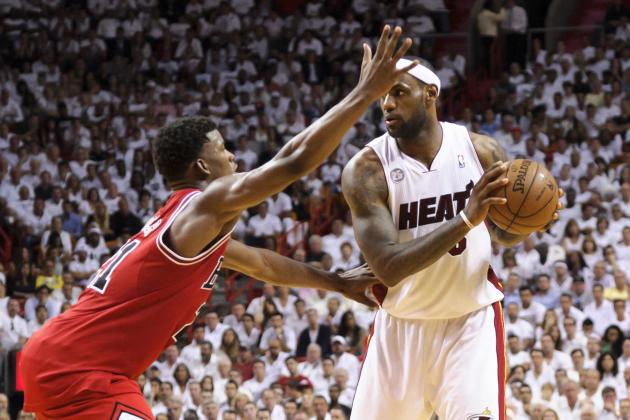 Steve Mitchell-USA TODAY Sports

Jimmy Butler, CHI: A-
If you're not a fan of Jimmy Butler, you have no soul. I know you think I'm kidding, but I'm not.
Butler finished with 19 points on 7-of-15 shooting. He pitched in four assists as well.
His offense wasn't even the best part; his defense was. He helped hold LeBron James to just 10 shots through three quarters, and while The Chosen One was sent to the line a great deal, Butler wasn't the one fouling him.
More so than even Joakim Noah, Butler set the tone defensively. He came up with three steals, but it was more the way he carried himself, orchestrating switches and bailing out his teammates.
I don't care how much you've already seen of him; you need more Jimmy Butler in your life.
LeBron James, MIA: A-
What can I say about LeBron that you haven't already heard? Probably nothing. But let's give it a go anyway.
Though I credit Butler for smothering LeBron on defense, you couldn't say The King was passive. Did he pass too much at times (eight assists)? Of course he did. He's LeBron. Unselfish dominance, almost to a flaw, is what he does.
South Beach's MVP finished the game with 23 points on 5-of-14 shooting. When he was able to get a step on his defender, he attacked the rim incessantly, getting to the line 15 times.
Oh, and he was scary in transition. Nate Robinson fouled him early on a number of occasions because of how scary he was.
Could we have asked for more? Absolutely. Any time he doesn't post a triple-double, we're left confused. Still, it was a quietly awesome performance from LeBron.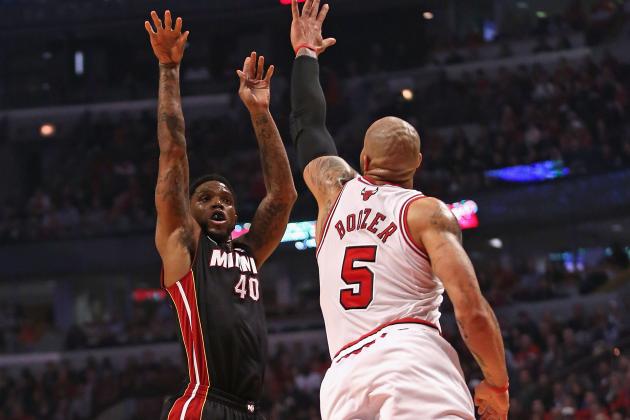 Jonathan Daniel/Getty Images

Carlos Boozer, CHI: B+
Remember when everyone was all, "Who needs Carlos Boozer when we have Taj Gibson?" Yeah, me neither.
Boozer was sensational for most of the game, finishing with 26 points and 14 rebounds on 10-of-19 shooting from the floor. He (along with Nate Robinson) was the driving force behind the Bulls' first-half comeback.
Chicago strayed away from initiating the pick-and-roll during the latter half of the game, but I'm willing to overlook that because he wasn't atrocious on the defensive end. He wasn't great (he lost sight of Udonis Haslem and Chris Bosh a couple times), but he wasn't horrible. For him, that's huge.
Had Boozer hit more of his free throws (6-of-11) there may have been an "A" in store for the suddenly underestimated big man. More points in the second half wouldn't have hurt, either.
Udonis Haslem, MIA: B-
Haslem played a really efficient offensive game.
He was 5-of-6 from the field for 10 points in 23 minutes and did a splendid job of moving off the ball.
More was needed from Haslem on the glass, though. He had just two rebounds and struggled to keep Boozer (and at points, Joakim Noah) in check, especially in the first half.
It wasn't all bad for Haslem defensively. He finished with a pair of steals and a block, though he could have been more physical when defending face-ups.
Let's just go ahead and call this a "stellar" showing from Haslem. Either that, or an "up-and-down" one. You decide.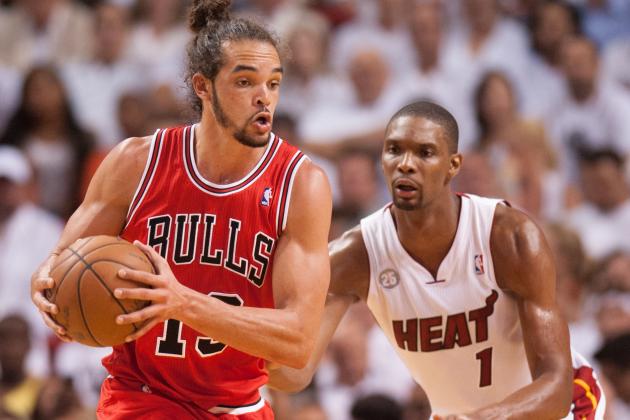 Steve Mitchell-USA TODAY Sports

Joakim Noah, CHI: B-
It wasn't the greatest of nights for the ever-passionate Joakim Noah.
He played with fire (Shane Battier would say too much fire) and battled his way to nine rebounds, but he just didn't have the impact we've become accustomed to.
Noah was just 1-of-5 from the floor for three points and coughed up the ball three times. His defensive tenacity was alive and well, but he wasn't contesting shots as ferociously.
That said, he took Chris Bosh (almost) completely out of Miami's offense in the latter half of the game. His help defense was good as well.
Not much else you could say for Noah here other than "Good job, phenomenal effort."
Chris Bosh, MIA: B
To be honest, it's surprising that the Heat were able to close this one out in spite of Bosh's quiet offensive performance.
Not that Bosh was terrible. He shot 50 percent from the field and was 2-of-3 from deep, but Noah's asphyxiating defense held him to just eight shots.
Bosh returned the favor on the other end, though. He defended the pick-and-roll well and gave Noah all he could handle. Like Noah, he provided some excellent help defense.
This was just a physical game by Bosh all around (on defense). He wasn't shying away from contact and got his licks in at the rim (two blocks).
Miami could have used more offensively from him during their fourth-quarter run, but Dwyane Wade assured that wasn't an issue. Bosh wound up having a more well-rounded performance than Noah, and that's all that matters.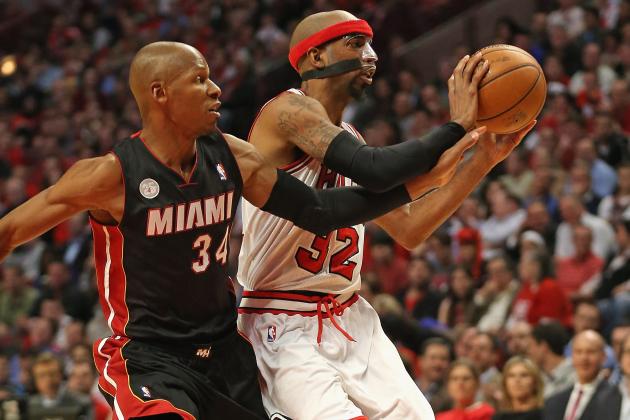 Jonathan Daniel/Getty Images

Richard Hamilton, CHI: B
Richard Hamilton got going early, because that's what he does. More importantly, though, he gave the Bulls 35 solid minutes.
He finished with 15 points on 6-of-12 shooting and while he struggled to maintain control of the ball (three turnovers), he helped Nate Robinson settle down when he was becoming overzealous.
There was some defensive fight in Rip as well. He wasn't what you would call fantastic—rotations were off—but he finished with two blocks and kept pace with Miami's backcourt well off the dribble.
An effort like this—though Chicago needed more points from him down the stretch—really made you pull for the Bulls, even if only secretly. Hamilton's inspiring work ethic just wasn't enough, though.
Ray Allen, MIA: C-
Ray Allen, where art thou?
The 37-year-old played just 15 minutes and wasn't what you would call effective. He shot 2-of-6 from the floor and finished with just five points. You could tell he was out of rhythm as soon as he missed his only free throw off a Joakim Noah technical foul in the first quarter.
With Chicago's offense moving the ball extremely well following an unsightly start, Allen wasn't an offensive luxury Erik Spoelstra could afford. He got lost on switches early and couldn't keep pace when defending off the dribble.
Here's hoping this doesn't carry over to the Eastern Conference Finals.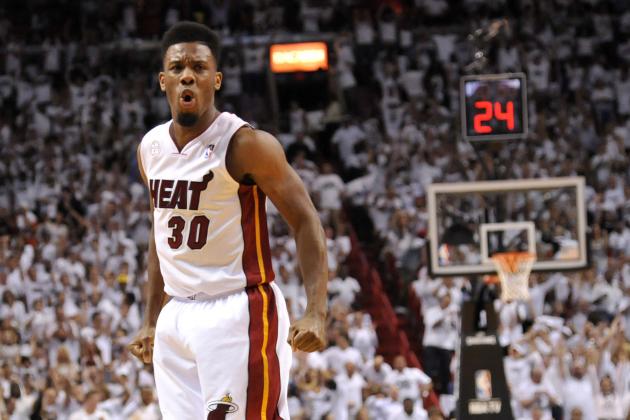 Steve Mitchell-USA TODAY Sports

Chicago Bulls: D
Taj Gibson is banged up, we get it, but he was a nightmare.
He went just 1-of-4 from the floor for two points and committed four personal fouls in eight minutes. I find myself hoping he undergoes a drastic change over the offseason. This whole making Carlos Boozer's contract seem like a bargain thing just isn't conducive with what the Bulls need from him.
There was a Nazr Mohammed sighting, because of course there was. He played just four minutes and dropped in two points off a nice putback. On the very next possession, he afforded himself a not-so-well-deserved heat check that didn't fall.
Oh, and he didn't get ejected for "shoving" LeBron James. That's always a plus.
Miami Heat: B
I'm probably being generous, but that's alright.
Shane Battier continued his woeful shooting for most of the game before knocking down two monstrous threes in the fourth quarter. His defense was also the main reason why Boozer was so quiet down the stretch. I kid you not.
As for Norris Cole, he didn't have a great game...until the fourth quarter.
He gave the Heat their first lead since early in the first half and forced Nate Robinson into some bad shots in the waning minutes. His defense was so solid that Erik Spoelstra went with him over the reeling Chalmers to close out the victory.
Chris Andersen played 13 minutes and was more of an asset offensively than he was defensively. I know, I'm shocked too.
Birdman dropped six points and played more than six of his minutes in the fourth, when he was a driving force behind Miami's improved defense.
For most of the game, the Heat's bench wasn't doing much. These three came together in the final period, though. And man, is all of South Beach glad they did.