While WWE's Main Event hardly gets the same kind of attention that Raw or SmackDown receive, it continually showcases a very good hour of wrestling.
This week's version from Intrust Bank Arena in Wichita, Kan. not only featured two of the company's biggest stars in Kane and Seth Rollins, but two other intriguing singles matches: Sin Cara vs. Intercontinental champion Wade Barrett and Cody Rhodes vs. high-flying Justin Gabriel.
With Extreme Rules sneaking up on the wrestling world, let's take a look at how Wednesday's show played out.
Quick Results
Kane defeats Seth Rollins via DQ
Sin Cara defeats Wade Barrett in a non-title match
Cody Rhodes defeats Justin Gabriel
Kane vs. Seth Rollins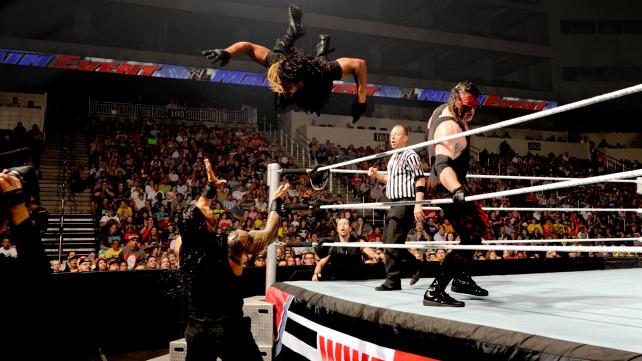 Unsurprisingly, this was a solid match that featured lots of impressive offense from both sides. It lasted just under 15 minutes total.
In the end, the Big Red Machine was able to land the chokeslam on Rollins, but Dean Ambrose quickly interfered and broke up the potential pin. After the DQ, the trio proceeded to beat up Kane and eventual set him up for the triple powerbomb.
But then this happened:
Looks like the Hounds of Justice just got stopped in their tracks by @wweusos on #MainEvent #WWE #USOOOOOOO

— WWE Universe (@WWEUniverse) May 16, 2013
Yup, The Usos made their way to the ring and were able to clear out the entirety of The Shield within a few moments. Jimmy and Jey are creating a little history with the ever-powerful Shield and seem to be in a midst of a mini-push.
And there are plenty of fans out there who couldn't be more thrilled:
@wweusos most underrated tag team in the WWE. Big fan. #Usos4TagChamps

— Roy Rendo Henderson (@RH1026) May 16, 2013
Unfortunately, after it was all said and done, Kane didn't do this:
The old Kane would of choked slammed The Uso's just to get it off his chest! #OldSchoolKane #MainEvent

— WWE's Raw Results ® (@WWERaw_Results) May 16, 2013
Sin Cara vs. Wade Barrett
Ladies and gentlemen, your Intercontinental Champion.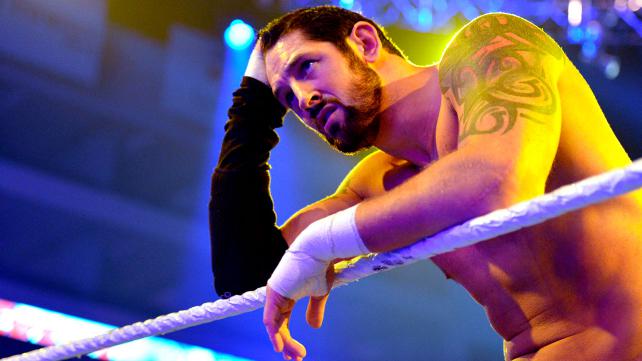 Barrett was able to control the majority of this short match and showed off some high spots, but as he was going for the powerbomb, Cara reversed it into the roll-up and pin.
Because obviously.
Unsurprisingly, most of the reactions were pretty much exactly like this one:
Remind me again why Sin Cara beat Barrett? More pointless booking by @wwe. #MainEvent

— The Shooter (@BottomLine_316) May 16, 2013
I can understand the company wanting to get Cara a win after being off TV for an extended period of time, but against the Intercontinental Champion?
The complete lack of direction for Barrett, a man with gold around his waist, continues to be baffling.
Cody Rhodes vs. Justin Gabriel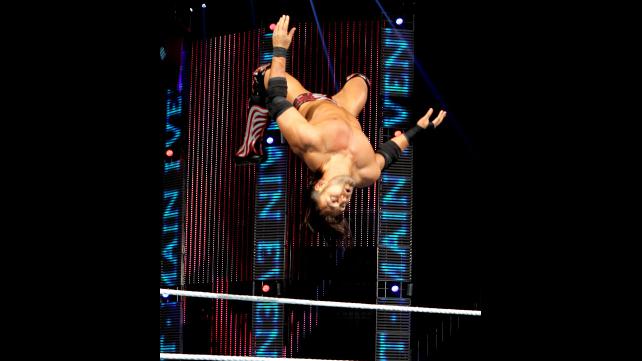 It's not really shocking that Rhodes got a win in preparation for his Extreme Rules match with the Miz, with whom he had a stare-down to end Main Event.
But let's talk a little bit about Gabriel. The electrifying star has the ability to perform some jaw-dropping moves, and simply put, when he enters the ring, it's entertaining. Take a look at his match from last week against Heath Slater for proof:
It's even helped him earn a pretty impressive fan:
Who is @mikethemiz dad's favorite superstar? @justin__gabriel. Is he jealous? Yup. #MainEvent #WWE

— WWE Universe (@WWEUniverse) May 16, 2013
Unfortunately, a push seems nowhere in sight.
Of course, this isn't meant to take away from Rhodes. He also showed some nice offense and combined with Gabriel for a terrific—but much too short—match.