Selecting the NL Central's Quarter Mark All-Star Team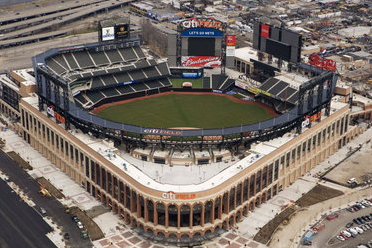 Jamie Sabau/Getty Images
www.silive.com
It's that time of year. Pleas to vote players onto the MLB All-Star Teams are everywhere you look. Twitter hashtags and image campaigns rule the baseball Internet community as everyone tries to make sure their favorites make the cut.
There is still plenty of time for players to show us why they deserve to play for their league, but what would happen if we were to select an All-Star Team right now? Say, for the NL Central? And what if it was based on batting average and run production?
I've made an attempt to set aside the temptation to vote for star quality and selected an NL Central All-Star Team based on who I see as the most valuable player in every position. Of course, I did abide by the "must have one player from every team" rule. And due to the uncertainty of injury, I counted out any player currently on the DL.
The results may surprise you. Read on to find out who might be All-Star front runners in the coming month!
*All statistics are current on baseball-reference.com as of May 16, 2013*
Begin Slideshow

»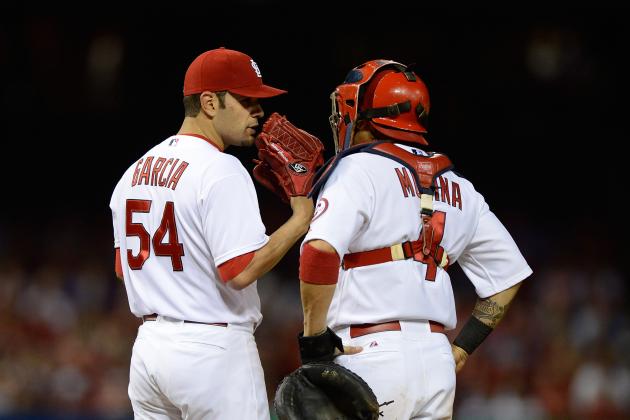 Jeff Curry/Getty Images

Molina is an obvious choice for catcher, as he is often considered the best in the game...maybe even one of the best ever. He currently maintains a 1.000 fielding percentage for 2013 and has thrown out 29 percent of runners trying to steal.
It's been said time and again by successful pitchers who have worked with Molina that they owe their wins to the man behind the plate. He knows how to call a good game, as made evident by the Cardinals pitching staff's MLB-leading 3.06 ERA. Not to mention he's played in 37 of the 38 games so far this year.
But his defense isn't the only reason he finds himself on this list. He also leads NL Central catchers in batting average at .331. He has 18 RBI and a whopping 11 doubles. That's almost half of the 28 he had in all of last season. Remember when he was considered slow?
Molina is an ever-improving catching and hitting machine.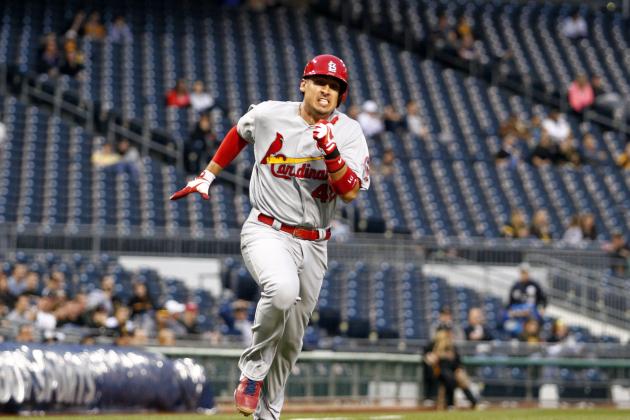 Justin K. Aller/Getty Images

Continuing the St. Louis theme, we have Craig at first base. Once considered highly underrated, he's now gaining the recognition he deserves.
I saw this as a two-horse race between Craig and annual favorite, Joey Votto. The latter may have gotten a somewhat slow start in 2013, but he now finds himself with a .322 batting average and 16 RBI.
Now, Craig does boast a lower average at .307, but he brings to the table 30 RBI (fourth-most in the NL), and that kind of production is difficult to ignore.
He's hitting particularly well when his team needs him, as 27 percent of runners on base when he's at the plate make it home. On the field, he is error-less in 2013 and has one double play to his name.
If the NL Central wants someone with grace under pressure, Craig is their man.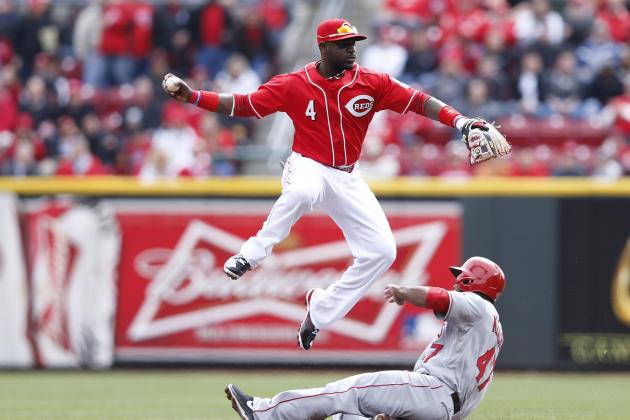 Joe Robbins/Getty Images

Speaking of a high RBI count, second baseman Phillips leads the entire NL with 33. Like Molina, this is another case of an obvious choice.
The Reds' second baseman has a .282 average, a .327 on-base percentage, and six home runs. He has made one error this year, but his usual sparkling defense is evident in the 25 double plays he's turned.
The closest threat to Phillips' position is probably Matt Carpenter with a .302 average and 12 RBI. Carpenter has been very productive for the Cards, but Phillips is the clear winner.
And I wouldn't be surprised if Phillips is representing the NL Central on the NL All-Star Team come game time.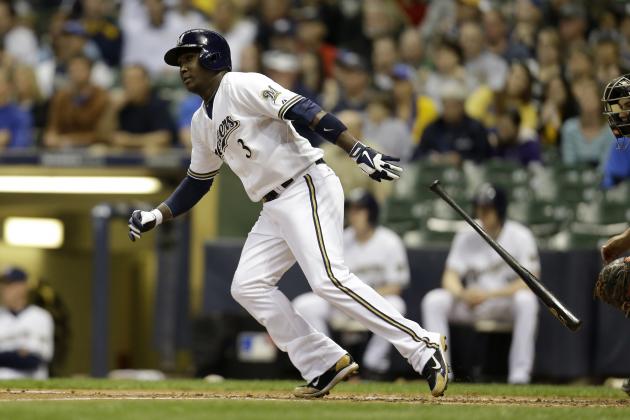 Mike McGinnis/Getty Images

Third base hasn't necessarily been a highlight in the NL Central throughout the first quarter of 2013.
Cardinal David Freese, a 2012 All-Star, has spent most of the season slumping. This opened the door for Betancourt, who finds himself with 24 RBI and eight home runs, but also a .238 batting average.
I considered putting the Cubs' Luis Valbuena in the lineup (he's hitting .272), but it was Betancourt's RBI total that put me over the top. He's getting playing time and making the most of it.
He also has yet to make an error on the field.
Whether or not Freese can mount a comeback and knock Betancourt off of his NL Central All-Star third baseman perch remains to be seen. But for now, Betancourt is the better choice for NL Central third baseman.
Vincent Pugliese/Getty Images

Another Brewer, Segura has burst onto the scene this year with both his bat and his legs.
He has a batting average of .359, he's tied for third in the league in hits with 51, and he leads the league with 13 stolen bases. And if it weren't for the fact that he had 148 at-bats last year (18 too many), he'd be putting together a nice Rookie of the Year campaign. The Brewers have noticed, and have offered him a long-term contract.
Other potential choices include the also-young Pete Kozma of the Cardinals and the Reds' Zack Cozart, who are hitting .250 and .214, respectively. And then there's last year's All-Star, the Cubs' Starlin Castro, with a .277 average and 18 RBI. Not quite enough to compete with Segura.
Who knows if Segura will be able to keep up this type of production, but he's set himself up for a bright 2013.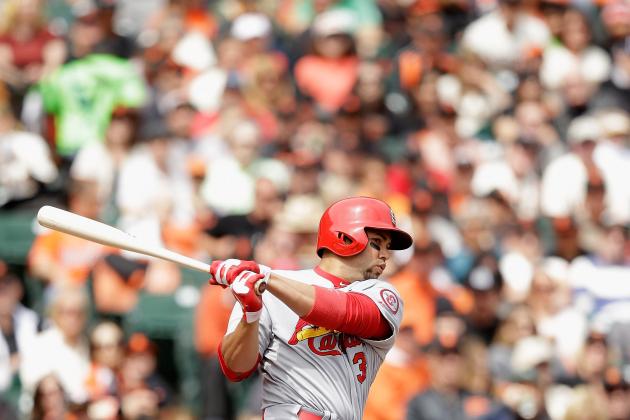 Ezra Shaw/Getty Images

So many amazing names in the NL Central outfield.
Andrew McCutchen and Starling Marte come up short of becoming the first Pirates on my list, and the former is currently hitting a disappointing .266.
Shin-Soo Choo is making an impression during his first year with the Reds, but his .305 average can't compare to some of the other monsters in the NL Central. And Matt Holliday is making an impression with 24 RBI, but his.269 average doesn't hold up here.
When it comes down to it, I had to pick two Brewers and a Cardinal:
Gomez leads the league in batting average at .368. He also has 18 RBI and six home runs.
Beltran is hitting .303 with 26 RBI and 10 home runs...tied for second in the league.
Braun spent a short period in a slump, but he has quickly climbed the charts as well with a .315 average, 26 RBI and eight home runs.
As of right now, these are the names I would choose to represent the NL Central.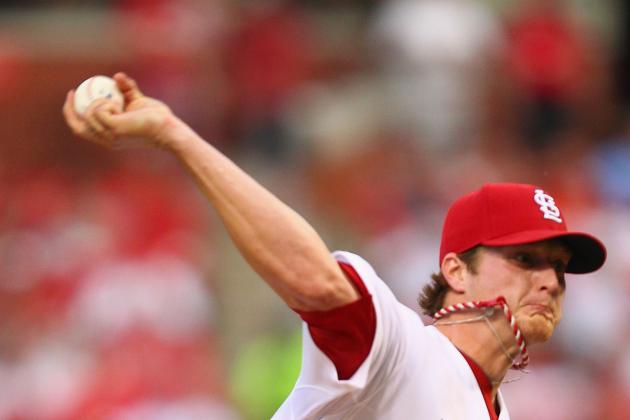 Dilip Vishwanat/Getty Images

In terms of starting rotation, I looked to the top of the ERA leaderboard:
Shelby Miller, Cardinals, 1.40 (Tied for first in MLB)
Travis Wood, Cubs, 2.03
Adam Wainwright, Cardinals, 2.30
A.J. Burnett, Pirates, 2.73
Mat Latos, Reds, 3.04
Closer:
Jason Grilli, Pirates, 16 Saves (Tied for first in MLB)
Each of these pitchers has also been successful this year in terms of wins, except for maybe Burnett with a 3-4 record. But he has lacked the run support of some of the others in this rotation.
In the end, this would be a stellar representation of the NL Central.