Oklahoma City Thunder vs. Memphis Grizzlies: Game 5 Postgame Grades and Analysis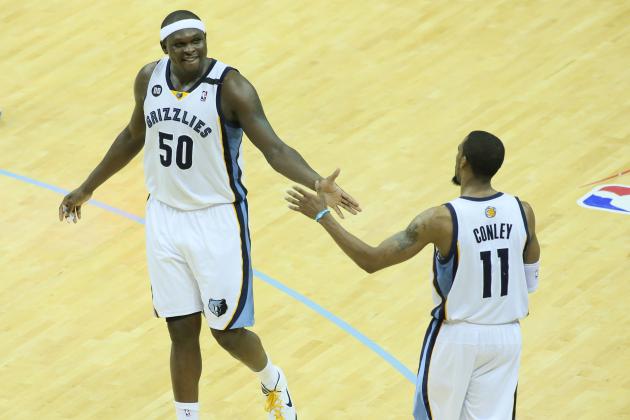 Nelson Chenault-USA TODAY Sports

The Oklahoma City Thunder will not be returning to the NBA Finals, and they have the Memphis Grizzlies to thank.
Behind a monstrous performance from Zach Randolph, who scored 28 points, the Grizzlies beat the Thunder, 88-84. Kevin Durant played the entire game but had one of the worst shooting performances of his career, finishing with 21 points on 21 shots, and missing a wide open elbow jumper with three seconds left that could've sent the game to overtime.
Begin Slideshow

»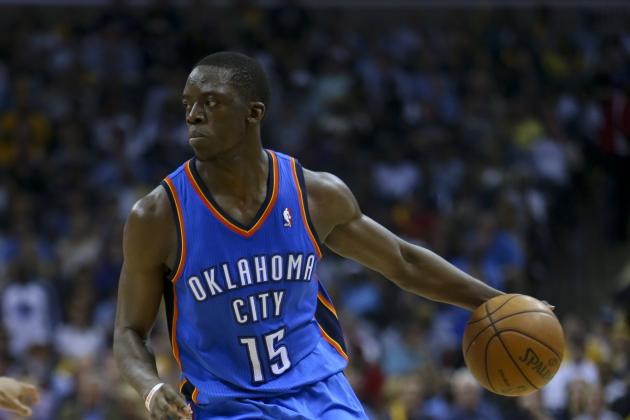 Spruce Derden-USA TODAY Sports

Mike Conley
Conley showed off his ability to use both hands in the first half, knocking down a pretty right-handed floater in the lane after spinning into the paint.
In 19 first-half minutes, he had nine points but took nine shots. His open looks from behind the three-point line simply weren't falling. He finished with 13 points and 11 assists in 39 controlled minutes.
Grade: B-
Reggie Jackson
Jackson scored seven first-half points, with almost all of them coming during a second quarter offensive explosion in which he aggressively took it to the basket and got to the free-throw line.
He hit a huge three with less than a minute to go that kept the Thunder in the game and finished with 16 points, nine rebounds and five assists in 42 minutes of action
Grade: B-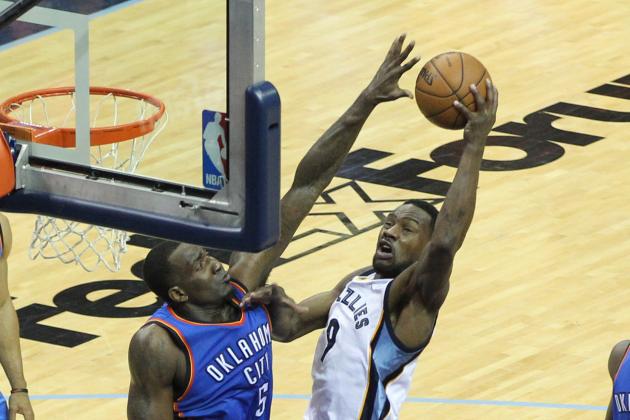 Nelson Chenault-USA TODAY Sports

Tony Allen
Allen spent his 12 first-half minutes helping to force Kevin Durant into a 2-for-11 shooting performance. He also finished a couple alley-oops in transition but wasn't able to make a positive impact anywhere else on offense.
In the second half he infamously, and accidentally, threw a warmup shirt onto the court while Derek Fisher was attempting a three, which made the shot good and gave the Thunder a free throw.
It killed his team's momentum. But in the fourth quarter, he finished on a crucial and-one layup that helped keep a charging Thunder squad at bay.
Grade: B
Thabo Sefolosha
Sefolosha played just six minutes in the first half. Scott Brooks probably didn't figure Sefolosha could give him any offense and gave his minutes to Kevin Martin instead.
If there's nobody on the opposing team who needs to be covered (for example, Tony Allen), Sefolosha doesn't have a purpose on the court. In the second half, he knocked down a few quick shots but was ignored by Allen on offense.
Grade: C-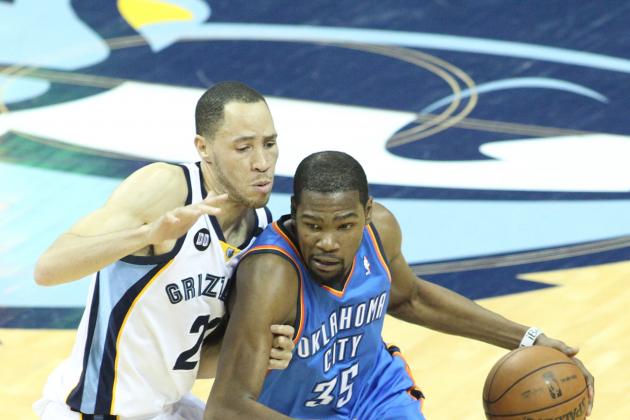 Nelson Chenault-USA TODAY Sports

Tayshaun Prince
Prince nailed a couple mid-range jumpers in the first half but was mostly focused on defending Durant, and holding him to 2-for-11 shooting.
Apart from those two shots, he missed six field-goal attempts, most of them wide open shots, but a couple were tough turnaround jumpers that he has no business taking.
In the second half, Prince turned back the clock with a ferocious dunk over Serge Ibaka. He finished with eight points in 31 minutes.
Grade: C
Kevin Durant
With his team's season on the line, Kevin Durant rose up for an open jumper to tie and send the game to overtime—one he's made thousands of times in his life—and clanked it off the back iron.
It ended what was an incredibly disappointing effort from Durant, who began the game missing his first six shots, all of them jumpers but most of them coming in open situations. Like the professional scorer he is, Durant responded by getting to the line, attempting 11 free throws in the first half alone.
But it wasn't enough. He played all 48 minutes and looked exhausted, air-balling a three at one point in the second half. His 21 points on 21 shots effort was the result of not having enough help.
Grade: C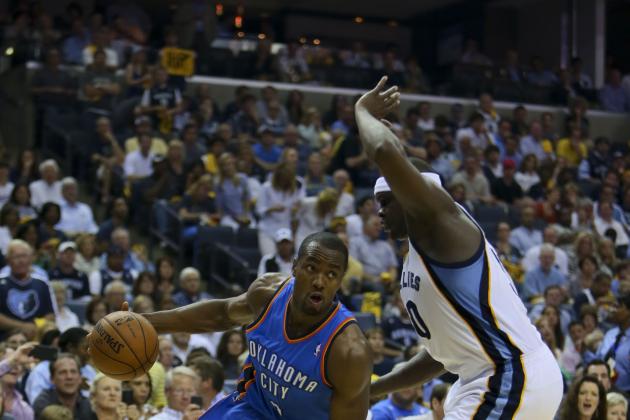 Spruce Derden-USA TODAY Sports

Zach Randolph
Randolph scored Memphis' first points nearly four minutes into the game on a pretty left-handed baby hook that drew a foul. There was a ton more of that throughout the first half, as Randolph was the best player on the court, an unstoppable low-post force the Thunder had no answer for.
He scored 16 points and grabbed eight rebounds in his first 21 minutes. In the second half, it was more of the same—Randolph finished with 28 points and 14 rebounds.
He missed two big free throws at the end that could've sealed the deal, but overall Randolph was massive tonight.
Grade: A
Serge Ibaka
Ibaka opened the game scoring Oklahoma City's first points on a three-pointer as the shot clock expired. He kept the offense going, attacking the offensive glass and tipping in a miss.
He attempted as many shots in the first half as his counterpart, Randolph, but scored only nine points. He finished with 17 points and eight rebounds before fouling out near the end of the game.
Grade: B-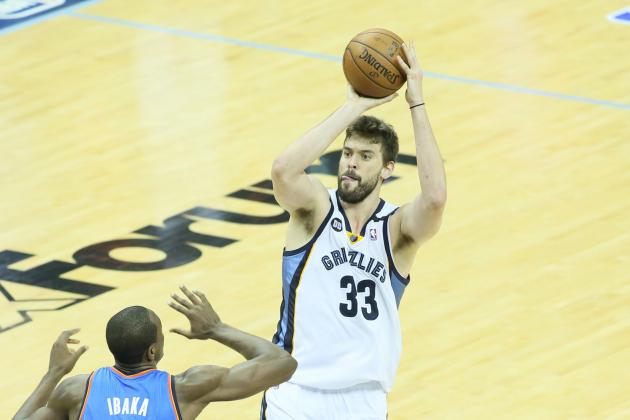 Nelson Chenault-USA TODAY Sports

Marc Gasol
The Thunder began the game fronting Gasol in the post, but he scored his first two points effortlessly on a simple lob over the top.
With Randolph dominating, Gasol played the role of facilitator more often. He scored only two points in the first half.
In the second half, Gasol's jumper began to fall, and he finished with 10 points, seven rebounds, three steals and three blocks.
Grade: B
Kendrick Perkins
Perkins tossed in a jump hook early on. That was the good. The bad was everything else. He couldn't catch passes or rebounds, defend Randolph or, with the ball finally in his hands, dribble it without something totally insane happening.
He finished with two points and three rebounds in 17 minutes.
Grade: D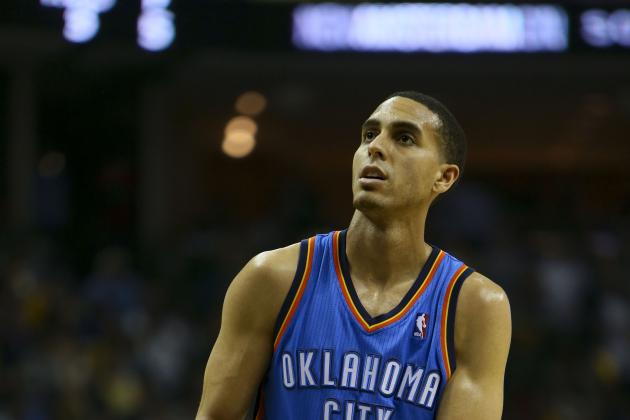 Spruce Derden-USA TODAY Sports

Quincy Pondexter
Pondexter had a rough first half, knocking down his only three-point attempt but struggling in his defense of Kevin Durant, who routinely got to the line with Pondexter as his primary defender.
In the second half, he knocked down a humongous corner three that felt like it sealed the game, before the Thunder came back. He finished with six points.
Grade: B
Kevin Martin
Martin supplied Oklahoma City with some fast points off the bench early on, finishing on a fast-break dunk and getting himself to the line for two free throws.
He scored eight points in the first half but scored only two points in the second half, as Oklahoma City searched for places beside Durant to score. Martin wasn't the answer.
Grade: D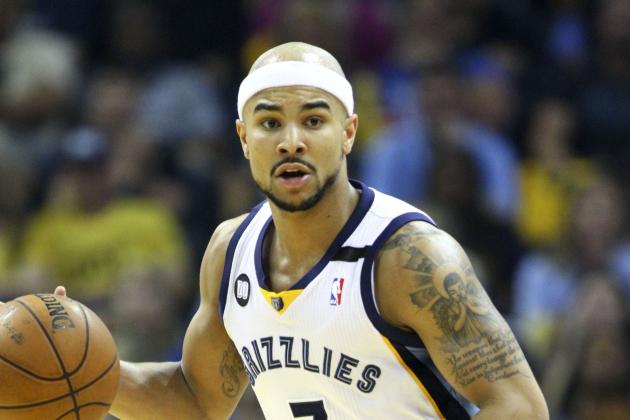 Spruce Derden-USA TODAY Sports

Grizzlies
Jerryd Bayless was spectacular in the first half, scoring on pull-up jumpers and nailing a three-pointer. He scored eight points in 14 first-half minutes, which were the most out of anyone on Memphis.
He didn't score in the second half.
Grade: C+
Thunder
Nick Collison had a brutal experience in his opening six minutes, picking up three fouls as he tried to guard Zach Randolph in the post (one of his fouls was on a moving screen).
Derek Fisher took a ton of shots in this game, thinking he was still a factor. He missed eight three-pointers and made three (one of them coming on the Tony Allen technical).
Grade: D-