Itsmyluckyday will enter the 2013 Preakness Stakes this year desperate to make up for a poor showing at the Kentucky Derby, where he finished in 15th position.
With Elvis Trujillo on board, Itsmyluckyday drew a wide post position in the Derby and struggled to find a good position in the field as a result—forced to push forward and try and sit behind the brutal speed being set by Palace Malice, which eventually led to him having no extra kick on the home straight.
It was perhaps the opposite of a lucky day for the aptly named horse, and he'll come to the Pimlico Race Course this weekend eager to change his fortunes thus far.
How will he fare in the Preakness Stakes on Saturday? Read on to find out.
History of the No. 9 Post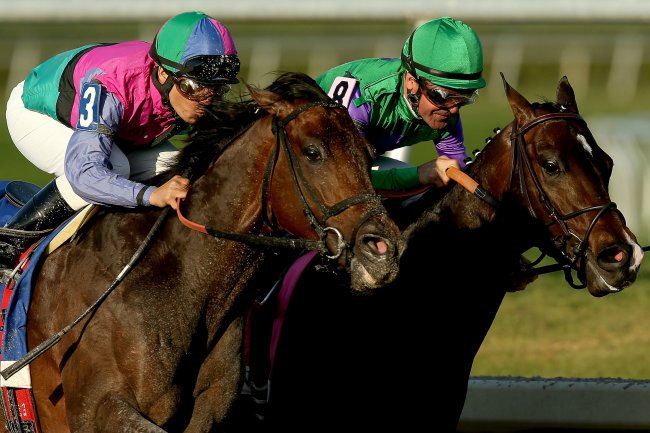 Matthew Stockman/Getty Images
In the recent post positions draw, Itsmyluckyday drew the No. 9 gate, which doesn't sound like an ideal outcome for a horse that recent struggled out wide.
However, the statistics suggest that being out wide isn't that bad after all.
In the history of the illustrious event, posts nine to 11 haven't produced many winners, with those three producing just eight winners in over 100 years.
However, given the smaller field that has just nine horses this year, Itsmyluckyday will essentially be running from the widest point on the track—thus giving him a post position that's more like an 11 to 14 than what the statistics would suggest.
In the last 18 years, 12 horses have won the Preakness from gate seven or wider. Half of those have won from post nine or wider, and if we close that down to just the last 10 years, four horses have won from post nine or wider. In fact, the last winner of the Preakness—I'll Have Another—won from No. 9, so it's more than possible for Itsmyluckyday to emerge victorious from the wide gate this weekend.
The biggest question is as to how it will affect the horse, and for that, we have to look at his track record, speed ability and the jockey that will be on board.
Proven Speed and World-Class Jockey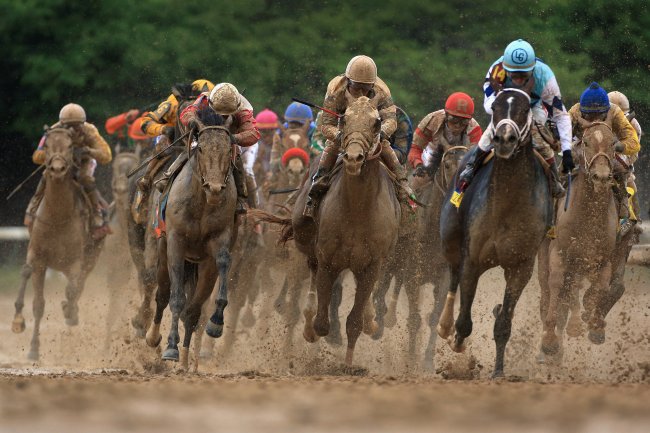 Doug Pensinger/Getty Images
I say the jockey here because it'll be particularly important early in the race that the right call is made for Itsmyluckyday. He was caught wide in the Kentucky Derby and was forced to go early there, and that essentially ended his race on the heavy track—something that can't afford to happen again here.
Velazquez is a world-class rider and he needs to assess quickly what the pace will be like on the day, and make his mind up on the basis of what's ahead of him.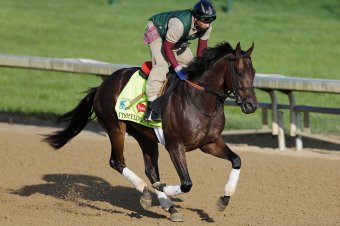 Rob Carr/Getty Images
The likes of Orb and Goldencents have both drawn posts closest to the rail, so there could be an early speed battle. If that happens, Velazquez should sit back and not get caught up in it again, and should do the opposite if vice versa happens and the pace is relatively slow from that pair on the inside.
For in terms of speed, Itsmyluckyday is a genuine star.
His pedigree from his sire Lawyer Ron suggests that he'll be his best around the 1 1/16-mile mark, which should be okay for him here over the 1 3/16 miles.
Itsmyluckyday finished second to Orb at the Florida Derby (who was ironically ridden by Velazquez in that race) and certainly wasn't embarrassed by the champion. He made his move at the top of the straight and although he was run down by Orb, he showed plenty of speed and fighting ability.
The same goes for his run at the Holy Bull Stakes—smashing the track record at Gulfstream Park and gunning down the favorite Shanghai Bobby in the straight.
So regardless of whether he is back in the field or at the front, Itsmyluckyday is more than capable of putting up a good fight and should do so on Saturday.
Assessment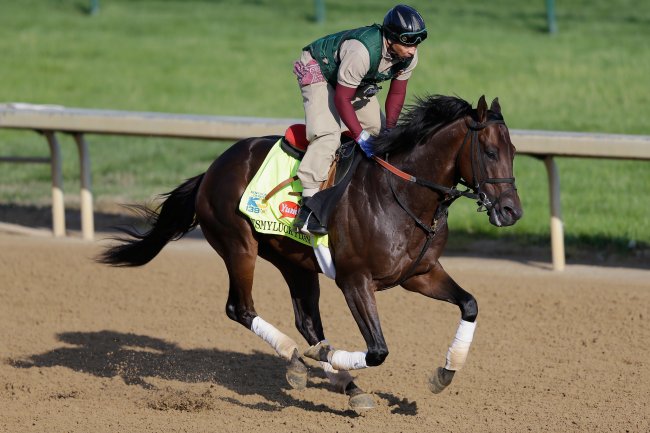 Rob Carr/Getty Images
As far as a prediction goes, it's tough to rule out Itsmyluckyday from being competitive here and launching a real challenge at the more-fancied runners.
How do you think Itsmyluckyday will do?
He's currently around 10/1 in most odds markets and I think that represents great value given his experience and proven sprinting ability, especially now that he has a world-class jockey on board in Velazquez who is going to be more than capable of getting the best out him on the day.
The No. 9 post isn't ideal, but history shows that if you're good enough then the position won't matter at all. The same should ring true for Itsmyluckyday on Saturday, and while I can't see him storming home to take the winning post, I do think he'll be good for a show on the day and a podium finish.
Which, from the ninth gate, will be a pretty good achievement.
Hit me up on Twitter for more sports goodness: Follow @dantalintyre