Detroit Red Wings vs. Chicago Blackhawks Game 1: Live Score, Updates, Analysis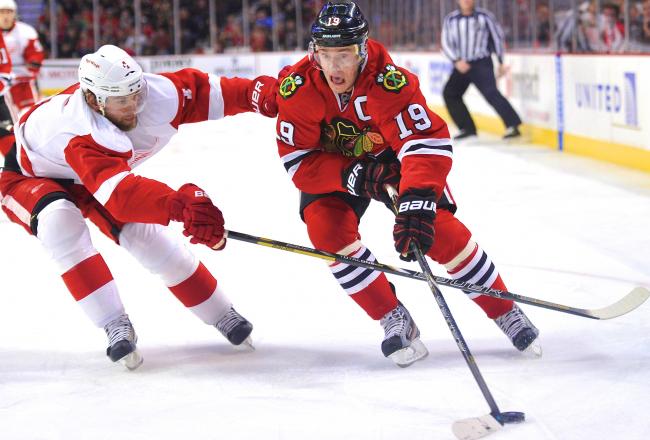 Chicago peppered Red Wings goaltender Jimmy Howard with shots throughout the second period to no avail. The Blackhawks finally broke through in the third period, scoring three unanswered goals en route to a convincing 4-1 win in Game 1 of this Western Conference semifinal series.
Patrick Sharp scored his team-high sixth goal of the playoffs and added an assist to spearhead Chicago's attack, which fired 41 shots in the contest. The Blackhawks killed three Detroit power plays and have now limited playoff opponents to 0-for-19 on the man advantage.
The opening battle between "Original Six" organizations at the United Center ended up one-sided, but Detroit has two days to adjust before Game 2 takes center stage Saturday. A revised game plan must revolve around protecting the netminder.
Final: Chicago 4, Detroit 1
Chicago adds empty-net goal, seals 4-1 victory over Detroit!
Patrick Sharp punctuated a dominant performance by top-seeded Chicago with an empty-net score. It's his team-leading sixth goal of the postseason and Niklas Hjalmarsson picked up the assist.
The Blackhawks improve to 4-0 on home ice and carry a 1-0 series advantage into Saturday's Game 2 showdown.
Chicago 3, Detroit 1 (2:41 3rd Period)
Blackhawks defenseman Brent Seabrook just absolutely robbed Damien Brunner of his second goal of the game. Brunner put a wobbling rebound shot above Crawford but Seabrook batted the puck away immediately before it would've passed for a score.
Expect to see that play on tonight's highlight reel.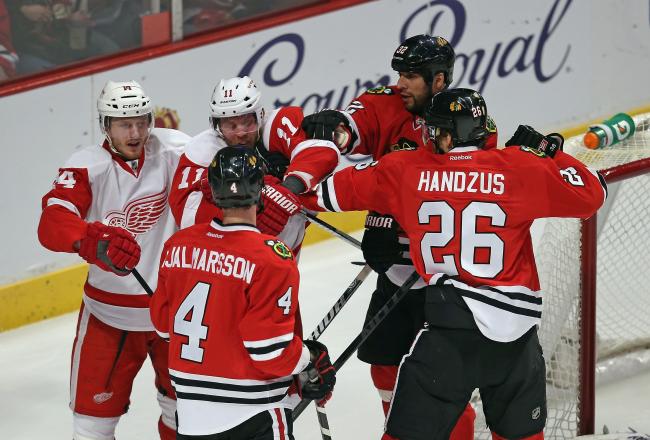 Chicago 3, Detroit 1 (5:50 3rd Period)
How have the Blackhawks claimed control of this contest?
It's been a simple story of volume for Chicago's attack. The home squad has outshot the Red Wings 31-9 over the last two periods, pummeling Howard with persistent scoring chances.
The Blackhawks adjusted tremendously after the first intermission. Detroit will have plenty to focus on as it digests the events that have taken place since then.
Chicago claims 3-1 advantage with 8:37 remaining in regulation!
The Blackhawks quickly tacked on another score to bury Detroit in a two-goal deficit. Marcus Kruger picked up the puck amid a mess in front of the net and beat Howard for his second score of the postseason.
Kruger was assisted by Dan Carcillo and Nick Leddy. The Red Wings have surrendered a league-worst 14 goals in the third period through nearly eight playoff games.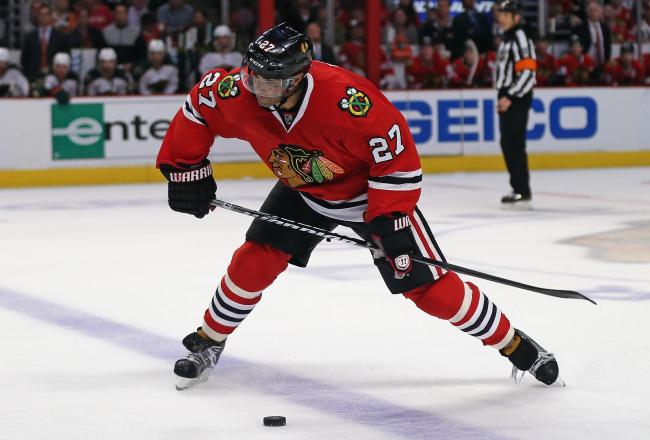 Blackhawks take 2-1 lead with 11:58 remaining in regulation!
Detroit goalie Jimmy Howard has stared down shot after shot for much of the evening. He finally blinked.
Johnny Oduya scored from point-blank while surging toward the net. He was assisted by Patrick Sharp and Patrik Kane.
Oduya has been an excellent addition since Chicago swapped a draft pick to acquire him from Winnipeg.
Chicago 1, Detroit 1 (16:20 3rd Period)
This game has featured eight power plays. Chicago scored on the first man advantage of the contest but the teams are a combined 0-for-7 since then.
The Blackhawks have blanked all power play opportunities through nearly six postseason matchups.
Chicago 1, Detroit 1 (19:30 3rd Period)
The final period of regulation is underway in Chicago. We witnessed 17 visits to overtime in the first round of postseason action and this matchup seems to have the makings of another extra-session classic.
Stay tuned...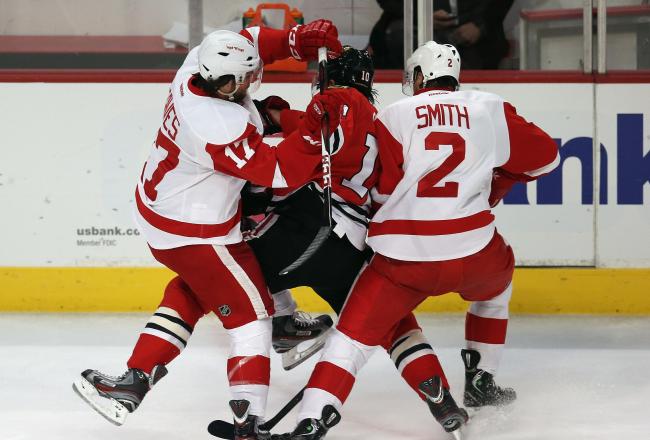 Second intermission arrives with game still locked in 1-1 stalemate!
Chicago ramped up its offensive efforts, firing 17 shots on goal, but couldn't cash in on the chances against Detroit goalie Jimmy Howard. The Blackhawks clearly outplayed Detroit in the second period in terms of possession but the Red Wings refused to back down and continue to clobber their hosts with hits.
Detroit has a 27-19 edge in hits through 40 minutes of action.
Stay tuned for coverage of the third period!
Detroit 1, Chicago 1 (4:10 2nd Period)
Red Wings goalie Jimmy Howard has been superb throughout this second period. He has stopped 14 Blackhawks shot attempts after facing just six shots in the first period.
Howard was rewarded by the Red Wings with a six-year contract extension in April and he continues to enter the conversation as one of the 2013 playoffs premier netminders.
Chicago 1, Detroit 1 (9:54 2nd Period)
Things are getting testy in the Windy City. Detroit's Justin Abdelkader took on Dave Bolland and both players ended up sprawling on the ice.
Abdelkader and Bolland are both banished to the penalty box for two-minute roughing penalties.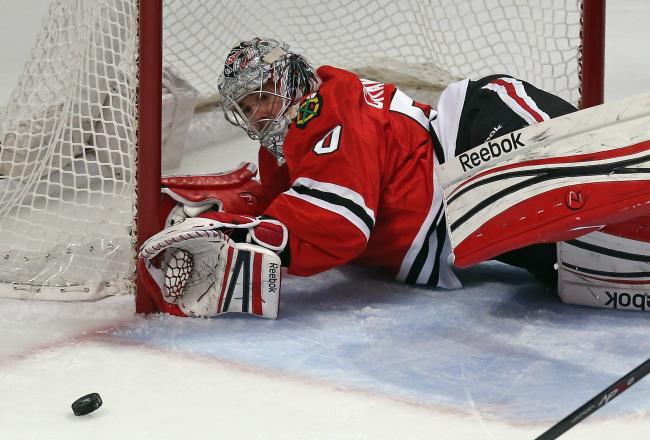 Chicago 1, Detroit 1 (11:30 2nd Period)
After each team tallied an early goal, it appeared Game 1 was on the verge of turning into a high-scoring affair. That hasn't been the case through nearly half of the contest, as both goalies have settled in.
Jimmy Howard has stopped all eight shots he's faced in the second period and has 14 total saves. Corey Crawford has 10 saves and has only faced four shots on goal in the second frame.
Chicago 1, Detroit 1 (15:30 2nd Period)
Nick Leddy's delay of game penalty gave Detroit its third man advange in less than 23 minutes of action but the Blackhawks again stand tall. Chicago killed the power play and has yet to surrender a goal on any power play this postseason.

Chicago 1, Detroit 1 (18:10 First Period)
Superstar center tandem Jonathan Toews and Patrick Kane have managed just one shot on goal so far tonight. When the dynamic duo erupts, it's practically impossible to slow down Chicago on the offensive rush.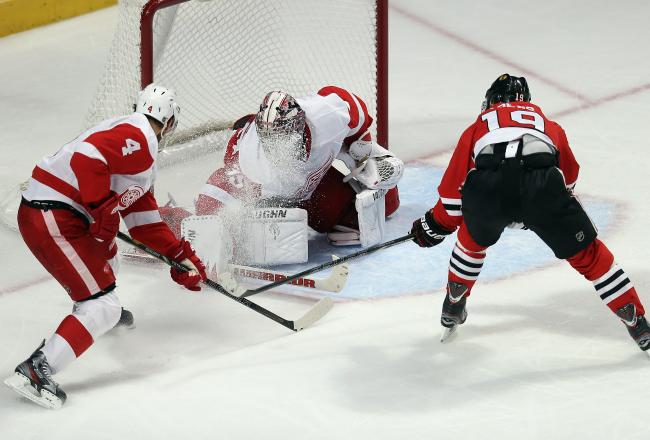 First period ends with Chicago and Detroit locked in 1-1 tie!
The opening 20 minutes of a highly anticipated series featured three power play opportunities. Marian Hossa made the Blackhawks' first man advantage count when he cashed in with his fourth goal of the postseason.
The Red Wings quickly responded when Damien Brunner buried a shot in the back of the net less than two minutes later. Detroit outshot Chicago 7-6 in the first period.
Chicago 1, Detroit 1 (3:18 First Peiot)
The Red Wings quickly return to the power play as Andrew Shaw returns to the penalty box for boarding.
Chicago has been a brick wall against the man advantage during the playoffs. The Blackhawks have strung 17 straight penalty kills together during the postseason.
Chicago 1, Detroit 1 (5:20 1st Period)
The Blackhawks effectively took care of Detroit's first power play of the series. Andrew Shaw was sent to the box for tripping Jakub Kindl but Chicago handled its first penalty kill well.
Earlier in the period, Hossa scored for Chicago on a man advantage. Each squad has five shots on goal so far in Game 1.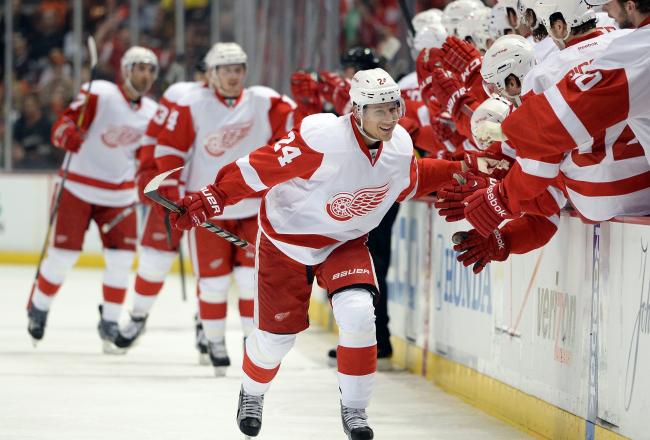 Red Wings answer right back to tie game at 1-1 with 9:03 left in first period!
Detroit didn't wait long to respond to Chicago's series-opening score. The Red Wings worked a well-executed attack and cashed in with an excellent series of passes.
Damien Brunner continues to emerge as a surprising playoff standout, scoring his third goal of the postseason. He was assisted by Gustav Nyquist and Jonathan Ericsson.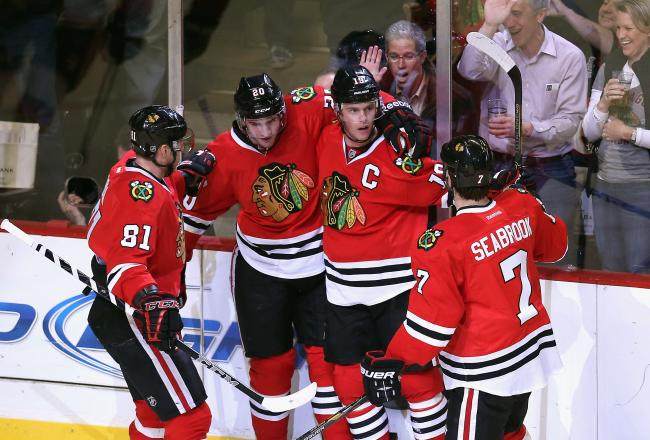 Blackhawks build 1-0 lead with power play goal at 10:57 mark of first period!
Marian Hossa has been such a primetime playoff performer for Chicago and that continues here in Game 1 of the Western Conference semifinals. The veteran scored his fourth goal of the postseason during a power play.
Hossa was assisted by Jonathan Toews and Patrick Sharp.
Chicago 0, Detroit 0 (11:59 1st Period)
The Blackhawks begin the first power play opportunity of this series. Detroit's Gustav Nyquist heads to the penalty box after hooking Andrew Shaw.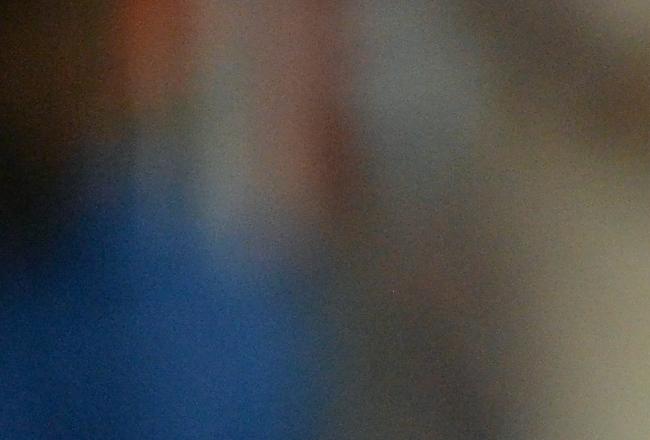 Chicago 0, Detroit 0 (14:02 1st Period)
Jimmy Howard has been the catalyst for Detroit during this postseason run. The Red Wings averaged 2.6 goals per game against Anaheim and struggled to gain offensive consistency.
Meanwhile, Corey Crawford has received substantial support from his Chicago teammates. The Blackhawks are averaging 3.4 goals per game in the playoffs.
Chicago 0, Detroit 0 (17:58 1st Period)
Blackhawks begin the game with a series of strong possessions but can't put anything on net. Chicago is the aggressor early tonight.
Red Wings goalie Jimmy Howard should be in for quite a challenge.
Before we get into the hockey action, here's a quick question...
Does anyone in American sports sing the Star-Spangled Banner with more fervor than Jim Cornelison? Blackhawks fans make great backup singers too.
This article is
What is the duplicate article?
Why is this article offensive?
Where is this article plagiarized from?
Why is this article poorly edited?