5 Win-Win MLB Trade Ideas That Will Never Happen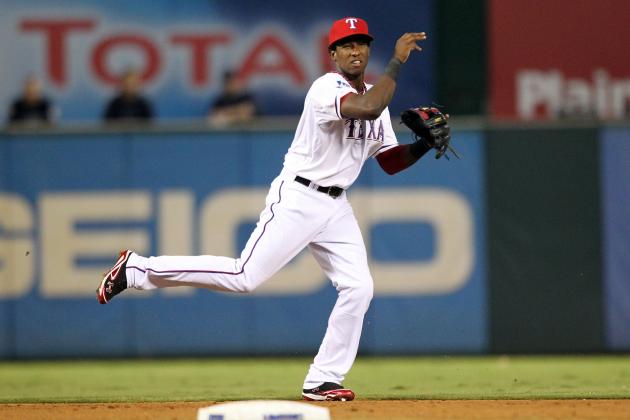 Layne Murdoch/Getty Images
Profar would be a great fit in St. Louis but it's unlikely to happen, even if the Cardinals parted with top prospect Oscar Taveras.
By now, you've probably read at least one of the many articles on why an Oscar Taveras-for-Jurickson Profar trade would make sense. Taveras, the Cardinals' top prospect, would fit immediately into a corner outfield in Texas and Profar, the Rangers' top prospect, would do the same with the shortstop spot in St. Louis.
In this article by Cardinals beat writer Derrick Goold of the St. Louis Post-Dispatch, an AL team official is quoted as saying you can't do the deal because, "You can't be the guy who is wrong if one works out and becomes a star as expected and the other doesn't."
In the same story, Cardinals general manager John Mozeliak mentions how he'd rather not break up a farm system that he's comfortable with, not to mention one that is considered to be the top system in baseball.
Dayn Perry of CBSSports.com made the point that such a trade wouldn't happen because of the hole it would create in St. Louis' lineup next season when Taveras is set to take over for free agent-to-be Carlos Beltran in right field.
So while it's fun to discuss because they are both elite prospects without an immediate spot with their current organization, it just doesn't make a lot of sense when looking deeper into it.
But since these are so much fun to discuss, here are five other trades that seemingly make a ton of sense (at least to me) but have very little chance of happening.
Begin Slideshow

»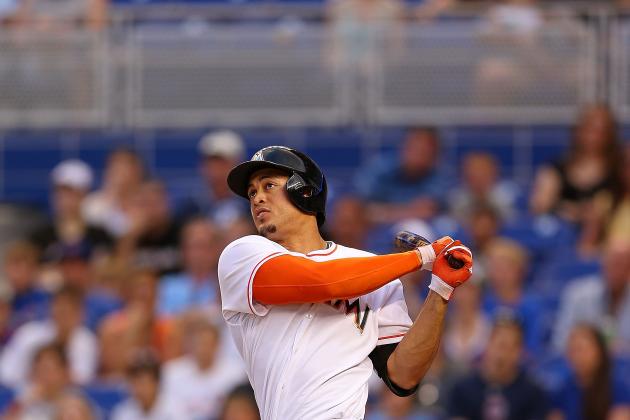 Mike Ehrmann/Getty Images

All those Giancarlo Stanton (pictured) rumors have died down since he went on the disabled list with a strained hamstring a few weeks back. There's no timetable for his return, but my guess is that he'll be back before the end of June, giving interested teams about a month to make sure he's healthy and to convince the Marlins to trade him.
More importantly, it gives us "hot stove" fans a potential trade to discuss that would involve an impact bat switching teams and elite prospects moving to a new organization.
The Sox are getting terrific production out of Daniel Nava in left field, but we've seen it before from him. He can go in the exact opposite direction pretty quickly.
And just having a power threat like Stanton in the middle of the lineup can make a huge difference that won't show up in his own personal stats.
Giving up their best position player prospect (Xavier Bogaerts), best pitching prospect (Matt Barnes) and a starting pitcher with upside who can step into the rotation in 2013 (Rubby De La Rosa) seems like a good return to me.
In addition to opening a spot for the team's top prospect, Christian Yelich, in the outfield, the Marlins would get their third baseman of the future in Bogaerts, a 20-year-old with huge offensive potential currently playing shortstop in Double-A.
A 2014 rotation led by three big-time arms in Jose Fernandez, Barnes and Rubby De La Rosa also has to be intriguing to the Marlins, who have a fanbase with very little to be excited about these days.
Why won't it happen?
Stanton will still have three years left of team control after the season and his value could be even higher if he finishes the season healthy. There will also be more teams bidding on his services and teams will have another amateur draft under their belt, meaning more prospect depth in their farm system.
So it probably makes more sense to wait and ask for even more.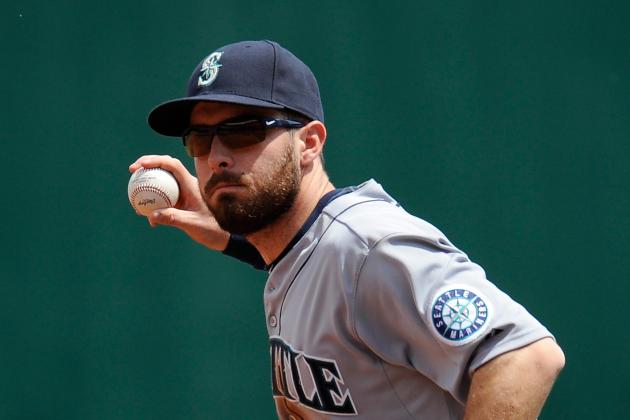 Joe Sargent/Getty Images

With a promising streak at the end of April (18-for-47), Dustin Ackley appeared to be sending the message that the second-base job in Seattle was his and prospect Nick Franklin wasn't going to take it away from him.
But with just five hits in his last 30 at-bats, the No. 2 overall pick in the 2009 draft could be running out of time.
The 22-year-old Franklin, who is playing both shortstop and second base for Triple-A Tacoma, has a .982 OPS in 30 games and appears very close to knocking down the door to the majors.
The question is whether he'll take over at shortstop, where Brendan Ryan and Robert Andino aren't even hitting their weight, or second base, where he's a much better fit defensively.
Here's the solution. Trade Ackley to a team with a hole at second base, like the Blue Jays, giving him a change of scenery and a chance to escape the high expectations that have come with being a high draft pick, a team's top prospect and having a very impressive rookie season in 2011 (.766 OPS).
In return, the M's would add Anthony Gose, a dynamic outfielder who would cover a ton of ground in Safeco Field next season and allow Michael Saunders to remain at a corner outfield spot. The 22-year-old is a plus defender with a plus arm and speed. He just has a ways to go with the bat, as he's currently proving in Triple-A (.678 OPS).
Gose did have 16 homers and 70 stolen bases in Double-A back in 2011, however, and could also benefit from a change of scenery considering his current struggles. He's also blocked in the Blue Jays outfield by a trio of talented outfielders who are each signed through at least 2014.
Why won't it happen?
Both players still have significant upside. While the general manager who acquired the one who became a star would look like a genius, the other might be remembered as "the guy who traded away Ackley" or "the guy who traded away Gose." And neither wants to risk that happening at this point.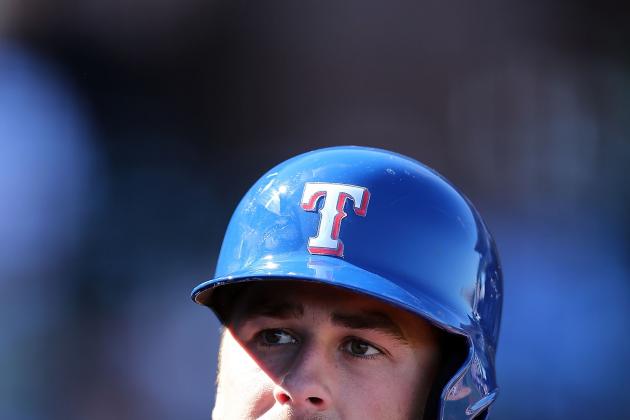 Christian Petersen/Getty Images

While neither player in this proposed win-win deal, Braves pitcher J.R. Graham and Rangers third baseman Mike Olt (pictured), would fill an immediate need, it's a case of trading depth for depth to fill a future need in the organization.
Sure, the Braves could use Graham, who impressed in the spring with a high-90s fastball, as a trade chip to land some major league talent to help down the stretch. And the Rangers could certainly do the same with Olt, who is versatile enough to contribute in a bench role during the second half of the season.
Looking ahead to 2014 could be difficult when your team is a World Series contender. But it could benefit both teams greatly down the line.
While Olt has struggled in 2013 and is currently on the Triple-A disabled list with vision issues, he's one of the top third-base prospects in the game for a reason. The current platoon of Juan Francisco and Chris Johnson has been very productive thus far, but their combined 10 walks and 64 strikeouts remind us that the Braves are still in need of a long-term solution at the hot corner.
In Graham, the Rangers could have a strong contender to plug into the rotation next season behind Yu Darvish, Derek Holland, Matt Harrison and Alexi Ogando. More importantly, the rotation depth in the farm system is weak and the 23-year-old Graham would very likely become the organization's top pitching prospect upon arrival.
Why won't it happen?
Unless Graham's shoulder is deemed healthy, you can go ahead and take him off the board. The Braves could use another prospect like Sean Gilmartin or Alex Wood as trade bait. Both are back-of-the-rotation prospects, however, and wouldn't get the Braves a top third-base prospect in return.
In any case, the Braves might want to hold onto their pitching depth, which can disappear quickly—as we've already seen with the Dodgers and Orioles this season.
And the Rangers could just wait on Olt and hope that he comes back strong and rebuilds the value he had after hitting 28 homers in 95 Double-A last season.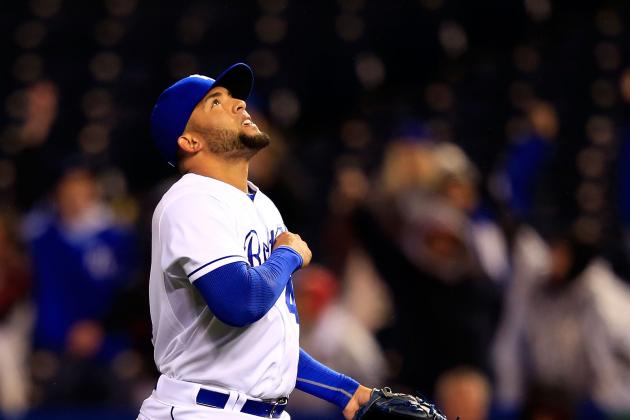 Jamie Squire/Getty Images

With saves in 10 consecutive appearances, Edward Mujica has saved the Cardinals from what could have been a disastrous late-inning situation after losing Jason Motte to an elbow injury and Mitchell Boggs to ineffectiveness.
But adding a more proven setup man like Herrera (pictured) to join the current rookie fire-balling duo of Carlos Martinez and Trevor Rosenthal, or even as another closer option should Mujica struggle later on, could make the Cardinals World Series favorites with very few weaknesses, if any, on their 25-man roster.
And why would a competitive Royals team trade Herrera, a 23-year-old who can throw a fastball in the upper-90s and complement it with a wicked change up in the high-80s, for a second baseman who might not even be ready for the majors until 2014?
For starters, the Royals have very good bullpen depth. Probably enough to almost make up for Herrera's loss.
In addition, Elliot Johnson, a 29-year-old with a career .625 OPS, is getting the majority of time at second base, which tells you what they think of current options Chris Getz or Triple-A infielders Christian Colon and Johnny Giavotella. Wong, Baseball Prospectus' 90th-ranked prospect coming into the season, has a .770 OPS in his first Triple-A season.
Why won't it happen?
The Royals fanbase is over having a great farm system and such a bright future. They need a winning major league team to cheer for and the ownership knows it.
It's safe to say that Wong will very likely be a very solid big leaguer, but if they suffer a 10th consecutive losing season because of a few late-inning bullpen meltdowns that would've been avoided had they kept Herrera, it could be disastrous with how low the morale of this fanbase could sink.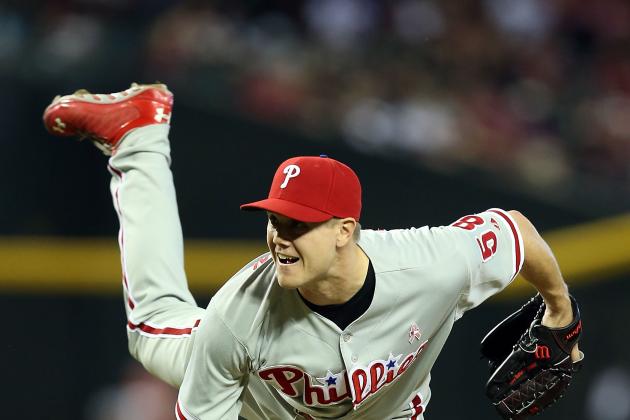 Christian Petersen/Getty Images

With J.J. Putz out indefinitely with an elbow injury, the Diamondbacks have turned to 35-year-old Heath Bell as their closer.
So far, he's saved five games in six chances since taking over and has pitched well overall. His declining K/9 rate leading up to his disastrous season in Miami in 2012 had been a concern, so the fact that he has just three walks and 23 strikeouts in 18 innings this year is promising.
Having an effective Bell in the seventh inning was a boost to the club, however, so they've filled one hole and created another. General manager Kevin Towers could use some of his rotation depth to solidify the 'pen.
Pat Corbin is pitching well in the majors and future "ace" Archie Bradley is moving up the ladder quickly, so top prospect Tyler Skaggs could be expendable.
Adding Papelbon (pictured), who is owed $13 million per season through 2015 with a vesting option for 2016, would do more than solidify the bullpen. It would give the D'backs one of the best closers in baseball.
The Phillies, who have been discussed as a team who could make several veteran players available if they were to fall out of the race, need to get younger.
Although the one area of their depth chart where they have significant depth is left-handed starting pitching (Cole Hamels, Cliff Lee, Adam Morgan, Jesse Biddle), one more wouldn't hurt as long as it's an elite prospect like Skaggs.
Why won't it happen?
The Phillies are likely good enough to stay just close enough in the playoff race to not sell off their closer.
Don't rule out the D'backs from finding some bullpen help, though. It just probably won't be someone obvious. Towers has a reputation of finding pitchers on the waiver wire or through minor trades that turn out to be reliable, and sometimes dominant, relievers.