For a natural goalscorer, it was the perfect way to seek vindication against vicious doubt and criticism. When Chelsea launched a rare attack against Benfica one hour into the Europa League final, there was no better man than Fernando Torres to finish it.
Petr Cech's long ball up field was diverted perfectly into the Spaniard's path by compatriot Juan Mata, and Torres knew exactly what to do. A burst of pace took him past the Benfica marker, and goalkeeper Artur was thrown off with a delicate jink of the body.
There was contact from the last line of defence as he went past, and another striker may have been tempted to throw himself to the ground. Not Torres. He stayed calm, measured up the angle and delicately threaded the ball into the empty net, sending the English contingent inside the Amsterdam Arena wild and sending Chelsea on the way to victory.
It may not have been the winner, but Torres' goal marked a seismic shift in the game's course. While Oscar Cardozo kept Benfica in the hunt from the penalty spot, a Blues team that was previously cautious and defensive now wanted more, and they got it when Branislav Ivanovic headed home deep into injury time to complete a fairytale triumph for Rafa Benitez's men.
In the euphoria of victory, few celebrated harder than the Torres. Few had more to prove than the former Atletico Madrid and Liverpool man, who has been almost universally mocked for his inability to find the net on a regular basis since moving to Stamford Bridge. Just 14 goals in 81 Premier League matches since his move suggest that this vitriol is not entirely misplaced, but when it counts, El Nino has proved himself more than up to the task.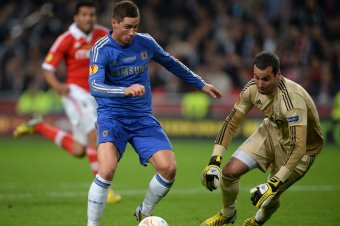 Michael Regan/Getty Images
Torres notched six goals on the way to Europa League success, and all but one of those came from the quarter-finals onwards. Let us not forget either that last-minute strike in 2012 against Barcelona, securing a 3-2 aggregate victory in the Champions League semi-finals and laying in place the first-ever success for Chelsea in European football's biggest competition.
The star can now reflect on a second European title in as many seasons, as well as a unique clean sweep. BBC Sporf (not Sport!) pointed out at the final whistle that he had now lifted the World Cup, European Championship, Champions League and Europa League in just three years, the first player to achieve such a feat. Not a bad effort for a goal-shy failure, you must admit.
Moreover, it is what the player himself had promised back in April, when he spoke to the Daily Mail following two goals in the team's 3-1 victory over Rubin Kazan. The same determination that has seen him overcome all obstacles to become a hero this evening, were all too present in his words.
"I want to do the things I used to do all my life," he explained. "I did them at Atletico, I did them at Liverpool and I am not doing them at Chelsea. I am working on it. If I knew the reason, I would fix it in one minute. But the only way to fix these things is to work at it.
"I am training every day and I will never, ever give up."
The future for Chelsea's No. 9 is still in the balance. The exit of Rafa Benitez in the summer is bound to spark an overhaul of Chelsea's playing squad, and Torres has been mentioned more than most as a likely candidate to leave with names such as Radamel Falcao, Edinson Cavani and Robert Lewandowski mooted for the centre-forward position.
Whether he stays or goes, however, Torres can do so with his head held high. The goals may have not flowed as regularly as he may have imagined when signing for the London club for £50 million back in 2011, but there can be no doubt whatsoever now that he is one player who does not go missing when it really counts.
Daniel is a football journalist based in Buenos Aires, who specialises in covering the South American game. You can follow him on twitter at @DanEdwardsGoal