UFC on FX 8: Who's on the Hot Seat on Vitor Belfort vs. Luke Rockhold Fight Card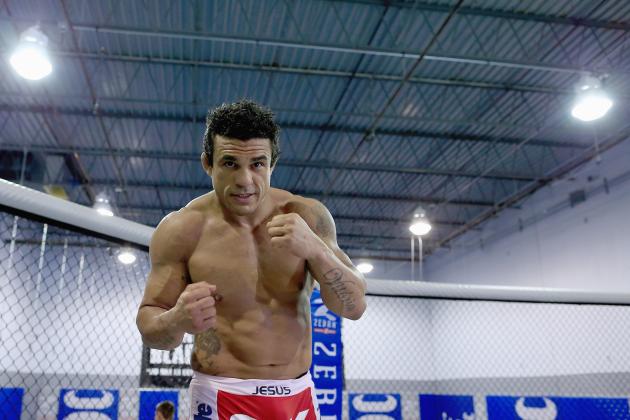 Chris Trotman/Getty Images

UFC on FX 8 will take place on Saturday, May 18 from the Arena Jaraguá in Jaraguá do Sul, Brazil. In rhe main event, Vitor Belfort will welcome Strikeforce middleweight champion Luke Rockhold to the UFC. The co-main event will see the man Rockhold defeated for the Strikeforce crown, Ronaldo "Jacare" Souza, face Chris Camozzi.
The card will feature a total of 26 fighters in 13 bouts. As with almost any UFC fight card, this one will include some individuals who will be fighting for their jobs, while others will be facing different types of pressure.
Who will be on the hot seat on Saturday? Read on to find out.
Begin Slideshow

»
Rafael Suanes-USA TODAY Sports

One of the unwritten rules in the UFC seems to be that if a fighter loses three consecutive fights, the odds are high that he will receive a phone call to discuss their employment. That conversation is likely to be one-sided and short. When the talk comes to an end, so to will the fighter's employment with the UFC.
A particular type of fighter seems to get a little more leeway when it comes to that unwritten rule. That type of fighter is the one who fits the "stand and bang" profile. You know these fighters—the ones who will take 10 punches to the face just to land one of their own. These fighters put personal safety and brain injury at the bottom of their list of concerns.
Fabio Maldonado is one of them.
Maldonado is currently riding a three-fight losing streak heading into UFC on FX 8. Four losses in a row for a fighter competing on the preliminary card of a FX event may be the limit before release, no matter how much that fighter "brings it."
Paulo Thiago has an interesting and demanding day job. He's a member of Batalhão de Operações Policiais Especiais. B.O.P.E. is an elite police force whose role, according to Captain Wesley Santos, is: "When society needs help, they call the police. When the police need help, they call B.O.P.E."
If he loses at UFC on FX 8, Thiago may not have to worry about taking more time off from that job in order to train for UFC fights. Thiago has gone 1-4 over his last five UFC bouts.
It's understandable that Thiago would not want to quit his job with B.O.P.E., but for most UFC fighters, a full-time commitment is required to stay at the top of the fight game.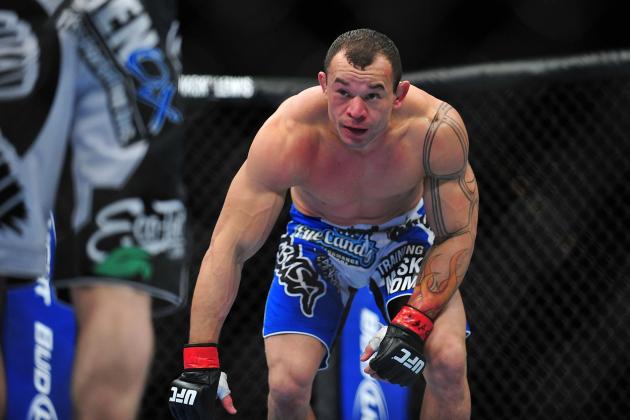 Gary A. Vasquez-USA TODAY Sports

Gleison Tibau has been with the UFC for a long time. He made his debut in November 2006, when he was stopped by Nick Diaz in a welterweight scrap. Since then, Tibau has compiled a record of 11-7, going 2-2 in his last four fights.
A loss at UFC in FX 8 may find Tibau a victim of out with the old and in with the new.
Tibau made $33,000 in his last fight, a loss to Evan Dunham on the UFC 156 preliminary card. That's not a mint, but when a Top-10 fighter who has been a fixture on pay-per-view main cards is released for being "super f**king expensive," a non-Top-10 fighter pulling down $33,000 on the preliminary card may have reason to sweat a bit.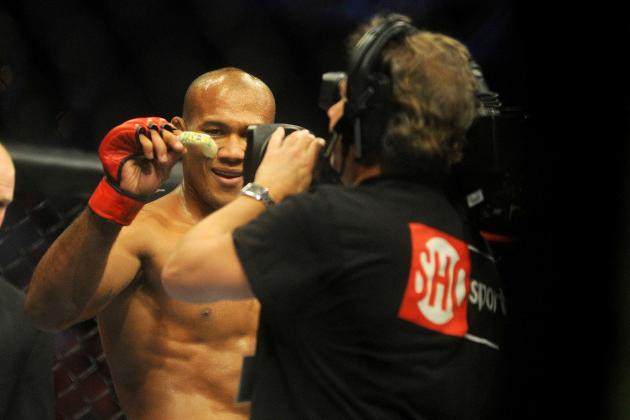 USA TODAY Sports

Speaking of pay, Ronaldo "Jacare" Souza took home $100,500 in his final fight with Strikeforce, $72,500 of that in salary. Since that fight was a win, it's a safe assumption that Souza will earn a bit more than that $72,500 base salary when he meets Chris Camozzi in Brazil.
Souza is ranked in the Top 10 in the UFC's middleweight division, but he's ranked behind fighters who pulled down a lot less than $100,500 in their last fights, including No. 1-ranked middleweight Chris Weidman. Weidman made $44,000 for beating Mark Munoz on the UFC on Fuel 4 card. Munoz, who is also ranked above Souza, pulled down $42,000 in defeat.
A loss to Camozzi may put Souza in an interesting situation. A release-and-renegotiate scenario is not out of the question here.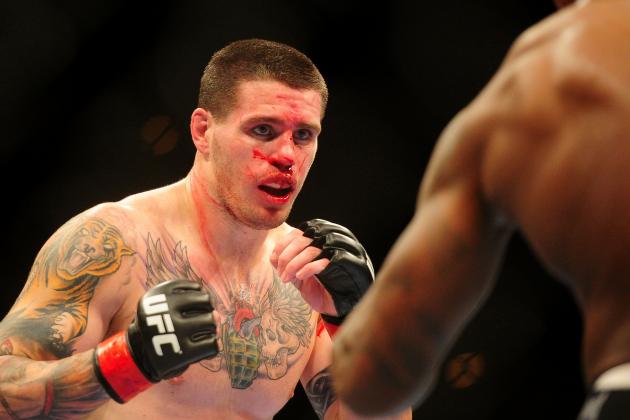 Mark J. Rebilas-USA TODAY Sports

Chris Camozzi is in no danger of being released with a loss at UFC on FX 8, but that doesn't mean he's walking into the fight free, easy and under no pressure at all.
The 26-year-old middleweight is riding a four-fight winning streak heading into Saturday's fight against Jacare Souza, and he'll be looking to make a statement in the evening's co-main event.
A loss to a Top-10 opponent wouldn't set Camozzi too far back, especially since he is stepping into this fight as a short-notice replacement, but a win would see him take a huge leap forward. Camozzi has to know this is his opportunity to make his presence felt in the 185-pound division.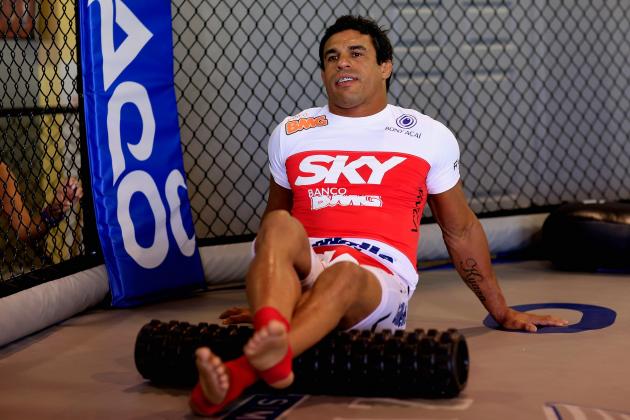 Chris Trotman/Getty Images

With a win over Luke Rockhold in the main event on Saturday, you can bet that Vitor Belfort would begin to pitch for a fight with the winner of the upcoming bout between UFC middleweight champion Anderson Silva and Chris Weidman.
At 36 years of age and with a career that began in 1996, Belfort may only have one last chance to earn a shot at UFC gold. With anything short of a dominating victory, it's doubtful that Belfort would even be considered as a possible opponent for the champion.
I'll save the discussion on whether Belfort "deserves" that title shot until after Saturday's fight card.